*This post may have affiliate links. For example As an Amazon Associate I earn from qualifying purchases, which means if you purchase something after clicking a link I may receive commission (don't worry, there's no extra cost to you). This helps support the work I put into the site.
The ADATA SD700 is a portable SSD drive for those who might have the odd accident when out and about.
It's available in a either 256GB or 512GB sizesas well as either with a black trim or the green/yellow trim you can see in the video review below.  The SD700 has a nice compact form, square rather than the rectangular shape of a lot of drives.  As well as the main drive you get a short USB cable, the perfect length for a travel device.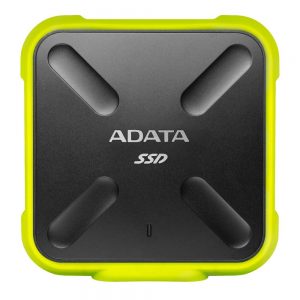 There is optional software available from the ADATA website (details available on the packaging) but this isn't required to use the drive, you can just plug it in and you're up and running.  Tested on Windows 10 there were no installation issue and the drive was RAPID!
As you'll see in the review video below it copied around 2.5GB of files from the laptop to the drive in under 10 seconds.  You'll see a second test of a much large amount of files, and both times these folders contains a large number of files used in to create previous videos for the YouTube channel.
The SD700 is IP68 rated and this turned out to perform well when the drive was deliberately dunken underwater.  The SD700 actually floats if dropped in water, it won't sink, so had to be forced under to check it remained waterproof.  After the quick bath the drive was plugged into a laptop and powered up without any problems, the trip underwater hadn't bothered it at all.
It's a really nice small size, it doesn't weigh much at all, can store a good amount of data and has protection from dust and water at a very good price.  Cracking little drive you'll have no worries about if you're carrying it out and about.
Available from Amazon UK: http://amzn.to/2id6poE and Amazon USA: http://amzn.to/2jrpG6G
ADATA SD700 Waterproof SSD Video Review
ADATA XPG SX8200 Pro 1TB M.2 Gaming Solid State Drive (SSD), black
34 new from £114.97
2 used from £101.17
Free shipping
Features
Rapid PCIe Gen3x4 Interface: read/write up to 3500/3000MB/s
New Generation 3D NAND Flash: Higher capacity, durability, and power efficiency
M. 2 2280 Form Factor: supports desktops and notebooks with the latest Intel and AMD platforms
Designed for discerning gamers, PC enthusiasts, over clockers, and video content producers
Cool XPG heatsink included: The SX8200 Pro box has a sleek black XPG heatsink with pre-applied thermal compound inside for easy DIY
ADATA 2TB XPG SX8200 Pro PCIe Gen3x4 M.2 2280 Solid State Drive
21 new from £227.01
2 used from £206.98
Free shipping
Features
Experience Stunning Speed
In Pursuit of Higher Performance. Shock resistance: 1500G/0.5ms
3D NAND Flash - Higher Capacity, Efficiency, and Reliability
LDPC ECC Ensures Data Integrity
E2E Data Protection and RAID Engine
ADATA Ultimate SU800 512GB Solid State Drive (SSD), black
22 new from £50.49
Free shipping
Features
High speed, new generation 3D NAND technology
Bigger capacity, improved reliability, and long endurance of 400TB TBW(total bytes written), the drive could be used over 10 years with daily usage of 20GB
High performance, up to 560MB/s read and 520MB/s write
Intelligent and dynamic SLC Cache prevents speed drops in big file transfers. DEVSLP (device sleep) mode boosts energy efficiency and power savings
Free ADATA SSD Toolbox and Migration Utility: easy OS and content move from HDD to SSD. ADATA quality backed by 3-year warranty"