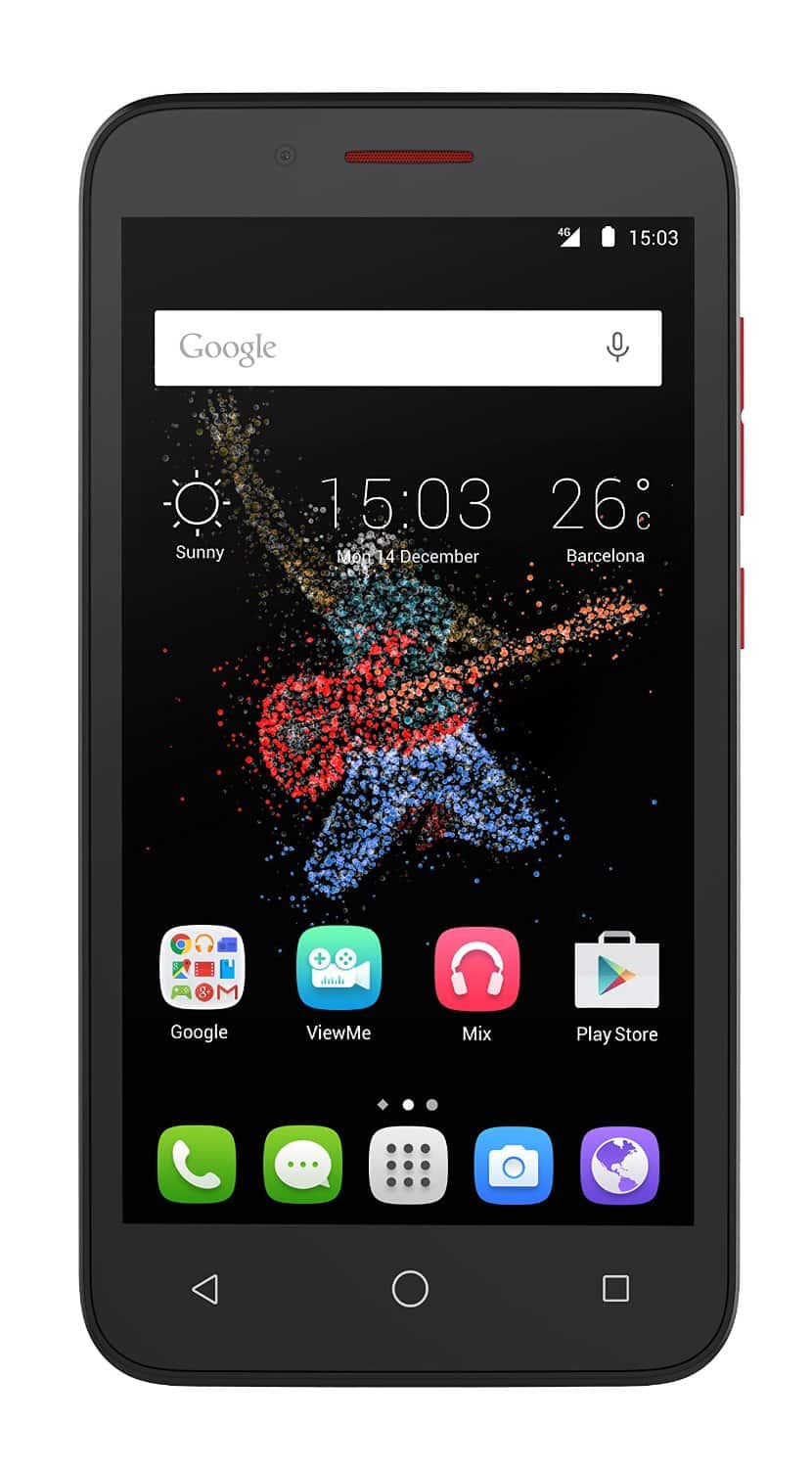 *This post may have affiliate links. For example As an Amazon Associate I earn from qualifying purchases, which means if you purchase something after clicking a link I may receive commission (don't worry, there's no extra cost to you). This helps support the work I put into the site.
The Alcatel Go Play is a budget friendly ruggedized smartphone aimed at those with an active lifestyle, or those who are just very clumsy.
The Go Play is IP67 rated, so is dirt, dust and water resistant (it should survive 30 minutes under up to 1 meter of water), and this has resulted in the usual open ports being sealed off.  So to charge this or use headphones you'll need to remove the stopper, and then need to ensure that's completely closed back up once done.
Alcatel have ignore the general trend of a plastic back for this budget blower, instead choosing to add a nice textured back, you'll see the red and black version in the video review.
At the time of review the Go Play was running Android 5.0.2 and it runs it very well.  Alcatel have chosen to load the phone up with a lot of preinstalled apps that you likely won't want, fortunately these can be uninstalled and you'll need to do so in order to free up some storage space as this mobile fills up very quickly.
It's worth making room for games as the Go Play runs them really well, they looks great and are very smooth.  The 5″ screen is a good size for giving you room to use on screen controls while still being able to see the action.
The camera also performs well, you get a 5MP front facing camera and an 8MP rear facing camera.
Unfortunately the video quality was a big let down, it was choppy and not very good quality at all.
So low storage space and poor video quality are the main letdowns, but this is made up for by a very low cost for an otherwise decent 4G Android mobile with IP67 rating.
Available from Amazon UK: http://amzn.to/2aDy282
Alcatel Go Play 4G Mobile Video Review
DURAGADGET Sun Visor Mount - Compatible with Alcatel Pixi 4 Plus Power | A3 XL | A3 | A30 | A5 LED | Dawn | Fierce 4 | GO PLAY | Ideal 4G LTE | Idol 4 | Idol 4s/Idol 4 pro & One Touch 20.01
Buy Now
Amazon.co.uk
Features
Compatible with phones between 55 - 94 mm width
Suitable for passengers - sit back and watch a film or help navigate using your phone's GPS!
Lightweight and portable - small enough to store in car glove box
Find the optimal viewing angle thanks to the 360° rotating head
A simple alternative to a vent mount - Please note; Any devices shown are for display purposes ONLY.
DURAGADGET Black Smartphone Travel Mount - Compatible with Alcatel PIXI 4 (3.5) | PIXI 4 (4) | PIXI 4 (6) 4G | GO PLAY | OneTouch Pop Star & OneTouch Pop Up
Buy Now
Amazon.co.uk
Features
Anti-slip, rubber strips provide excellent grip to keep your smartphone securely in place
Can be easily removed and repositioned to suit any of your viewing needs
Finished in a sleek black exterior
Secure fastening device enabling maximum security
For phones up to 95mm - Please note; Any devices shown are for display purposes ONLY and are NOT included in this purchase.