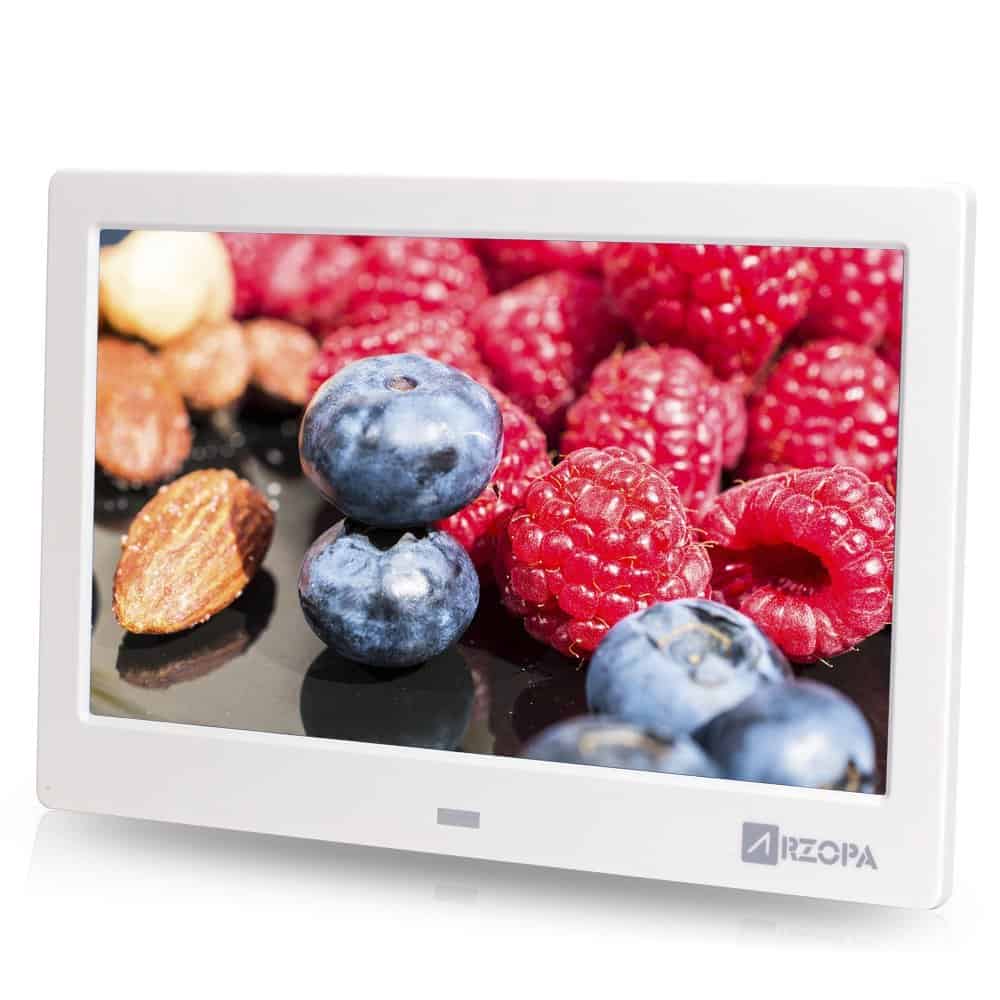 *This post may have affiliate links. For example As an Amazon Associate I earn from qualifying purchases, which means if you purchase something after clicking a link I may receive commission (don't worry, there's no extra cost to you). This helps support the work I put into the site.
The Arzopa 10″ Widescreen Digital Photo Frame gives you a lot of screen real estate for not a huge price.
The 10″ frame is available in either black or white.  It's a good size, not too chunky, and it can either be popped on a desk or wall mounted.
The included manual caused some confusion, it lists a long stand as being included, but that's not the case.  Instead this is kept upright using a band that screws int the back of the frame.
Around the back you'll also find manual controls, SD memory card slot, earphone socket, USB port, HDMI and the power socket.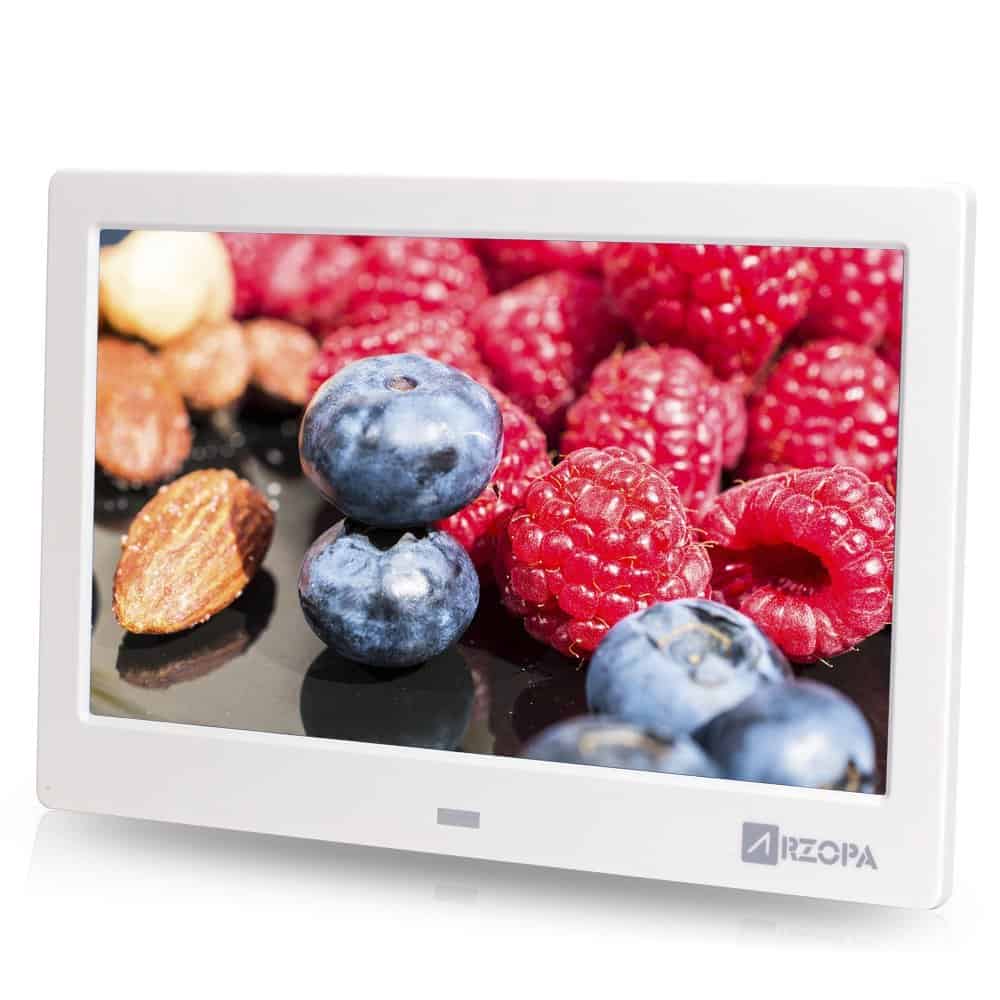 Arzopa have used a 10″ widescreen 16:0 display with 1024×600 resolution and photos do look really good on this.  Add your chosen media to a memory card, slip it in the back and select your chosen media from the menu.  Popping photos into a single folder gives you access to all of them, or you could split them into different folders and select whichever folder is the one you'd like to look at.
You control the menu either using the controls on the back of the unit or via the included, chunky, remote control.  It's a basic menu but it does the job.  As well as selecting the media type to view you also have a range of settings to adjust, including a timed on/off feature.
Unlike some digital frames, such as the Nixplay Seed,  the Azorpa doesn't feature a proximity sensor so the timed feature is useful for turning this off when you know nobody will be around, for example over night.
The frame also supports video playback, the images look good and there is a speaker built in but it's rather tinny, but it does the job if you want to relive old memories.
It's a decent frame, looks physically good and photos look good on it as well.  If you pre-load a memory card you could have the perfect Christmas present for someone.
The Arzopa 10 inch Widescreen Digital Photo Frame is available from:
– Amazon UK: http://amzn.to/2kiSaFF
– Amazon.com: http://amzn.to/2BF5Q1S
– eBay: http://ebay.to/2BDhcDo
Lenovo Tab M10 10.1 Inch HD Tablet – (Quad Core 2.0GHz, 2GB RAM, 32GB eMMC, Android Pie) – Slate Black
7 new from £128.95
3 used from £129.98
Buy Now
Amazon.co.uk
as of 26/01/2021 11:50 am
Features
Your family tablet: A powerful tablet that suits all your family's needs with dedicated user profiles, parental controls and a Kids Mode for your peace of mind
Crystal clear audio and vision: A 10.1 Inch high-definition IPS screen (1280 x 800) and Dolby Atmos dual front speakers giving you immersive entertainment with surround sound
Thin and light profile: Weighing just 480 g and only 8.45 mm thin, the M10 is an impressive tablet with family-friendly features and fast connection
On-the-go-fun: With a battery life of 9 hours, you can take your entertainment with you anywhere without having to worry about the next charge
Safe and secure: Unlock your device in a flash with face recognition technology, preloaded with the latest Android Pie software so as you can stay up to date
12 Months Supply Allacan Cetirizine Hayfever and Allergy Tablets 30 x 12 (30 x 2 in each box)
Buy Now
Amazon.co.uk
as of 26/01/2021 11:50 am