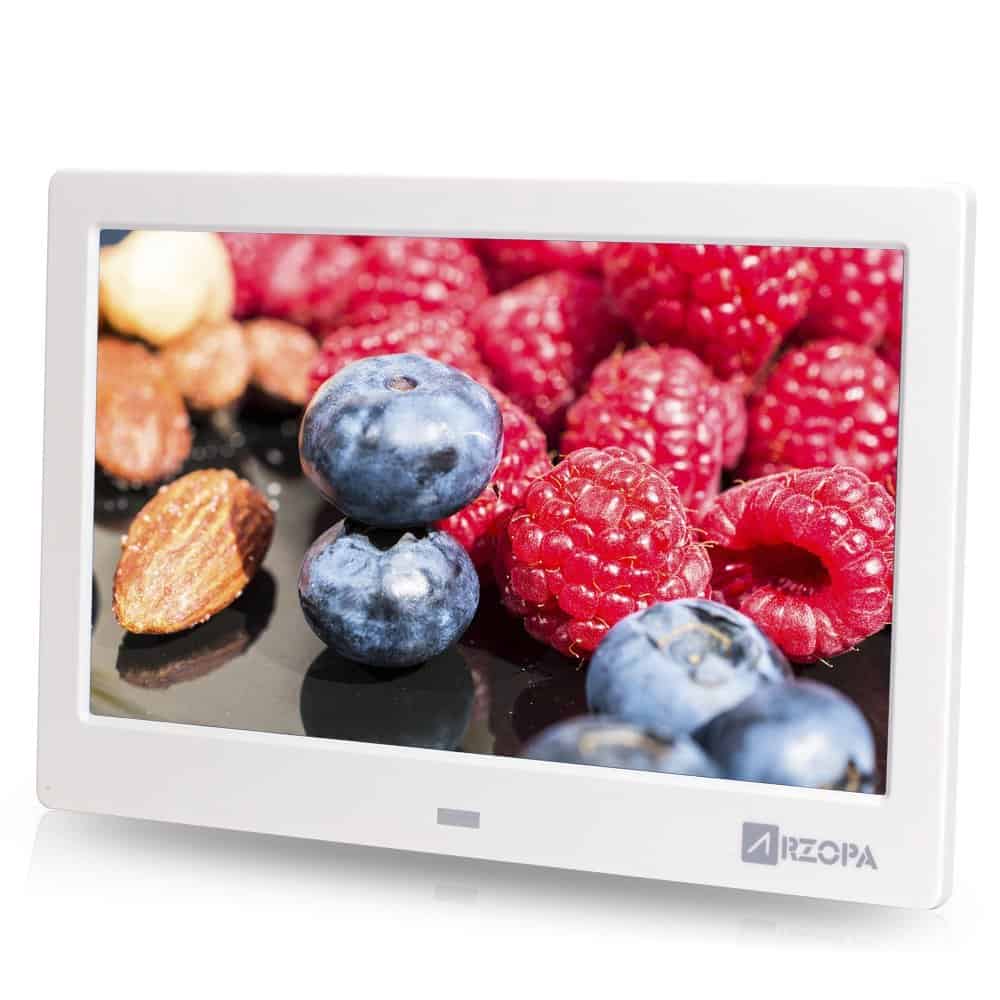 *This post may have affiliate links. For example As an Amazon Associate I earn from qualifying purchases, which means if you purchase something after clicking a link I may receive commission (don't worry, there's no extra cost to you). This helps support the work I put into the site.
The Arzopa 10″ Widescreen Digital Photo Frame gives you a lot of screen real estate for not a huge price.
The 10″ frame is available in either black or white.  It's a good size, not too chunky, and it can either be popped on a desk or wall mounted.
The included manual caused some confusion, it lists a long stand as being included, but that's not the case.  Instead this is kept upright using a band that screws int the back of the frame.
Around the back you'll also find manual controls, SD memory card slot, earphone socket, USB port, HDMI and the power socket.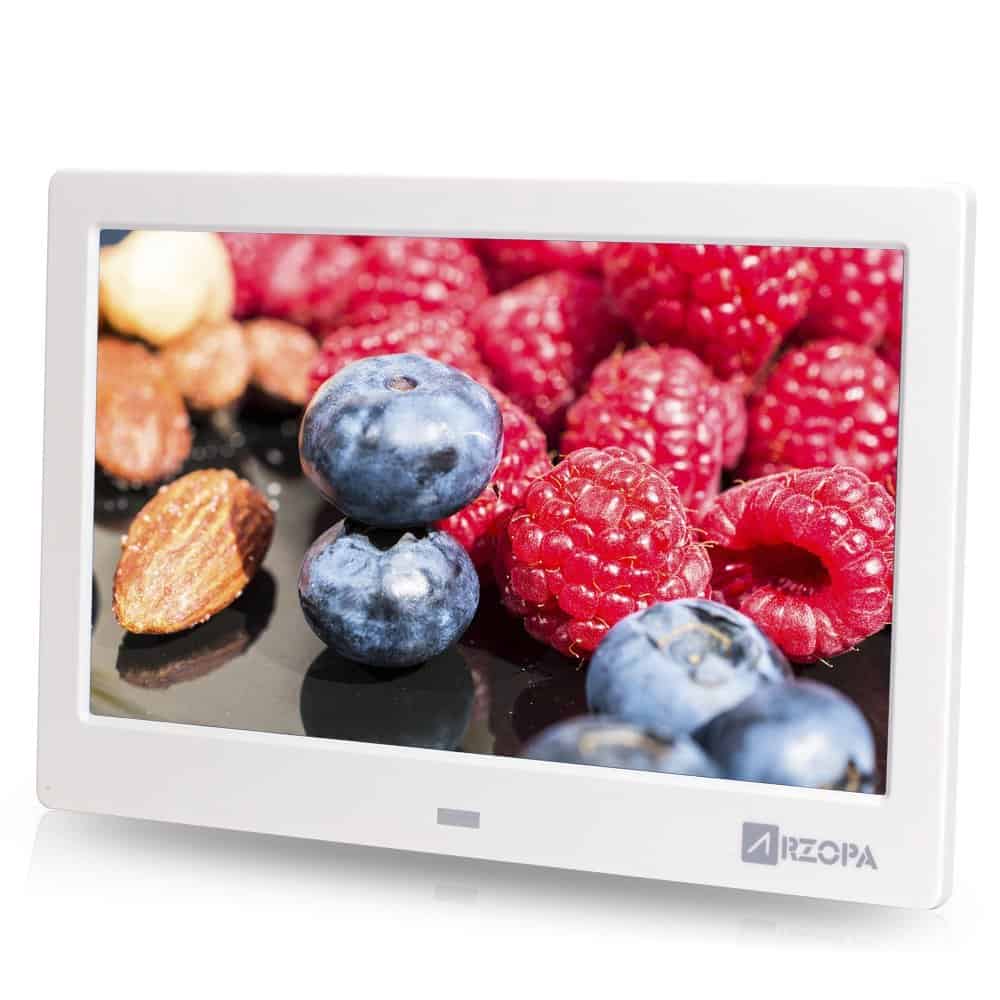 Arzopa have used a 10″ widescreen 16:0 display with 1024×600 resolution and photos do look really good on this.  Add your chosen media to a memory card, slip it in the back and select your chosen media from the menu.  Popping photos into a single folder gives you access to all of them, or you could split them into different folders and select whichever folder is the one you'd like to look at.
You control the menu either using the controls on the back of the unit or via the included, chunky, remote control.  It's a basic menu but it does the job.  As well as selecting the media type to view you also have a range of settings to adjust, including a timed on/off feature.
Unlike some digital frames, such as the Nixplay Seed,  the Azorpa doesn't feature a proximity sensor so the timed feature is useful for turning this off when you know nobody will be around, for example over night.
The frame also supports video playback, the images look good and there is a speaker built in but it's rather tinny, but it does the job if you want to relive old memories.
It's a decent frame, looks physically good and photos look good on it as well.  If you pre-load a memory card you could have the perfect Christmas present for someone.
The Arzopa 10 inch Widescreen Digital Photo Frame is available from:
– Amazon UK: http://amzn.to/2kiSaFF
– Amazon.com: http://amzn.to/2BF5Q1S
– eBay: http://ebay.to/2BDhcDo
Samsung Galaxy Tab A 10.1-Inch 32 GB Wi-Fi - Silver (UK Version)
Features
Entertainment for All: Designed with the whole family in mind, the Galaxy Tab A has what it takes to keep everyone happy
Surround Yourself in Sound: Feel the action come to life all around you with immersive Dolby Atmos surround sound
A Whole New World of Wonder: Watch, stream and browse on a 10.1 Inch Full HD corner-to-corner display with less bezel
One for the Whole Family: With a simple touch of a button you can switch into Kids Home, transforming your Galaxy Tab A into a truly child-friendly tablet -safe in the knowledge your settings, documents and photos are protected
What's in the Box: Samsung Galaxy Tab A, charger, user manual
12 Months Supply Allacan Cetirizine Hayfever and Allergy Tablets 30 x 12 (30 x 2 in each box)
KRIEITIV 10 Inch LCD Writing Tablet Electronic Drawing Board Doodle Pad eWriter Gifts for Kids Office Handwriting Pad Ewriter with Stylus Case for Home (Black)
1 new from £15.00
Free shipping
Features
EASY to use: The KRIEITIV LCD writing tablet just uses a pen to write or draw lines of different thickness according to the strength you write or draw; You can easily erase just with one button, and lock all with the other button.
SAVE paper, environmentally friendly, safe: The KRIEITIV ewriter can repeatedly write and erase one hundred thousands of times, means it can save 100000 pcs of papers and 3 trees. Durable ABS fame, no ink, no dust make it safe for both adults and kids.
MULTIPLE uses: This LCD drawing board is great for kids to practice spellings, drawing and doodles; Also can be used for making notes, shopping list, quick sketches, family messages, office use, even for communication with who lost the ability to speak or listening.
LONG service life and portable: The LCD writing board only consumes power when erasing, so the battery will last ages; it has a good size with less than 200g, very light and portable to carry, can replace paper to write and draw anywhere you like.
PERFECT gift with 1 Year warranty: The KRIEITIV LCD drawing tablet comes with a felt case and anti-lost rope, which protects the board and pen perfectly, will be a great gift for kids, family and friends. Within 1 year, any problem of the product, please just contact us for solution, we're sure to help you slove it.