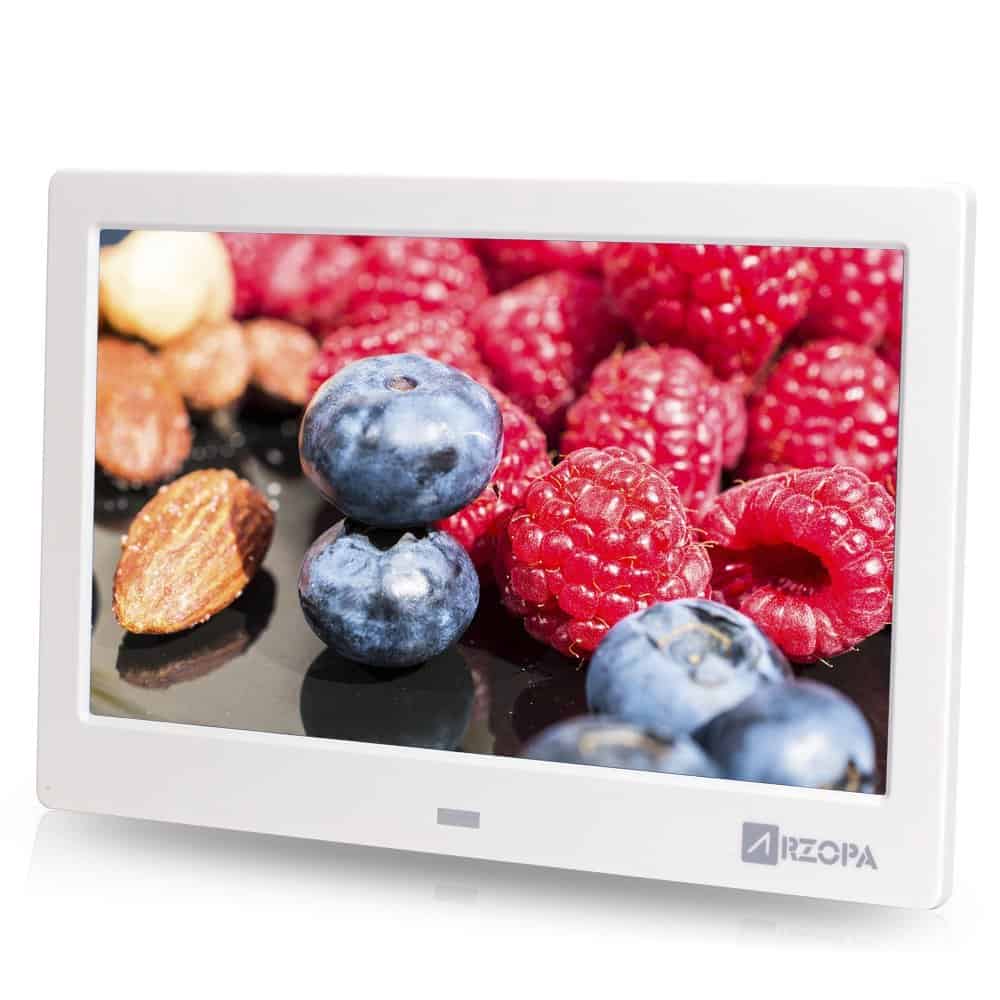 *This post may have affiliate links. For example As an Amazon Associate I earn from qualifying purchases, which means if you purchase something after clicking a link I may receive commission (don't worry, there's no extra cost to you). This helps support the work I put into the site.
The Arzopa 10″ Widescreen Digital Photo Frame gives you a lot of screen real estate for not a huge price.
The 10″ frame is available in either black or white.  It's a good size, not too chunky, and it can either be popped on a desk or wall mounted.
The included manual caused some confusion, it lists a long stand as being included, but that's not the case.  Instead this is kept upright using a band that screws int the back of the frame.
Around the back you'll also find manual controls, SD memory card slot, earphone socket, USB port, HDMI and the power socket.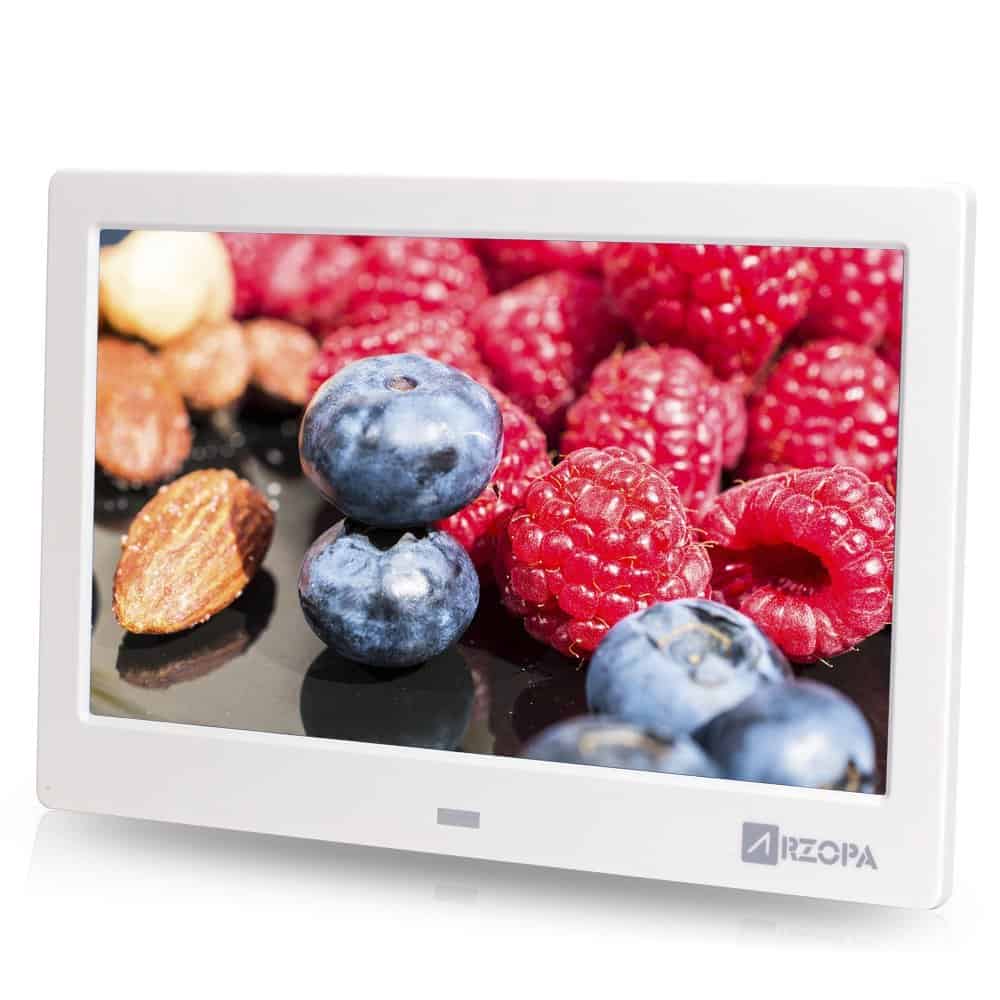 Arzopa have used a 10″ widescreen 16:0 display with 1024×600 resolution and photos do look really good on this.  Add your chosen media to a memory card, slip it in the back and select your chosen media from the menu.  Popping photos into a single folder gives you access to all of them, or you could split them into different folders and select whichever folder is the one you'd like to look at.
You control the menu either using the controls on the back of the unit or via the included, chunky, remote control.  It's a basic menu but it does the job.  As well as selecting the media type to view you also have a range of settings to adjust, including a timed on/off feature.
Unlike some digital frames, such as the Nixplay Seed,  the Azorpa doesn't feature a proximity sensor so the timed feature is useful for turning this off when you know nobody will be around, for example over night.
The frame also supports video playback, the images look good and there is a speaker built in but it's rather tinny, but it does the job if you want to relive old memories.
It's a decent frame, looks physically good and photos look good on it as well.  If you pre-load a memory card you could have the perfect Christmas present for someone.
The Arzopa 10 inch Widescreen Digital Photo Frame is available from:
– Amazon UK: http://amzn.to/2kiSaFF
– Amazon.com: http://amzn.to/2BF5Q1S
– eBay: http://ebay.to/2BDhcDo
ARZOPA Digital Photo Frame10 inch, IPS Screen Widescreen HD 16:9 Picture Album Support MP3 MP4 Video Player Clock Calendar Random Playback Mode with Remote Control
1 new from £43.99
Free shipping
Features
10-inch IPS original screen with 1024x768 high resolution 16:9 display photos, different perspectives always showing high-definition real picture effects, shows your most cherished moments photos, a great centerpiece for any home, office or business.
Media playback: support random playback mode; support background music play; support HD 720p and partial 1080p video playback; support automatic switch machine and alarm function, can set boot automatically play.
Easy to Use: interface supports USB 2.0; U disk; SD/SDHC/MMC/MS (Max 32G). Plug and play to instantly display all your digital photos and videoes, simple to operate.
Latest beautiful stylish and ultra-slim design, less than 1 inch thick with flush mounted buttons for easy operation, a perfect Christmas gift for your beloved one.
Come an intuitive remote control with CR2025 battery, increase the adapter cord to 150cm(was 120cm), more convenient to ues and view your favorite video & music & picture, support full featured wireless remote and distance up to 4M.
Arzopa Digital Photo Frame 10 inch,Upgraded 16:9 HD Picture Video(1080P) Frame with Auto Rotate,MP3 Music,E-book,Calendar,Alarm Clock, Supports Multiple File Formats with Remote Control
1 new from £47.99
Free shipping
Features
High Res Screen : High resolution 1024X600 IPS Panel (16:9). Different perspectives always showing high-definition real picture effects, shows your most cherished moments photos, a great centerpiece for any home, office or business
Auto Rotate Funciton: This digital photo frame can adjust your photos' orientation automatically. With a detachable solid rack as a frame stand,wall-mountable feature allows you to put the frame on the wall as you wish
Media Playback: Support random playback mode,support background music play. All HD video and photo playback supported. support automatic switch machine and alarm function,can set boot automatically play
Easy to Use: No required setup and software needed,just plug the power adapter then this digital photo frame will display your photos instantly. Interface supports USB drives,MMC,SD,MS,SDHC (up to 32G)
Not Only a Digital Photo Frame: Can play four photos at the same time. Support full featured wireless remote and distance up to 4 M,more convenient to use and view. Automatic slide show with background music,calendar and alarm clock function,auto power ON/OFF with remote control. Arzopa provide 30 days free replacement (any quality problems),24 hours online service to solve any of your problems
Nixplay Seed 10.1 Inch Widescreen Digital Wi-Fi Photo Frame W10B Black - Digital Picture Frame with IPS Display and 10GB Online Storage, Display and Share Photos with Friends via Nixplay Mobile App
1 new from £159.99
Free shipping
Features
GIFT A NIXPLAY SEED FRAME AND STAY CONNECTED: Share photos and videos from your phone or by email to the Nixplay frame, wherever it is; A great gift for new parents, grandparents, newlyweds, college kids or families separated by distance
SHARE PHOTOS AND VIDEO PRIVATELY, SAFELY: Share images to your loved ones' frames and invite others to share pictures to your frame; Send unique photos or playlists to separate frames and grow your private family sharing network
MANAGE THE FRAME USING YOUR PHONE: The Nixplay App for iOS and Android gives you full control over your frame; Connect to Google Photos to ensure your frame is always up to date; Dropbox, Facebook and Instagram also supported from website
GET THE SMART FRAME THAT IS TRULY SMART: 16:10 aspect ratio display with 1280 x 800 resolution auto adjusts to portrait or landscape placement; Motion sensor turns the frame on/off when you enter/leave the room; Works with Amazon Alexa, just ask for the playlist you want
SUPPORT WHEN YOU NEED IT: Our Customer Service team is here to help on your Nixplay Smart Frame; We want to do everything we can to make you happy with your frame