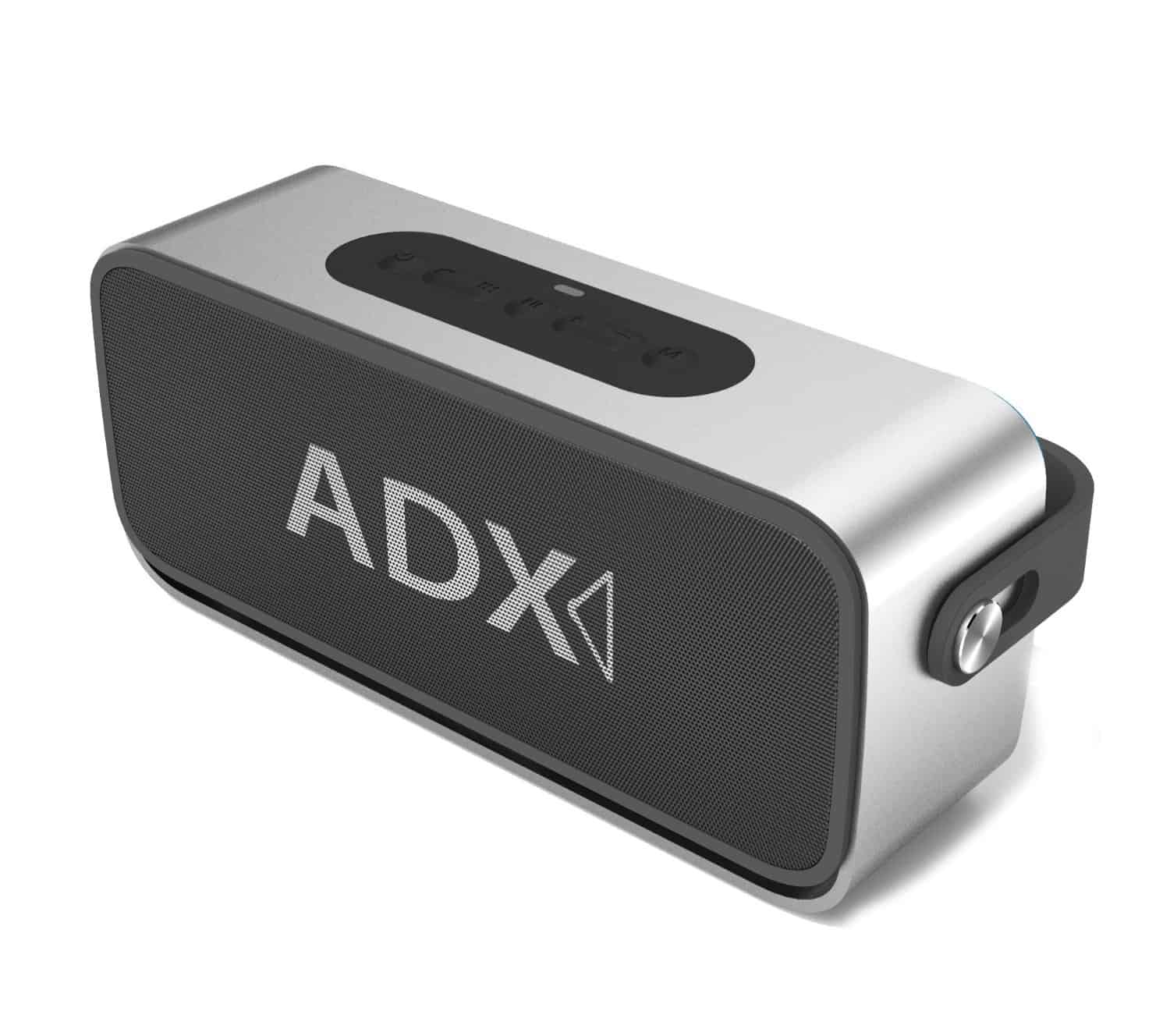 *This post may have affiliate links. For example As an Amazon Associate I earn from qualifying purchases, which means if you purchase something after clicking a link I may receive commission (don't worry, there's no extra cost to you). This helps support the work I put into the site.
The Audio Dynamix X05-UE3 bluetooth speaker breaks from the norm of the plastic often used in low cost speakers, opting instead for an aluminium surround that gives this a nice solid finish.
The X05-UE3 is a Bluetooth 4 speaker with 2 x 50mm Kevlar drivers and 'Each driver sits in it's own optimised acoustic chamber'.  Note there is no NFC so you'll need to pair via the traditional Bluetooth menu.
It's nice and light in the hand and you'll note the X05-UE3 comes with a carry handle for easy transportation. This can be pushed to the back, out the way of controls and potential vibration at high volume levels.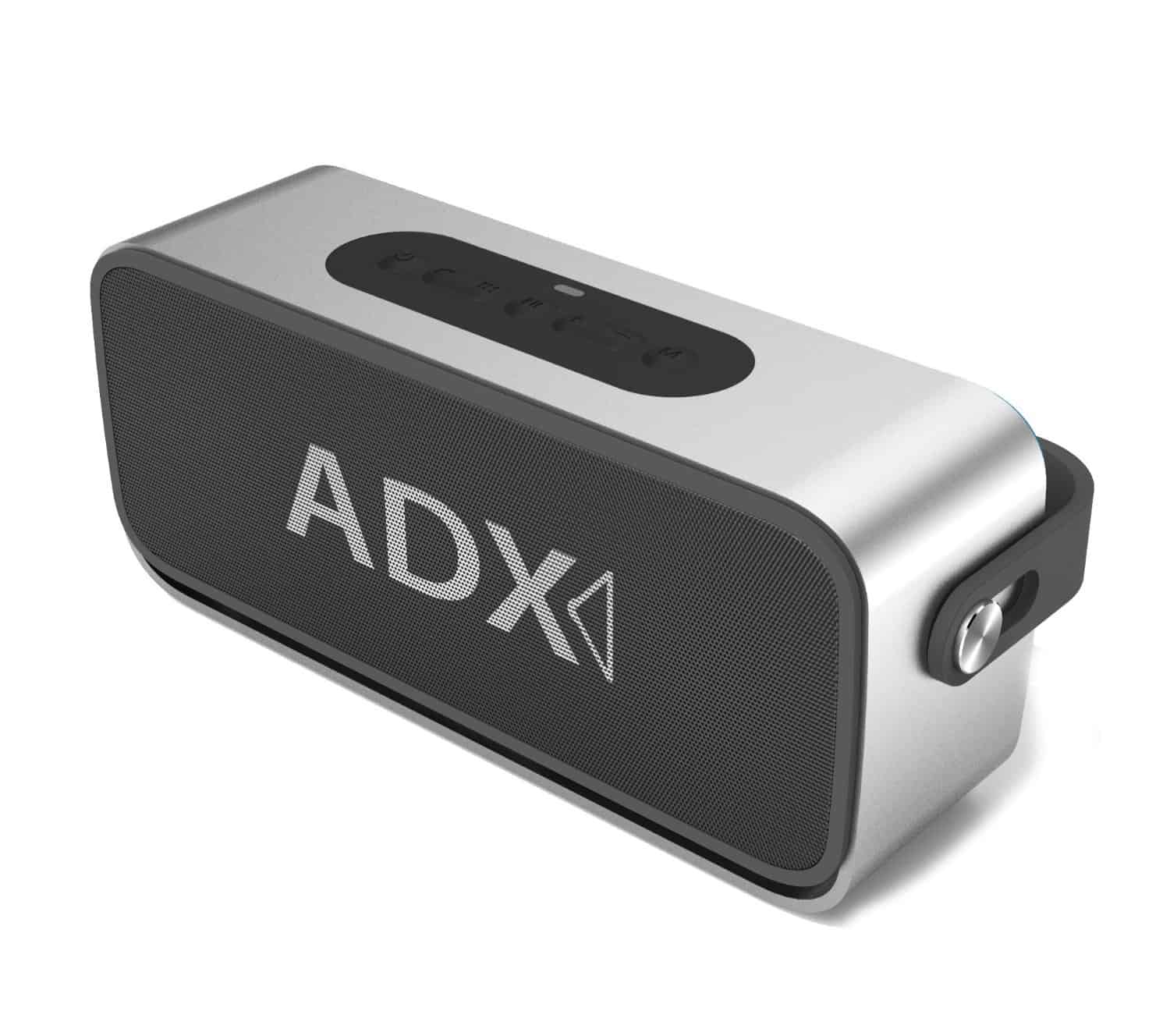 On the top are the usual control buttons for power, skipping etc. However, different to most speakers is the inclusion of an EQ button to give you a different sound experience. In practice this worked well, with music sounding better with the EQ on rather than off.
On the bottom is an anti-slip pad that also helps the X05-UE3 vibrate the surface you pop it on to add additional bass. It may not come across too clearly in the video review below, but there is a clear difference in sound with the speaker sounding much better when placed on a wooden table.
Around the back is the USB charge point and aux in. A really nice design feature I've not seen before is that an aux cable is built into the back and can be easily removed for use with non-bluetooth devices (e.g. MP3 player, laptop, maybe even an old school CD player or Mini Disc if that's how you roll!). When you want to pack it away it just clips back into the speaker. Very neat.
Overall a good little speaker.
Available from Amazon UK: http://amzn.to/1WWNUSM and Amazon USA: http://amzn.to/1SrF7qI
Mpow Bluetooth 4.0 USB Dongle Adapter, Bluetooth Transmitter Receiver Supports Windows 10, 8, 7, Vista XP 32/64 Bit Laptop PC for Bluetooth Speaker, Headset, Keyboard, Mouse and More, Plug and Play
3 new from £8.99
2 used from £7.94
Free shipping
Features
【Multiple Uses】Mpow Bluetooth 4.0 USB Dongle Adapter can Easily add Bluetooth feature for your computer, enables the computer to wirelessly connect more Bluetooth devices such as Bluetooth headphones, speaker, receiver, keyboard, mouse, smartphone, tablet, printer, projector, gaming controller, xbox one controller and more BLE (Bluetooth Low Energy) devices. For ps4/3 controller, may need to install specific drivers for different games/software to configure button settings.
【Wide Compatibility】Mpow Bluetooth USB dongle 4.0 can work with laptops and desktops running Windows XP, Win Vista, Win 7, Win 8 32 bit or 64 bit to latest Win 10 with driver program, Not compatible with MAC. the program supports to mange the connection devices and ensure the maximum performance, CD driver disc included in package; Note: Plug and Play for Windows 8 and higher system. Driver only needed when your Windows 7 and lower system need to connect audio device.
【Bluetooth V4.0 & 20m Bluetooth Signal 】Mpow Bluetooth dongle adopts Latest Bluetooth 4.0 version to Offers High Speed Up To 3mbps Wireless Transmitter Enables Long Range Connectivity Up to 20m in open space. it is backward compatible with Bluetooth V3.0/2.1/2.0/1.1. Support dual-mode, low power, simple pairing, good anti-jamming features.
【Multilingual installation driver & Lower power consumption】Comes with a CD for installing driver. The installation driver can recognize PC system language automatically. Also, USB 2.0 has lower power consumption and can compatible with USB 1.1. NOTE: The LED indicator would let you know whether it is working or not.
【Warm tip】❤This Bluetooth 4.0 USB Dongle don't compatible with Mac.❤ The Bluetooth 4.0 Adapter is plug & play on Win7 and above OS for mouse, keyboard and cell phone. For the Headset / Speaker and other bluetooth devices, please install the Bluetooth Driver from Mpow.❤ If you want to connect to your TV by pairing the device with your headset, please search Mpow transmitter or receiver/transmitter
Logitech Z200 PC Speakers, Stereo Sound, 10 Watts Peak Power, 2 x 3.5mm Inputs, Headphone Jack, Adjustable Bass, Volume Controls, UK Plug, PC/TV/Smartphone/Tablet - Midnight Black
23 new from £24.00
8 used from £18.59
Free shipping
Features
Rich Acoustics : These multimedia speakers deliver rich, clear stereo sound with its 10 Watts peak power or 5 Watts RMS power from two 2.5-Inch drivers per speaker - enough power to produce room-filling audio for your music, movies or videos
Easy Access : For fingertip control of your hifi listening experience, this stereo speaker set up has volume level and power controls built on the front panel for easy access
Customisable Bass : Each wired stereo mini-speaker comes with a driver tuned for deep bass sounds, with an integrated tone control wheel on the side - allowing you to adjust sounds to suit your listening experience
Dual Connectivity : This portable PC speaker set up provides two 3.5 mm audio inputs, including auxiliary line, that works with most smartphones, tablets and laptops - meaning you can listen to 2 devices at the same time without disconnecting
Optional Privacy : If you need to listen to sound without everyone listening in, these multimedia speakers come built with a headphone cable jack - for instant privacy should you need it
Logitech Z120 Compact PC Stereo Speakers, 3.5mm Audio Input, USB Powered, Integrated Controls, Cable Management Solution, Computer/Smartphone/Tablet/Music Player - White/Black
25 new from £12.12
5 used from £11.27
Free shipping
Features
USB Powered : These compact wired speakers make a perfect addition to your laptop or desktop set up, as they simply just plug into the side using the handy USB plug and can easily be moved around
Compatible Audio Input : While you plug the USB cable in to power the computer speakers, you use the 3.5 mm input cable that's compatible with headphone jack slots in most devices
Clever Design : Designed to be easy for moving around your workspace, these compact speakers use minimal space and come with fingertip controls integrated - for easy access to power and volume controls to set the right hifi sound
Cable Management : Users can adjust the length of the cords on these portable laptop speakers using the cable management solution on the back - eliminating cord clutter
Guaranteed Protection : These handy compact speakers comes with a 2-Year Hardware Warranty - so you can enjoy your audio experience worry-free