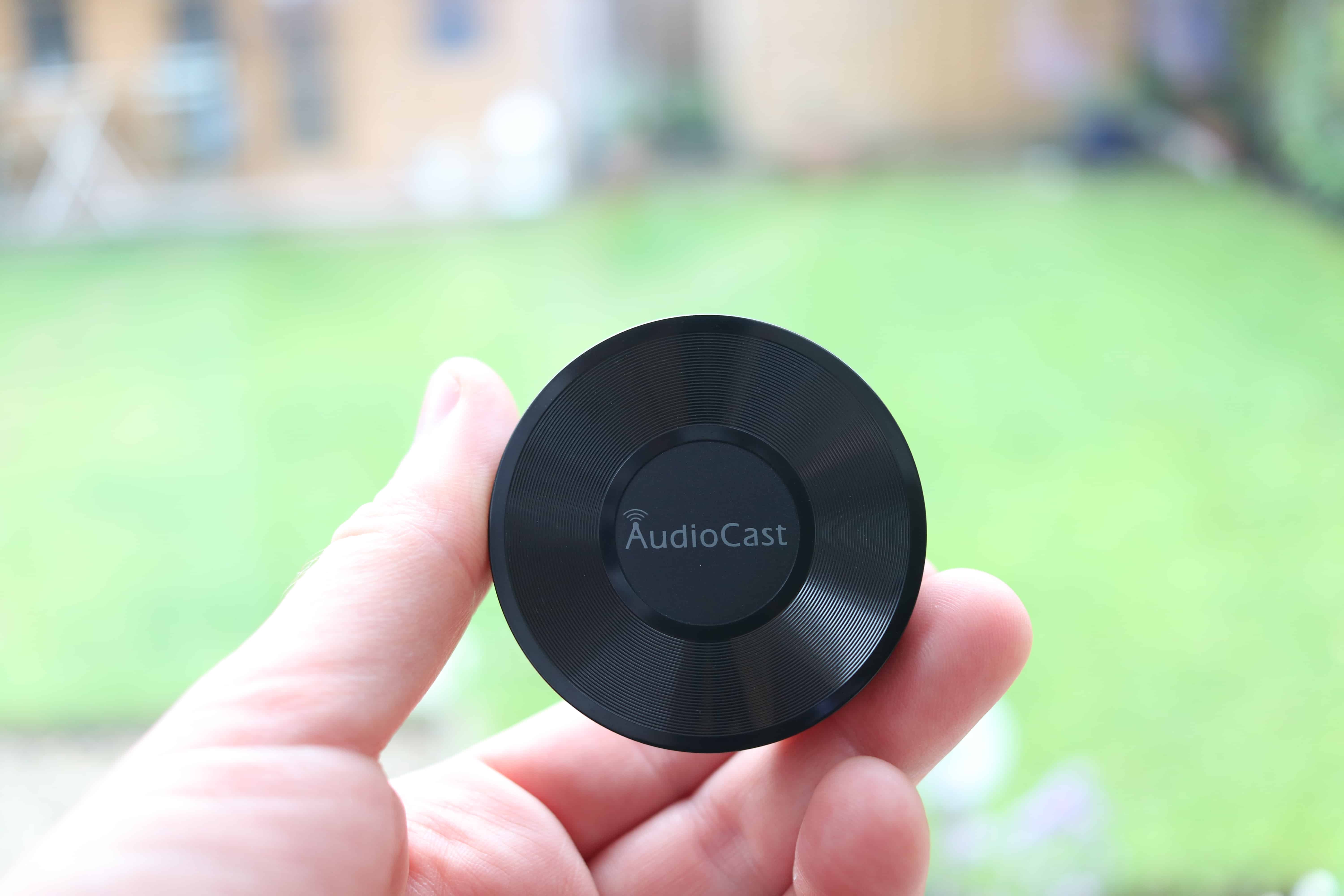 *This post may have affiliate links. For example As an Amazon Associate I earn from qualifying purchases, which means if you purchase something after clicking a link I may receive commission (don't worry, there's no extra cost to you). This helps support the work I put into the site.
The AudioCast is a low cost dongle that adds streaming services to your existing speaker setup.
For a long time the only option for a multi room sound system was the invest in Sonos speakers, these days you can buy low cost multi speaker systems such as the August WiFi speaker system, but what if you've an existing system you don't want to replace?
While modern amps and speakers often have services such as Spoity Connect included many older systems, which are still brilliant sounding systems, don't and that's where the AudioCast can help.
It's a small, circular, dongle that comes with an aux cable and USB power cable/plug.  Aside from a set of instructions there isn't anything else in the box, yet despite the minimal design this little gadget can add a lot of cool features to your music system.
Setup didn't take too long, you plug the aux cable into your amp/speakers, power on the dongle and run the free app which will get the AudioCast connected to your network.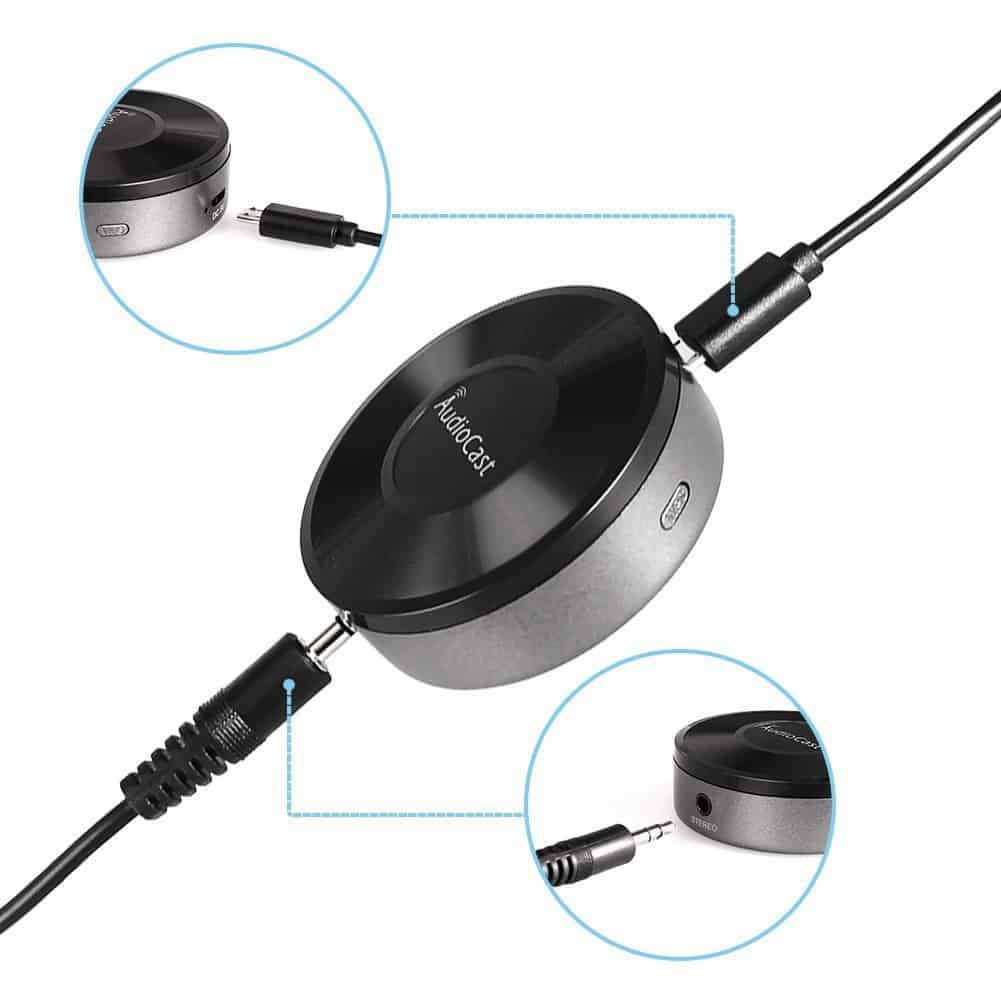 If you have problems with this method the manual explains how to connect directly to the AudioCast to allow you to set the network connection via a web portal.
Once connected to WiFi the AudioCast appears in the app and is ready to use.
The app lists a wide range of streaming sources that can be used including the big players of Spotify, Pandora, Tidal and TuneIn radio.  You can also stream to it via Bluetooth, handy if you have friends over who want to share music but don't want to go to the trouble of setting up the app.
To start with the app list can be a bit of an overwhelming list with there being so many options so it's great to see the option to deactivate the options you don't use to give you a cleaner interface.
If you're a Spotify user you'll be pleased to know the AudioCast is Spotify Connect compatible, allowing you to send music to your speakers via the Spotify app.
While one AudioCast is great, multiple units open up the world of multi room sound systems.  Buy a second dongle for a second system and they'll both appear in the app.  They can play music independently of each other, or play the same track at the same time.
If you have two mono speakers you can set one to left and one to right giving you a stereo sound system.
If this sounds familiar it's because the underlying system has been used in the aforementioned August WiFi speaker system and brilliantly these can be used together, a real advantage of other multiroom systems as it means you can use a range of products rather than be locked to a specific manufacturer.
As you'll see in the review video below the system works really well, playing the same track across 3 devices.  The track used was actually streamed via Bluetooth to all 3.  In this configuration one device acts as the master so you only need a single Spotify connect premium account, but if you want to stream different songs to different devices you'd need multiple Spotify accounts (or use different streaming services).
The AudioCast is a low cost way to add a fantastic range of features to existing audio equipment and can be picked up from:
AudioCast Music Streaming Dongle Video Review
FirstE Bluetooth FM Transmitter, Car Radio Audio Adapter MP3 Player Handsfree Car Kit with Dual USB Ports 5V/3.1A, LED Display Car Voltage, Play TF Card/USB Flash Drive for iPhone,iPad,Samsung
2 new from £12.99
Free shipping
as of 15/04/2021 6:37 am ⓘ
Features
【Easy to Use】 Plug FirstE Bluetooth FM Transmitter into the car cigarette lighter; Tune the car radio into an unused FM frequency(range from 87.5 to 108 MHz), then match this FM Transmitter to the same frequency; Pair this handsfree car kits with your phone/ tablet via Bluetooth. Then you can listen your favorite songs or make phone calls. If there has an incoming call, this unit will automatically switch to telephone when you are in music playing mode.
【Stable Bluetooth Connection】Want to have clear and non-intermittent phone call with your family or friend on the move? FirstE Bluetooth car adapter has fixed the issues where have noise and co-channel interference when using hands free phone call function. Now you can quickly and easily make a hands-free call directly from your cell phone without interruption. What's more, Bluetooth transmitter for car features with wide Bluetooth compatibility that work well with most Bluetooth enabled devices
【Dual USB Car Charger】 FirstE Wireless Audio Cell Phonoe hands free car transmitter support charging two devices at a time, which is 3.1A together. The fm transmitter with bulit-in smart chip( charging IC) will divide the voltage based on the need of device automatically.
【Wide Compatibility】FirstE Bluetooth Car FM Transmitter is compatible with most Bluetooth enabled devices, such as iPhone, iPad, Tablet, Samsung, HTC, Sony and other Android smart phones; Stream music and make phone calls directly from your cell mobile devices to car stereo system speaker via FM radio signal( 87.5-108.0MHz).
【Hands Free Call】FirstE In Car FM Transmitter Adapter comes with bulit-in Microphone and Noise Suppression (CVC) technology, which offers crystal clear phone calls while letting you drive more safely; Answering/ redialing/ hanging off a call/ rejecting by pressing a button.
3.5mm Aux Audio Jack Cable Male to USB 2.0 Male Data Sync &Charge Cable,Work with MP3/MP4 Player,Car,video recorder,Pocket Speakers,1M/3.2Feet
as of 15/04/2021 6:37 am ⓘ
Features
❤ Charge and Data Sync 2 in 1: This USB 2.0 male to 3.5mm audio jack cable allows you to safely power, charge your device and synchronize and download files at the same time.
❤ Wide Compatibility: Any portable electronic device with DC 3.5mm jack such as MP3/MP4 Players pocket recorders/speakers Bluetooth headphones, etc. Please check the compatibility before placing an order.
❤ Convenience: Easily charge portable devices through the PC USB port, portable power bank, USB car charger, etc. Quick synchronizing or loading or file at rate up to 480 Mbps.
❤ High Quality: This cable adopts gold-plated plug and 4 core tinned copper, which provide better oxidation resistance and electrical conductivity for longer lifespan when compared to nickel plated plugs and pure copper wire.
❤ A perfect accessory to have for your small electronic device. Cable 0.8m (2.6ft) long, flexible to use and easy to store. (We provide 30days replacement or return, any requests, please email our customer service)
Mpow Bluetooth 4.0 USB Dongle Adapter, Bluetooth Transmitter Receiver Supports Windows 10, 8, 7, Vista XP 32/64 Bit Laptop PC for Bluetooth Speaker, Headset, Keyboard, Mouse and More, Plug and Play
3 new from £6.79
1 used from £6.52
Free shipping
as of 15/04/2021 6:37 am ⓘ
Features
【Multiple Uses】Mpow Bluetooth 4.0 USB Dongle Adapter can Easily add Bluetooth feature for your computer, enables the computer to wirelessly connect more Bluetooth devices such as Bluetooth headphones, speaker, receiver, keyboard, mouse, smartphone, tablet, printer, projector, gaming controller, xbox one controller and more BLE (Bluetooth Low Energy) devices. For ps4/3 controller, may need to install specific drivers for different games/software to configure button settings.
【Wide Compatibility】Mpow Bluetooth USB dongle 4.0 can work with laptops and desktops running Windows XP, Win Vista, Win 7, Win 8 32 bit or 64 bit to latest Win 10 with driver program, Not compatible with MAC. the program supports to mange the connection devices and ensure the maximum performance, CD driver disc included in package; Note: Plug and Play for Windows 8 and higher system. Driver only needed when your Windows 7 and lower system need to connect audio device.
【Bluetooth V4.0 & 20m Bluetooth Signal 】Mpow Bluetooth dongle adopts Latest Bluetooth 4.0 version to Offers High Speed Up To 3mbps Wireless Transmitter Enables Long Range Connectivity Up to 20m in open space. it is backward compatible with Bluetooth V3.0/2.1/2.0/1.1. Support dual-mode, low power, simple pairing, good anti-jamming features.
【Multilingual installation driver & Lower power consumption】Comes with a CD for installing driver. The installation driver can recognize PC system language automatically. Also, USB 2.0 has lower power consumption and can compatible with USB 1.1. NOTE: The LED indicator would let you know whether it is working or not.
【Warm tip】❤This Bluetooth 4.0 USB Dongle don't compatible with Mac.❤ The Bluetooth 4.0 Adapter is plug & play on Win7 and above OS for mouse, keyboard and cell phone. For the Headset / Speaker and other bluetooth devices, please install the Bluetooth Driver from Mpow.❤ If you want to connect to your TV by pairing the device with your headset, please search Mpow transmitter or receiver/transmitter