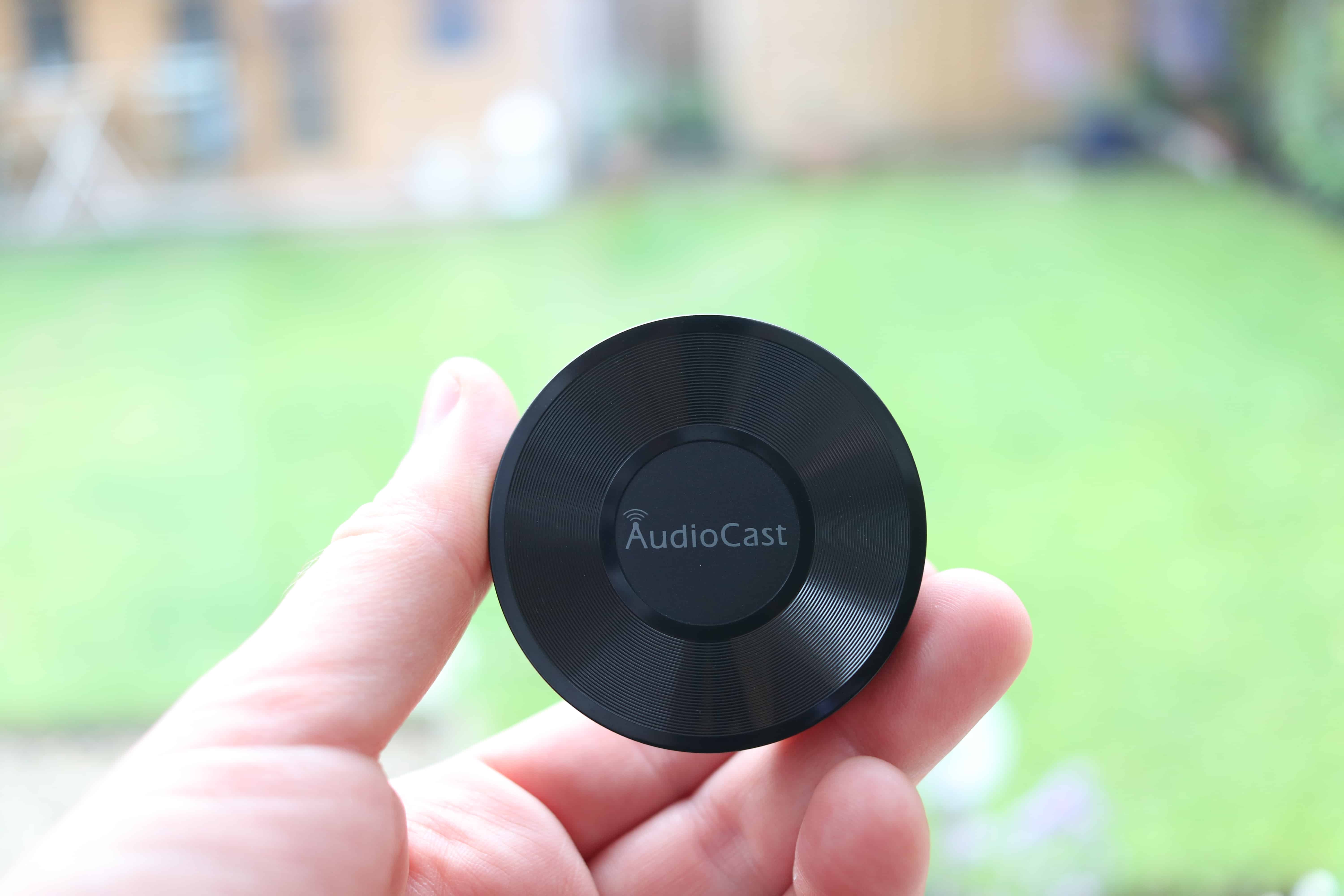 The AudioCast is a low cost dongle that adds streaming services to your existing speaker setup.
For a long time the only option for a multi room sound system was the invest in Sonos speakers, these days you can buy low cost multi speaker systems such as the August WiFi speaker system, but what if you've an existing system you don't want to replace?
While modern amps and speakers often have services such as Spoity Connect included many older systems, which are still brilliant sounding systems, don't and that's where the AudioCast can help.
It's a small, circular, dongle that comes with an aux cable and USB power cable/plug.  Aside from a set of instructions there isn't anything else in the box, yet despite the minimal design this little gadget can add a lot of cool features to your music system.
Setup didn't take too long, you plug the aux cable into your amp/speakers, power on the dongle and run the free app which will get the AudioCast connected to your network.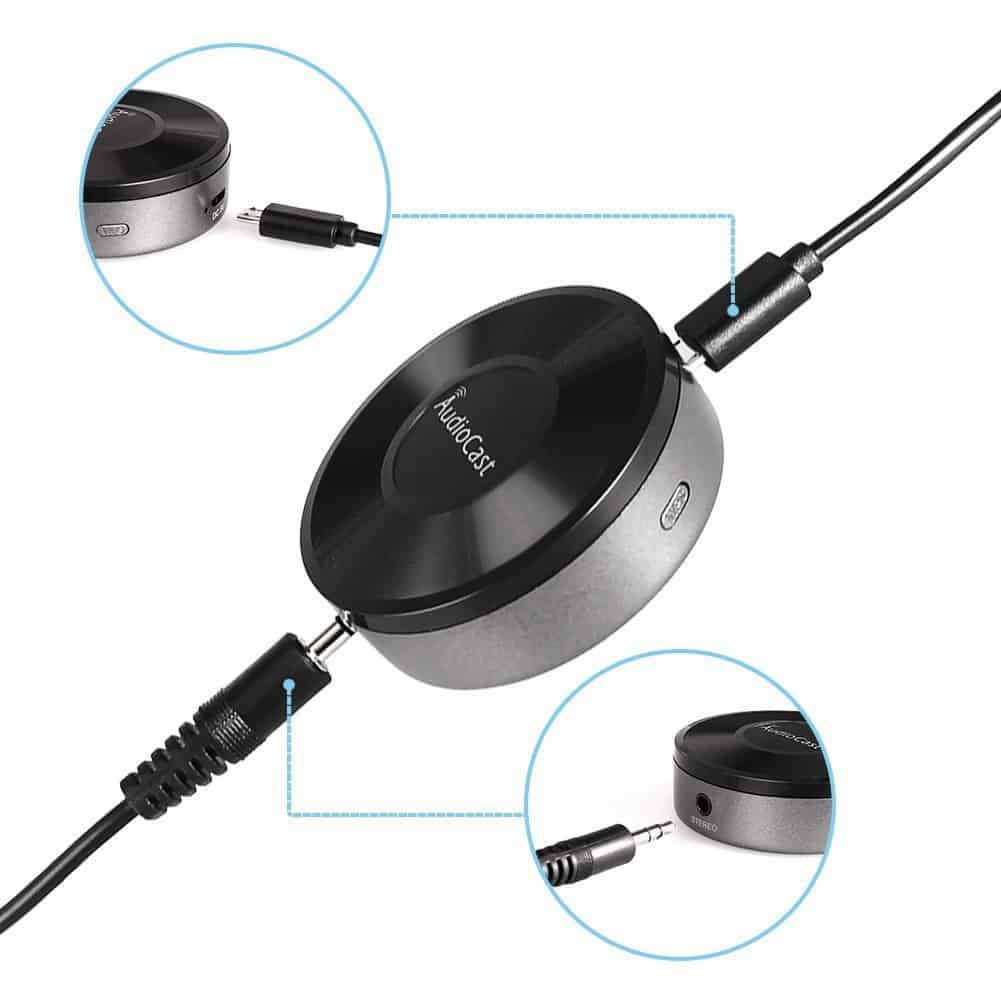 If you have problems with this method the manual explains how to connect directly to the AudioCast to allow you to set the network connection via a web portal.
Once connected to WiFi the AudioCast appears in the app and is ready to use.
The app lists a wide range of streaming sources that can be used including the big players of Spotify, Pandora, Tidal and TuneIn radio.  You can also stream to it via Bluetooth, handy if you have friends over who want to share music but don't want to go to the trouble of setting up the app.
To start with the app list can be a bit of an overwhelming list with there being so many options so it's great to see the option to deactivate the options you don't use to give you a cleaner interface.
If you're a Spotify user you'll be pleased to know the AudioCast is Spotify Connect compatible, allowing you to send music to your speakers via the Spotify app.
While one AudioCast is great, multiple units open up the world of multi room sound systems.  Buy a second dongle for a second system and they'll both appear in the app.  They can play music independently of each other, or play the same track at the same time.
If you have two mono speakers you can set one to left and one to right giving you a stereo sound system.
If this sounds familiar it's because the underlying system has been used in the aforementioned August WiFi speaker system and brilliantly these can be used together, a real advantage of other multiroom systems as it means you can use a range of products rather than be locked to a specific manufacturer.
As you'll see in the review video below the system works really well, playing the same track across 3 devices.  The track used was actually streamed via Bluetooth to all 3.  In this configuration one device acts as the master so you only need a single Spotify connect premium account, but if you want to stream different songs to different devices you'd need multiple Spotify accounts (or use different streaming services).
The AudioCast is a low cost way to add a fantastic range of features to existing audio equipment and can be picked up from:
AudioCast Music Streaming Dongle Video Review
TaoTronics Bluetooth Transmitter, Bluetooth 5.0 Transmitter/Receiver, 2-in-1 Wireless 3.5mm Adapter (aptX Low Latency, Pair 2 At Once, For Home and Car Sound Systems)
1 new from £27.99
1 used from £ 27.51
Free shipping
Features
BLUETOOTH TRANSMITTER AND RECEIVER: Transmitter function transforms 3.5mm audio-out media devices into a Bluetooth device capable of streaming Bluetooth audio; Receiver lets non-Bluetooth devices like car or home stereos receive high quality audio.
INSTANT SOUND: Enjoy a latency lower than 95% of other devices with aptX Low Latency technology; end-to-end lag time is now 40 milliseconds so high-definition video is transmitted without problems in Transmitter mode.
A 2 FOR 1 CONNECTION: Two Bluetooth headphones or speakers can pair at once so children can watch in silence and give parents a needed break. Note: aptX Low Latency does NOT support Dual Pair mode.
FULL CONTROL: During receiver mode you have full control of the music including play / pausing, track selection, and volume control with buttons on the adapter controls. The adapter can connect to traditional device like wired headphones or speakers so they can receive Bluetooth music direct from phones and tablets.
ALWAYS READY: With 20 hours of continuous audio, battery protection, charging during operation, and pairing memory functionality, you're always ready for fun.
TaoTronics Bluetooth 5.0 Transmitter and Receiver, Digital Optical TOSLINK and 3.5mm Wireless Audio Adapter for TV/Home Stereo System - aptX Low Latency
1 new from £29.99
Free shipping
Features
TRANSMITTER + RECIEVER: One portable adapter to use as either transmitter or receiver, powered by the latest Bluetooth 5.0, can pair with two headphones / speakers at once.
OPTICAL + 3.5mm: You get maximum flexibility with support for both 3.5mm (AUX and RCA) and optical (TOSLINK) digital, both input and output are supported.(Note: You could not use it for calling since there is not built-in mic.)
Low Latency, Instant Sound: aptX & aptX Low Latency support enables users to enjoy high-quality audio in sync with the picture (Note: aptX Low Latency enabled Bluetooth headphones or speakers are also required. Aptx doesn't support RX mode. You may not use it for instrument intentions where users expect instant feedback.)
CONSTANT STREAMING AND AUTOMATIC RE-PAIRING: Internal battery provides up to 15 hours of using, support charging and streaming at the same time, and automatically re-pair with existing paired devices.
CABLE-FREE ROAMING: keep your old stereo or wired headphone alive with new Bluetooth wireless connection, pair with smart phone or tablet from up to 30 feet away, and enjoy great music cable-free.
Goodmans Module WiFi Audio Adaptor with Spotify Connect - iOS, Android Smartphone and Tablet Control
2 new from £14.99
1 used from £ 9.99
Free shipping
Features
Spotify Connect
Hi-Res Audio
Multi-room Streaming
Smartphone Control
Dual Band WiFi