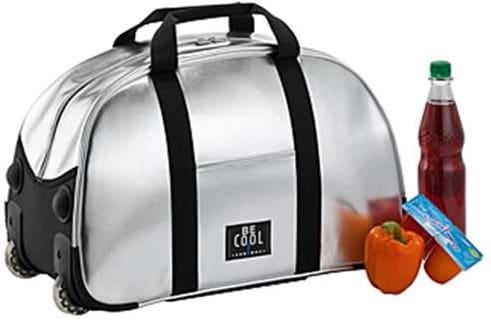 *This post may have affiliate links. For example As an Amazon Associate I earn from qualifying purchases, which means if you purchase something after clicking a link I may receive commission (don't worry, there's no extra cost to you). This helps support the work I put into the site.
This Be Cool larger cooling bag arrived just as the first few warm days of the year turned up, which made it perfect for use on sunny days out when you want to take food and drink with you.
It's a great sized bag with tear resistant seams and a 45 litre capacity that allows you to hold plenty of food and drink.
The bag itself is empty bar some small storage compartments and this means you'll likely want to pop food into containers for transportation else it'll likely get squashed if you fill this up.
Fortunately for those who might struggle to carry the bag when it's full it comes with wheels and a telescopic handle to help pull it along, much as you might have on your suitcase.  You'll find it fine to pull along behind you, even over grass, as long as the terrain isn't too challenging.
The silver design might not appeal to everyone, however the bags space aged looks are the reason this is a cool bag, and they do the job well.
You can see a sort of scientific test in the review video below; a thermometer was popped in the bag and left in the sun to see if it would get hotter.  The temperature was checked and then the thermometer was left directly in the sun to see what it registered outside the bag.  The results were, as you'd expect from a cool bag, that the inside of the bag was cooler than being sat in the sun.
This was with an empty bag so there is scope for creating a cooler interior if you load this up with chilled food/drinks or an ice pack.  If you're cooking for friends but need to travel this works well to transport warm foods from A to B as well.
The summer so far has been fairly poor, but at least if you've got this bag you're ready to head out on an adventure should the sun make an appearance.
Easy to use, easy to clean, great for day trips in the sun.
Available now from Amazon UK: http://amzn.to/1G44L05
Picnic Cool Bag Includes 2 Freezer Gel Packs and 2 Bottle ice Coolers. Large- 28 Litre (Stripe)
Buy Now
Amazon.co.uk
Features
Family size insulated cool bag with stripe pattern design
Measures 33x35x25cm with a massive 28 litre capacity. Weighing just 1.12kg, the bag isn't heavy before you fill it with food and drink!
The picnic bag features insulated cool bag inside with detachable bottle coolers and includes two free gel ice packs
Easy to carry using the short handles with Velcro fasten or adjustable over the shoulder strap. Summer BBQ apron available: search ASIN B00XPG6LXQ
Includes exterior zip pocket, mesh pocket and bungee cord fasten for your picnic blanket and more.
NZ Home XL Insulated Reusable Grocery Shopping Bags (2 Pack, Black)
Buy Now
Amazon.co.uk
Features
LIGHTWEIGHT - Commercial grade quality; the perfect pair of shopping bags for any grocery trip.
DURABLE - Long life zipper with super strong handles.
INSULATED - Keeps hot food hot and cold food cold for longer.
STURDY - Super strong material, reliable and long-lasting.
GREAT DESIGN - Easy to carry and stow, with multiple uses.