The Campark ACT76 Action Camera is another compact GoPro type action camera that comes with a wide range of accessories.
As well as the camera Campark have included a waterproof case, numerous adaptors to allow you to use this in a wide range of situations (e.g. mounted on a helmet) and it was nice to see a spare battery also included.
You get a nice quality storage case to keep everything contained, very handy given how many accessories there are.
The camera has a wide range of options available, with the main quick options being standard video, slow motion video, or time lapse video.
There is also the option to connect to the Campark camera via WiFi, allowing direct connection even when out and about.
Standard video can be filmed at very high resolution, slow motion drops the resolution down.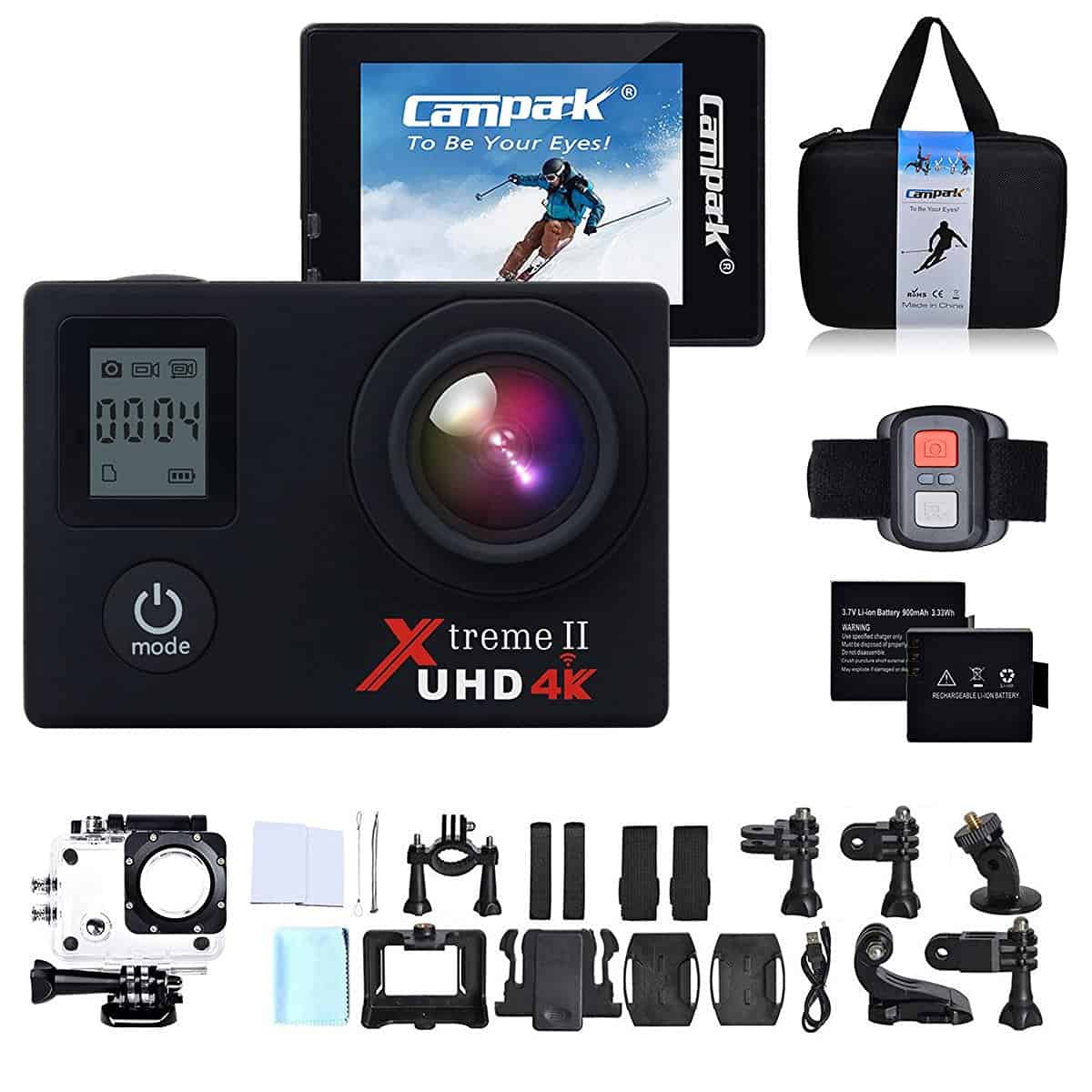 Video quality varies depending on what you're filming. For general shots it seemed OK, although as you'll see in the review video it struggles with deep blacks.
The ACT76 struggles a little with low light shots and this is amplified further if using slow motion as the resolution drop can make low light shots look rather fuzzy.
Time lapse mode, a personal favourite, can work really well. It's easy to setup and once activated you can just leave the camera taking photos. You'll end up with a single time-lapse video file.
Unfortunately in some situations an otherwise beautiful time-lapse was spoiled by the camera, again see the video review for an example of this problem.
So the ACT76 is a bit of a mixed bag, it is low cost and you get loads of accessories, but it's not a camera you can trust to get great quality footage in every situation.
Available from Amazon UK http://amzn.to/2dTAABs and Amazon USA: http://amzn.to/2dTBXQz
Campark Action Camera Video Review
Campark Action Camera 4K Wifi 16MP Underwater Waterproof Cam 170° Wide-Angle Sports Cameras with Remote Control 2 Batteries and Mounting Accessory Kits
6 new from £39.99
1 used from £ 31.06
Free shipping
Features
【Sony Sensor + Ultra HD 4K Action Camera】With built-in Sony sensor, Campark ACT76 action camera will record your video footage in 4K Ultra HD at 30 frames per second and capture images at 16 megapixels. You won't miss any details.
【170° Wide Angle + Dual Screen】A 170° wide angle lens is enough to capture any perfect detail to record a wonderful moment beyond your imagination. This sports action camera also equipped with innovative dual screen, 2 inch high definition back screen can display and replay recorded videos and pictures very well, You can check the state of the action camera, like battery power, through the 0.66 inch monochrome front screen at the same time.
【WiFi Connection + Wireless Remote Control 】Campark 4k action camera allows you preview photo/video in real-time, playback, download and share it to facebook, youtube. Just download App (XDV) on your phone or tablet and connect with this action camera. 2.4GHz wireless remote control is easy to control the action camera when hiking, cycling or self recording.
【30 meters Waterproof Camera】The waterproof case design for underwater world. Waterproof up to 30 meters. Ideal for water sports like swimming, drifting, surfing etc. Take you to experience a perfect underwater world.
【Mounting Accessories Kits】Campark ACT76 comes with a nice set of accessories. Besides the waterproof case, you will get two 1050mAh rechargeable batteries, a helmet mount kit, 4 zip ties, 3 straps, one bicycle mount and more. (Carrying Case NOT Included).
Campark Sport Action Camera 4K Wifi Underwater Camcorder Waterproof Cam 170° Wide Angle cameras with 32GB Class 10 Memory Card 2.4G Remote Control 2 Rechargeable Batteries
1 new from £42.99
Free shipping
Features
【Sony sensor + Ultra HD 4K】Sony sensor, Campark ACT76 will record your video footage in 4K Ultra HD at 30 frames per second and capture images at 16 megapixels. HD effective videos and pictures, you won't miss out on any background details and the support of 32GB on an Micro SD card will let you store all your photos and videos right on the camera.
【170° + Digital Zoom Function】With a wide angle 170 degree lens, The large of view lens is equipped with the camera's automatic digital zoom, enough to capture any perfect detail, give you a wonderful moment beyond imagination. Dual screens, 2 inch high definition back screen that displays and replays good videos recorded,front 0.66 inch monochrome screen shows camera mode, battery power and some camera info.
【WiFi Connection + Wireless Remote Control 】WiFi Connectivity across 8 meters lets you connect with smart mobile without any wires. This WiFi is not only a remote control, it allows you monitor in real time, review videos/photos on mobile, set camera feature and record modes. also can share them on social media easily. 2.4GHz Wireless remote control, water resistant, suitable for surfing,skiing and biking in rain/snow.
【30Meters Waterproof Camera】The waterproof case design for underwater world.Waterproof up to 30 meters.Ideal for water sports like swimming, drifting, surfing etc. Take you to experience a perfect underwater world.
【Mounting Accessories Kits】Campark ACT76 also comes with a nice set of accessories. In addition to the waterproof case, you will get helmet mount kit,4 zip ties, 3 straps, one bicycle mount and more.Also, a bonus is the 2nd 1050mAh battery and a write remote control.( Carrying Case NOT Included )
Campark ACT74 Action Camera 4K 16MP Waterproof Cam 30M Underwater Camera 170°Wide View Angle 2.0 Inch LCD Screen with 2 Batteries
2 new from £36.99
3 used from £ 29.03
Free shipping
Features
◀4K 16MP Action Camera +Sony sensor▶Campark 4k Action Camera records video footage in 4K/30fps and takes photo at 16M. Action cameras help you capture and share your world in a fantastic resolution.
◀2 Inch HD Screen + 170°Ultra wide angle lens▶This Sports Cam with 2 Inch HD Screen and 170 degree lens, you won't miss out on any background details and the support of 32GB on an Micro SD card will let you store all your photos and videos right on the camera.
◀Built-in Wi-Fi Sports Cam▶Action cam compatible with iOS and Android.The sports camera allows you control camera via the phone in real time, What is more, instantly send pics and videos via email or share them on social media easily.
◀Waterproof up to 30m(98Feet) depth▶The Waterproof Camera case design for underwater world.Waterproof up to 30 meters.Ideal for water sports like swimming, drifting, surfing etc.
◀Dual Recharger Batteries + Mounting Accessories Kits▶Increased Long Battery Life up to 180 minutes (Dual Rechargeable Lithium Batteries) shooting time.Come along with tons of free accessories. multifunctional accessories enable you to mount your camera to helmet, bicycles, wrist, etc. The kits are also available for go pro camera.( Carrying Case NOT Included )