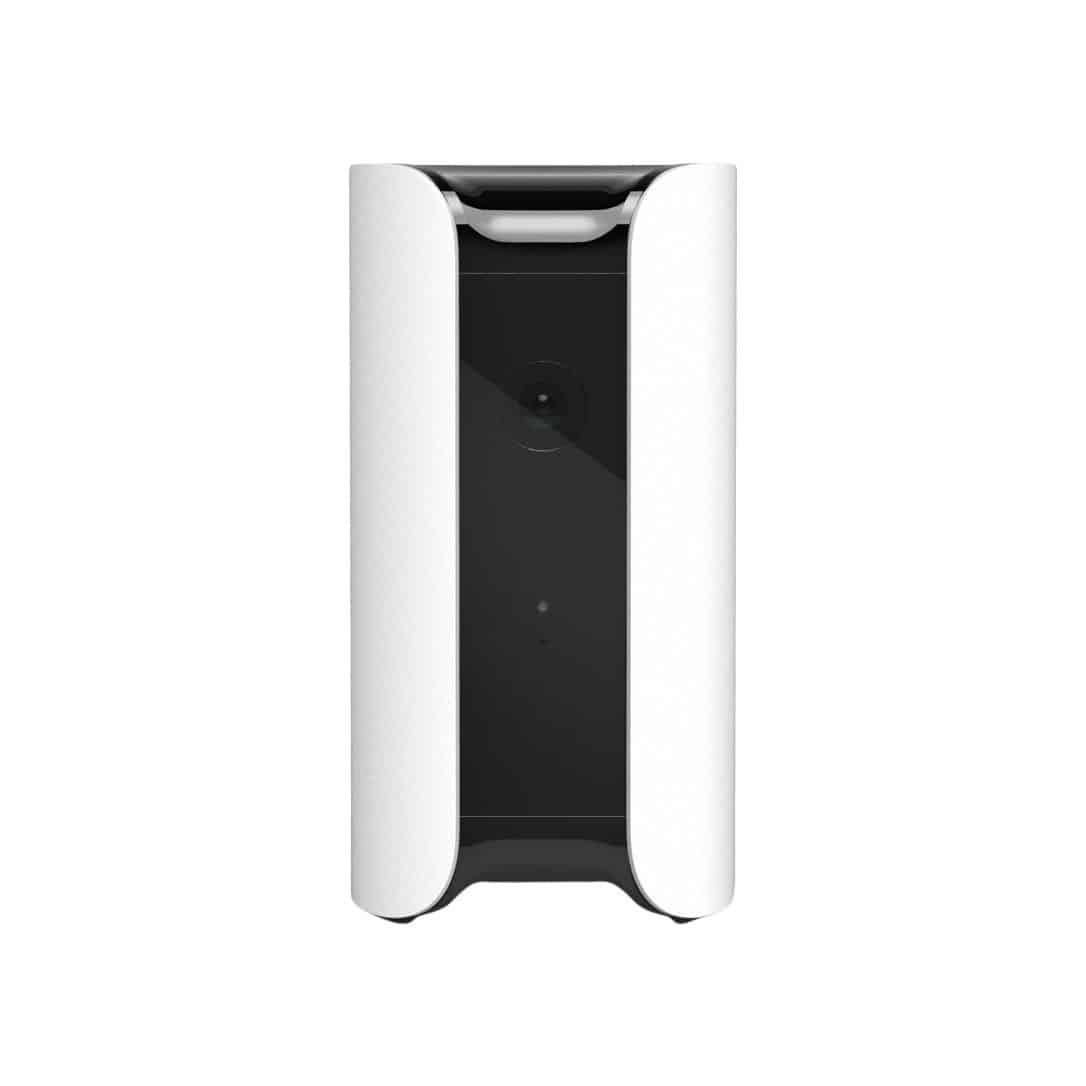 *This post may have affiliate links. For example As an Amazon Associate I earn from qualifying purchases, which means if you purchase something after clicking a link I may receive commission (don't worry, there's no extra cost to you). This helps support the work I put into the site.
Canary join the growing number of home security cameras recently released.  The usual idea is that you access the camera via an app and that the manufactures offer various plans to store the footage.
In that respect the Canary is the same, offering cloud recordings of the comings and goings seen by the camera.  However there are several key additional features that elevate this above other monitoring cameras and into the sphere of security systems.
Before talking about the additional features let's cover the setup: It's very easy!  The Canary connects to your network either via Ethernet or WiFi and is powered by a USB cable (which is nicely designed to be flat, making it idea for tucking behind things or around things).
Once you've downloaded the companion app you setup an account and follow the on-screen instructions.  During the setup process you'll make use of a yellow wire that plugs into your mobiles headphone socket, the app prompts you when to do this and the entire process is quick and easy.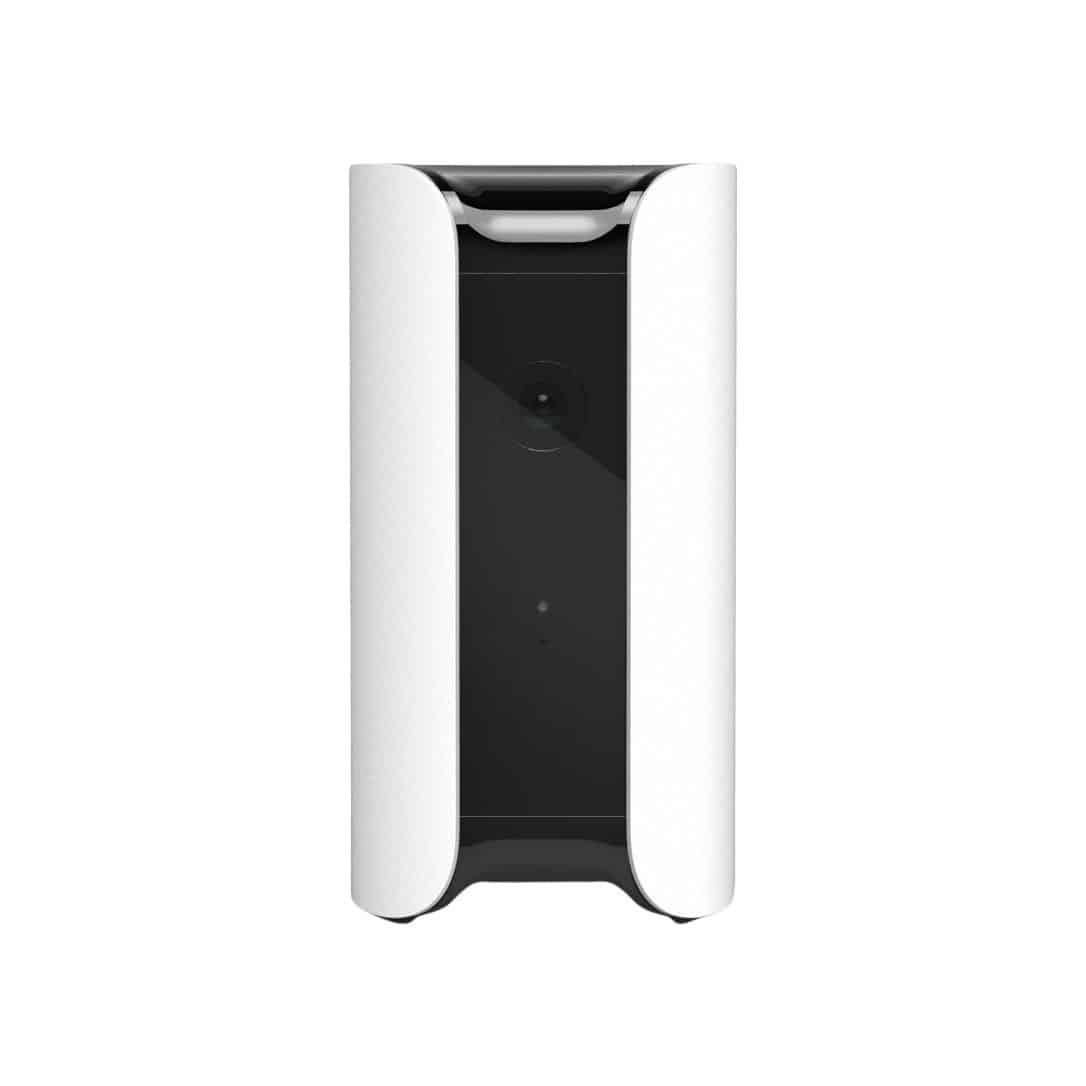 You'll start with a trial plan offering you the full benefits, after 7 days this drops down to a free plan, the difference being you can extend how long the videos are kept for (up to 30 days), and increase the number of bookmarks.  Taking any paid plan also increases the number of videos you can download from 3 to unlimited.  Note there is no memory card slot, you are totally reliant on the cloud service to access video.
The app allows you to add up to 4 cameras to your account and during the setup you assign a location to each camera (e.g. 'Livingroom' or 'Kitchen') making it easy to jump from one view to another.
Back to the Canary features and you'll find it comes with a really good quality 1080p HD camera with a 147 degree wide angle lens.  The camera has the ability to switch between day and night vision automatically, offering excellent quality 24 hours a day.
Where the Canary differentiates itself is with a built in 90 DB siren that can be triggered remotely by the companion app.  The Canary will automatically arm itself when you're out of the house and will push notifications if it detects movement.  You can either review the footage or take a look at the live view, and if you don't like what you see you can trigger the alarm, which is loud.
One thing to be aware of is, at the time of review, the Canary triggers whenever there is movement so if you have a pet wandering round you could potentially get a number of push notifications.  Hopefully in time it will have some sort of pet friendly mode to filter out such notifications, after all there are a lot of pet friendly home security systems on the market that don't trigger every time a cat passes in front of a sensor.
Although the Canary auto arms itself you do have manual control over the mode: Armed means motion activated recording takes place and you'll get push alerts; Disarmed also has motion activated recording but there are no mobile alerts; Privacy switches the camera and microphone completely off.
You can hear audio (see example in the review video of the cat jumping around) but it's only one way, so this isn't suitable if you want to interact with whoever is in the room.
Interestingly the Canary also features a suit of sensors for measuring it's immediate environment, with the HomeHealth section recording temperature, humidity and air quality.  These are interesting, although with air quality measuring a mixture of air contaminants it would be interesting to be able to split that out into more detail (e.g. is there more of one particular contaminant than another).
Overall it's a polished product that looks different to the usual home security camera.  The camera is excellent
Available now from Amazon UK: http://amzn.to/1OCxTli and Amazon US: http://amzn.to/1FxpKMd

Canary All-in-One Home Security Device – White
1 new from £175.00
1 used from £155.88
Features
See and Hear: Stream real-time video of your home with Canary's 1080p HD camera, 147 degree wide-angle lens, automatic night vision, and built-in speaker and microphone (two-way Canary Talk capable).
More Than a Camera: Protect your home with Canary's 90+ dB siren, motion-activated recording, and auto-arm/disarm
HomeHealth Technology: Monitor air quality, temperature, and humidity to help understand how your home might affect your health
Ready to go: Set up in minutes with everyday security features and 24 hours cloud storage included. Comes with a free Canary Membership trial which extends your your coverage with a 30-day full video history, Canary Talk, and more
Discrete and Protected: Stream securely knowing your data is protected with bank-level encryption. Connectivity: 2.4GHz Wi-Fi (802.11 b/g/n), wired ethernet, Bluetooth Low Energy (BLE)
T POWER (2M Cord Charger Cord for Canary All-in-One Home Security Device Charger Power Supply Cord
Features
T-Power ( TM ) Brand New Quick Faster Charger (( 2 MeterLONG data cable ))
Brand-new Input Voltage Range: AC 100V - 240V
All our products are manufactured in compliance with US regulations, including emissions and safety standards.
Compatibility: Canary All-in-One Home Security Device
CAMERA REPLACEMENT CHARGE CABLE FOR CANARY CAN100UKBK ALL-IN-ONE SMART HOME SECURITY
Features
THE FAST DATA TRANSFER & BATTERY CHARGER CABLE COMPATIBLE WITH PC/MAC/WINDOWS
UK SELLER ITEM LOACTION IN UK
VAT REGISTERED UK SELLER SAME DAY SHIP
NEXT DAY DELIVERY AVAILABLE AT CHECKOUT IF YOU ORDER BEFORE 3PM
HIGH QUALITY CABLE