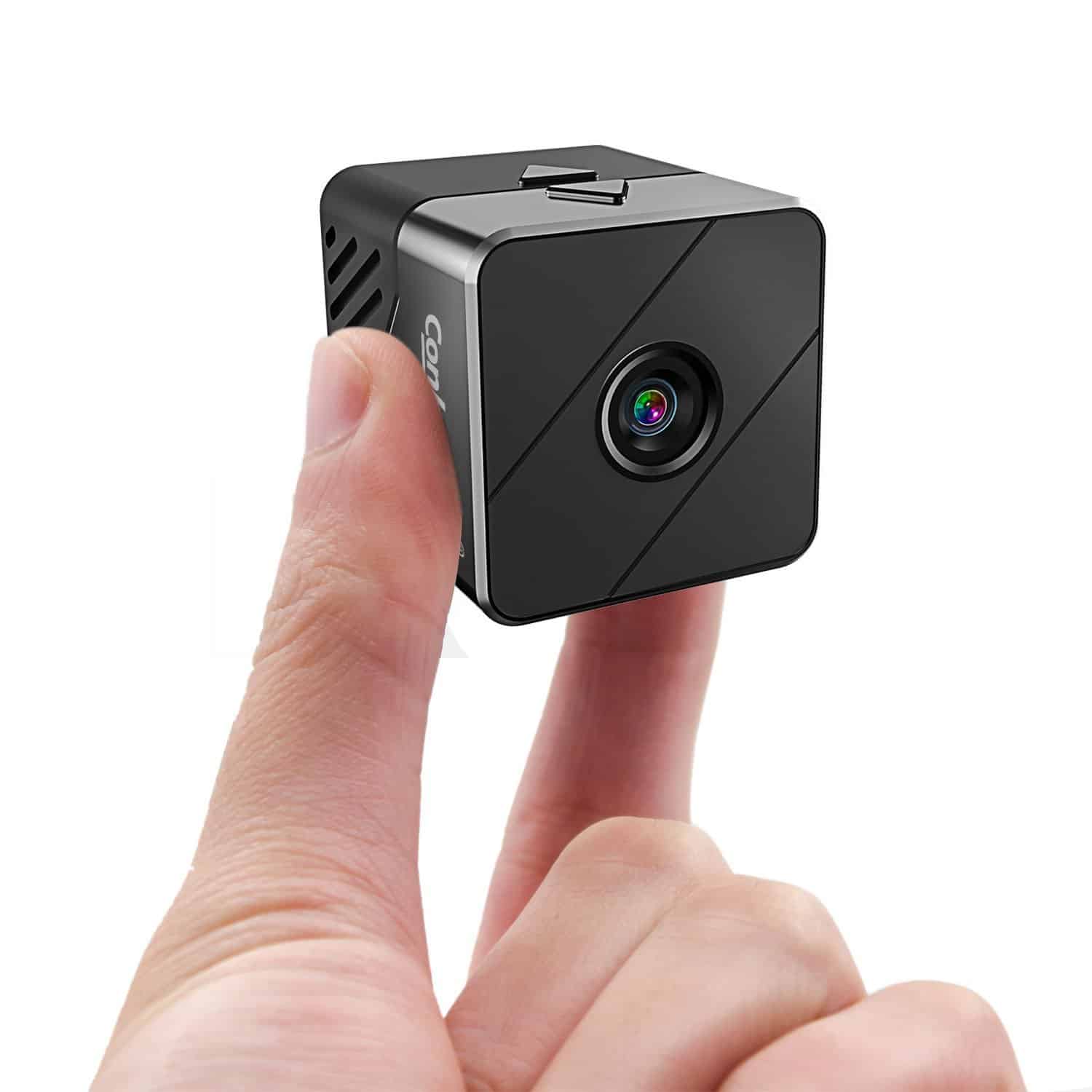 *This post may have affiliate links. For example As an Amazon Associate I earn from qualifying purchases, which means if you purchase something after clicking a link I may receive commission (don't worry, there's no extra cost to you). This helps support the work I put into the site.
The Conbruv T33 Mini Spy Camera is exactly what you'd expect, a mini camera for spying.
It's a tiny little gadget that has very little to it. It's got the camera on the front, microSD card slot, MicroUSB charging port and indication lights around the back and a couple of buttons on top…and that's it!
In the box you get a charging cable, manual and magnetic holder with swivel head.
The manual is well worth a read as it's not entirely obvious how to use the camera out of the box. A quick skim of the included guide had the camera setup and running very quickly. One thing to be aware of is the camera has date/time information added to the footage and this needs to be set via a file the camera places on the microSD card.
This isn't designed to be a security camera like the Canary, instead it's compact form makes it easy to position discretely in a number of locations, moving it around so the 110 degree lens can take everything in. There is also a microphone on board but the audio quality isn't brilliant, it can be hard to make out what people are saying on playback.
To prevent the battery being quickly drained the T33 can be triggered to record when it detects motion. This works well, but be aware it's sensitive enough to be triggered by pets, you'll see a cat triggers a recording in the video review below.
Footage looks fine, it's a security camera so it doesn't need to be TV broadcast quality, you can clearly see what's going on and who (or what) has triggered the recording.
Impressively the T33 also has night vision built in, however the camera can have a few issues when it's not sure if it should switch to night vision or not. You end up with it turning night vision on/off/on/off/etc giving a strobe like video. When it does switch over to night vision the image is very good considering this is a tiny camera.
However, while the Conbruv T33 isn't perfect it does do the job it's designed for well. It's a mini camera that records when it detects motion and is compact enough to be discreetly placed so it'll go unnoticed.
The T33 is available from:
Amazon.co.uk: https://amzn.to/2Pkappf
Amazon.com: https://amzn.to/2Lbn8qI
Amazon.ca: https://amzn.to/2vV0oXt
Or directly from Conbruv via: https://www.conbrov.com/product/hidden-spy-camera-conbrov-t33
use code: conbrov20off for 20% off.
Conbruv T33 Mini Spy Camera Video Review
Introducing Blink Mini | Compact indoor plug-in smart security camera, 1080p HD video, motion detection, Works with Alexa | 1 Camera
2 new from £26.99
Free shipping
Features
1080p HD indoor, wired security camera with motion detection and two-way audio that lets you monitor your home day and night.
Be alerted to what matters via your smartphone whenever motion is detected, or customise motion detection zones so you can see what matters most.
See, hear and speak to people and pets in your home through your smartphone with Blink Mini's live view and two-way audio features (live view is not continuous).
Set up in minutes: just plug in the camera, connect it to Wi-Fi and add it to your Blink Home Monitor app.
Blink Mini includes a free trial of the Blink Subscription Plan through 31 March 2021.
Wyze Cam 1080p HD Indoor Smart Home Camera with Night Vision, 2-Way Audio, Compatible with Alexa & the Google Assistant, White, 1-Pack
9 new from £39.98
Free shipping
Features
Live Stream from Anywhere in 1080p -1080p Full HD live streaming lets you see inside your home from anywhere in real time using your mobile device. While live streaming, use two-way audio to speak with your friends and family through the Wyze app.
Motion/Sound Recording with Free Cloud Storage - Wyze Cam can automatically record a 12-second video clip when motion or sound is detected and saves that video to the cloud for 14-days, for free. Mobile push notifications can be enabled so you're only alerted when something is detected letting you stay on top of things without having to constantly monitor the app. Or, record continuously to a MicroSD card (sold separately) regardless of motion and sound. Compatible with 8GB, 16GB, or 32GB FAT32 MicroSD cards.
See in the dark - Night vision lets you see up to 30' in absolute darkness using 4 infrared (IR) LEDs. Note: IR does not work through glass windows. Wyze Cam is only compatible with the 802.11 b/g/n 2.4GHz (Does not support 5GHz network) Supports WPA and WPA2 protocols
Voice Controlled? You got it! - Works with Alexa and Google Assistant (US only) so you can use your voice to see who's at your front door, how your baby's doing, or if your 3D printer has finished printing.
Share with those who care - One Wyze Cam can be shared with multiple family members so everyone can have access to its live stream and video recordings. Just have your family members download the Wyze app and invite them to your account. Camera sharing can also be easily removed.
instax mini 11 Camera, Ice White & Mini Film, 20 Shot Pack
Features
Product 1: Produce instant credit card sized photos
Product 1: Built-in selfie lens and selfie mirror
Product 1: Built-in Automatic exposure, for ideal pictures every time
Product 1: Uses instax mini film, print size 54 (w) x 86 (H), image size 46 (w) x 62 (H) mm
Product 2: Credit card sized instax mini film, print size 54 (W) x 86 (H), image size 46 (W) x 62 (H) mm