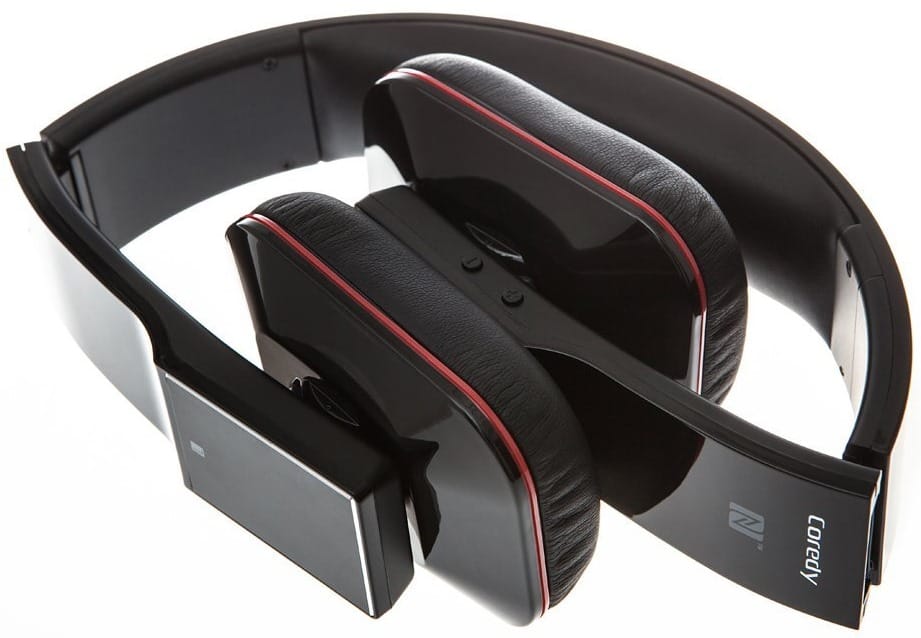 *This post may have affiliate links. For example As an Amazon Associate I earn from qualifying purchases, which means if you purchase something after clicking a link I may receive commission (don't worry, there's no extra cost to you). This helps support the work I put into the site.
The Coredy Base-2 headphones are a nice looking set of headphones that have a very reasonable price tag.
Base-2 Features
The Coredey Base-2 headphones are Bluetooth 4 and support AptX codecs.  Along with the Base-2 headphones Coredy have included a charging cable, 3.5mm auxiliary cable and a nice protective case to keep it all in.
In the hand the Base-2 headphones are very light, but feel well constructed, they don't feel at all flimsy.
Like many headphones the controls sit on just one ear, but rather than being clustered next to each other they've been sensibly designed with volume controls on the back section and play/pause and track skip controls on the front section.  It's a simple layout and in practice it works really well, there isn't any confusion about what button does what.
There is a aux in socket to allow you to use these either unpowered or with a device that lacks Bluetooth.
Pairing is made very easy with the inclusion of NFC, alternatively you can pair via the traditional Bluetooth menu system on your device.
Ear-gasmically Good
Looking at the Coredy Base-2 the first assumption was that while they look nice, they're unlikely to sound especially good, after all they just sit over the ears and are very thin.
Oh boy was this assumption wrong!
The sound quality of these headphones is PHENOMENAL!  They deliver a wonderful sound that is full of subtleties lost by other headphones with a great bass that isn't overwhelming.
They're the audio equivalent of testing SD TVs and then seeing the same content in HD for the first time, there is more vibrancy and depth to music over lower cost headphones.
The Coredy Base-2 headphones not only offer fantastic sound quality but they're exceedingly comfortable to wear.  Unlike over the ear headphones they don't add much bulk to your head or ears and after a while it's easy to forget you've got them on, bar the wonderful sounding music flowing into your ears.
Being more expensive than the excellent August EP650s the Base-2s had to offer something more to justify the higher price tag and they've pulled it off.
The Coredy Base-2s offer fantastic build quality with amazing sound quality for a very reasonable price.
Available now from Amazon UK: http://amzn.to/1G8VwxV
Coredy WLAN Verstärker, Prescitech E300 Mini WLAN Repeater Signal WLAN Verstaerker (300 Mbit/s, 2 LAN-Ports, WPS, kompatibel mit Allen WLAN Geräten, Geeignet für Deutschland)
1 new from £20.99
Free shipping
Wireless Earbuds, [New version] Mpow M30 Plus Bluetooth Headphone 5.0 w/100 Hrs, Punchy Bass Bluetooth Earphones, IPX8 Waterproof, Touch Control/Mono&Twin Modes/USB-C Charging/Mics for Gym/Workout
2 new from £34.99
7 used from £29.24
Free shipping
Features
Single/Twin Mode & One-Step Pairing: After a simple pairing, M30 Plus will automatically reconnect to your device after open the case. Each earbud can be used alone for calls & music, both earbuds to made you feel as if you were at an idol concert site. Unlike others, M30 Plus can easy to play & pause also supports volume & tracks control for more convenience. And then If you lose one earbud, just simply purchase the exact one instead of a new pair.
Innovative Ergonomics Earfins for Sport & Fitness: Ergonomic earfins to disperse pressure and fit snug in-ear and don't fall out. It locks tightly in your ears when you're doing intense outdoor exercise, the ideal wireless earbuds for running, jumping, jogging, climbing, surfing, and so on.
USB-C Quick Charging & Power Bank: Portable Charging box built-in 2600 mAh battery, which can be usded as a power bank to charge your phone in emergency. And earbuds only need 1.5 hours to be fully charged for 5 hours music time, the charging case can provide 19 times charge for earbuds and 100 hours playtime totally. With USB-C quick charge, it only takes 2hr to fully charge the case.
IPX8 Waterproof for Sports: Mpow M30 Plus constructed with a nano-coating, professionally protects the internal structure of sport headphones from the erosion of water and sweat, effectively extending the service life. Don't worry about any rain washing or suddenly dropped into the water. The sport earbuds working properly for workouts in the sun or songs in the rain.
Immersive Punchy Bass Sound: Built-in Superior polyurethane drivers and audio equalization bring stunning bass sound. And then powerful bass performance with a 6mm speaker driver lets you tap into the rhythm, immerse your self totally into the music. Be sure to choose the suitable earfins to create an exceptional seal for superior noise reduction. Please Note: Our Earbuds has been upgraded, but the Bluetooth Pairing Name is still M30.
BuddyPhones PLAY, Wireless Bluetooth Volume-Limiting Kids Headphones, 14-Hour Battery Life, 4 Volume Settings of 75, 85, 94db and StudyMode, Includes Backup Cable for Sharing, Blue
1 new from £44.90
Free shipping
Features
AWARD-WINNING SAFE AUDIO FOR KIDS: BuddyPhones are kids headphones with the most awards for innovative design and features. All BuddyPhones have built-in volume-limiting circuitry that protects kids hearing. Capped at the WHO-recommended level of 85dB so they don't damage hearing. Engineered with certified safe materials that are hypoallergenic, super durable, and custom-made to be comfortable for kids to wear.
KEY FEATURES: Award-winning headphones that offer hours of wireless freedom for kids that play to learn. Depending on child's age or surroundings, choose from four volume settings- 75dB Toddler Mode, 85dB Kid Mode, 94dB Travel Mode and StudyMode. Innovative StudyMode enhances vocals and spoken audio content to help kids listen and learn. Connect wirelessly using Bluetooth for up to 14 hours on one charge. Works without battery with the backup BuddyCable. Space-saving foldable headband
FUN FOR KIDS: We make safe audio fun for kids. Bright colorful designs. Over 100 custom designed metallic, embossed stickers designed by world-famous artist. Kids can listen together with friends using the BuddyCable system. Use the built-in mic for Skype calls with Grandma or fun language lessons.
BUDDIES FOR LIFE: We want to stay buddies for life. BuddyPhones are designed, built, and tested for durability that can withstand the strongest of kids. This includes quality control with world-class testing labs. But sometimes accidents happen! We offer Customer Service assistance to help with troubleshooting, repairs or replacements.
AMAZON BUDDY CLUB: Exclusive benefits for Amazon customers - Register online to join the Amazon Buddy Club and get member perks. Extend the standard #BuddiesForLife warranty to two years. Unlock an original BuddyBook full of fun content for the whole family. Be the first to know about special Amazon deals. Be a Buddy with Benefits!