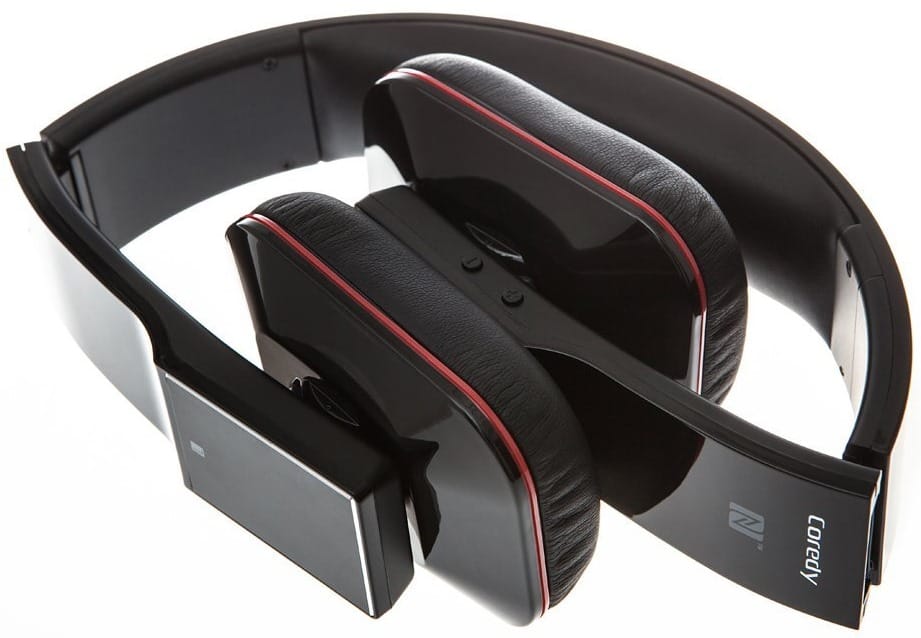 The Coredy Base-2 headphones are a nice looking set of headphones that have a very reasonable price tag.
Base-2 Features
The Coredey Base-2 headphones are Bluetooth 4 and support AptX codecs.  Along with the Base-2 headphones Coredy have included a charging cable, 3.5mm auxiliary cable and a nice protective case to keep it all in.
In the hand the Base-2 headphones are very light, but feel well constructed, they don't feel at all flimsy.
Like many headphones the controls sit on just one ear, but rather than being clustered next to each other they've been sensibly designed with volume controls on the back section and play/pause and track skip controls on the front section.  It's a simple layout and in practice it works really well, there isn't any confusion about what button does what.
There is a aux in socket to allow you to use these either unpowered or with a device that lacks Bluetooth.
Pairing is made very easy with the inclusion of NFC, alternatively you can pair via the traditional Bluetooth menu system on your device.
Ear-gasmically Good
Looking at the Coredy Base-2 the first assumption was that while they look nice, they're unlikely to sound especially good, after all they just sit over the ears and are very thin.
Oh boy was this assumption wrong!
The sound quality of these headphones is PHENOMENAL!  They deliver a wonderful sound that is full of subtleties lost by other headphones with a great bass that isn't overwhelming.
They're the audio equivalent of testing SD TVs and then seeing the same content in HD for the first time, there is more vibrancy and depth to music over lower cost headphones.
The Coredy Base-2 headphones not only offer fantastic sound quality but they're exceedingly comfortable to wear.  Unlike over the ear headphones they don't add much bulk to your head or ears and after a while it's easy to forget you've got them on, bar the wonderful sounding music flowing into your ears.
Being more expensive than the excellent August EP650s the Base-2s had to offer something more to justify the higher price tag and they've pulled it off.
The Coredy Base-2s offer fantastic build quality with amazing sound quality for a very reasonable price.
Available now from Amazon UK: http://amzn.to/1G8VwxV