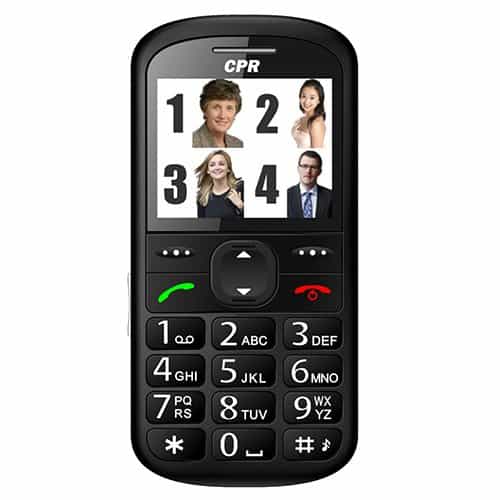 The CPR Call Blocker Big Button Mobile is a phone aimed squarely at those looking for a simple to use mobile with some interesting tricks for managing incoming calls.
It has a small screen (display only, not touch) and a large button keypad underneath.  The back is removable as is the battery.  It takes a standard SIM card (i.e. the large type) and can also have a micro SD card fitted for additional memory.
Considering the target audience the manual has been printed in rather small text, perhaps the thinking is that someone with excellent eyesight will be setting the phone up.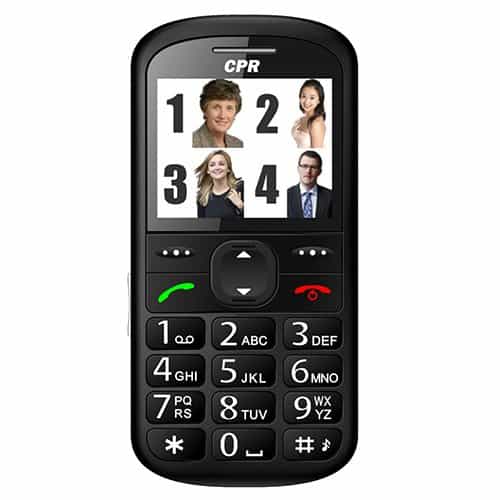 The screen menu items are nice and large, and contacts can have photos added to them so it's clear who is calling.
There is a camera included and an interesting use of the camera is as a magnifying glass, showing a magnified view on the phone screen.  It's a nice idea and could be useful in a pinch, but the low resolution camera and screen mean you wouldn't want to use this over a real magnifying glass.
The phone gets its name from the ability to block unwanted calls.  This can be achieved via one of two ways: either specific numbers can be added to a blacklist, and any calls made to the phone by those numbers will be automatically rejected; Or numbers can be added to a whitelist and ONLY those numbers will be accepted, with all others being rejected.
Note that if voicemail is setup blocked callers will be redirected to the voicemail rather than having the call terminated.
Around the back it an SOS button which, when triggered, sounds an alarm, sends out an SOS text message to nominated numbers and attempts to call those numbers as well.
Available from Amazon UK: http://amzn.to/22ad45Z and Amazon USA: http://amzn.to/1ZeeA4w
CS600 CPR Call Blocker Big Button Mobile Phone with Emergency Assist Button
5 new from £20.49
Free shipping
Features
Instant Emergency Assist Button will activate an alarm and send a text to 5 pre-programmed number saying (Emergency Call Me)
If no answer, the phone will start ringing the pre-programmed numbers until answered.
Complete peace of mind for loved ones - Perfect for relatives, family & vulnerable adults
Sim Free Mobile - Bluetooth/FM radio/Torch/Magnifier/Quadband
Photo Contacts - Large 2.2 colour display screen
CPR Call Blocker Shield - Matt Black
2 new from £39.99
Free shipping
Features
Comes with 2000 pre-programmed numbers
Stops ALL your unwanted calls INSTANTLY
Choice of 3 colours with a great contemporary look
CPR V5000 - The World's No 1 Call Blocker - Protect Your Family from Scammers and Unwanted Callers at a Touch of a Button - Award Winning Company
3 new from £69.98
Free shipping
Features
Take back control of your privacy and join over 1 Million+ customers Worldwide
Press #2 from any cordless phone to activate the block now button
Block International, withheld, unavailable, unknown callers plus area codes
Award Winning Company
BUY DIRECT FROM THE MANUFACTURER AND RECEIVE LIFETIME TECHNICAL SUPPORT.