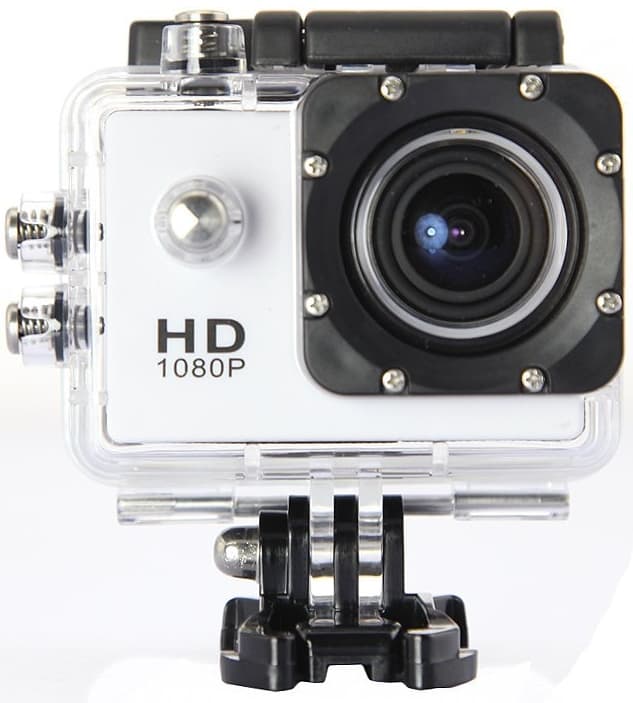 The DB Power 1080p Sports Camera is aimed squarely at those who are interested in a GoPro but don't want to spend a lot of money on the camera and accessories.  Not a problem with the DB Power camera, it comes with a bewildering array of accessories, as well as a case you get accessories for using this on a bike, helmet, dashboard, belt…the list goes on.
The actual camera itself is a dinky little thing and has the advantage of a built in screen on the back allowing you to frame your photos/video. It's easy enough to operate and allows you to take both video and photos.
The included case feels very rugged and, according to the manufacturer, makes the camera waterproof up to 30 meters. There are buttons on the case, but at times they felt sticky and didn't always pop back out fully, but that didn't seem to cause a problem with the camera and it's great that you don't need to remove the camera to access the buttons.
It's great you get some many accessories, but, as you might expect for such a low cost, they don't feel great quality, for example the handlebar mount kept coming loose and had to be readjusted several times.
However the camera itself is a great little camera for the price. Picture quality is very good when movement is relatively stable (eg walking around), but does suffer from a lack of stabilization when used in 'bouncy' situations, such as off road biking.  Photos are OK but are unlikely to replace your camera/mobile.
It's not a perfect camera, but it's easy to overlook the shortcomings due to such a low price.  It's a good way to see if you'd find a GoPro style camera of use before making an investment in a higher cost action camera.
Available now from Amazon: http://amzn.to/1spHfC1
JINPENGPE HD waterproof hunting camera wild creature hunting detection camera sports game camera
Features
★Monitoring Wildlife: With a hunting camera, you can clearly capture wildlife activities and increase your enjoyment outdoors.
★ Quick photo: With a hunting camera, you can quickly take pictures to avoid misses.
★The hunting camera uses pyroelectric sensor animal (human body) sensor technology to automatically capture high resolution (16 megapixels) and smooth video. This camera will be in a power-saving state when no hunting animals (humans) are detected.
★It consumes 100 microamps; it can remain vigilant for a long time, and you can take a long time with confidence.
★ Service: We strive to do our best service. If you have any questions, please contact us, we will give you a satisfactory answer in the first time.
LQQZZZ Waterproof IP Camera, Wi-Fi 720P Indoor And Outdoor Security Camera Two-Way Audio with 2-Channel PIR Audio Motion Detection for Family/Farm/Bedroom
Features
★ Full HD Sharp Night Vision: View all the details with the real 720 P Full HD. Get clearer and more accurate images/videos than other wifi ip cameras. With an excellent 10m night vision effect, you can see it clearly in the dark. No matter whether it is day or night, outdoors or indoors, it will not stop protecting you. You can also check if your baby has a sweet dream at night by phone.
★ Two-way audio, listen and talk through your smartphone: Listen to what's happening inside and outside your home, just turn around and talk! With built-in microphones and speakers, you can communicate with elders, children, babysitters, pets, etc. wherever you are, so that you can feel that your loved ones are always in your sight. Even if you are at work or traveling, you can discuss with the delivery person how to handle your package.
★ Weatherproof packaging design for outdoor/indoor use: There is almost no limit to weatherproof design! You can place the wireless security camera on a shelf or other flat surface, baby room, room pet, garage, tree, etc., or mount the camera inside or outside the wall. Perfect for a sunny season
★ 100% wireless, free to place: This Wi-Fi surveillance camera is ideal for use in drilling or wiring holes. With innovative configuration and design, the installation process has never been easier! Screw the camera into the stand and you can secure it anywhere within the Wi-Fi range. No cables, no wiring, no worries - this is the "100% wireless" way!
★ PIR Sport - Instant sensors and accurate alarms: 130° wide-angle lenses and high-sensitivity PIR motion sensors with virtually no false alarms. Without your advertising, no human movement can pass. Receive an instant message application push notification when a motion event is detected. This battery-powered security camera wakes up immediately when you access the camera for live streaming or detect motion events. You will be free from worry about rain or fake snow warnings all day long.
DBPOWER Sports Action Camera 1080P HD 12MP Waterproof Camera 170° Wide-angle View With 2 Rechargeable 900mAh Batteries and Various Mounting Accessories Kits for Snorkeling/Climbing/Swimming(White)
1 new from £19.99
Free shipping
Features
【AMAZING WIDE ANGLE】: Lens with wide angle of 170 ° allows the camera to capture the best landscapes and all important moments.
【SUPER LIGHT WEIGHT】: Weight only 58gr, just same weight as an egg, you won't even notice that you are wearing it on your helmet, handlebar or other places.
【WATERPROOF 30METERS】: Made of strong material, the case improves the water resistance level up to 30M. Simply enjoy the scenery in the deepest underwater world.
【STORAGE AND CONNECTION】: Direct support for microSD cards up to 32 GB. Available for HDMI, USB, AV, connect your DBPOWER action camera to your TV, computer and projectors.
【CMOS IMAGE SENSOR AND 2 BATTERIES】: DBPOWER uses one of the best image sensors, CMOS, certainly offers the best image quality. 2 rechargeable 900mAh batteries and together can record up to about 140 minutes. No need to worry about running out of power.