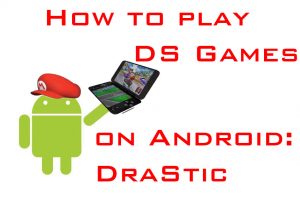 DraStic is a fantastic DS emulation app for Android phones and tablets.  Available on the Play store as both a demo and a paid app, it runs really well on a decent Android device.  In the below video DraStic has been tested on a HTC One X and an Asus Transformer Prime and it works brilliantly.
A fantastic feature of the app is the ability to save games to your Google Drive, allowing you to save your game on your phone for example, then pick up where you saved on a larger tablet screen.
You can also select different screen layouts to suit the game you're playing (e.g. making on screen larger than the other where the game focuses on using one screen in particular).  Controls are handled via on screen buttons and the emulator works with your touch screen in the same way it would on the DS so you can poke and prod menu items.
You can quickly swap between games by loading up different ROMs and they play very smoothly as demonstrated with Mario Kart in the video below.
DraStic really is a brilliant app and is available now on the Play store: https://play.google.com/store/apps/details?id=com.dsemu.drastic&hl=en