*This post may have affiliate links. For example As an Amazon Associate I earn from qualifying purchases, which means if you purchase something after clicking a link I may receive commission (don't worry, there's no extra cost to you). This helps support the work I put into the site.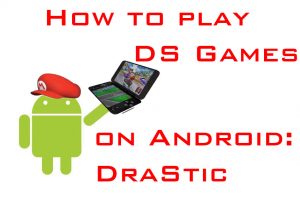 DraStic is a fantastic DS emulation app for Android phones and tablets.  Available on the Play store as both a demo and a paid app, it runs really well on a decent Android device.  In the below video DraStic has been tested on a HTC One X and an Asus Transformer Prime and it works brilliantly.
A fantastic feature of the app is the ability to save games to your Google Drive, allowing you to save your game on your phone for example, then pick up where you saved on a larger tablet screen.
You can also select different screen layouts to suit the game you're playing (e.g. making on screen larger than the other where the game focuses on using one screen in particular).  Controls are handled via on screen buttons and the emulator works with your touch screen in the same way it would on the DS so you can poke and prod menu items.
You can quickly swap between games by loading up different ROMs and they play very smoothly as demonstrated with Mario Kart in the video below.
DraStic really is a brilliant app and is available now on the Play store: https://play.google.com/store/apps/details?id=com.dsemu.drastic&hl=en
Skald's Cry: Battle for Midgard: Turn Based Strategy, Role Playing, Empire and Army Building
1 new from £32.51
Free shipping
Features
| | |
| --- | --- |
| Part Number | PH89726 |
| Is Adult Product | |
| Release Date | 2014-05-15T00:00:01Z |
| Language | English |
| Number Of Pages | 300 |
| Publication Date | 2014-05-15T00:00:01Z |
SPEEDLINK SL-650212-BKRD Competition PRO EXTRA USB Joystick - Anniversary Edition, Retro-Arcade-Stick, schwarz-rot
1 new from £25.38
3 used from £23.60
Free shipping
Features
Digital USB Joystick for PCs and Android Devices
Perfect for Arcade and Retro Games
Nostalgic Design Taken from the Original Competition Pro's Arcade Machine Stick
Anniversary Edition Includes Games Collection with 20 Retro Games for Download
Kikier Wireless Retro Game Console,Super Built-in 48/52 Emulators Super 30000/40000 Games Wifi Hdmi Output Support PS1 / N64 / DC
Features
Super console x is the latest TV game console using. Open Linux system with 64G/128G TF card, built-in more than 30000/40000 games, and support download games by yourself.
Using S905M chip, more powerful, built-in more than 48/52 emulators. compatible for PS1 / PSP / SFC / N64 / DS / MD / MAME / GBC / GBA / GB / FBA / FC etc.
Support 4K Ultra high definition TV video output (1080P / 720P) and monitors/projectors with HDMI input.
Coms with dual 2.4G wireless controllers, plug and play, it will bring you the best game content and gaming experience.
Retro design, palm-size, take it with you and start your gaming time anytime, anywhere.