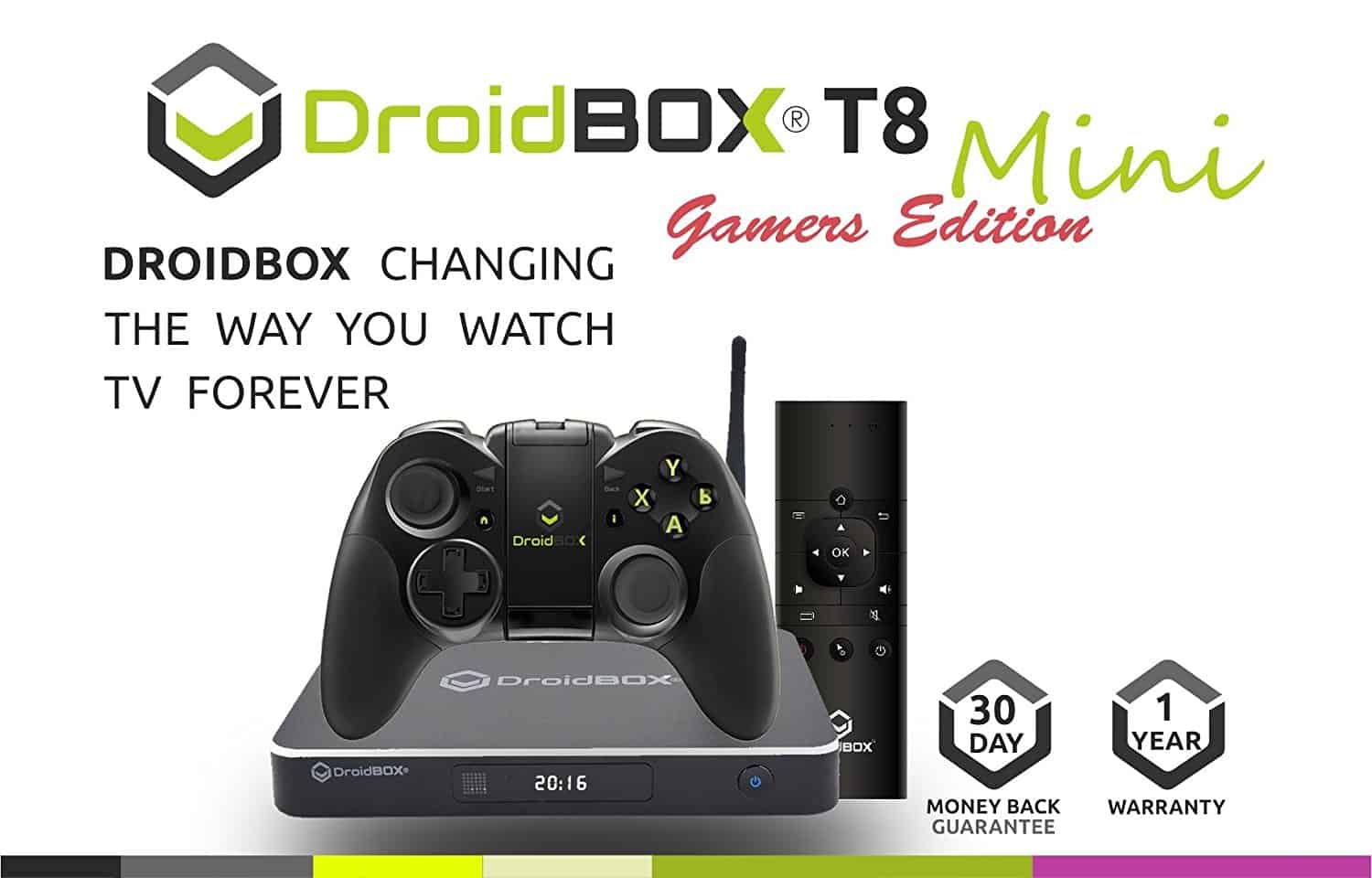 *This post may have affiliate links. For example As an Amazon Associate I earn from qualifying purchases, which means if you purchase something after clicking a link I may receive commission (don't worry, there's no extra cost to you). This helps support the work I put into the site.
The DroidBOX T8 Mini is a nice little unit that'll sit near your TV.  It has a small display screen on the front that tells you when it's booting up and shows the time when in standby, very 80's video player.
There is an external WiFi antenna, you can also hardwire this in via the Ethernet port on the back.
There are a number of different options when buying the T8 Mini, you can go for just the T8 Mini which get you a basic remote, HDMI cable and power cable included.
Alternatively it can be bundled with the excellent DroidBOX VIP Air mouse and/or a DroidBOX game controller, giving you lots of options in how you use the box, it can be a media player, games console or workstation.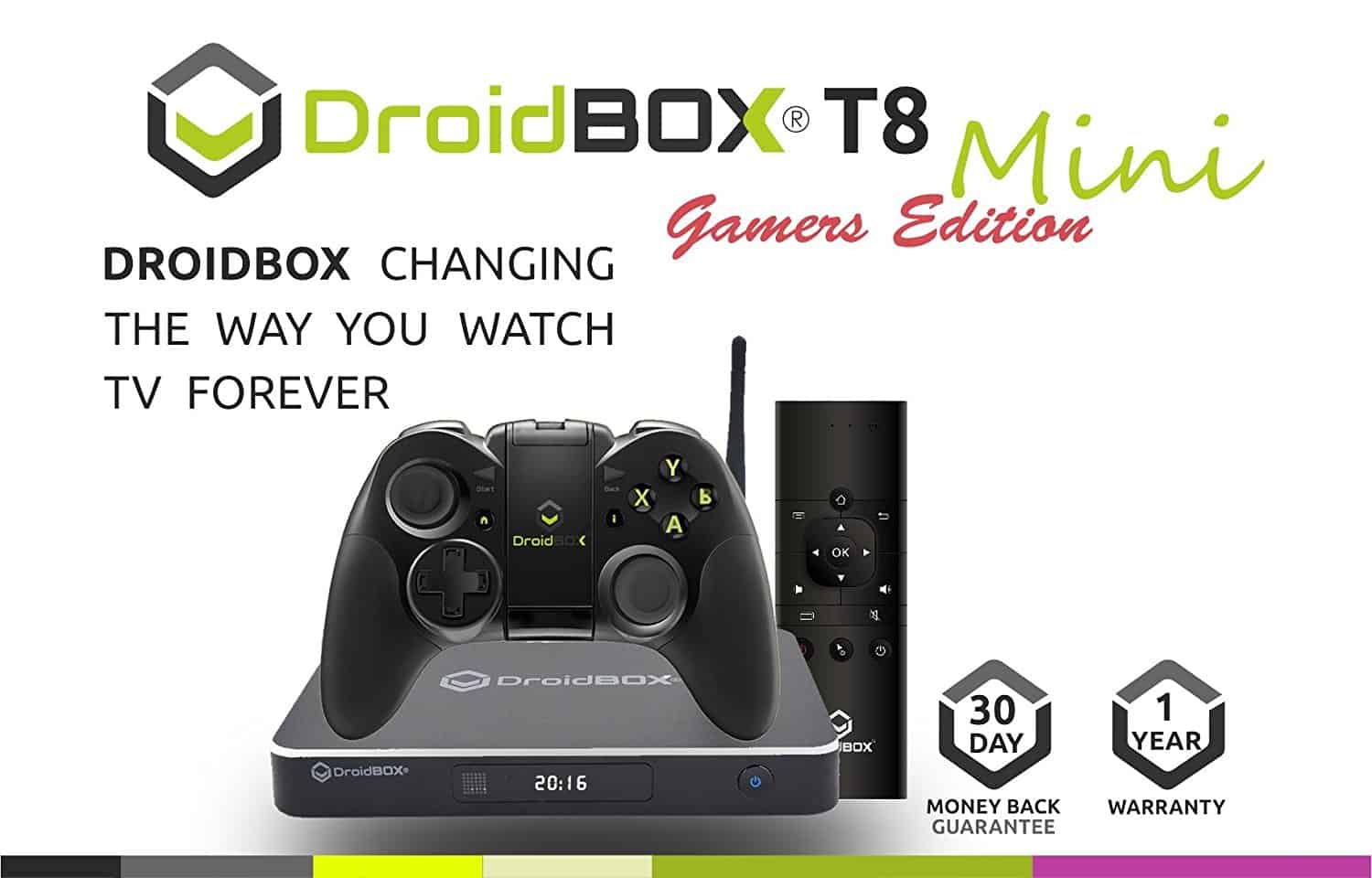 On booting up you'll be presented with a nice, TV friendly, interface that has big buttons and icons. To get you started it come with some apps pre installed, including the excellent Kodi media player.
This actually has two operating systems installed, Android and LibreELEC. Kodi is installed on both, and they are two separate instances so you'll need to set both up separately. The LibreELEC OS boots directly into Kodi, you can easily swap back to Android, you'll just need to wait for the box to reboot.
Once connected to the internet be sure to check for any over the air updates. I originally had an issue with the Google Play store refusing to open and this was resolved following an Over the Air update.
The Android interface has been designed for use on TV and it works really well, nice big buttons and icons, with a weather clock in the top left and mini app tray on the right hand side of the screen.  Additional apps can be added to the app tray, making it quick to access your preferred apps.
As well as a great media streamer this is good for gaming, especially with a controller, as games run really well. The S905 Quad Core processor powered through Asphalt8, which looks and plays brilliantly on the big screen.  While it may not have graphics to rival the Xbox One or PS4 there are still lots of brilliantly fun games to be played.
Access to the Android market means you can add all sorts of apps, having a USB port means this can also act as a mini PC for things like word processing via Word or Google Docs.
A really nice addition to set this apart from all the other Android boxes is that the T8 Mini has a downloadable app for your mobile. This allows your mobile to act as a remote control for the box, or allow the box to mirror what's on your mobile screen.
Really nice bit of kit that has far more possibilities than I can list in a short review.
Available from Amazon UK: http://amzn.to/2fh4PFw Amazon USA: http://amzn.to/2gpSui0
Also available directly from DroidBox: https://droidbox.co.uk/droidbox-t8-mini-amlogic-s905-openelec-pro-best-kodi-xbmc-tv-box.html
DroidBOX T8 Mini Video Review

DroidBOX i9 2.4GHz Backlight Rechargeable i8 wireless mini touchpad keyboard with mouse for DroidBOX T8-S Plus, T8 Mini, iMXQpro, Raspberry Pi, HTPC Devices
1 new from £10.95
Free shipping
Features
Compact, light and fully featured. A mini keyboard with full QWERTY keys, function, navigation buttons and multi touch touchpad.
Brighter LED backlight. The keys are now much easier to see in dark or dimly lit rooms.
Plug and Play ease of use and compatible with devices including DroidBOX and other Android devices, PC, Raspberry PI, TV Box, PS4, HTPC/IPTV.
2.4G wireless connection allowing for control of your device from up to 10 metres away.
Rechargeable Li-ion battery allowing for hours of use on one charge and no need to swap batteries.
Zedo MX3 Air Mouse 2.4GHz Wireless Keyboard For Google Android Mini PC TV Box, T95N T95Z plus QBox M8 M8S Plus T8 MXQ Pro MXIII
1 new from £9.99
Free shipping
Features
Latest multi-functional Air Mouse controller with QWERTY keyboard
Motion sensor allows mouse to be controlled by waving the remote.2.4G transmission up to 10m
Plug-and-play function, compatible with USB1.1 and USB2.0
This keyboard and mouse can be used on many devices including Android smart TV boxes, Video Games Consoles, Windows tablet and mini desktop
How to enable/disable air mouse: press the red lock key(the right one) under the blue OK button.While wake up from auto sleep,the air mouse will be on automatically
Fusion5 104Bv2 PRO Android Tablet PC - (Android 9.0 Pie, 2GB RAM, 32GB Storage, Bluetooth, Dual-Band Wi-Fi, HDMI, IPS Screen, GPS, FM and Quad-Core CPU Fast Multitasking for HD Videos, Movies, Gaming)
2 new from £99.97
1 used from £87.97
Free shipping
Features
Premium Android Tablet PC – Offering superior freedom and flexibility, this Android 9.0 Pie Google Certified Tablet PC lets you work, browse, shop or game on the go with a beautiful 10.1" IPS LCD paired with a touchscreen boasting unmatched responsiveness.
Powerful Quad Core Processor – Designed with a 64-bit MT8163 quad core processor and an advanced GPU, our small tablet PC offers advanced multitasking for video, audio, drawing, gaming and more.
Advanced Wireless Connectivity – Along with a HDMI port for connecting TV's, Our PC tablet uses Bluetooth and a powerful dual-band Wi-Fi to give twice the standard typical connection speeds. Tablet PC is backed with GPS and FM as a standard.
Google-Certified Android Software – The Fusion5 tablet leverages Android 9.0 Pie which provides access to the latest apps, software, and media options you won't find on many non standard tablets or devices.
Essential Built-In Features – Each Android tablet PC comes with a 5mp rear camera, 2mp front camera and stereo speakers to help enhance your movie watching, music listening, or work on-the-go experience. Furthermore, this product is backed by our 12 months UK warranty. ***** Fancy a good quality case? Add ASIN B07ZN784LM to your basket now!