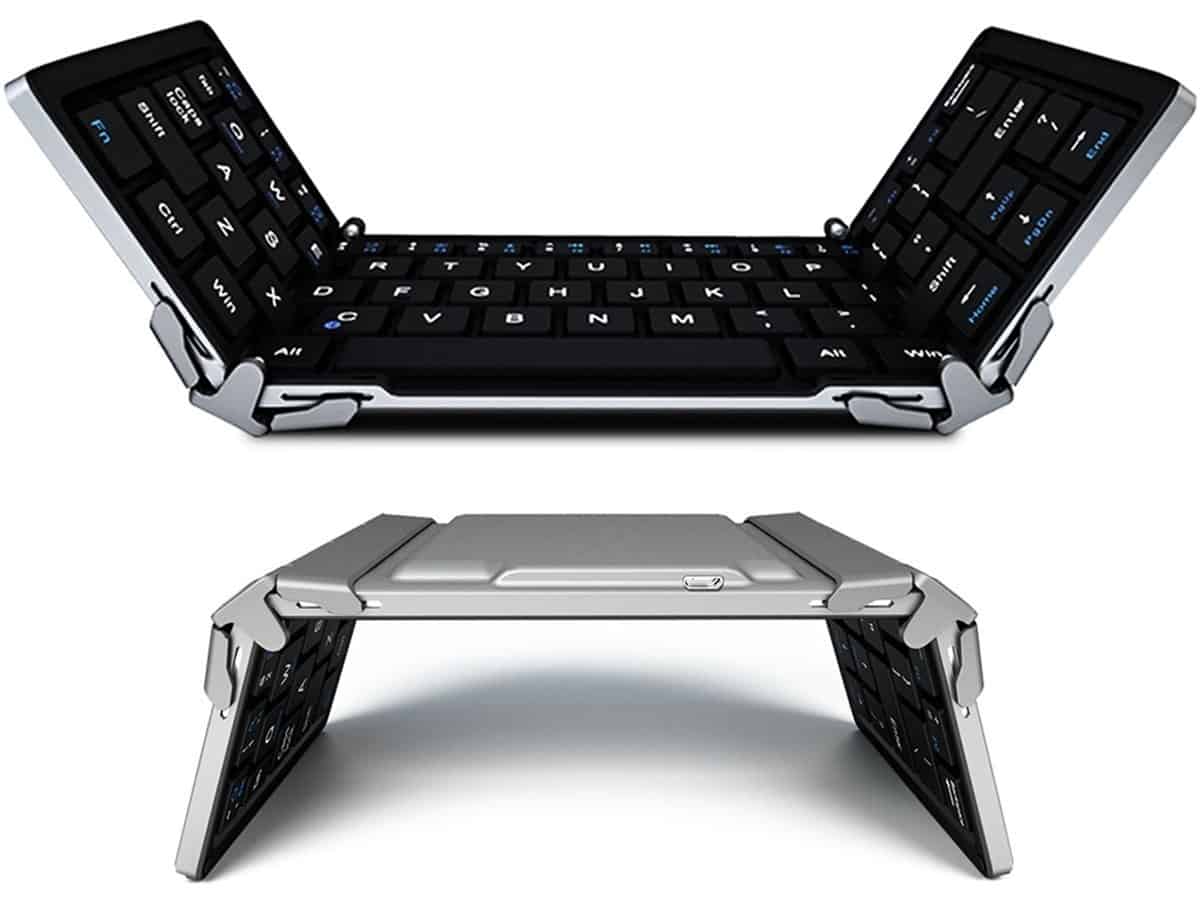 *This post may have affiliate links. For example As an Amazon Associate I earn from qualifying purchases, which means if you purchase something after clicking a link I may receive commission (don't worry, there's no extra cost to you). This helps support the work I put into the site.
It's not always possible to have a laptop on the go, but the likelihood is you'll have your mobile or tablet with you.  EC Technology have come up with a nifty little accessory to give you laptop style typing on the go without having to carry around a bag of tech: a foldable bluetooth keyboard!
Looking a little bit like an original Nintendo DS, flip the two sides of the EC Technology foldable keyboard open and you get a good sized bluetooth keyboard to tap away on.  The folding mechanism feels very sturdy and in its smallest state it easily fits into a jacket pocket for carrying around on the go.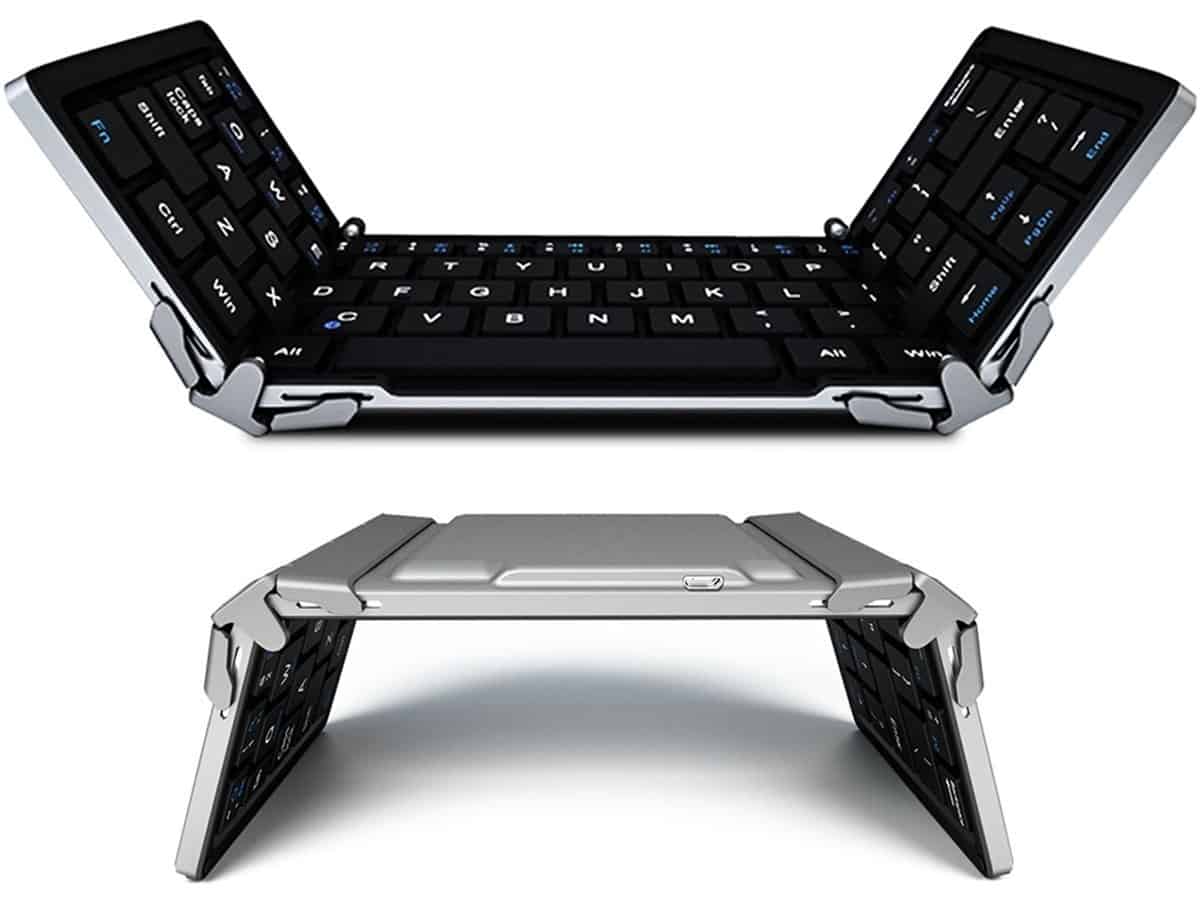 It can be used with iOS, Windows or Android, although has only been tested this with a 7″ Android tablet.  Pairing this little keyboard with the tablet was very easy, the keyboard powers up when you open it out, and will reconnect to your device.
Typing was a lot easier compared to typing on screen, especially with a 7″ tablet being an odd size for typing, a bit too big to type as you would on a mobile, but not big enough to type landscape as you would on something larger, such as an iPad.
Pop you phone or tablet on a table and you can easily type using both hands while looking at the screen, I can see this being really handy if travelling by train and needing to get some work done.
The keyboard feels well built and has a range of additional functions available, such as controlling media playback.
With this being a compact keyboard it takes a little bit of time to get use to the layout of some keys, but overall it's a great little travel gadget.
Available now on Amazon UK: http://amzn.to/148VNRi and Amazon com: http://amzn.to/1rv3USv
Logitech K400 Plus Wireless Livingroom Keyboard with Touchpad for Home Theatre PC Connected to TV, Customizable Multi-Media Keys, Windows, Android, Laptop/Tablet, QWERTY UK Layout - Black
8 new from £23.99
Free shipping
Features
Media-Friendly : The K400 plus wireless touchpad keyboard gives you integrated, comfortable, laid-back control of your PC-to-TV entertainment, eliminating the clutter of a separate keyboard and mouse - all from the comfort of your couch
Plug-and-Play : Works straight out the box, just plug the Unifying mini-receiver into a USB port and the wireless touchpad keyboard is ready to go - then adjust controls using the Logitech Options Software to save your preferred settings
Power-Packed : Built with laid-back control in mind, this wireless keyboard with touchpad has a reliable and long battery life of up to 18 months, including an on-off button to help it go even further
Wireless Freedom : Designed for seamless comfort and control, this tv-keyboard boasts a range of up to 10 m (33 feet) wireless connectivity ensuring uninterrupted use, with quiet keys and a large touchpad for easy navigation
Reliable Durability : The Logitech wireless keyboard with touchpad comes with a 2-Year manufacturer warranty, ensuring worry-free user experience and long-lasting performance
Logitech Keys-To-Go Wireless Bluetooth Keyboard For iPhone, iPad, Smartphone, Tablet, Android, Windows, Apple TV, Ultra-Thin, Ultra-Light, Short-Cut Keys, QWERTY UK Layout - Black
2 new from £54.99
6 used from £43.28
Free shipping
Features
Ultra-Portable : Keys-To-Go is the ultra-portable keyboard. Its thin and light design lets you take it with you anywhere, anytime. Tuck it in your purse, between the pages of your magazine, inside your coat pocket or even your beach bag
Spill and Dirt-Proof : The durable FabricSkin next generation covering protects the keyboard from spills and dirt, so that no crumbs get stuck in your keys and you can wipe liquids right off. Accidents happen, damage doesn't - as Keys-To-Go survives drops, you can use it indoors or out
Easy Bluetooth Pairing : The Bluetooth keyboard connects to almost any Smartphone, Tablet or Bluetooth media device
Familiar Feel : Enjoy the normal keyboard layout you are used to with shortcuts and well-spaced keys to make typing familiar, fast and accurate
3-month Battery Life : The rechargeable battery lasts three months* and an indicator shows when it's low. * Based on 2 hours average usage per day
Foldable Bluetooth Keyboard, Ultra-thin Mini Folding Keyboard For Apple, Android, Microsoft System Devices (Color : 2)
Features
Size: 28.5*8.8*0.6mm (expanded size)
Two 1.5cm silicone anti-slip mats on the back
Automatic adsorption folding is easier
Comfortable buttons, scissor foot design, chocolate keycap for more comfortable operation
Folding keyboard slim design, simple and stylish