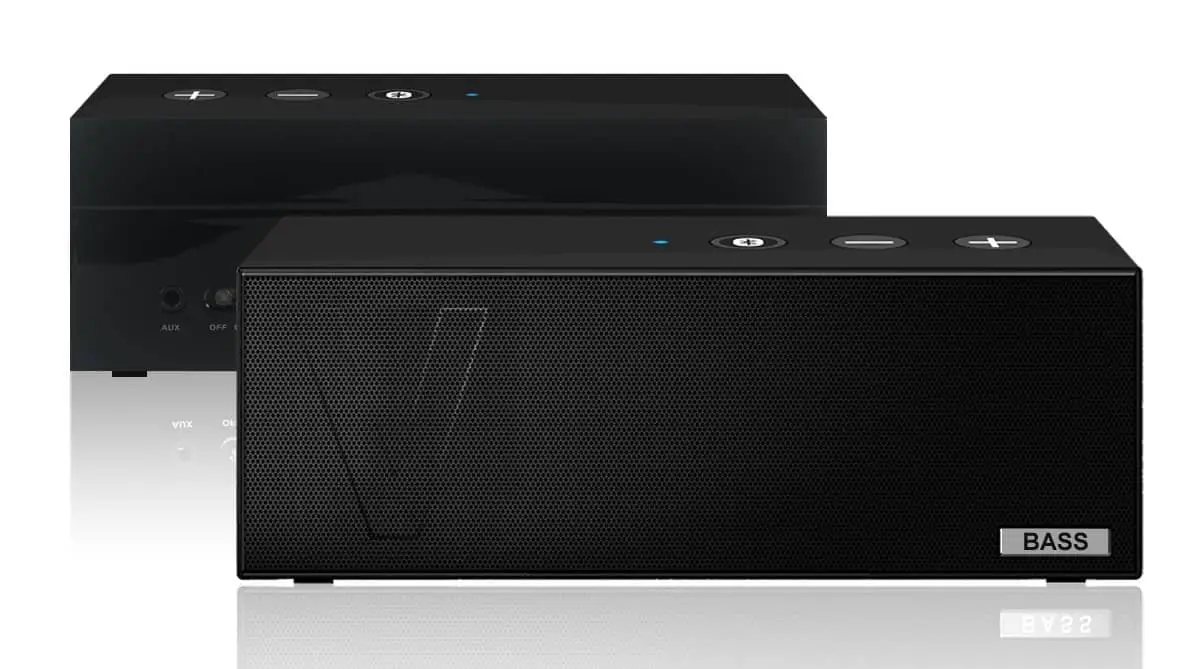 *This post may have affiliate links. For example As an Amazon Associate I earn from qualifying purchases, which means if you purchase something after clicking a link I may receive commission (don't worry, there's no extra cost to you). This helps support the work I put into the site.
EC Technology have produced a number of Bluetooth speakers recently, with this rectangular speaker being the most expensive to date. This time they've opted for a rectangular design and glossy black plastic which gives it a nice look but also make this a dust magnet.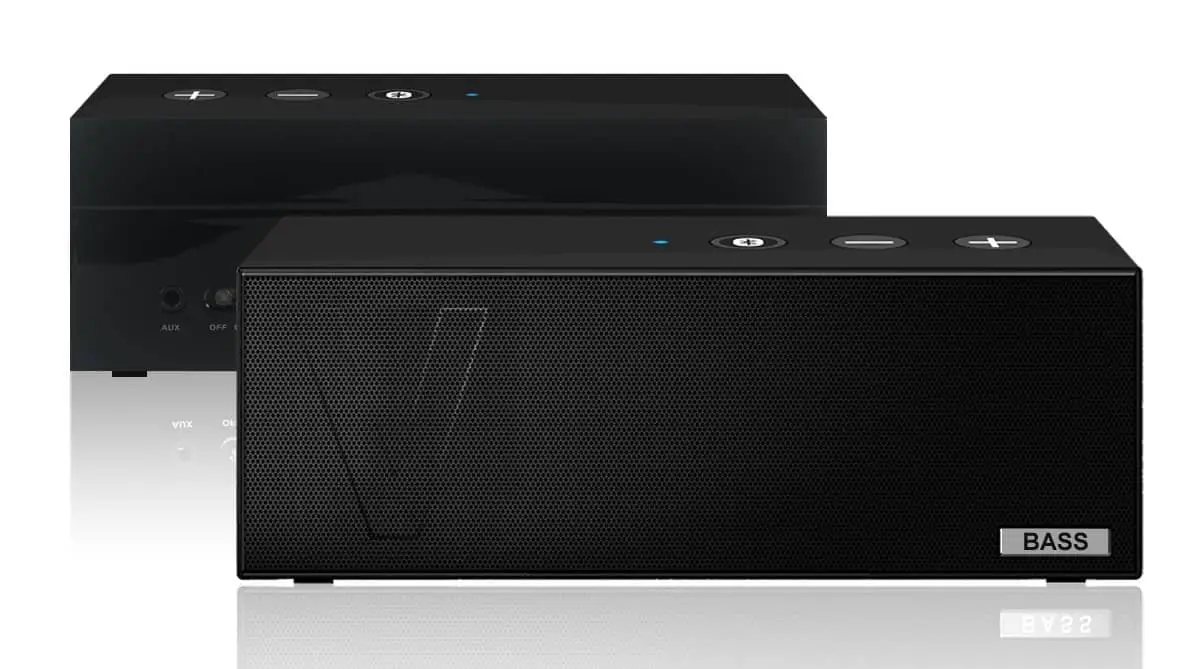 The front is the speaker grill section which has a random 'V' imprinted into it as well as a rather optimistic badge that reads 'BASS'. On the top are playback controls and indicator light. Round the back is the aux in, on/off switch, and power in socket. Unusually the speaker is charged via a USB to power tip rather than a USB to micro USB plug. While you get a charging cable with the speaker it does mean you'll be in trouble if you misplace it, the manufacturers really should've used the more standard USB to micro USB that most mobile manufacturers make use of.
Setup was very easy, quickly pair it via Bluetooth or plug in via the aux socket. Note this is a Bluetooth 2.1 speaker rather than Bluetooth 4. Sound quality was fairly average for a low cost speaker, it filled the room but didn't have much bass despite the proclamation on the front of the speaker.
You can control the speaker from your mobile, although during tests the speaker lagged a lot behind the volume controls on the mobile.  Turn the volume down and there is a noticeable delay before the speaker drops in volume.
The portability factor means it's great for quickly moving around the house and I found it a good speaker to have during DIY projects as it doesn't get in the way but is easily loud enough for a bit of music while you're painting a room.
While it's a good speaker it seems, at the time of review, to be rather pricey for what it is, especially considering the recently reviewed Tecevo S10 offers much better bass for almost half the cost.  While it's a nice design the high price, lack of lack of bass (despite the 'BASS' sticker on the front) and non standard charging cable are reasons to look elsewhere for your low cost audio needs.
However if you're still interested it's available on Amazon now: http://amzn.to/1kSdTh7
Logitech Z200 PC Speakers, Stereo Sound, 10 Watts Peak Power, 2 x 3.5mm Inputs, Headphone Jack, Adjustable Bass, Volume Controls, UK Plug, PC/TV/Smartphone/Tablet - Midnight Black
21 new from £24.00
8 used from £19.59
Free shipping
Features
Rich Acoustics : These multimedia speakers deliver rich, clear stereo sound with its 10 Watts peak power or 5 Watts RMS power from two 2.5-Inch drivers per speaker - enough power to produce room-filling audio for your music, movies or videos
Easy Access : For fingertip control of your hifi listening experience, this stereo speaker set up has volume level and power controls built on the front panel for easy access
Customisable Bass : Each wired stereo mini-speaker comes with a driver tuned for deep bass sounds, with an integrated tone control wheel on the side - allowing you to adjust sounds to suit your listening experience
Dual Connectivity : This portable PC speaker set up provides two 3.5 mm audio inputs, including auxiliary line, that works with most smartphones, tablets and laptops - meaning you can listen to 2 devices at the same time without disconnecting
Optional Privacy : If you need to listen to sound without everyone listening in, these multimedia speakers come built with a headphone cable jack - for instant privacy should you need it
Logitech Z906 5.1 Surround Sound Speaker System, THX, Dolby & DTS Certified, 1000 Watts Peak Power, Multi -Device, Multiple Audio Inputs, UK Plug, PC/PS4/Xbox/Music Player/TV/Smartphone/Tablet
6 new from £255.99
Free shipping
Features
Cinematic Experience at Home : These wired multimedia speakers come with 1000 Watts of power, and 165 watt powered subwoofer, delivering thunderous surround audio that will shake your house and beyond just like being at the cinema
Certified Premium Sound : These straight-out-the-box speakers have met strict performance standards to achieve the THX certification, delivering the ultimate immersive sound experience
Supreme Audio Experience : Not only is the speaker sound THX certified, but additional digital decoding allows for detailed surround sound for any Dolby digital or DTS encoded soundtracks
Versatile Connectivity : The speakers come with multiple inputs, allowing you to connect up to six components simultaneously which gives you complete control over your TV, Blu-ray/DVD player, DVR, Xbox, PlayStation, Nintendo, mobile phone, stereo and more in one place
Integrated Control : Customise your hifi listening experience with our simple cabled control console, using the wireless remote to command and adjust the surround sound, volume levels and device input
Logitech Z120 Compact PC Stereo Speakers, 3.5mm Audio Input, USB Powered, Integrated Controls, Cable Management Solution, Computer/Smartphone/Tablet/Music Player - White/Black
21 new from £12.12
5 used from £11.27
Free shipping
Features
USB Powered : These compact wired speakers make a perfect addition to your laptop or desktop set up, as they simply just plug into the side using the handy USB plug and can easily be moved around
Compatible Audio Input : While you plug the USB cable in to power the computer speakers, you use the 3.5 mm input cable that's compatible with headphone jack slots in most devices
Clever Design : Designed to be easy for moving around your workspace, these compact speakers use minimal space and come with fingertip controls integrated - for easy access to power and volume controls to set the right hifi sound
Cable Management : Users can adjust the length of the cords on these portable laptop speakers using the cable management solution on the back - eliminating cord clutter
Guaranteed Protection : These handy compact speakers comes with a 2-Year Hardware Warranty - so you can enjoy your audio experience worry-free