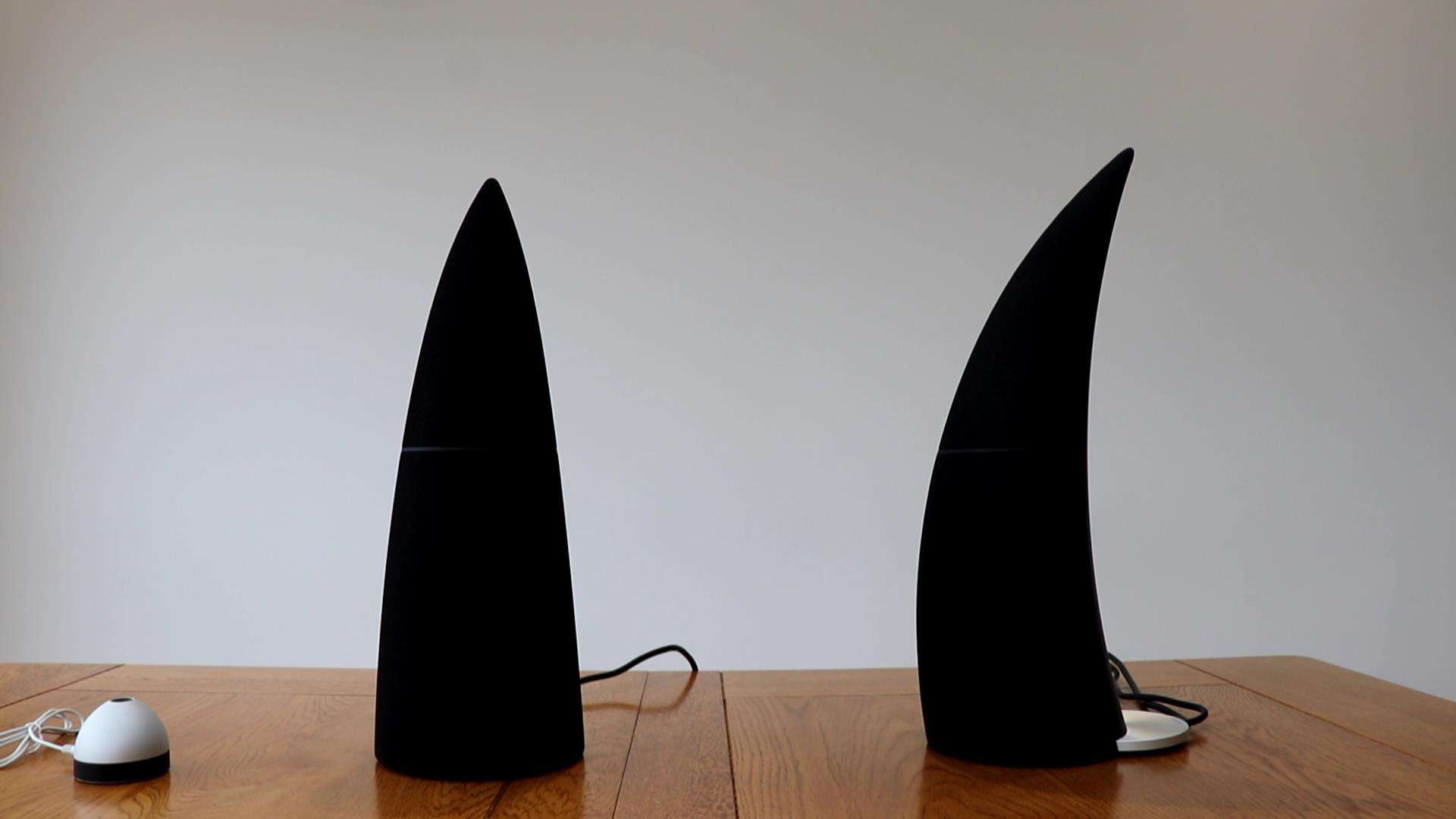 The staff at Edifier appear to have two modes when it comes to design: traditional box speakers such as the Edifier R1280DB Bookshelf Speakers or speaker design which bucks the trend, such as the Halo-esque Edifier Luna E235 speaker system.  The Edifier e30 Spinnakers fall into the inspired category of design, this time it appears someone watched Jaws over the weekend and rather liked the shape of the fin.
Available in black or burgundy, this stereo speaker set has a curved fin, or horn, like shape.  There is a small LED light on the top which indicates which mode is being used and metal plates at the bottom which provide stability and a cable management/tidy system.
Along with the speakers is a small dome shaped remote for controlling speaker volume and track control.  It doesn't need to be plugged into the speakers, as it's charged via USB you could leave it plugged into your PCs USB port.
There is also a fibre and 3.5mm – 3.5mm connection cable to ensure you're up and running quickly.  A speaker cable connects the speakers together (and it's a good length as well if you plan to use these with a large TV).
You can also connect to the Spinnakars via Bluetooth, there is no WiFi or streaming services built in, but as these are designed for computer use that isn't an issue.
Being large the Spinnakers are best suited to being next to a large monitor.  They work fine with a laptop, but unless you've a large laptop they may appear oversized when the laptop is in the middle of them.
Setup is quick and simple and if you're using your laptop speakers or monitor speakers you'll notice a big improvement immediately, sound has a lot more depth to it and packs a decent punch.  You've the option of adding an additional sub if you want extra bass.
The speakers are comfortable to use when sat close, for example when used with a laptop, but they're very capable of filling the room with sound (which isn't distorted) if you turn the volume all the way up, ideal for those looking to watch a film or listen to music.
Check out the video review below for a demonstration of the Edifier e30 Spinnaker speakers compared to the laptop speakers and you'll hear the difference right away.  These are a great looking and great sounding set of speakers for those who want to make a style statement while retaining great audio quality.
The Edifier e30 Spinnaker Speakers which are available from:
Amazon.co.uk: https://amzn.to/2r9HE3j
Amazon.com: https://amzn.to/2FqSZRz
Amazon.ca: https://amzn.to/2HCB1RS
eBay: https://ebay.to/2HEpIVB
Edifier E30 Spinnaker Speakers Video Review