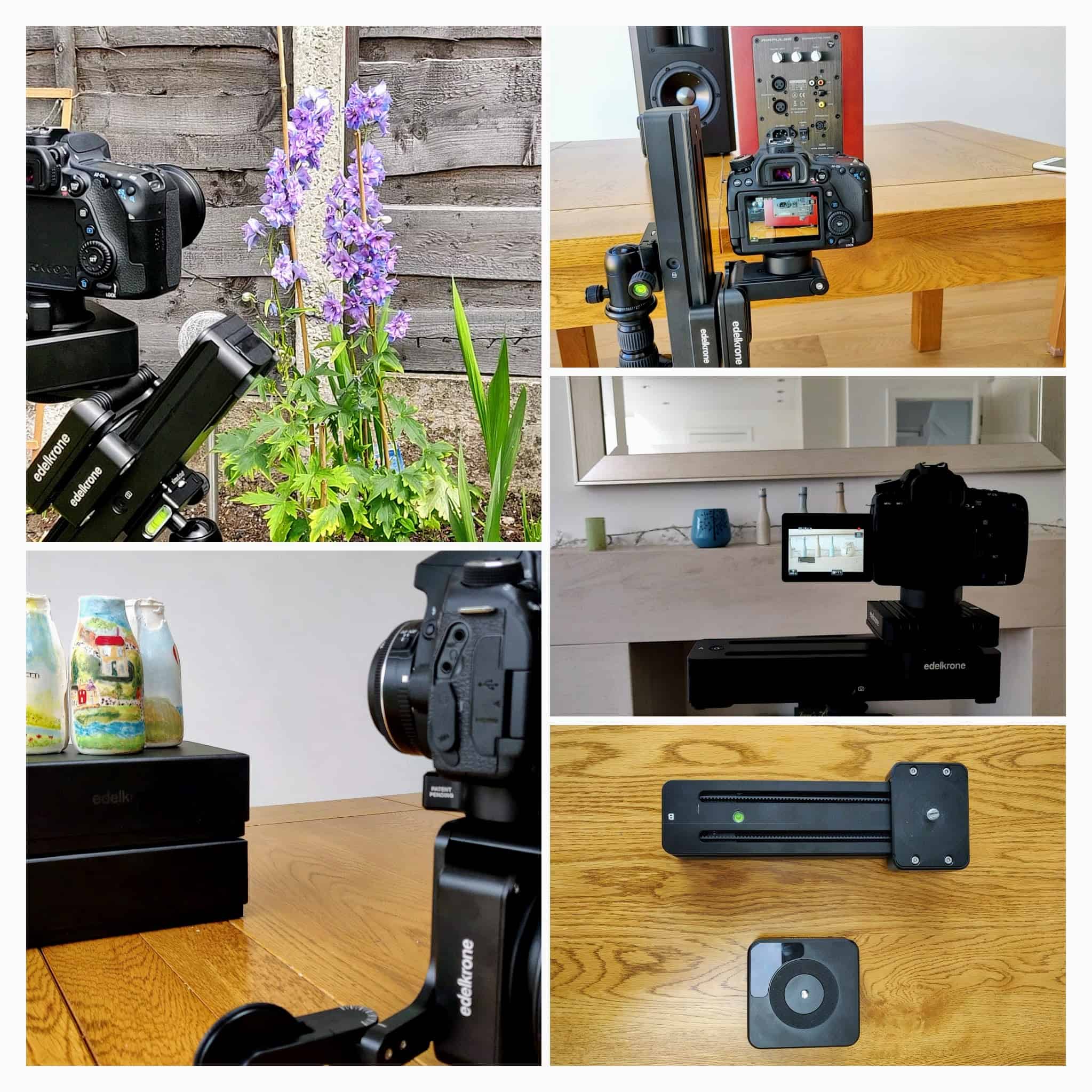 *This post may have affiliate links. For example As an Amazon Associate I earn from qualifying purchases, which means if you purchase something after clicking a link I may receive commission (don't worry, there's no extra cost to you). This helps support the work I put into the site.
Following hot on the heels of our Edelkrone QuickReleaseOne review comes the Edlekrone SliderOne Pro review, a super smooth motorized slider to help add motion to your shots. 
As with all Edelkrone products the SliderOne Pro arrives very well packaged.  It has a reassuring weight to it and feels like a fantastic bit of equipment the moment you lift it from the box. 
One thing to note is it comes without a battery, you'll need to either order one from Edelkrone or find one elsewhere.  As it's a standard LP-E6 battery, as used in the Canon 80D, buying one isn't an issue (e.g. this twin pack on Amazon) but given the high price of this slider one a battery and charger should really be included so you can get up and running right away. 
The SliderOne Pro has 20cm of travel for your camera and is compact enough to easily take with you out and about.   
Although it can be used as is you may find it falls over if you add a camera with a long lens, so use with a tripod is recommended and it has a tripod mount on the underside.  It can be used with either the larger tripod threads or smaller threads as an adapter is provided. 
The large style tripod tread sits on the top of the SliderOne Pro so you'll need some sort of adapter if you're using a DSLR or mobile holder otherwise your equipment can't be fitted.  In the review video below you'll see the Edelkrone FlexTilt Head 2 being used. 
While some cameras and equipment can be tricky to setup this takes very little time to get up and running.  You control the slider via a dedicated app, once opened the app will automatically search for and connect to the SliderOne Pro, no need to mess around with Bluetooth pairing. 
The app gives you a range of options, allowing you to control the slider manually, setup a repeatable movement, setup time-lapse or even stop motion.  SliderOne Pro can control your camera for those last two if you have the required cable (not supplied but is available from Edelkrone). 
It's an easy to use app that doesn't take long to get the hang of the basics, with the slider producing lovely smooth panning shots on both DSLRs or mobiles.  One thing to keep in mind is the slider does make a sound so if you're planning on a shot with sound you'll want to place the microphone away from the slider. 
For more real world examples see www.instagram.com/markjdraper/
On its own the SliderOne Pro does left/right or forwards/backs movement only, but add an extra bit of kit, such as the DJI OSMO Mobile or Edelkrone Motion Box, and you add an extra dimension of movement that looks incredible. 
Now, instead of a single direction of movement, you're able to move left/right while keeping a specific object in the shot.  The results look very impressive and give a professional look with very little effort. 
The SliderOne Pro is quick to set up, very easy to use, and produces some brilliant, professional looking, footage.  The only minor niggle is the lack of included battery.  Scroll down to see two videos, the first is a review video, the second is a compilation of example footage taken using the SliderOne Pro.
Available via:
Edelkrone: https://edelkrone.eu/products/sliderone-pro
And you can always try eBay: https://ebay.to/2v0ornx
Edlekrone SliderOne Pro Video Review
Edelkrone SliderOne Pro and Motion Box Demo Reel
Utopia Cast Iron & Boards, MH7009-000000-B01001, Sizzle Platter 10.75" (27cm) - with Wooden Base (Box of 1)
3 new from £11.80
Free shipping
Features
Utopia's extensive Cast Iron collection showcases several shapes ideal for oven to table service
From casserole to skillet to wok we have every option covered
With Acacia wood boards available; Cast Iron pieces can be taken straight from the oven to the table
Prochef 2lb Loaf Pan/Tin, Premium Quality, Easy to Clean, with Teflon Innovations Silicone Non-Stick Coating.
5 new from £5.99
Free shipping
Features
2lb Loaf Baking Tin
Lifetime Guarantee
Teflon Innovations Silicone Non-Stick Coating; Material: Carbon Steel
Premium Heavy Duty 0.8mm Gauge
Length : 24.5cm Width : 14.8cm Height : 6.5cm
Adrian James Nutrition – BCAA Tablets for Men & Women, Essential Branched Chain Amino Acids with Added Vitamin B6, Premium Grade UK Made, Quality Assured, 120 Tablets
1 new from £9.99
Free shipping
Features
GAIN AND MAINTAIN MUSCLE - Adrian James Nutrition BCAA 2:1:1 is a premium-grade essential branched chain amino acid supplement for men and women, containing leucine, isoleucine and valine in the optimal 2:1:1 ratio. It's backed by extensive research to help you increase lean muscle mass when used in conjunction with a sensible diet and exercise programme.
INCREASE RECOVERY AND PERFORMANCE - Crush your workouts whilst protecting muscle tissue, reducing fatigue and accelerating recovery. If you're looking for an essential branched chain amino acid to enhance your performance, the search ends here. Prevent muscle breakdown and keep your training goals on track with these convenient BCAA 2:1:1 breakline tablets.
SCIENTIFICALLY FORMULATED RATIO - BCAA 2:1:1 contains leucine, isoleucine and valine in the optimal scientifically-backed 2:1:1 ratio with added vitamin B6 to increase branched chain amino acid absorption, boost immunity and reduce tiredness and fatigue.
GMP UK MANUFACTURING - All Adrian James Nutrition supplements are manufactured in a state-of-the-art GMP facility. We guarantee that you are getting the purest, safest and highest quality products on the market.
SATISFACTION OR YOUR MONEY BACK - We stand behind our BCAA 2:1:1 tablets and guarantee your satisfaction. If for any reason you aren't completely satisfied with your purchase we will work to resolve your concern or arrange a full hassle-free refund.