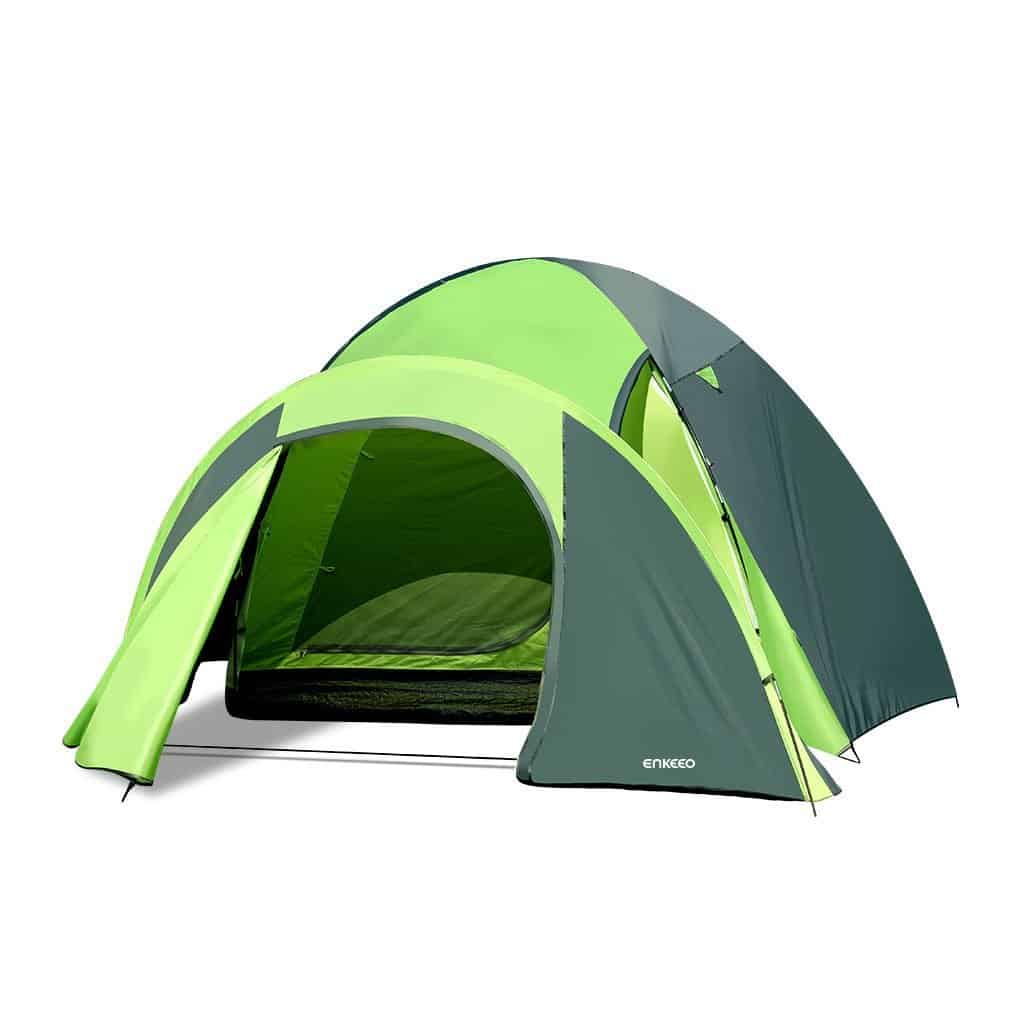 *This post may have affiliate links. For example As an Amazon Associate I earn from qualifying purchases, which means if you purchase something after clicking a link I may receive commission (don't worry, there's no extra cost to you). This helps support the work I put into the site.
The Enkeeo Waterproof Backpacking Tent is a compact 4 person tent that is small enough to carry about.
It easily fits into the boot of a car and would be suitable for taking with you on the train.
The tent comes in two main sections, a ground sheet inner tent and an over tent that adds a little porch area.
The tent also includes the usual pegs, ropes etc.  The one thing it didn't include were any instructions as to how to set it up, fortunately they were located on the Amazon product page.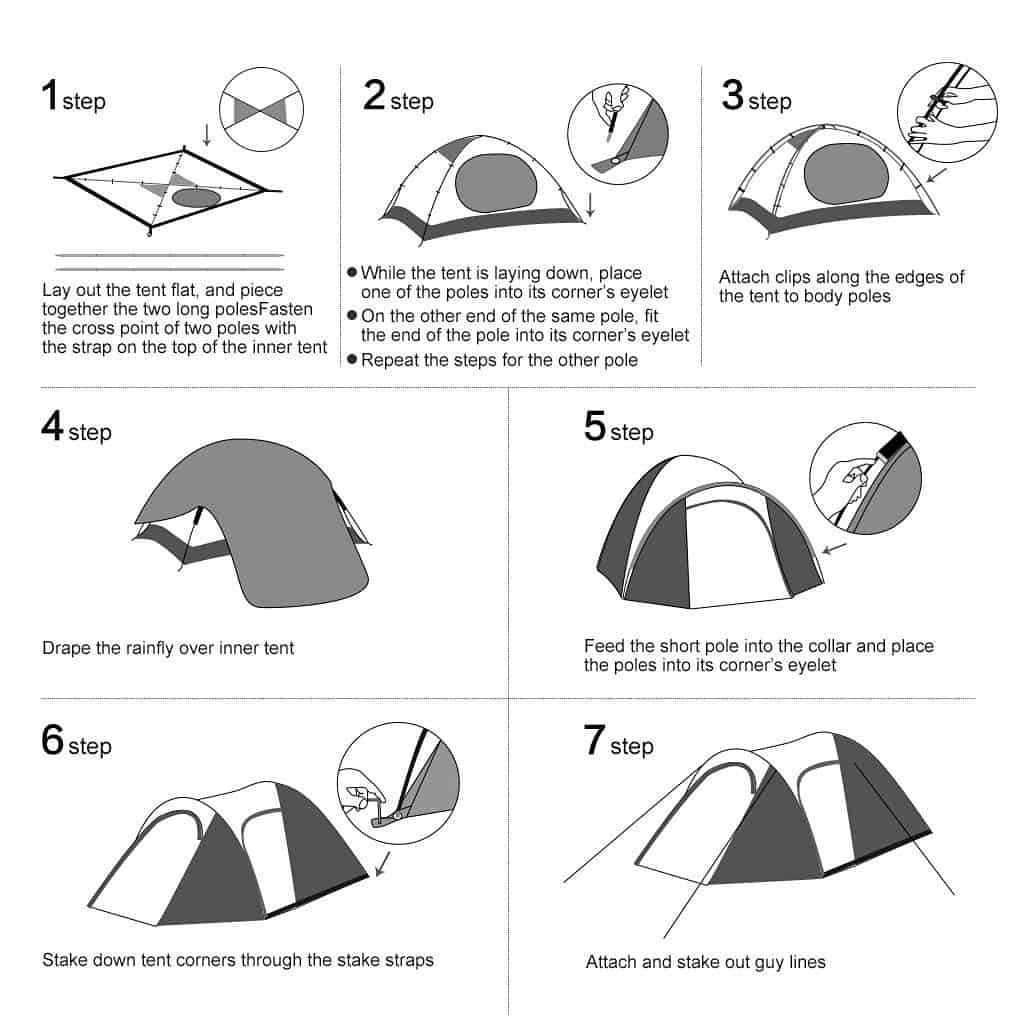 Setup took about 30 minutes and you really need two people to get the job done.  The included rope is a nice bright orange to help you spot it, and hopefully not fall over it, when it's in place.
Once assembled you've an inner tent with an outer cover.  This also gives you a little porch area for storing things like dirty shoes.
Inside the tent is enough room for 4 people sleeping, but it'd be a bit of a snug fit and doesn't give much room.  At 6ft I could lie down fully with a little room to spare and the tent was tall enough for me to stand in the middle without needing to bend down.
This would be ideal for 2 people if you also wanted a bit of space to store items, you do get a coupe of side pockets for small items such as mobiles, eReaders etc.
It can feel warm and humid on a bright day, fortunately there is a little ventilation window, designed to stay open even in the rain, that allows for some fresh air.
No problem hiding out inside from the rain, the water just runs off the tent.
Decent tent for a small number of people, the compact size means it can be easily transported and although it is fiddly to get back into the bag it is doable as long as you remember to get all the air out as you fold it back up.
Available from Amazon UK: http://amzn.to/2c1XJRI and Amazon USA: http://amzn.to/2bKZ9Dl
Enkeeo Waterproof Backpacking 4 Person Tent Video Review
Endor Forest Envelope Sleeping Bag - Single 3/4 Season Sleeping Bags for Adults and Sleeping Bags for Kids Outdoor Camping - Lightweight, Compact and Water Resistant for a Comfortable Warm Sleep.
1 new from £26.99
Free shipping
Buy Now
Amazon.co.uk
Features
SUPERIOR QUALITY & ULTIMATE COMFORT; Are you tired of replacing your flimsy, torn sleeping bag? Unlike other brands ours are made with a strong, high quality, Ripstop polyester outer lining, super soft brushed cotton inner lining and a 300g/m² hollowfibre filling, providing you with the perfect combination of durability and comfort; warm yet breathable, you are guaranteed a great sleep, Summer or Winter (Extreme -5°C, Comfort +5°C and Upper Limit +10°C)
LIGHTWEIGHT AND WATER RESISTANT: Is your bulky sleeping bag dragging you down? Weighing in at only 1.3kg, our sleeping bags allow you to enjoy nature without the burden of heavy or bulky camping gear. We include a strong compression bag complete with straps for compact and easy portability, ideal for both adults and kids. They are also water and mould resistant, keeping you cosy and dry, whatever the weather
MACHINE WASHABLE: Believe it or not, most sleeping bags aren't machine washable. We like to make your life easy so we think this is a must. Erase the kids' muddy footprints with a spin at 30 degrees and your sleeping bag will be as good as new, ready for your next adventure!
HIGH PERFORMANCE ANTI-SNAG ZIPS AND SECRET SECURITY POCKET; What's more annoying when you're snuggling up after a day's activity than struggling with a zip that keeps on catching. Our sleeping bags have robust, high performance anti-snag zips that glide up and down with no snagging, keeping air out and you cosy inside. Also included is a secret security pocket on the inside of the sleeping bag to keep your valuables safe.
1 YEAR, 100% SATISFACTION GUARANTEE: If you're not satisfied with it then neither are we. We are confident that you'll love your outdoor camping sleeping bag but if for any reason you're disappointed, they are backed by our manufacturer 30 day money back guarantee with 1 year free replacement warranty, providing you, our valued customer, with a completely risk free shopping experience.