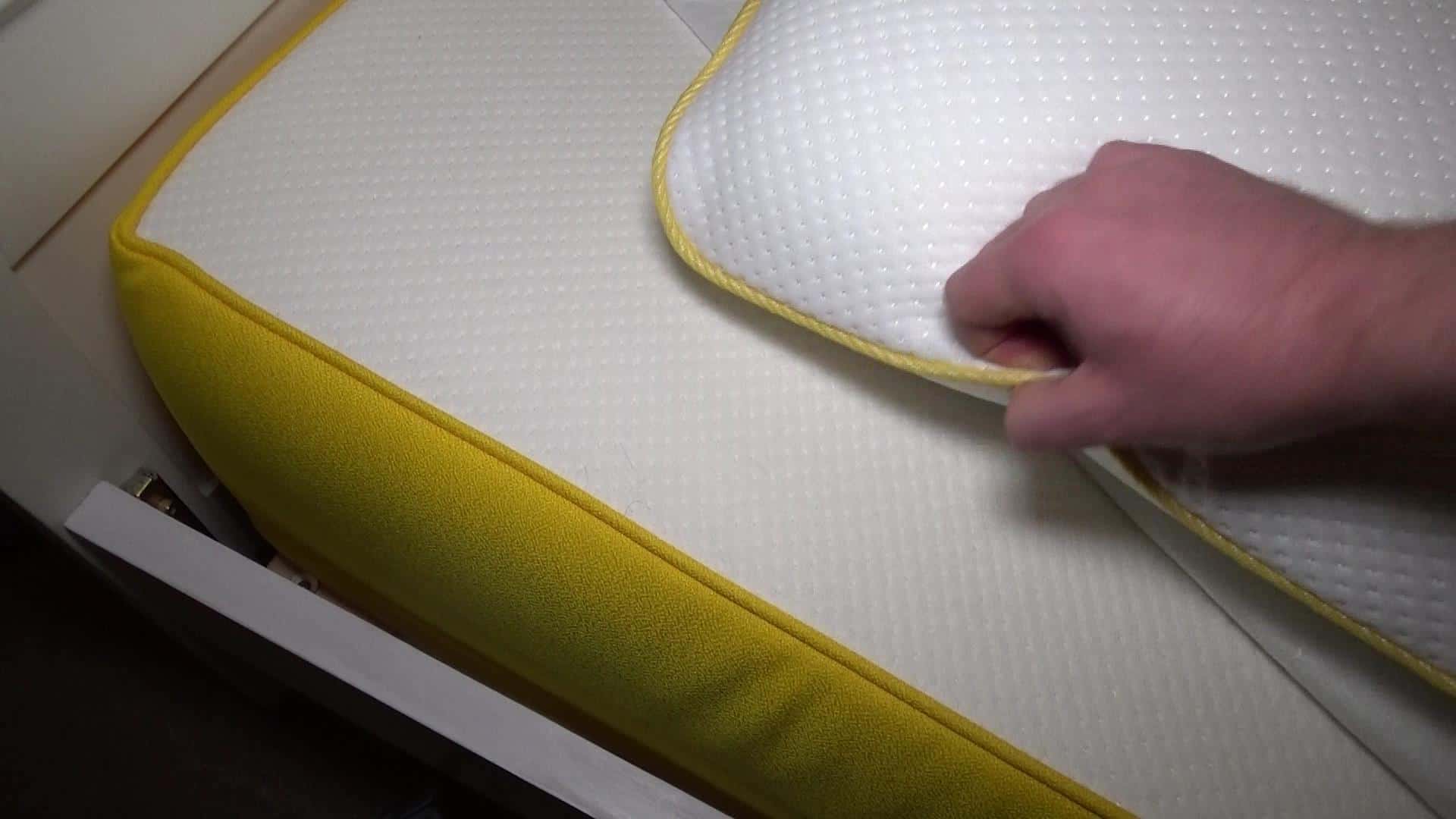 Eve Pillow arrives from the same company that launched the Eve Mattress and like the mattress the pillow can be ordered from the manufacturer for delivery directly to you.
They arrive well packaged in a box that can, as I quickly discovered, double as a cat's play area!
The pillows follow the Eve Mattress style and design, white on the top and bottom with a bright yellow trim.  It has a lovely soft cover, which can be removed and washed, and it's this knitted fabric along with the striking colours that means this stands out as an Eve product.
Made from contouring memory foam the Eve pillow are what I'd consider to be average sized for a pillow, but unlike my (very) old pillow it actually provides comfortable support.
I actually tried to replace my very old pillow earlier this year with a memory foam pillow that is specially shaped to, apparently, provide good support. It was soon relegated to the spare room as it wasn't as comfortable as my old pillow and, most annoying of all, it couldn't be returned for a refund on the grounds that once opened it was unhygienic to return it.
You'll have no such worries with the Eve Pillow! Firstly it has a more traditional pillow shape and is very comfortable to sleep on. Secondly, for those who dislike it you can return it to Eve within 30 days to get your money back.
If you have an Eve Mattress the Eve Pillow feels like an extension of the mattress, giving supportive feel without being too firm (Eve describe it as medium firm).
The material used is very good at keeping cool, no need to flip this pillow over to the cool side, with the Eve website explaining the pillow has "drilled cooling holes that run through the core for enhanced airflow and breathability at night."
The other benefit, especially for those who suffer any allergies, is that it's treated with something called 'UltraFresh', which is an antimicrobial shield to keep things nice and fresh.
It's great to see Eve looking beyond the mattress market and applying their know how to create additional products for those who like a little luxury in the bedroom.
The Eve Pillow is available directly from Eve's website: http://tidd.ly/c7262123
Eve Pillow Video Review
Makimoo MP2 Super Soft Queen Size Bamboo Fiber Pillow 2 Pack
3 new from £29.99
2 used from £ 26.33
Free shipping
Buy Now
Amazon.co.uk
Features
Loyal companion: makimoo focus on products that bring comfort and happiness to customers
Special aesthetic: full of Asian design elements with brightly-colored lines and delightful animals to evoke a light and breezy feel to users
Comfort Provider: 75% Polyester and 25% Bamboo combined. Bamboo fibers absorb moisture and effectively neutralize unpleasant odors. The texture of the bamboo textile is softer than most types of cotton and in addition, it retains color for a much longer time.
Remarkable filling: credible polyester material, largely filled into the pillow which makes it much fluffier than other pillows
Reliable supports: especially created for 5* and 7* hotels around the world
Panda Luxury Memory Foam Bamboo Pillow
3 new from £39.95
1 used from £ 39.15
Free shipping
Buy Now
Amazon.co.uk
Features
The original Panda memory foam bamboo pillow with a triple layer moulded memory foam for ultimate support and comfort. Panda Bamboo Pillowcase included.
Hypoallergenic, dust mite free and antibacterial bamboo cover offers a silky smooth touch and its easy to remove and wash.
Temperature regulating technology will keep the pillow cool in the summer and warm in the winter thanks to the highly breathable bamboo cover which keeps the air flowing.
Our pillows are made up of three layers of visco memory foam using the newest technology of memory foam gel which is recommended by doctors and orthopaedic experts.
10 years manufacturer guaranty and 100% money back guaranty or a free replacement in any case of less then 100% satisfaction.