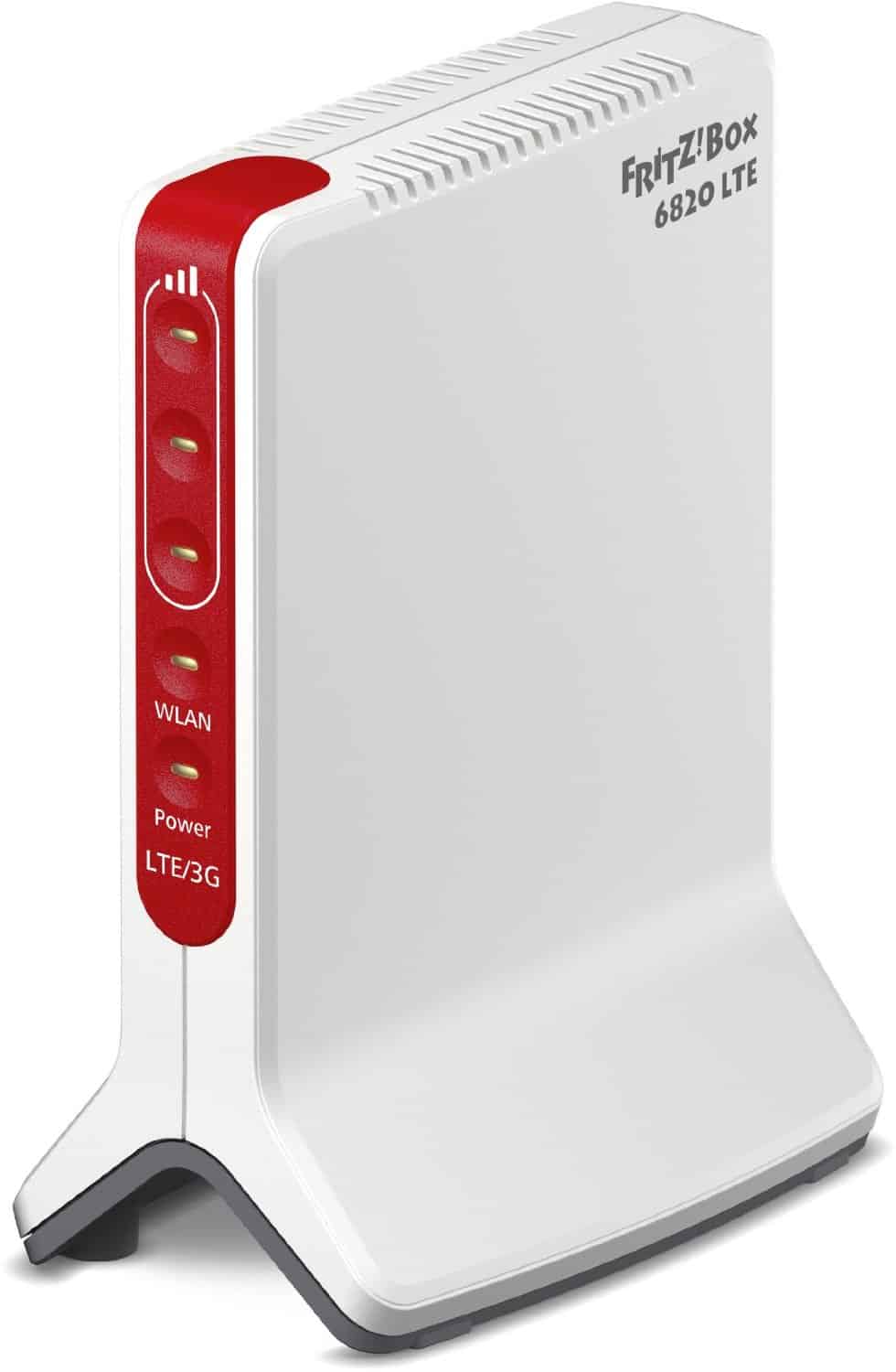 *This post may have affiliate links. For example As an Amazon Associate I earn from qualifying purchases, which means if you purchase something after clicking a link I may receive commission (don't worry, there's no extra cost to you). This helps support the work I put into the site.
The FRITZ!Box 6820 LTE Router is not the usual plug into a phone line router, instead this is a mobile router that allows you to pop a SIM card in and do away with a fixed line completely.
It is nicely styled in white and red and is a compact little unit that could easily be taken away on trips.  It takes a standard sized SIM card and this goes into the bottom of the unit, along with the power.  Around the back are a couple of setup buttons and an Ethernet port and around the front are a row of status lights.
It looks very much like a little router, but the setup is a little different, there is no need to plug this into a telephone socket but may need to enter your mobile networks access details.
Setup is completed via the web interface.  At the time of review the FRITZ!Box 6820 LTE Router was running FRITZ!OS 6.40.  This OS is what sets the 6820 apart from something like a mobile hotspot creator as it offers a huge amount of functionality.  It's works well and is easy to use, to get up and running and then has lots of functionality to explore.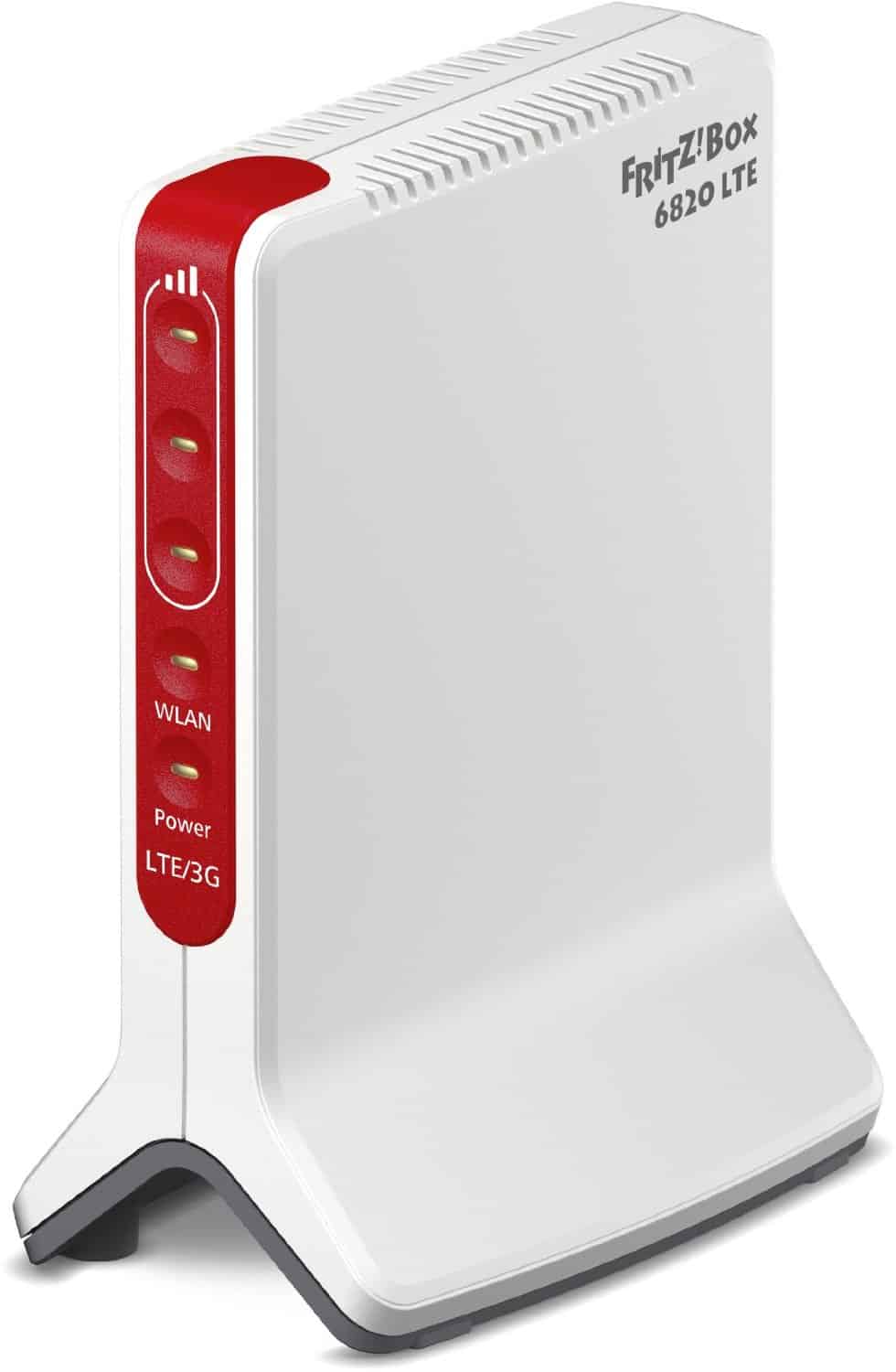 It's great to see the interface has been designed with new users in mind, it has lots of explanation about the features and functions available and you can do things like set time restrictions or enter details of your mobile data package.
Overall performance will of course depend on the mobile network you use and the signal strength in your area.  On the EE network the download speed was consistently about 20 Mbps and provided the same experience as if using fixed line broadband.
The high price means for many that don't require lots of the functionality a lower cost mobile hotspot would be worth considering as an alternative, but for those looking for a dedicated mobile router this is a very simple to use bit of kit with lots of functionality.
Available on Amazon UK: http://amzn.to/1rA2iYM
AVM FRITZ!Box 6820 LTE International 4G/3G Modem Router, SIM Slot, WiFi N 450 Mbit/s, 1 Gigabit LAN Port, Italian Interface
2 new from £165.54
Free shipping
Buy Now
Amazon.co.uk
Features
High speed Internet with built-in 4G LTE modem and 3G UMTS for 4G / 3G networks, mini SIM
Multiband LTE Modem, the router automatically connects to any available mobile network
Internet over 4G (LTE) and 3G (UMTS / HSPA +) network
WiFi N Router 450 Mbps (2.4 GHz, 3 x 3 MIMO), 1 x Gigabit LAN for connecting computers and game consoles, configurable parental control, user interface in Italian
Box contents: FRITZ! Box 6820 LTE, 1.5 m LAN cable, power supply, quick installation guide in Italian
AVM Fritz!Box 4040 Wireless Router (Cable/DSL/Fibre Modem, Dual WLAN AC+N, 866 Mbps (5 GHz) and 400 Mbit/s (2.4 GHz), 4 x Gigabit LAN, 1 x USB 3.0, 1 x USB 2.0, Media Server) No
9 new from £93.77
4 used from £42.50
Free shipping
Buy Now
Amazon.co.uk
Features
WLAN router for connection to an existing network, a cable/DSL/fiber modem (WAN) or UMTS/HSPA/LTE stick (USB); German version. Gaming consoles and network-compatible devices like TVs or printers can be connected in no time via cable over gigabit LAN
WLAN AC + N with up to 866 Mbps (5 GHz) and 400 Mbps (2.4 GHz), WLAN or LAN guest access to the Internet for visitors without accessing the home network
NAS function allows USB and online storage to be used as networked storage, access remotely via MyFRITZ!
4x Gigabit Ethernet for connecting computers, TVs, game consoles, 1x USB 3.0, 1x USB 2.0 for printers and storage in the network, versatile FRITZ! OS with MyFRITZ!, FRITZ!NAS, FRITZ!Apps and fritz.box user interface - intuitive to operate via the browser
Box contents: AVM FRITZ!Box 4040 WLAN router, power supply, service card (FRITZ! Note), Network Cable (1.8 m, white), Quick Start Guide