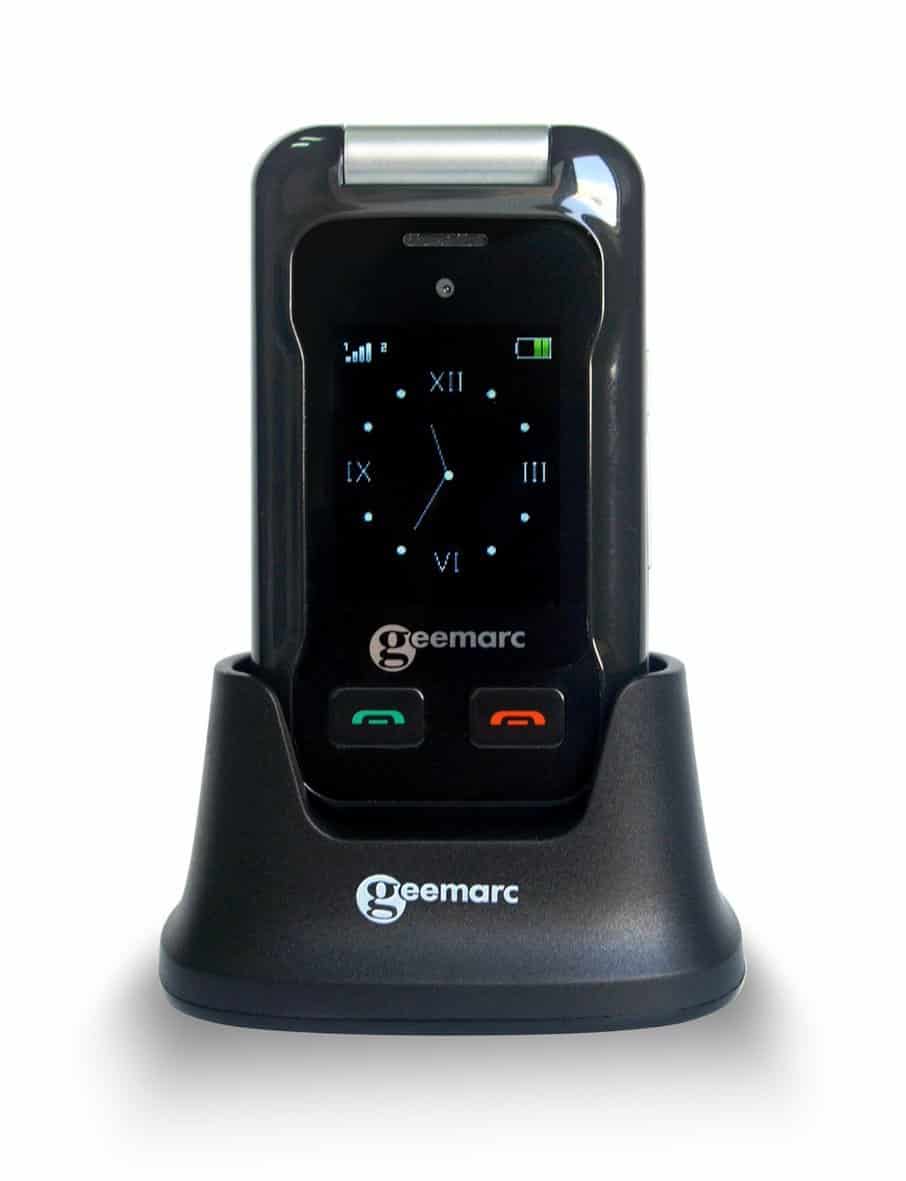 *This post may have affiliate links. For example As an Amazon Associate I earn from qualifying purchases, which means if you purchase something after clicking a link I may receive commission (don't worry, there's no extra cost to you). This helps support the work I put into the site.
The Geemarc CL8500 is a very easy to use bit of kit designed for those who want something nice and simple.
Although it can be charged via a USB cable the manufacturer has included an easy to use charging dock. The dock makes use of the charging cable and can be left in place plugged into the wall, the CL8500 just slips into the dock and charges via a couple of contact points, brilliant for anyone that struggles with fiddly tasks such as plugging in a USB cable.
Another handy feature is a couple of LEDs built in to the top that can be turned on to act like a torch.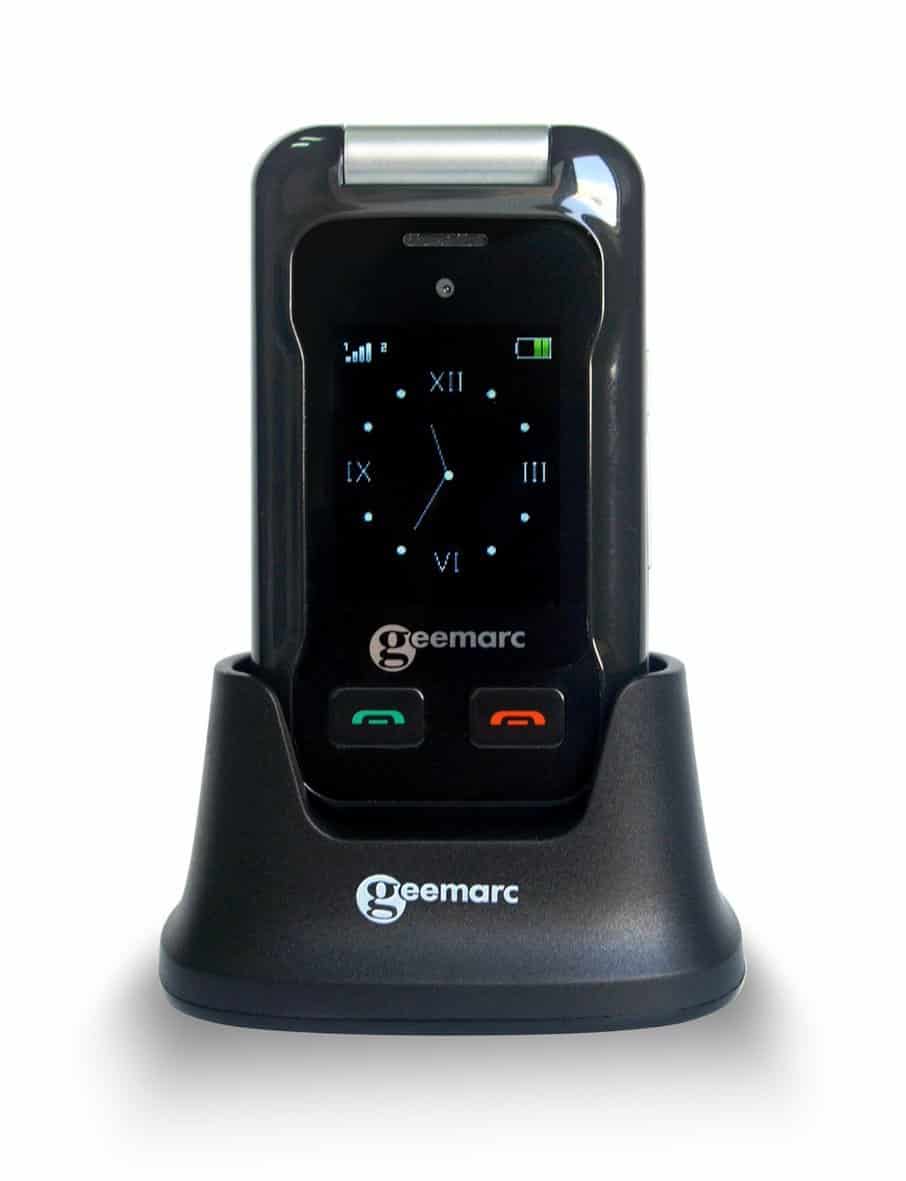 The Geemarc CL8500 features a clamshell design that is light and sturdy in the hand, with a screen on the front for notifications. There's a call answer and reject button so the user doesn't have to worry about quickly opening the mobile to answer a call.
When opened up there is a second screen on one half and nice large buttons on the other half. The menu is kept simple and uncluttered and if giving this to someone who isn't too technical I'd recommend getting it all setup before handing it over, for example setting up emergency contacts, setting up the quick contacts or adding photos to the phonebook so it's easy to see who you are dialing.
As you can see in the video there's an SOS button on the back, a really great feature that means this mobile doubles up as an alarm that can alert those nearby that someone needs help.
This mobile has been design with a specific type of user in mind and it shows in the great build quality and range of features.
Available from Amazon UK: http://amzn.to/1VuURPQ

Geemarc CL8500 - Amplified Clamshell SIM-Free Mobile Phone with Dual LCD Display and Camera- UK Version
2 new from £73.99
Free shipping
Buy Now
Amazon.co.uk
Features
✅ AMPLIFIED & HEARING AID COMPATIBLE - SPECIALIZED FOR HARD OF HEARING- Adjustable receiving volume up to 40dB with boost key
✅ EXTRA LOUD & EASY TO USE- Extra Loud Ringer ( up to approx. 90dB @ 1metre) with Easy to Use Navigation Control Keypad.
✅ TALKING CALLER ID- Talking Caller ID (10 numbers max) and Talking keypad in 12 languages.
✅ "ICE FUNCTION- IN CASE OF EMERGENCY": Pre-programmed 4 contacts to be called in the case of an emergency . You can also log your name, address, ailments, allergies, medications, blood group and GP . Extremely useful, simple, and essential in case of emergency.
✅MULTILINGUAL- Choice of 14 languages: English, French, German, Dutch, Portuguese, Swedish, Danish, Norwegian, Finnish, Russian, Spanish, Italian, Hungarian, Hebrew.
Geemarc Amplidect295 TWIN PACK -Amplified Cordless Twinpack Telephones with Integral Answering Machine and Caller ID- UK Version
3 new from £74.99
8 used from £44.06
Free shipping
Buy Now
Amazon.co.uk
Features
✅ HEARING AID COMPATIBLE - The product is designed for people with low to medium hearing loss. Adjustable receiving volume: up to 30dB.
✅ EXTRA LARGE SCREEN AND BUTTONS- Alphanumeric display with 4 lines and big characters: 7mm.
✅ CALLER ID FUNCTION- CALLER ID for 20 incoming and 10 outgoing numbers. Indicator of call waiting /new call.
✅ LOUD RINGTONE- Ringer level: 70dB on the handset; 80dB on the base.
✅ ANSWERING MACHINE- 15 minutes of recording time with 2 announcements . Remote control for voice messages on handset . 3 languages for default OGM: 3 languages (English, German and French).