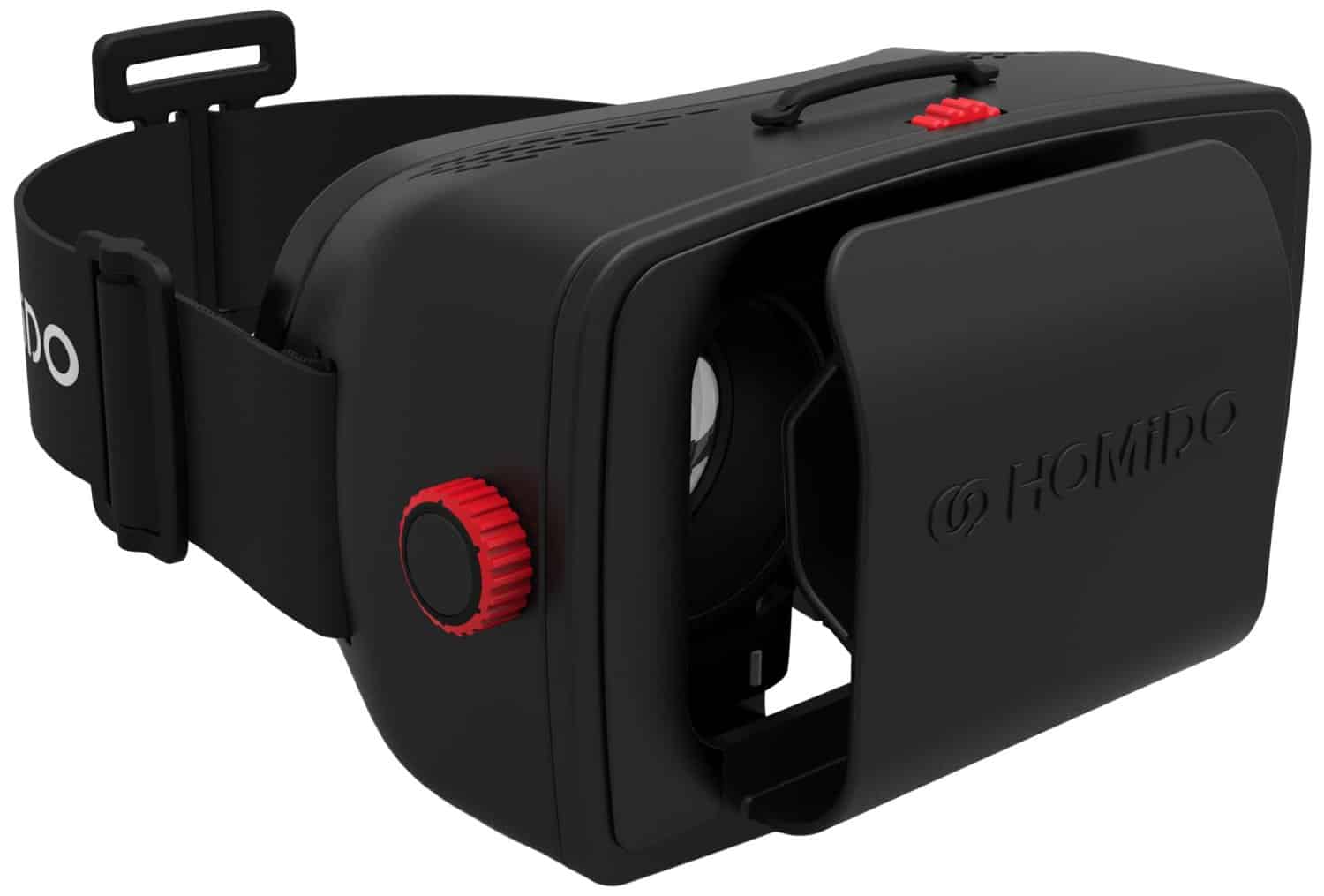 *This post may have affiliate links. For example As an Amazon Associate I earn from qualifying purchases, which means if you purchase something after clicking a link I may receive commission (don't worry, there's no extra cost to you). This helps support the work I put into the site.
The Homido VR headset can be seen as either a low cost alternative to the Samsung Gear VR or a more expensive version of Google Cardboard.
Unlike Google Cardboard the Homido VR headset is made from plastic and has straps on to keep the headset to your eyes without the need to hold it and feels like a well made bit of kit that won't fall to bits or dissolve if it gets wet.
You'll need to provide a phone to use as the screen, and this is held securely in place at the front of the unit.  A range of phones are supported, with the optimum phone having a 5″ screen capable of full HD and powered by a quad-core processor.
In the video review Android and the play store are mentioned a lot, but the Homido is also compatible with various models of iPhones as well.
Various adjustments can be made to the screen to get it in focus, and the Homido comes with several adapters that you can pop the lens in to help compensate for being near or far sighted.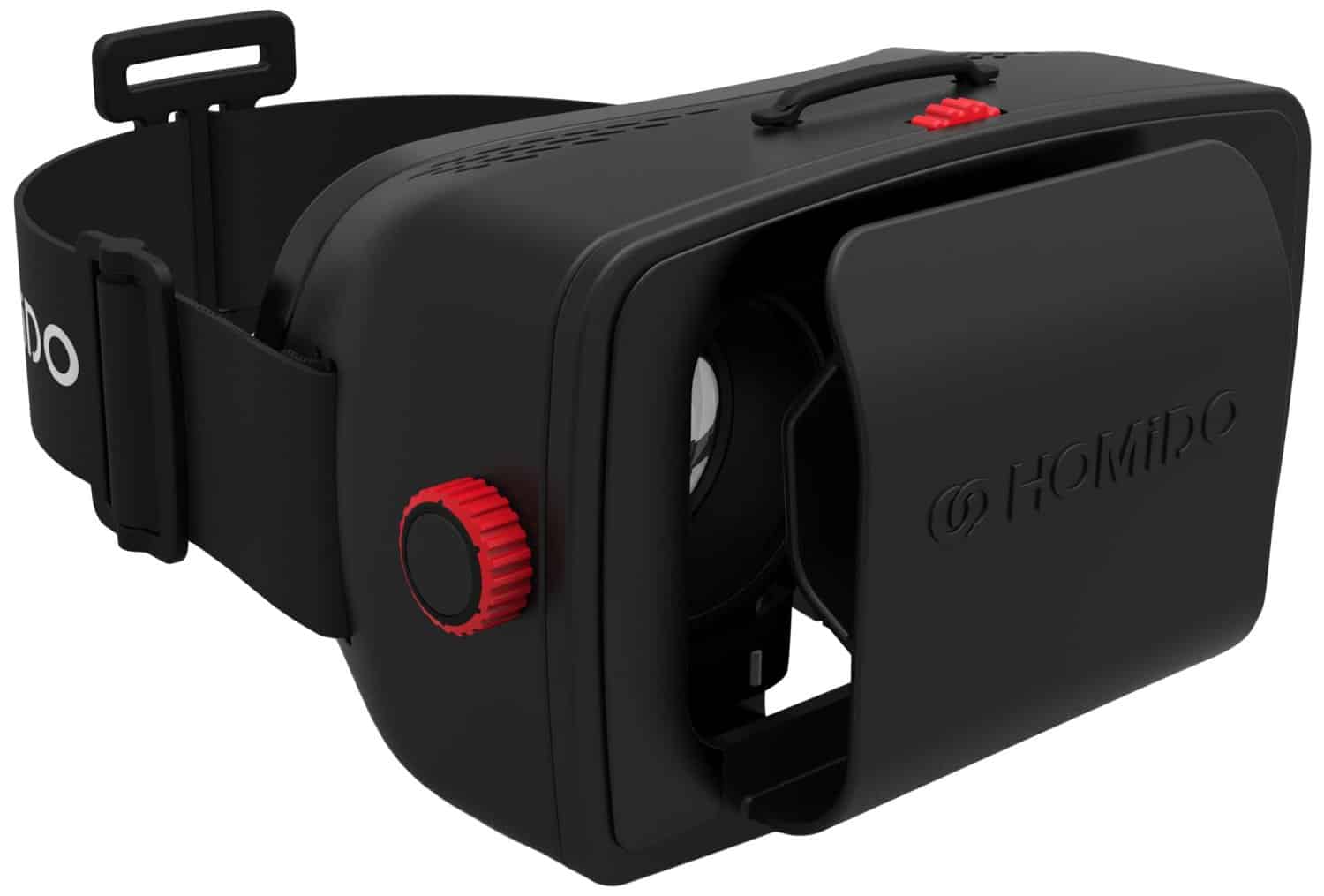 It's comfortable to wear even with a mobile adding weight and allows enough adjustments to ensure people of all head and hair shapes and sizes can make use of the unit.
There is a companion app available from Homido that helps you find content to view, once installed just fire up the app you want to try, pop the phone in the front, and off you go!
Tested using the excellent LG G3 the experience was great, giving a good taste of the potential VR has.  Cheap Finasteride (generic Propecia) is available on this site http://www.noc2healthcare.com/propecia-finasteride-online/ which can be delivered to any US state. At the moment there are lots of basic games, rides and environments to explore, but there isn't really a killer app just yet.
Unlike the cheaper Google Cardboard the Homido doesn't have a way to select items, so if you want to interact or change apps you need to take the mobile out of the headset, which can be a little frustrating but at least getting the phone out and popping it back in again is a quick and easy.
If you like the idea of VR this is a solid bit of kit to get a taste of whats to come from things like Oculus Rift and the recently announced HTC Vive.
Available now from Amazon UK: http://amzn.to/1FMusTn and Amazon com: http://amzn.to/1BEFNim
VR Headset,Virtual Reality Headset,VR Glasses,VR Goggles-for 3D VR Movies Video Games,Compatible for iPh 7/7+/6s/6+/6/5,Samsung,Huawei,Google,Moto & All Android Smartphone(Newest style)
2 new from £28.00
Free shipping
as of 28/02/2021 12:23 pm
Features
ADVANCED TECHNOLOGY --VR headset work with smartphones and mobile devices such as iPhone 5 / 5c / 5s / 6 / 6 plus / 7 / 7 Plus , Samsung Galaxy S5 / S6 / S7 / S8 / Note 4 / Note 5 / Edge, and other 4.5" - 6.3" smartphones ( iOS / Android ) like HTC Motorola LG Google & Sony mobiles to bring you a best immersive visual reality experience in 3D vr glasses.
Ideal Heat Dissipating Design -- Both Inter pupillary distance ( IPD ) and Focal distance ( FD ) are adjustable to expand the viewing angle and match focal distance perfectly and unilateral myopic alignment for reduced distortion to bring you the best 3D immersive and enjoyable experience. No glasses needed for myopia (nearsightedness) of 20/500 to 20/20 vision.
3D Reality Headset Vision -- All you need is positioning you phone, adjusting the angles of viewing, then you will see immersive 3D virtual reality through the lens as watching a 8 meters screen,No Dizzy & Anti-reflection & Radiation Protection & Anti Blue Ray - Environmental protection transparent lens by detailed works brings the 720P & 1080P & 2K display.
Download 3D Video Apps -- Works with over 500+ iOS/Android virtual reality apps. This VR can't automatically transform images to 3D format, you need to download APPs with 3D format video or watch panorama videos on YouTube, QR code, Apple Store or Google Play. All video source can be found on Google.
360 Degree Panoramic Roaming & 120 Degree Field of View - Flying cross the Galatics, running with Africa antelopes, shaking hands with penguins in Antarctic, just do it at anywhere anytime. Tested thousands of times, 120 degree field of view avoids low pixel, which takes you into the picture, brings you a wonderful view experience.
VR Headset 2021, 3D Glasses for Samsung Android Phones in Screen 5-6.5 inches, with Wireless Bluetooth Remote Controller, VR Goggles for Games and Movies
1 new from £45.99
Free shipping
as of 28/02/2021 12:23 pm
Features
VR headset brings Immersive 3D experience on VR games/movies/videos
110-degree field of view, excellent virtual reality 3D pictures, provide an unparalleled visual experience.
Soft VR face cover, ultra-soft face cushion, very comfortable to wear.
With a bluetooth remote controller for Samsung/Android Phones. You can control the direction in the VR games and beat the enemy. Choose a VR video to watch, or pause it, and so on.
Wide Compatible with Android phones and iPhone (5-6.5 inch screen, phone size is under 163*83*10 mm (L*W*H))
DESTEK V5 VR Headset, 110°FOV Eye Protected HD Virtual Reality Headset w/ Touch Button for iPhone 11/Pro/X/Xs/Max/XR/8P/7P/6P,for Samsung S20/S10/S9/S8/Plus/Note 10/9/8/Plus,Phones w/ 5.5-6.8in Screen
3 new from £31.99
1 used from £20.38
Free shipping
as of 28/02/2021 12:23 pm
Features
√ 2020 New Released DESTEK V5 VR Headset - Travel through the criss-crossing tracks in the future city, and full of noisy crowds, screaming fellow passengers and airship... Enjoy these adrenaline inducing roller coaster rides through DESTEK V5 Headset. Compared to V4 headset, DESTEK V5 VR headset increased the FOV to 110°from 103° which offers excellent depth and perception, creating a truly mesmerizing and immersive VR experience.
√ Support wearing glasses - Don't let your glasses get in the way of an excellent VR experience. Unlike mostly VR headsets, DESTEK V5 provides universally accepting spaces for most glasses to suit more customer needs. Also we designed the pupil distance button with a larger range to optimize your visual experience.
√ Eye Protected HD Lenses - We always put our customers experience on top priority, and like V4, we insist V5 headset adopt 94% lens light transmittance, and use anti-reflective and anti-blue light coating lens to prevent eyestrain when using the headset. Also sharp HD images are achieved by the aspheric and anti-distortion lens surface. We recommend that you take a break every half hour while playing VR to maximize your eye protection.
√ Comfortable & Lightweight - Compare to 380g V4 headset, DESTEK 5th generation VR headset decreased in weight due to plastic component swaps and improvements in manufacturing . The headset only weights 320g, it significantly reduce the pressure with the help of head strap design, making it tight but fairly comfortable fit , plus the The removable facepad of VR Headset is made of ultra-soft washable breathing fabric, helping you stay comfortable during use.
√ Wide Compatibility - VR headsets are fantastic gifts for adults and kids, invite your family and friends into your immerse VR world, sharing love via VR headset. It supports smartphones with 5.5-6.8 inches screen, such as for iPhone 11/ 11 Pro/ 11 Pro Max/ Xs Max/ XR/ X/ Xs/ 8 Plus/ 7 Plus/ 6 Plus/ 6s Plus, for Samsung S20/ S20 Plus/ S10/ S10e/ S10 Plus/ S9/ S9 Plus/ S8/ S8 Plus/ S7 Edge/ Note 10 Plus/ Note 10/ Note 9/ Note 8/ A20e/ A10/ A50, Huawei P20/ Oneplus 7 Pro/ Google Pixel 2 XL etc