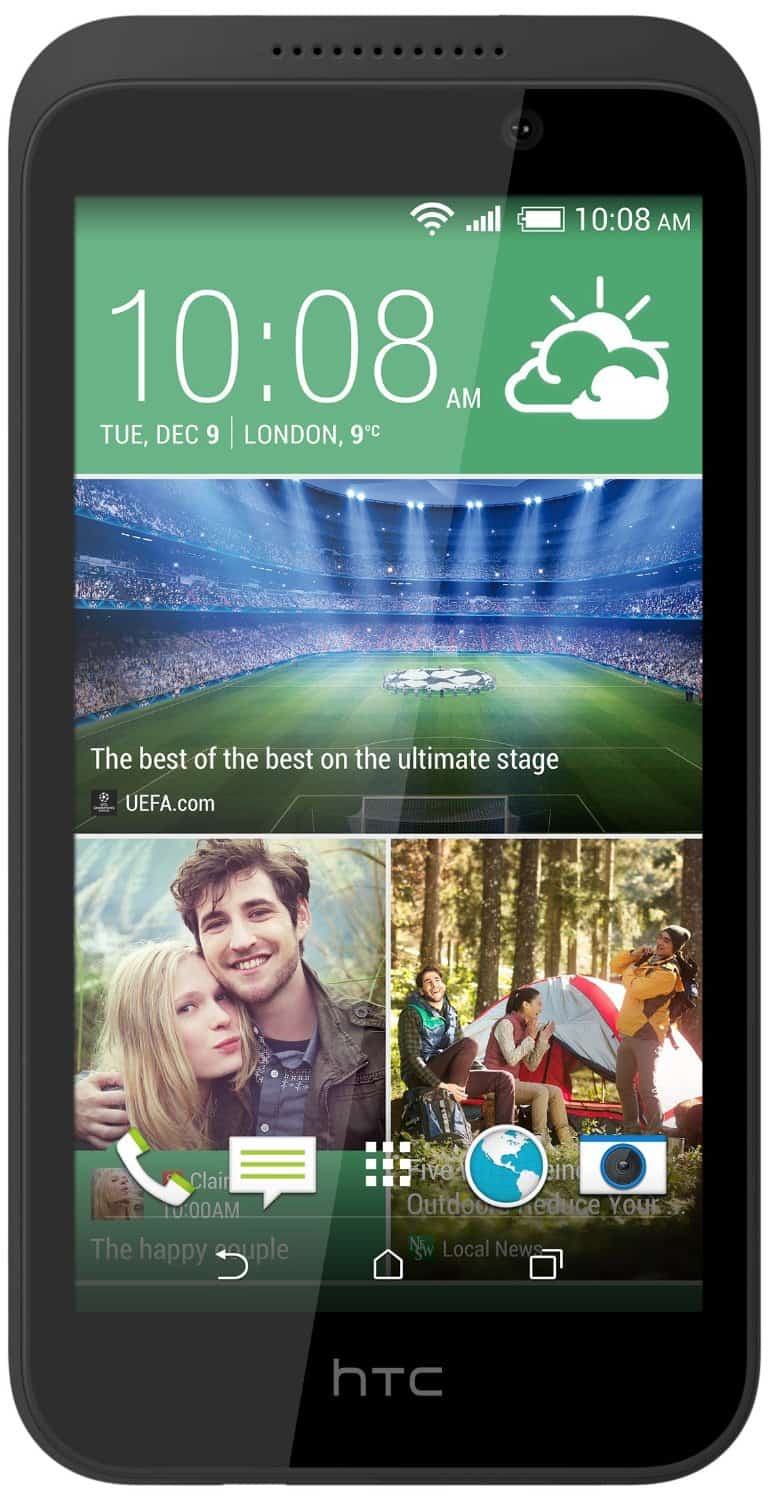 The HTC Desire 320 is HTC's budget entry into the market.
They've kitted the Desire 320 out with a 4.5″ screen which, while fine, is starting to feel rather small when you consider other budget handsets have 5″ screens.  Annoyingly there isn't an indicator light, so you don't know when you've got a message or when it's finished charging (most mobiles have a light thats red when charging and green when charged).
Android runs really well, there wasn't any lag when moving through menus and it was easy to search for apps.  At the time of review this ran Android 4.4.2 rather than the newer Android 5, and no updates were available to upgrade this.
Blinkfeed is included and is a nice option to have custom feeds easily displayed.  It works a lot like Flipbook which has become other manufactuers version of Blinkfeed, but it can be ignored if it isn't for you.
If you just want a nice simple phone without home screens you can switch to a 'simple home' view.  This lays out the apps in a big button format and you can easily add new buttons to this.  If you don't like this view it's very easy to switch back.
The HTC Desire 320 back is removable and allows you access to the SIM card holder, micro SD card slot (up to 32GB) and removable battery.
There are two cameras, the rear is 5MP with a flash.  Video quality is good at this level, photos are OK however the focusing can be a little disappointing, this isn't the mobile to get if you're into photography.
The quad core processor keeps things moving along nicely, games play well although as you can see in the video review below the game pause for a second, not sure why and this was only seen on once, which just happened to be captured on video.
Overall the HTC Desire 320 is a good budget handset which differentiates itself with the slick HTC interface.  This interface is a lot better than some of the more basic interfaces found on other budget phones.
Available from Amazon UK: http://amzn.to/1J61PBf
IUEG Official HTC In Car Charger Fast Charger CC-C600 10W High Power Output 2A with USB Data Sync Cable Charge Lead for HTC One M8 One A9 M8S M7 One M9 One Mini Mini 2 One Max Desire 826 820 626 526 320 520 and More
Features
Product Type - In Car Adapter Charger with USB Cable
Genuine HTC CC-C600 Car Charger
Input : 10-30V DC == 1.35A
Output : 5.0V DC == 2A
Micro USB Cable for Micro USB Devices
Kingston Technology SDC10/16GB 16 GB microSDHC Class 10 Flash Card with SD Card Adapter
Features
Compliant with the SD Card Association Specification
Versatile - when combined with the adapter, can be used as a full-size SDHC card
Compatible with micro SDHC host devices, not compatible with standard micro SD-enabled devices/readers.
Pure Jongo A2 Wireless Hi-Fi Adapter with Wi-Fi and Bluetooth - Black
2 new from £38.99
Free shipping
Features
Listen to music streamed from your Apple or Android device using Wi-Fi or Bluetooth directly to your Hi-Fi
Connect via Wi-Fi to other compatible products for synchronised multiroom audio
High quality 24-bit DAC
Optical and co-axial digital audio outputs
Dual phono analogue audio outputs