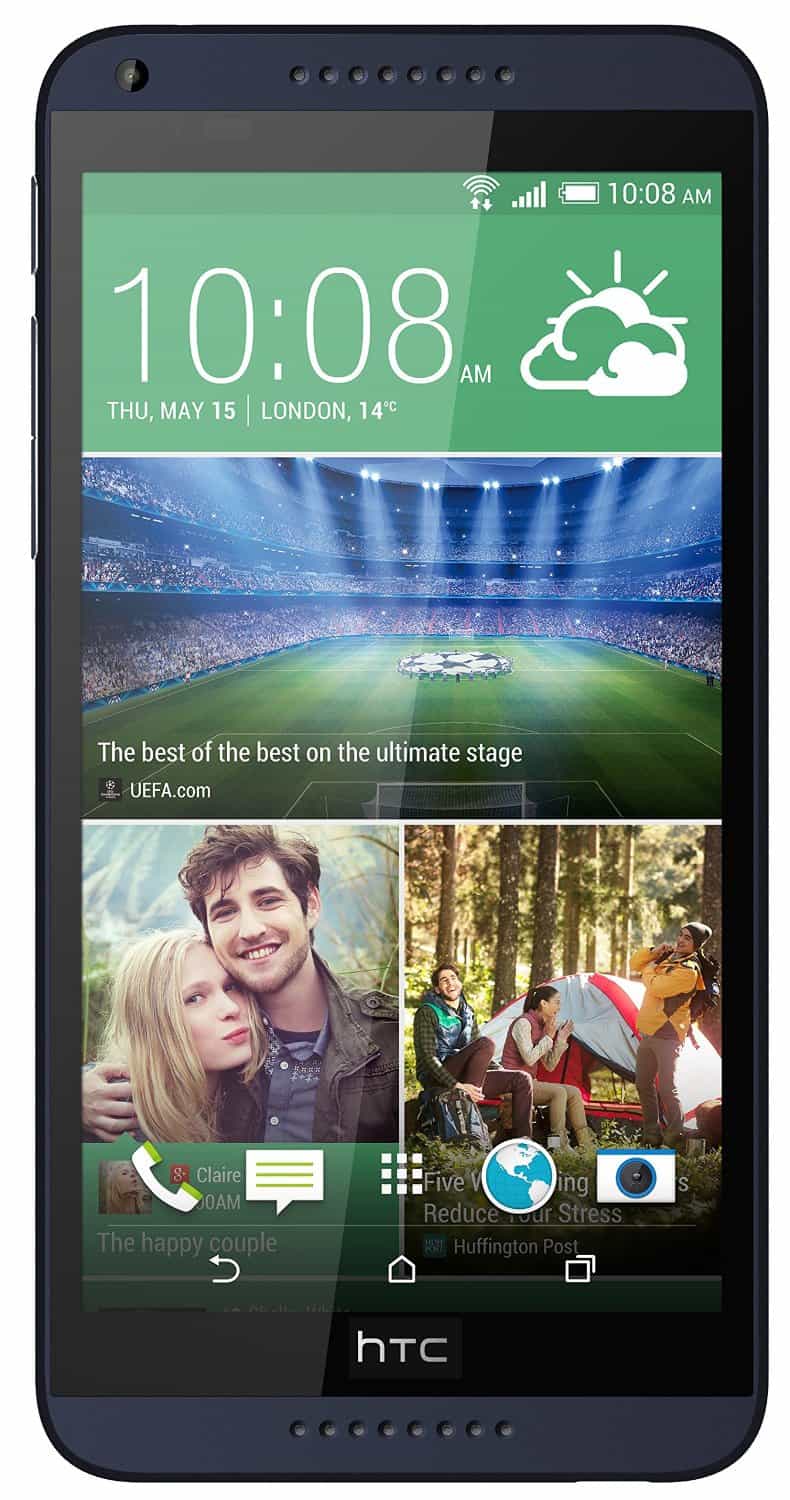 *This post may have affiliate links. For example As an Amazon Associate I earn from qualifying purchases, which means if you purchase something after clicking a link I may receive commission (don't worry, there's no extra cost to you). This helps support the work I put into the site.
The HTC Desire 816 is a big phone, at 5.5in it falls into the 'phablet' category of devices that'll either need two hands to operate or one really big hand!
The screen is good, the large size is especially useful when playing games as you're hands won't obscure your view when using the on screen controls.  Brilliantly the speakers are located on the front rather than the back or bottom of the phone and this means that when using this in landscape you don't need to worry about covering up and muffling the sound, a noticeable problem of the recently reviewed iPhone 5.
For those with children you'll be please to see a special kid zone app that allows you to setup child profiles and restrict the features available on the phone.  As with previous HTC mobiles there is also a car mode included which gives you a nice big button interface for use when the desire 816 is dash mounted.
HTC have chosen to put the physical switches on the left hand spine, and that includes the power button being placed far up the spine in a trick to reach area, perhaps this is HTCs attempt to capture the left handed market?  It did mean in use the Desire 816 is tricker to use than the Sony or LG large phone offerings which have much better button layouts.
As usual HTC have done a great job on the software side of things, the Sense interface gives a nice, simple, design which is really easy to use and contains lots of help the first time you're doing something.
Both cameras are good, a 13 megapixel on the back (with a flash) and 5MP front facing camera for when you want to take selfies. The camera interface is easy to use and free of clutter and comes with a range of filters built in to save you having to edit photos and apply filters after you've taken the shot.  The Desire 816 makes a good attempt at depth of field, but look closely and you'll see in many shots there is a bit of background noise.
Battery life is OK, be aware you can't remove the battery and with a screen this large eating up the power if you are on the move a lot you might want to invest in a portable battery to charge this while on the go.
Fortunately you can add an SD card (up to 128GB!) so lots of room for music, videos, games and apps.  The large screen size and front facing speakers means this is a good handset for media consumption and it'll help make long journeys go that little bit quicker (proving you're near a power socket/portable battery).
This offers a great HTC experience for the price, but it does suffer a little from having a plastic body, which make the mobile feel cheap.
A solid offering from HTC.  Available from Amazon now: http://amzn.to/1zuLnJl
HTC One M8 UK SIM-Free Smartphone - Glacial Silver
Features
SMS , MMS, Email, IM, Push Email
Browser: HTML5
Colors : Gunmetal Gray, Glacial Silver, Amber Gold
Nano-SIM
Google Drive (50 GB cloud storage)
HTC 99HAPN001-00 Desire 12+ SIM Free Smartphone
Features
6" HD+ display
18: 9 aspect ratio
13MP + 2MP dual camera
Octa-core 1.8GHz. Battery and Charging Speed - Capacity - 2965 mAh. Power saver mode - Charging (5V/1.5A)
3GB RAM/32GB storage
HTC Desire 320 SIM-Free Smartphone - Grey

5 used from £27.99
Features
Screen size: 4.5 inches
Screen resolution: 480 x 854
Camera: 5 MP