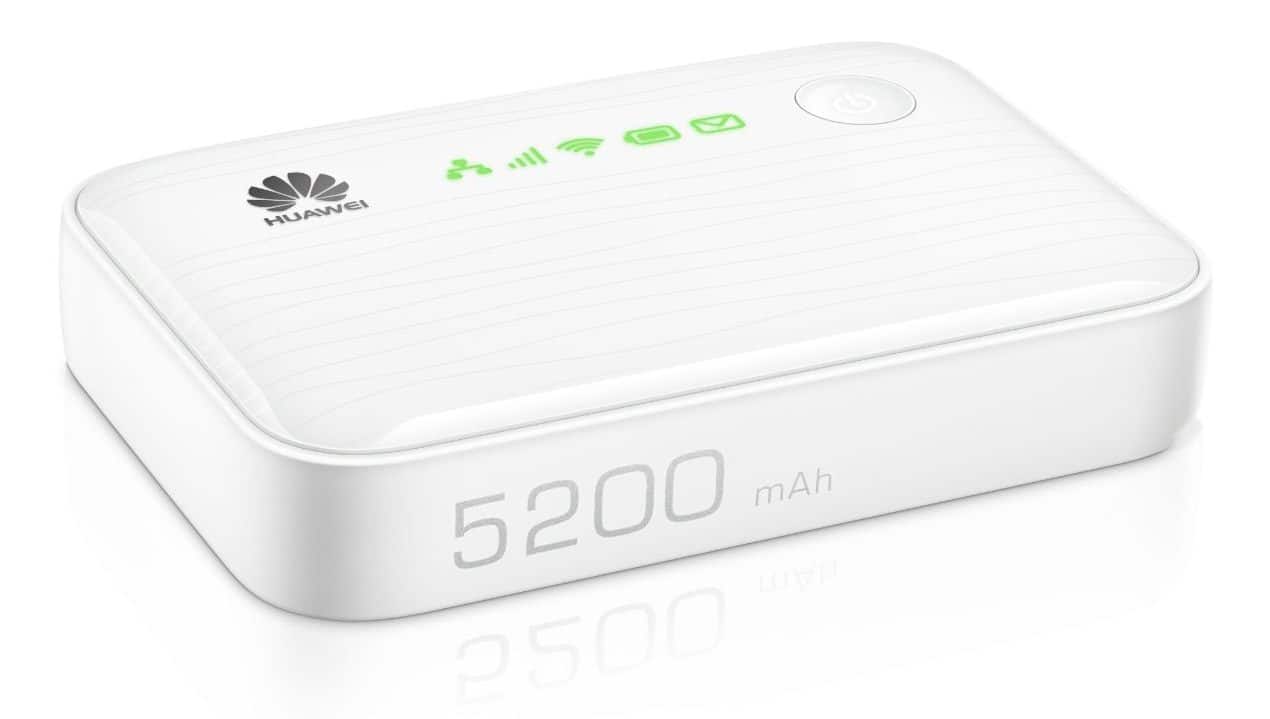 *This post may have affiliate links. For example As an Amazon Associate I earn from qualifying purchases, which means if you purchase something after clicking a link I may receive commission (don't worry, there's no extra cost to you). This helps support the work I put into the site.
The Huawei E5730 is a good looking little box to help you on your travels.  With so many gadgets being internet enabled these days it's easy to feel cut off when your head abroad and don't have access to your usual WiFi hotspots and using your mobile data connection can rack up a small fortune in roaming costs.
The E5730 aims to solve both problems by creating a WiFi hotspot that uses a mobile connection, but crucially this can be over any network, so you can pop in a local SIM card for a much better data deal.  Pop the back off the E5730 and you can quickly swap out one standard sized SIM card for another.
Huawei have made the E5730 very easy to setup, just pop the SIM card in and if the unit recognises the operator there aren't any settings to enter, it'll connect automatically to the mobile network and be available to your mobile/laptop/tablet. The web interface is easy to use and if the SIM isn't recognised you have the option to enter your own APN settings.  If you have a SIM card with a data plan you can add this information into the E5730 so it can monitor your usage and prevent you from incurring out of bundle charges.
You can pair up to 10 different devices via WiFi, perfect for those travelling with several mobiles, tablets and laptops.  It has a built in 5200mAh battery which Huawei say provides a working time of up to 16 hours.  If you find your mobile or tablet running a little low on juice you can also use this as a portable recharging battery, but of course this comes at the cost of shortening how long you can use this between charges.
If you have an older laptop without WiFi Huawei have you covered; the R5730 has an Ethernet port allowing you to connect the old fashioned way.  The advantage of connecting by WiFi is that you can move the unit around to find the strongest signal, and therefore quickest connection, without worrying about wires draping across the room.
Very easy to setup, good looking little box that's easy to carry around, great travelers gadget, although note it supports 3G and not 4G connections.
Available from Amazon: http://amzn.to/1H0tq6t

HUAWEI AX3 3000 Mbps Wi-Fi Router, Quad-Core WiFi 6 Plus Revolution, OFDMA Multi-User Technology, Up to 128 Devices on Dual Bands, Huawei Share, Huawei HomeSec
Features
FAST Wi-Fi PERFORMANCE: 1024-QAM and 160 MHz frequency bandwidth, its theoretical speed can reach up to 3000 Mbps (574 Mbps on a 2.4 GHz band and 2402 Mbps on a 5 GHz band). The quad-core Gigahome CPU allows AX3 to best unleash its speed
Multiple Connections, Smooth Connections: It is capable of connecting up to 128 devices overall on dual bands. Supporting OFDMA multi-user technology, it is capable to send data to multiple devices simultaneously (max. 4 devices on 2.4 GHz, max. 16 devices on 5 GHz)
Signal Can Go Through One More Wall: HUAWEI Wi-Fi 6-enabled phones are able to send 6dB stronger signals back to AX3 in stable, 2 MHz narrow bandwidth using Dynamic Narrow Bandwidth technology, which is based on Chipset Synergy. The wireless signals can penetrate solid objects like walls and floors easily
Larger Bandwidth with 160 MHz: As AX3 supports 160 MHz, when connecting AX3 to devices supporting 160 MHz, like top-of-the-line HUAWEI Wi-Fi 5-enabled smart phones, tablets and laptops, the internet speed would increase 60% and more
Effortless Connection, Revolutionary Experience. Huawei Share allows you to connect AX3 to your smart phone with a simple tap. Whether throwing a home party or celebrating festivals with friends and families, this router will remember the password for you and let the guests you trust, connect to it easily
Huawei P Smart 2019 64 GB 6.21-Inch 2K FullView Dewdrop SIM-Free Smartphone with Dual AI Camera, Android 9.0, Single SIM, UK Version - Black
16 new from £131.45
12 used from £109.99
Free shipping
Features
Huawei Full view display with an 6.21-inch 18: 9 screen with smart split screen
Connectivity: 802.11 b/g/n, 2.4G BT4.2, USB 2.0. High-spec 13MP + 2 MP dual rear cameras including Bokeh effect, face beauty and gesture shoot
New EMUI 9.0.1 AI intelligent engine + smart multitasking + 2nd Gen fingerprint sensor + speed sharing + dual Bluetooth connection
3 GB RAM + 64 GB memory (up to 512 GB with microSD) + Android 9.0 + Octa core platform + 3400 mAh battery
Supports fingerprint recognition to get access to your phone instantly
Huawei P30 Lite 128 GB 6.15 inch FHD Dewdrop Display Smartphone with MP AI Ultra-wide Triple Camera, 4GB RAM, Android 9.0 Sim-Free Mobile Phone, Single SIM, UK Version, Blue
3 new from £224.97
3 used from £155.65
Free shipping
Features
Ai Ultra-Wide triple camera: The Huawei P30 Lite's triple camera (48MP + 8MP + 2MP) lets you capture sharper photos than ever before. The 120° Ultra-Wide angle lens capture expansive landscapes in stunning shots that leave nothing out of sight. Shoot without limits
Storage for more: Huawei P30 Lite's large 4 GB RAM and 128 GB ROM mean there's more room for the things you love. Enjoy greater flexibility with space for the content or files you use everyday like music, photos, videos and apps
"Advanced performance: The Kirin 710 Octa-core Chipset efficiently improves the running Speed and satisfy all your daily needs for working and studying. The revolutionary graphic processing technology powered by GPU Turbo 2.0, enhances performance for a faster, smoother and more powerful gaming experience."
Stylish design: The slim 3D curved glass design is crafted for easy grip and one-handed use. It's available in Three Colours, including an eye-catching Iridescent gradient colour finish
Bluetooth: BT4.2, BLE and HWA are supported