*This post may have affiliate links. For example As an Amazon Associate I earn from qualifying purchases, which means if you purchase something after clicking a link I may receive commission (don't worry, there's no extra cost to you). This helps support the work I put into the site.
The Inateck Bluetooth keyboard is a great looking accessory that borrows heavily from from the Apple school of design, white on the front (a black version is also available) with a metallic back for a premium feelling finish.
It also features a rounded spine that means the keyboard sits up, rather than flat, and this removes the need for extendable (and potentially breakable) feet that you often find on keyboards.
This is a compact little Bluetooth 3 keyboard that can be used with Apple, Android or Windows products.  Pairing is really easy, just press Fn + C and then search for the keyboard on your device.
It's a nice addition if you've a tablet as it means you have the entire screen to look at, like a monitor, rather than half the screen being taken up by an on screen keyboard.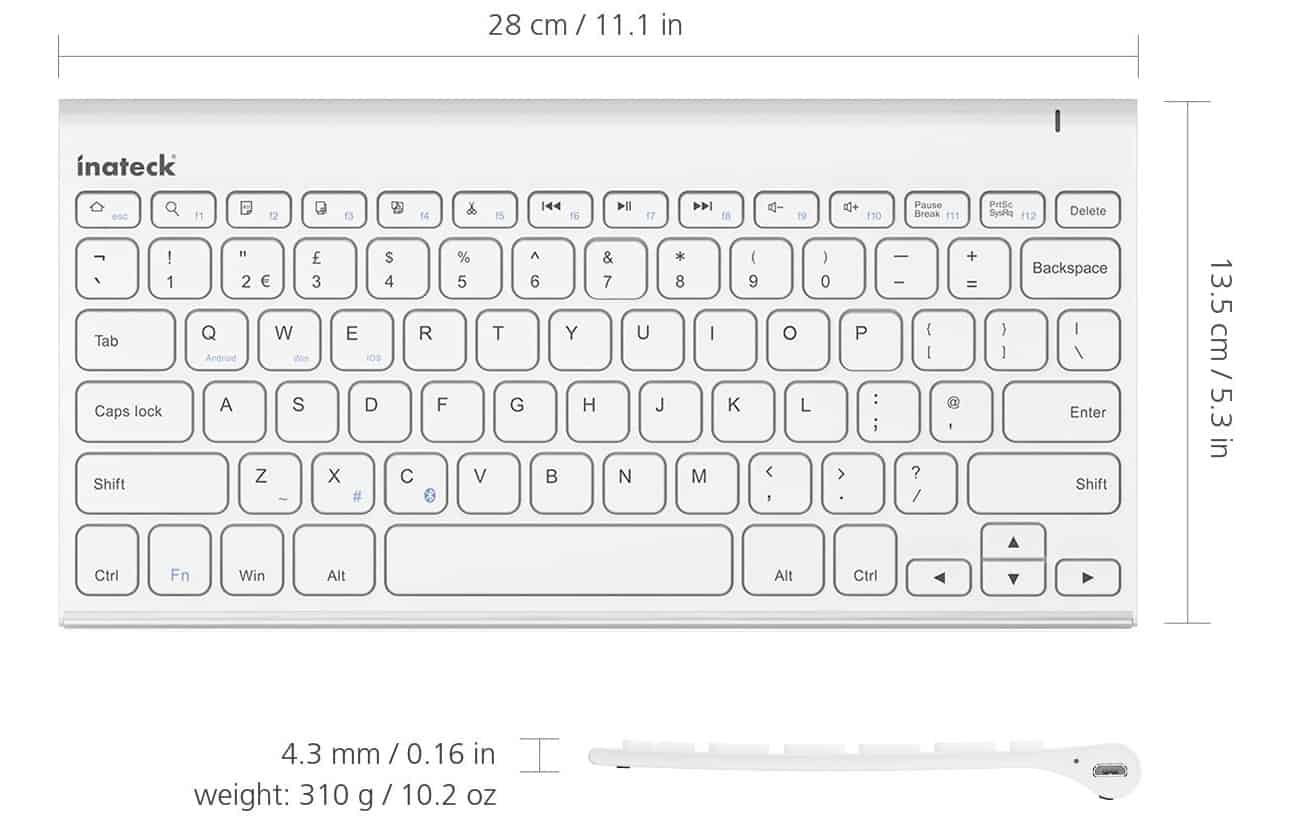 The main keyboard is a good size and if you're a fairly speedy typer you won't have any problems adjusting to the compact design.  There isn't a number pad, but the numbers do run along the top along with various function keys such as play/pause, and this makes this a nice portable keyboard.
Inateck have chosen to use a built in lithium battery that they claim will last 4 months in standby without charging and which you can expect to be tapping away at for 8 hours of continuous use.  There is an on/off switch on the keyboard, but it also features an automatic sleep mode/wake up function.
When you do need to charge this you just plug the supplied USB cable into the right hand side, a cable is included and it's the standard type you've probably already got with your mobile.
When you consider an Apple bluetooth keyboard can cost upwards of £50 this is a fantastic alternative, selling for just £23.99 (US$26.99) at the time of review.
Available now from Amazon UK: http://amzn.to/1bdVyYv and Amazon com: http://amzn.to/1xvvZGN
Inateck iPad Keyboard Case for 9.7" iPad 2018(Gen 6)/iPad 2017(Gen 5) and iPad Air 1 with Intelligent Magnetic Switch iPad Keyboard Cover, Dark Grey
1 new from £35.99
1 used from £29.68
Free shipping
Features
Only for 9. 7" iPad 2018 (6th gen), 2017 (5th gen) and iPad Air 1
Compatibility : only compatible with 9. 7" iPad 2018 (6th gen), iPad 2017 (5th gen) and iPad Air 1
Smart function : The product not only supports auto-wake up and screen lock, but also automatic powering on and off. You can activate and connect your iPad with the keyboard The moment you open the protective case
Ultra-long standby time : with the built-in280 mAh rechargeable Lithium battery, the standby time can reach up to 90 days
Comfort to use : comfortable workspace and suitable angle can greatly improves your typing experience and provides you versatile viewing angle for entertaining
Inateck Keyboard Case for iPad 2019 10.2 Inch (7. Gen), iPad Air 2019(3. Gen), iPad Pro 10,5, with Kickstand, detachable,KB02011
1 new from £45.99
Free shipping
Features
❤️Designed for iPad 2019 10.2(7. Gen) / iPad Air 2019(3. Gen) / iPad Pro 10.5❤️
✅【Convenient Shortcut Keys】: Innovative 6-row keys. An extra row is devoted to function shortcut keys. You can take a screenshot, lock your screen, or adjust volume in one click. Save the trouble by combining Fn with other keys to access these functions.
✅【Flexible Angles】: The kickstand can smoothly recline from 30° to 160° and always keep stable.
✅【Detachable design】 : the upper cover is made of TPU material, which works as iPad case and protects your iPad. Can also work as iPad stand to enhance your experience while watching video
✅【Durable Protection】: Made from high toughness material, the protective cover is easy to detach and won't break.
Inateck Keyboard Case for iPad 7th Generation 2019 10.2 Inch, iPad Air 2019(3. Gen), iPad Pro 10,5, with Magnetic Detachable Keyboard, Pencil Holder and Soft Shell, UK Layout, KB02012
1 new from £29.99
Free shipping
Features
✅Two Steps to Get a Stable Angle 1. Align the keyboard with edge of the magnetic latch 2. Place your iPad adjacent to keyboard
✅【Compatibility】: Specially designed for iPad 10.2 inch 2019, iPad Air 3 2019 and iPad Pro 10.5 inch.
✅【Magnetic Detachable Keyboard】: The keyboard and the protective case can be separated. You can detach the keyboard and place it anywhere you want, or attach it to the case for easy carry.
✅【Smart Screen Off】: The iPad screen automatically goes off when you close the protective cover and wake up automatically when you open the cover, which is user-friendly and power-saving.
✅【All-round Protection】: The soft rubber shell on the back and the magnetic latch protect your tablet from the damage of accidental drop and collision.