*This post may have affiliate links. For example As an Amazon Associate I earn from qualifying purchases, which means if you purchase something after clicking a link I may receive commission (don't worry, there's no extra cost to you). This helps support the work I put into the site.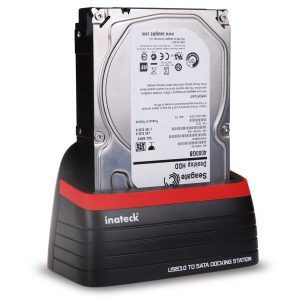 The Inateck SATA dock has been tested on a a Windows 7 PC.
If like me you've upgraded your PC over the years and been left with a few hard drives knocking about then this is a brilliant little peripheral. Having upgraded my PC last year I not only had a spare SATA drive, I also had a nice new USB 3 port which hasn't yet had any USB 3 peripherals plugged into it.
Setup of the Inateck dock is really easy and there's no messing about, no software to installation, no tools required and no additional cables to buy as you get a power cable and USB 3 cable in the box. Just plug the Inateck dock into your USB drive (USB 2 or 3) and it's ready to use. It has a power switch on the back which is brilliant if you are only going to use this occasionally, it means you can leave it all plugged in without it using power, just switch it on when ready.
Using it is also easy, just take your SATA drive and pop it into the dock, you'll feel a small amount of resistance as it plugs in and then you hear the drive spin up. Couple of moments later and the PC will bring up the Autoplay 'what do you want to do…' box allowing you to use your SATA drives as you would a USB stick.
I've been using this with my Windows 7 PC, but as you'll see from my video I've also tested it with my Android tablet, the Asus EeePad Transformer Prime TF201 . Again, there was nothing complicated to do, I just plugged it into the USB port, popped a drive in the dock and the tablet recognised it and treated it in the same way it would treat a USB stick.
The dock is designed to allow you to hot swap drives, you just pull out one drive and pop the second one in. This has a second advantage of ensuring the drive doesn't overheat as it's not enclosed.
Keep in mind there are two versions of the Inateck dock, the single drive version has been tested which is fine for using spare hard drives to transport a lot of files around. If you're looking to clone drives there is a two disk dock available with this ability.
Really can't fault this, it does exactly what you need it to and is a very reasonable price.
Inateck Aluminum USB 3.0 To SATA Dual-Bay USB 3.0 Hard Drive Docking Station with Offline Clone Function for 2.5 Inch & 3.5 Inch HDD SSD SATA I/II/III), Support UASP & Tool-Free(Fd2102)
2 new from £28.00
Free shipping
Features
USB 3.0 external, SATA-III internal, especially made for 2.5 inch and 3.5 inch SATA HDD/SSD, USB 3.0 SuperSpeed & supports UASP, even faster data transfer.
Aluminum-alloy body offers an effective heat dissipation besides its ultra-light portability and exquisite craftmanship.
Support 2x 10TB hard drive; Support offline clone, no drivers needed, easy installation; Completely new cloning technology, computer-independent duplicating/cloning without computer support possible, high efficiency.
Stable and reliable DC power source: The power supply is highly efficient (12V, 3000mA), so that a stable energy supply is guaranteed; Entering sleep mode without operation in 30 minutes
Package Includes: 1x USB 3.0 & SSD HDD SATA Docking Station; 1x USB 3.0 Cable; 1x 12V/3A Power Adapter; 1x Manual
Inateck SATA Hard Drive Docking Station, USB 3.0 SSD HDD Docking Station, Dual Bay, FD2002
1 new from £32.99
Free shipping
Features
【External hard Drive docking station】: supports standard desktop 2. 5 and 3. 5 inch SATA hard drives or SSD
【Capacity and Speed 】: Supports up to 2x10TB hard drives. Date transfer speeds up to 5Gbps.
【Support offline Clone】: Plug and play, no drives needed.
【Universal compatibility】: Compatible with Windows XP/ 7/8/10, Linux, Mac OS 9. 1/10. 8. 4 and above.
【Package Contents】: 1x docking station, 1x 12v/3a power adapter, 1x USB 3. 0 cable, 1x user Manual
Inateck IDE or SATA to USB 3.0 Universal Converter Hard Drive Adapter with Power Switch for 2.5"/3.5" SATA HDD/SSD & IDE HDD Drives Optical Drive, Include 12V 2A Power Adapter and USB 3.0 Cable
1 new from £23.99
Free shipping
Features
Compact design, versatile functions, enables access to three drives simultaneously; All-new, improved upgrade solution; additional power switch, blue LED for indication of operation and power status
The converter can support up to three drives simultaneously, it is compatible with 2.5"/3.5" IDE/SATA hard drives and 5.25" IDE/SATA CD/DVD drives
Compatible Systems: Windows XP/Vista/7/8(32bit and 64bit); Mac OS 10.X (OTB mode isn't applicable for W8 and Mac)
SuperSpeed USB 3.0 supports transfer rates of up to 5Gbps - The actual transmission speed is limited by the setting of the device connected; Downwards compatible with USB 2.0/1.1
Simple, reliable and stable; Plug and play, hot swap; One Touch Backup function; On/Off Switch for HDD protection