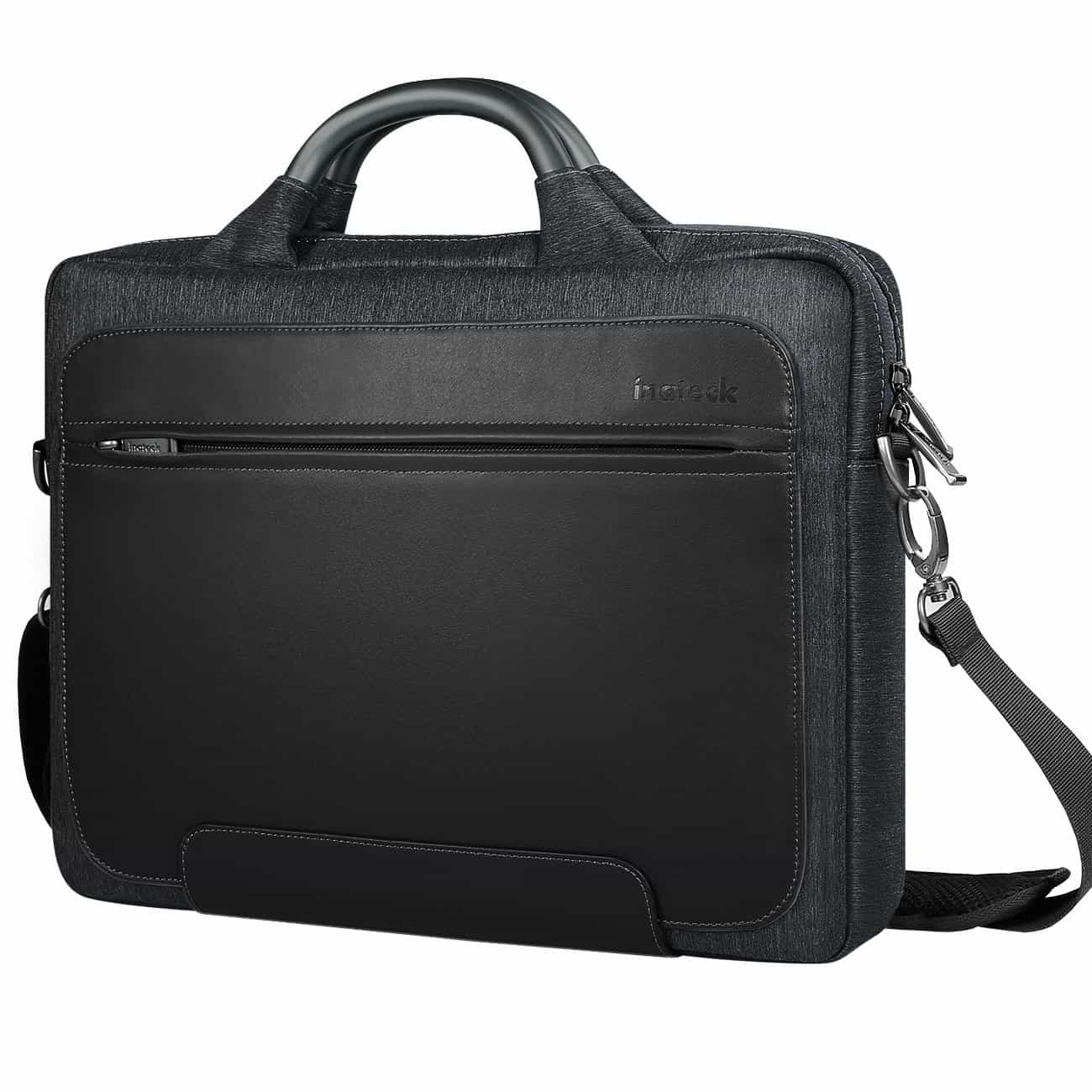 *This post may have affiliate links. For example As an Amazon Associate I earn from qualifying purchases, which means if you purchase something after clicking a link I may receive commission (don't worry, there's no extra cost to you). This helps support the work I put into the site.
Inateck have produced a lot of decent, well priced, gadgets over the years, but this is the first time an Inatech laptop bag has been reviewed.  As with their electronics gadgets you get a good quality item for not very much money.
Available in black and grey the LB1406 Inateck laptop bag is compatible with 14″ laptops/ultrabooks, the new 15″ MacBook Pro and it has a front pocket that can fit a 10.5″ iPad Pro if you need some additional gadget space.
The outside has a PU leather section to add a level of abrasion resistant and overall it's water resistant.
Inside you can store your laptop as well as a number of other items.  There are several pockets that allow for accessory storage (for example your charger or an external hard drive) and there is room for the traditional pad and pen if required.
The bag has a metal handles, for those who prefer carrying on the shoulder a strap is included.  The strap can be easily clipped on or taken offer and it's comfortable on the shoulder.
For those flying there is a handy luggage trolley handle on the back allowing you to easily store this on your suitcase while moving through the airport.
It's a very professional looking bag, smart enough for work, casual enough for a weekend away.
The LB1406 Inateck laptop shoulder bag is available from Amazon UK: http://amzn.to/2E0FfAi
Inateck Laptop Shoulder Bag Video Review
Inateck 13 Inch Laptop Case Sleeve Compatible with MacBook Pro 13 Inch 2016-2020/2012-2015, MacBook Air 13 Inch 2020 2010-2019, MacBook M1, Surface Pro 7/6/5/4/3/X, Surface Laptop 13.5 - Light Grey
1 new from £19.99
Free shipping
as of 22/02/2021 10:29 am
Features
External dimensions: 34.5 x 25.5 x 4 cm(13.5 x 10 x 1.57 inch); internal dimensions: 33 x 24 x 2 cm(12.9 x 9.4 x 0.78 inch).
Designed for up to 13.5 inch laptops/tablets. Compatible with MacBook Air /MacBook Pro M1 2020, MacBook Pro 13 2012-2015(A1425/A1502)/MacBook Air 2010-2017(A1369/A1466). Slightly loose for Pro 2016-2020 (A1708/A1706/A1989/A2159), Air 2018-2020, Surface Pro X/7/6/5/4/3, Surface Laptop 1/2/3, Dell XPS 13.
Ingenious Structure: A large zipped pocket can be found on the back to take iPad mini, papers and other items as well. The handle is made of PU leather matched with a woven tape, very firm in quality and no less attractive to eye.
Double Protection: Optimal and thick felt material effectively cushions impact. Shock-proof sponge padded inside gives your laptop double security.
Original Design: Inateck original design creates the sleeve as being stiff and non-deformable.Two pouches can be found on the front to take mouse, power adapter, and other accessories, which further adds to the stiff and strengthened shape of the sleeve once filled with small items.
KALIDI 13.3-14 Inch Laptop Bag Water-resistant Shockproof Shoulder Bag Computer Case Sleeve with Detachable Strap for Laptop,Macbook,Notebook,Chromebook,Tablet,Grey
1 new from £25.99
Free shipping
as of 22/02/2021 10:29 am
Features
Laptop compartment with high quality shockproof air pad and velcro strap prevents the laptops from being dropped and scratches.Fits most 13-14.6 inch Laptop / Notebooks / MacBook/Ultrabook/Chromebook/Acer/Asus/Dell/Fujitsu/Lenovo/HP/Samsung/Sony/Toshiba/Alienware 13" etc.
Made of hight quality water resistant, breathable and durable material to keep your contents dry even on a rainy day.
Main comparetment offers plenty of room for your books,notebook,files,ipad,tablet,MP3 player,chargers,cords,keys,phone,mouse,card,wallet,earphone,pens and any other accessories.Front pockets for handy,ideal for carrying daily necessaries like notebooks,passport,pens,keys,etc.
Luggage belt on the back to be fixed to the suitcase/luggage.Perfect for business trip and travel.
With detachable and adjustable shoulder straps,dual sturdy soft PU handles for carrying comfort. Size:14.8 x 11x 3 inches / 37.5x27.5x9 cm.
Inateck 15-15.6 Inch Shock Resistant Laptop Sleeve Case Briefcase Bag Water Resistant for Laptops, Notebooks, Ultrabooks, Netbooks - Black
1 new from £17.99
Free shipping
as of 22/02/2021 10:29 am
Features
Compact and Spacious: Internal dimensions 40×28×2cm (15.7"×11"×0.8"). Compatible with most 15-15.6 inch laptops Acer, ASUS, HP, Lenovo, Sony, Toshiba and Dell models (not full list). Not compatible with MacBook Pro 15/16 inch.
5 Layer Protection: Four internal shock resistant foam pads feature five layers of protections that's also super soft. Five layers for five times the protection.
Extra Storage Space: Includes additional compartments to maximize storage space and better organize accessories including cell phones, tablets, mouse devices, power bank, charger, etc.
600D Anti-Spill Protection: The woven exterior utilizes liquid proof 600D polyester fabric to protect against accidental spills. Protective and meanwhile durable.