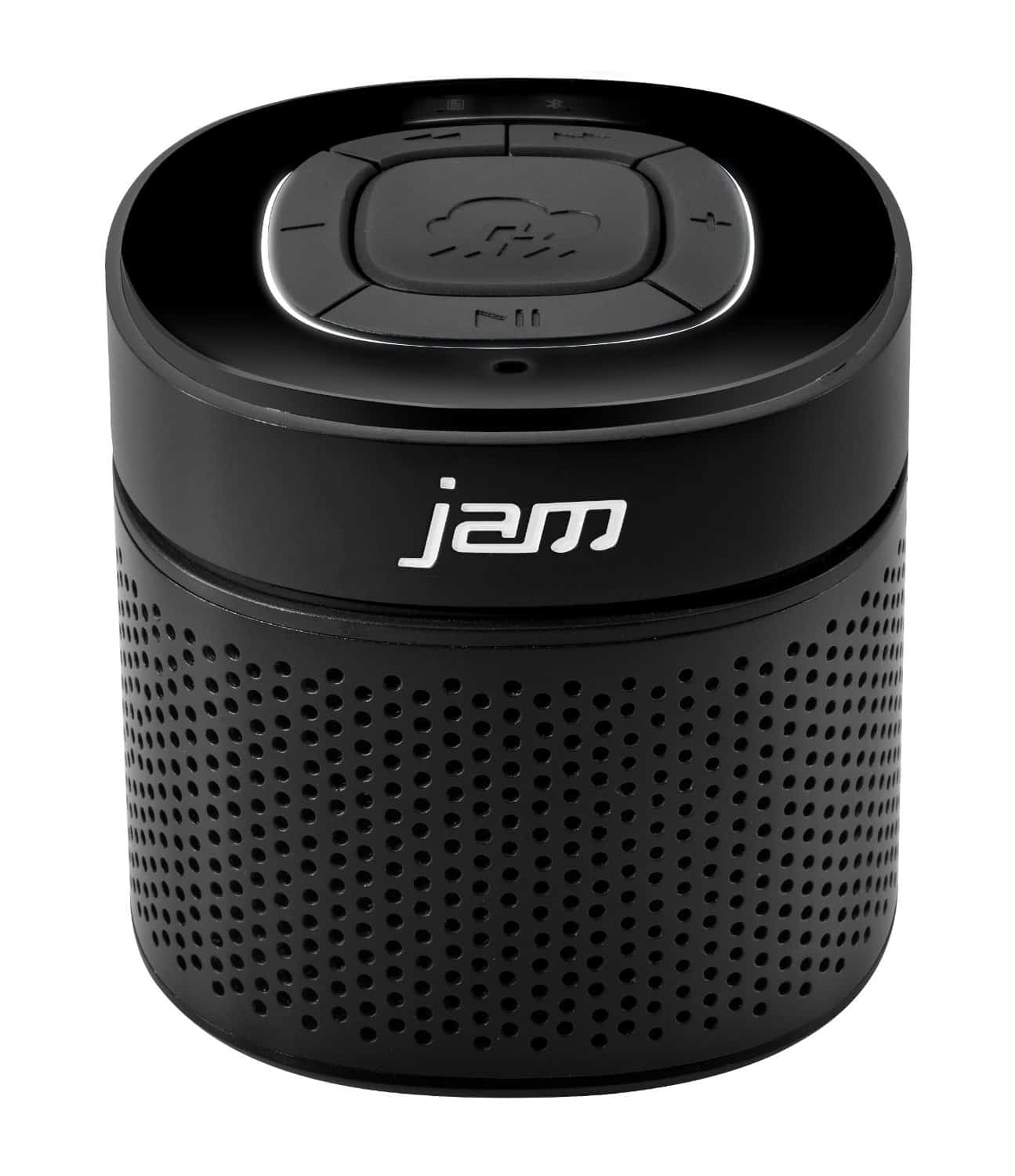 *This post may have affiliate links. For example As an Amazon Associate I earn from qualifying purchases, which means if you purchase something after clicking a link I may receive commission (don't worry, there's no extra cost to you). This helps support the work I put into the site.
The Jam Storm is looking to take on other Bluetooth speakers with an interesting feature: a storm button that increases the bass via vibrations through the surface it's placed on.
This isn't a new trick, it's something that's made the budget Techevo S10 mini speaker the low cost speaker to beat, but it's great to see it on a more premium portable speaker.
Credit to the packaging team at Jam, the Storm's packaging has been designed to be reused and recycled as a storage box rather than just chucked away.
The Jam Storm itself is a nice looking little unit which has a premium feel to it (as it should for the price) and the main unit sits on a smaller pad which is used to generate the bass.  Also on the bottom is a small switch allowing you to change the language the Storm uses to provide feedback (e.g. to let you know it's paired with a device or that you're getting an incoming call) and the power input socket.
It comes with a power adapter that has both UK 3 pin and European 2 pin plug, very handy if you want to take it with you on holiday, however unlike a lot of Bluetooth speakers it's not charged via USB which means you'll need to carry another cable and plug around with you rather than just using your mobile charger.
Surprisingly there is no aux. input, something fairly standard on even the cheapest of Bluetooth speakers but perhaps Jam have realised it's not often used.
On the top are a range of controls, volume, skip etc, but unlike other speakers there is one special addition: the middle button allows you to 'bring on the storm' and kicks in what Jam describe as 'explosive bass'.
In use the results will vary depending on the type of surface you place the Jam Storm on, but generally speaking you'll get a much better sound with this active as it vibrates whatever it is sat on.  In the video below you'll see it placed on a wooden table and the vibrations could be felt through the seat next to it, like a minor earthquake had struck!
Sound quality is generally very good, but only really comes into it's own when you can take advantage of the additional bass on offer, without this it's just an average bluetooth speaker that can sound a little tinny or flat if it's not taking advantage of a vibrating surface to enhance the bass.
The Jam Storm is a decent speaker that easily fills the room without taking up much space.  It relies on having the right sort of surface for additional bass and so can sound a little flat when that's not available, but overall you'll be impressed such a compact speaker can cause the chair you're sat on to vibrate!
Available now from Amazon UK: http://amzn.to/1IeaVMs  and Amazon com: http://amzn.to/1u3v7WW
Betron A3 Bluetooth Wireless Speaker for Smartphones, Tablets and Other Bluetooth Audio Devices
1 new from £15.99
1 used from £15.67
Free shipping
Features
Wireless connectivity via bluetooth. Compatible with bluetooth enabled devices such as smartphones, tablets, computers and devices with standard 3.5mm output such as mp3 players
Ideal wireless speaker for travelling. ultra lightweight and portable. bring your music anywhere you go
Built-in microphone with a 2-feet pickup range allows the speaker to double as a handsfree speaker phone.
Aux function - through the 3.5mm audio cable it can also connect any music device without bluetooth
Built in led ambiance light . it can be turned off and on anytime
Bluetooth Speaker, Tribit XSound Go 12W Portable Speakers Loud Stereo Sound, IPX7 Waterproof, Rich Bass, 24 Hour Playtime, 20M Bluetooth Range Outdoor Party Wireless Speaker-The Telegraph's Choice
1 new from £35.99
Free shipping
Features
[THE TELEGRAPH'S CHOICE] The Telegraph Calls it " The Best Sound Quality to Cost Ratio".
[KILLER AUDIO]: With crystal highs, crisp mids and rich bass, XSound Go creates an immersive listening experience unlike any other. State of the art bass radiators and dual 6W power drivers deliver shocking sound without distortion even at maximum volume.
[EXTREME WATERPROOFING]: Pool parties? Definitely. Lounging on the beach? Absolutely. Singing in the shower? You bet! This waterproof speaker is perfect for all sorts of summer fun.
[SLEEK & SOPHISTICATED]: Tribit XSound Go is as stylish as they come. Curved edges and a matte finish offer a modern touch, the compact design maximizes portability. Toss it in a backpack, stick in in your purse, or carry it around with the attached strap.
[ALL DAY PLAY]: Keep the music pumping all day (and all night) long. The powerful lithium ion battery guarantees up to 24 hours of continuous use! You'll be able to enjoy your favorite songs whenever (and wherever) you please.
Bose SoundLink Revolve (Series II) Portable Bluetooth® Speaker—Wireless water-resistant speaker with 360° sound, Black
1 new from £179.99
Free shipping
Features
Astonishingly loud. Surprisingly small—This small, portable wireless speaker is engineered to deliver true 360° sound for consistent, uniform coverage
Durable portable speaker—SoundLink Revolve II is water and dust resistant (IP55 rating), so it will stand up to splashes by the pool
Improved battery life—With up to 13 hours from a rechargeable lithium-ion battery, you get more play time than the original SoundLink Revolve speaker. Charging is easy via the Micro-B USB port
Built-in microphone—Take calls and access your device's default voice assistant right from the speaker. Or connect the speaker to an Amazon-Alexa-enabled device, like the Echo Dot, for even more hands-free control of your music
Connecting is easy—Voice prompts talk you through pairing your device to this Bluetooth speaker. Multi-connect lets you pair two devices at one time and easily switch between them for complete control of the music