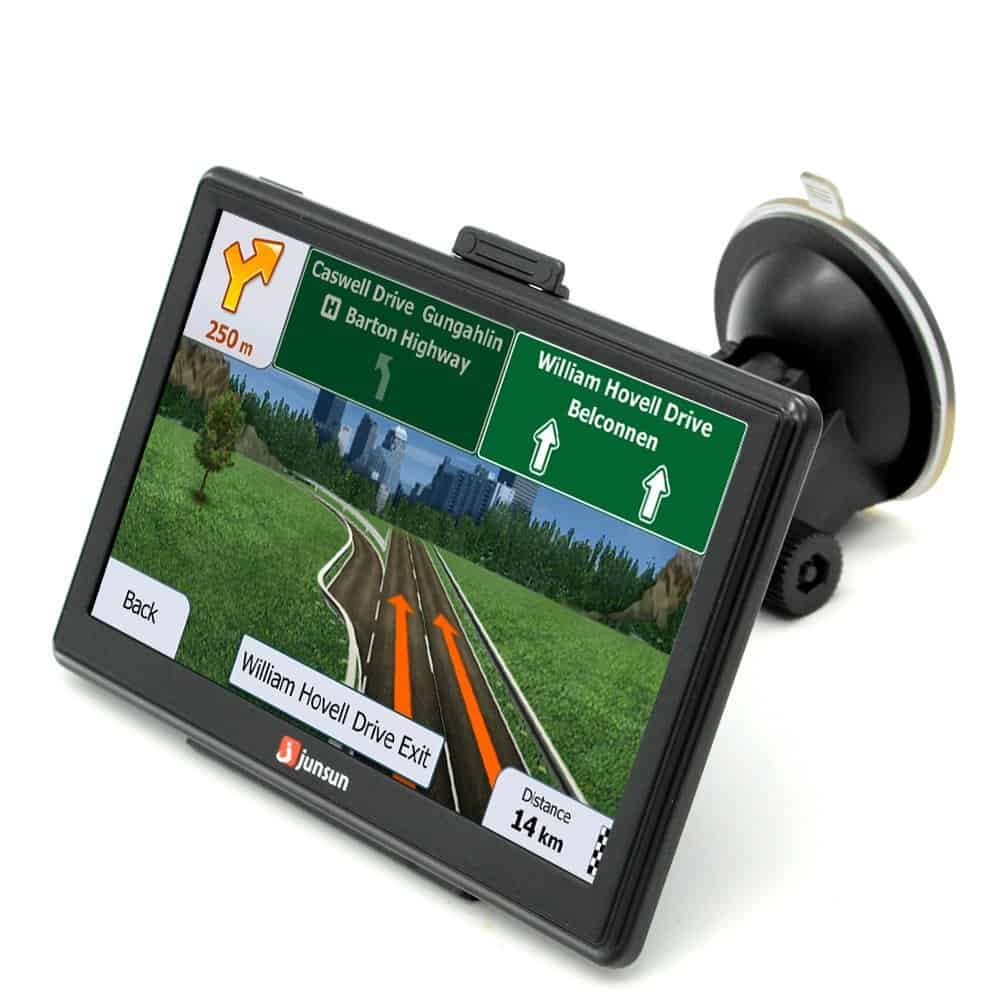 *This post may have affiliate links. For example As an Amazon Associate I earn from qualifying purchases, which means if you purchase something after clicking a link I may receive commission (don't worry, there's no extra cost to you). This helps support the work I put into the site.
Kindly given to me to review the Junsun GPS is a low cost, large screen, GPS system.
Along with the 7″ tablet GPS you get a windscreen mounting kit, in car charger and a USB cable.
The windscreen mounting kit comes in two parts, the arm that attaches to your windscreen and a back plate for the GPS. The back plate clips on to the GPS and while it does a good job of keeping it in place it can be a but tricky to remove the GPS when not in use.
The back plate also features a little kickstand allowing you to prop the GPS up, for example when using the media playback features.
Although this is a GPS it's basically a 7″ tablet with a windscreen mount. It was therefore surprising to find that rather than running Android it runs the rather dated Windows CE.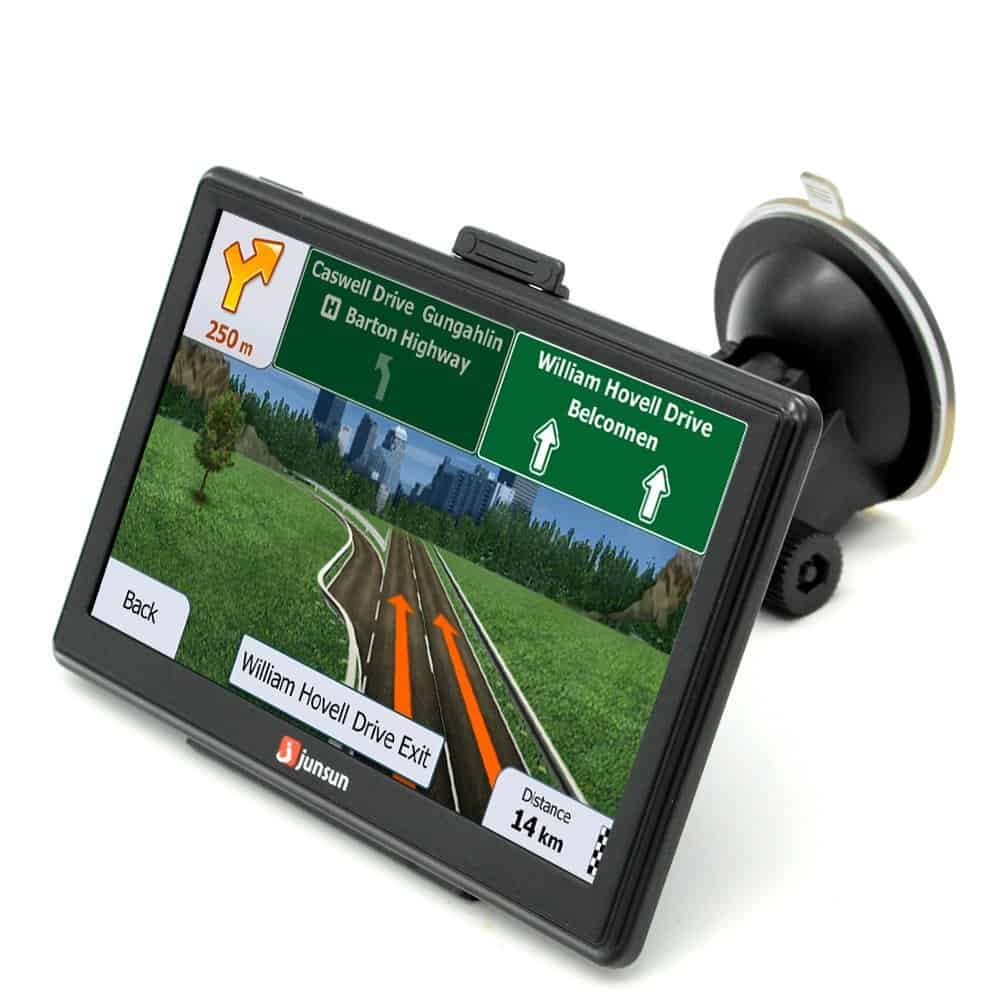 The menu interface features nice big buttons which are easy to use when this is mounted in car.
There are loads of additional options such as music, video and photo players, but the main app you'll be using is the iGo primo navigation app.
This feels really dated compared to Google Maps, Waze, TomTom etc. The address searching feature is horrible, rather than just popping in the postcode you have to fill out a load of details, starting with the country.
Despite this frustratingly slow system the actual getting from A to B was OK. The 7″ screen gives a nice clear view of the map, and despite being sunny the screen was easy to see.
Audio directions are clear and if you happen to take a wrong turning it quickly reroutes to get you back on track, although note it only gives basic audio direction commands and unfortunately doesn't read out road names, a feature I find very useful when driving round an unfamiliar area.
So if you want a GPS system to replace using your mobile but don't fancy shelling out a lot of money for the well known brands this is certainly worth considering due to the low price. Overcome the dated operating system and terrible destination picker and you actually have an OK sat nav system on a really nice sized screen.
Available from Amazon UK: http://amzn.to/2bj1Fft and Amazon USA: http://amzn.to/2b8st5r
Junsun 7 inch GPS Tablet Video Review
SLIMLINE SAT NAV, (7 INCH) with 2021 UK EUROPE EDITION + FREE Lifetime Updates [100% no hidden fees], GPS Navigation for Car Truck Motorhome, Features Postcodes, Speed Cam Alerts, Lane Guidance
1 new from £64.99
Free shipping
Features
【UK EUROPE EDITION 2021 + LIFETIME UPDATES】Pre-Installed with Latest 2021 Maps, Including UK, Ireland & Europe, no more complicated installations, comes with lifetime map updates for any future road changes and NEW roads *100% no subscriptions or sim cards required, be careful of devices that have unadvertised hidden fees!*
【FREE UPGRADE】Upgraded battery lasts over 3 hours longer than any other sat navs which last no more than 30 min on full charge and completely die after a few months, latest touchscreen technology, no need for styluses, HD display providing clearer viewing for poor eyesight, can be seen in bright sunlight, say goodbye to silly sunshades, upgraded internal memory 3x faster buffering than others
【NAVIGATION FEATURES】(1) Supports Postcodes, Address, Coordinates & POI, (2) Driver Alerts, Active Speed Camera Detection, Street name Broadcasting, Current Speed, Lane Guidance & Estimated Arrival Time, (3) Intelligent Route Planning Fast & Economical, (4) Turn-By-Turn Real Voice Broadcast in over 40 Languages (5) Automatic Day & Night Mode Switching, (6) Multiple Vehicle Modes - Car, Truck, Motorhome, Bicycle, Emergency, Bus and Taxi, (7) Fast & Accurate GPS Tracking
【BRITISH BRAND】100% British Brand with 24/7 English speaking customer support via phone or email, we understand our customers needs and the problems with overseas language barriers
【WHAT YOU GET】NAVPAL Sat Nav, Vehicle Charger, Sat Nav Holder, USB Cable, LIFETIME Replacement Warranty + 90 Day Money Back Guarantee, 100% Satisfaction or Your Money Back
TomTom Sat Nav Adhesive Dashboard Mount Disks for All TomTom Sat Nav Models (e.g. TomTom GO, Start, Via, GO Basic, GO Essential, GO Premium, Rider, GO Professional, GO Camper)
9 new from £2.49
1 used from £6.30
Free shipping
Features
Adapt your TomTom windscreen sat nav for your dashboard: Simply place your TomTom windscreen sat nav on this specialised adhesive car mount disk and affix it to the dashboard
Avoid on-the-road hassle: Enjoy a safer, more convenient drive with the TomTom Adhesive Dashboard Disks - preventing your sat nav from coming loose even on bumpy roads
Easy affixing : Thanks to your sat nav mount's integrated suction cup, affixing your sat nav on the disks is quick and effortless
Superior adhesion: The TomTom Sat Nav Adhesive Dashboard Mount keeps your sat nav safely secured on your dashboard with superior adhesion
Easy to remove: The TomTom Sat Nav Adhesive Dashboard Mount Disks can be lifted easily without leaving traces of glue on your dashboard
Sat Nav for Car, 7 Inch GPS Navigation Includes Postcodes, Speed Camera Alerts & POI Lane Assistance, Pre-lnstalled UK and EU Latest Maps Free Lifetime Update
1 new from £60.98
1 used from £55.58
Free shipping
Features
Pre-installed with the most up-to-date 52 countries latest maps in Europe, which has 2D / 3D map display. 3D map helps you place your position with the real world,easier to identify surrounding services.No need to worry about the complex viaduct and the maze crossing
Provide real voice with over 41 languages broadcast,Support Postcode, Address and POI Search , Speed Camera Alerts, 12 GPS channels for searching the exact position, 2D / 3D map view mode, 7 vehicle modes between Car, Truck,Pedestrian, Bicycle, Emergency, Bus, Taxi
7 inch large touch screen react fast with no delay. 8GB 256 MB plenty of room for you to storage the maps in case your need for inter-continent trips.And also comes with a car charger, back bracket mount and sunshade.
Multi-language real directions guides rich features like a friend, video, audio, pictures. Receive alerts for upcoming sharp curves, speed changes, school zones, a fatigue warning, nearby red light and speed cameras and more
The built-in GPS chip works without network, so you don't have to rely on your phones and cellular connectivity and the phone is free to use,We prodive lifetime warranty and 180 days money back guaranteed..