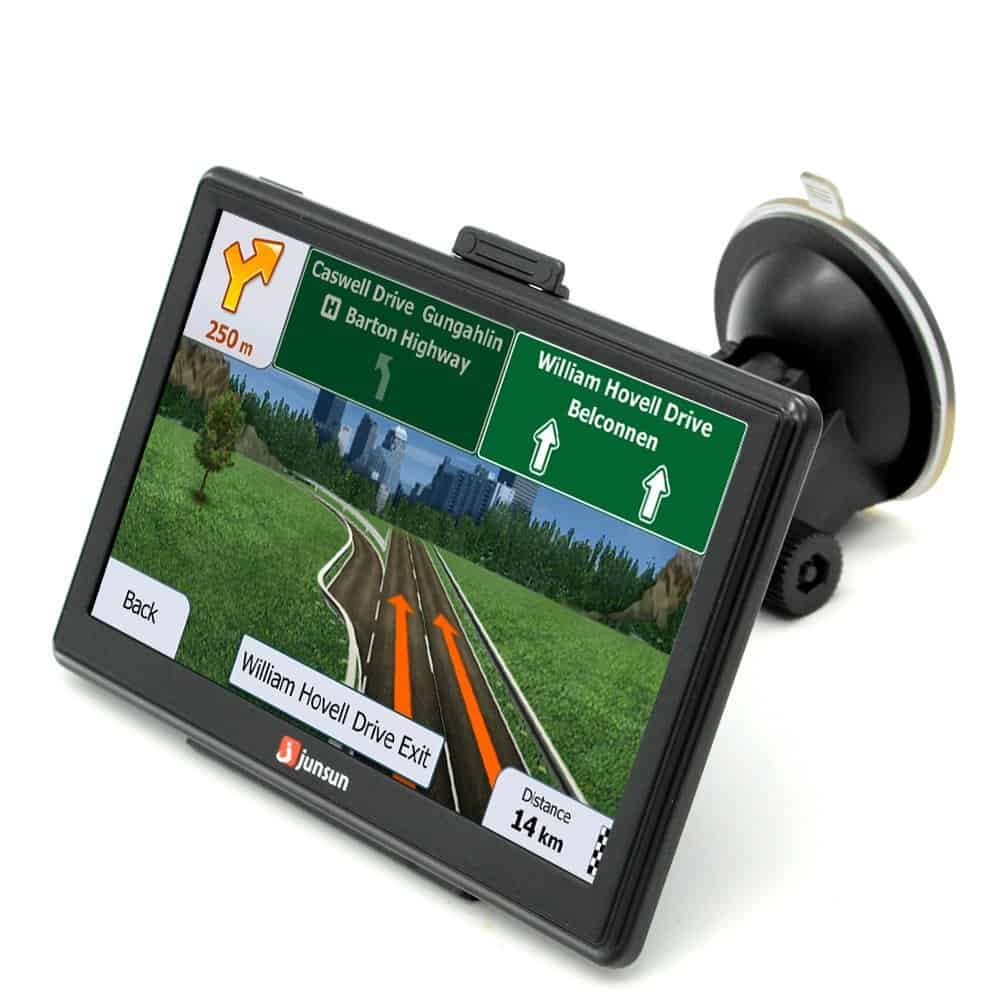 *This post may have affiliate links. For example As an Amazon Associate I earn from qualifying purchases, which means if you purchase something after clicking a link I may receive commission (don't worry, there's no extra cost to you). This helps support the work I put into the site.
Kindly given to me to review the Junsun GPS is a low cost, large screen, GPS system.
Along with the 7″ tablet GPS you get a windscreen mounting kit, in car charger and a USB cable.
The windscreen mounting kit comes in two parts, the arm that attaches to your windscreen and a back plate for the GPS. The back plate clips on to the GPS and while it does a good job of keeping it in place it can be a but tricky to remove the GPS when not in use.
The back plate also features a little kickstand allowing you to prop the GPS up, for example when using the media playback features.
Although this is a GPS it's basically a 7″ tablet with a windscreen mount. It was therefore surprising to find that rather than running Android it runs the rather dated Windows CE.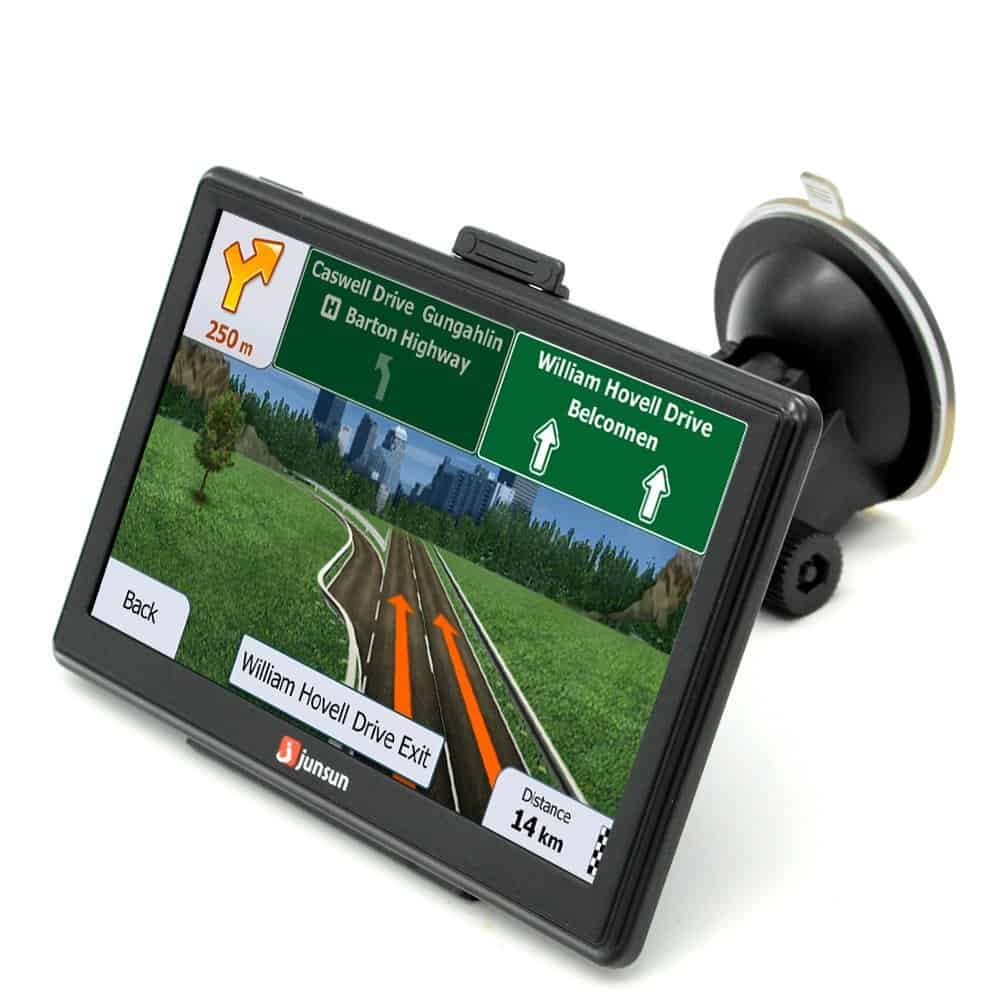 The menu interface features nice big buttons which are easy to use when this is mounted in car.
There are loads of additional options such as music, video and photo players, but the main app you'll be using is the iGo primo navigation app.
This feels really dated compared to Google Maps, Waze, TomTom etc. The address searching feature is horrible, rather than just popping in the postcode you have to fill out a load of details, starting with the country.
Despite this frustratingly slow system the actual getting from A to B was OK. The 7″ screen gives a nice clear view of the map, and despite being sunny the screen was easy to see.
Audio directions are clear and if you happen to take a wrong turning it quickly reroutes to get you back on track, although note it only gives basic audio direction commands and unfortunately doesn't read out road names, a feature I find very useful when driving round an unfamiliar area.
So if you want a GPS system to replace using your mobile but don't fancy shelling out a lot of money for the well known brands this is certainly worth considering due to the low price. Overcome the dated operating system and terrible destination picker and you actually have an OK sat nav system on a really nice sized screen.
Available from Amazon UK: http://amzn.to/2bj1Fft and Amazon USA: http://amzn.to/2b8st5r
Junsun 7 inch GPS Tablet Video Review
Dash Cam Hardwire Kit with Mini/Micro Port, 4 Meter Dashboard Camera Car Charger Cable Kit 12V- 24V to 5V, Power Adapter with LP/Mini/ATO/Micro2 Fuse for Dash Cam, GPS Navigator, Radar Detector
1 new from £11.97
1 used from £11.50
Free shipping
Buy Now
Amazon.co.uk
Features
【Wide Compatible】Input:12V-24V; Output:5V/2A(also fits for 1A). With both Mini and Micro USB ports, iiwey hardwire kit can compatible with all of dash cams. This can be applied to the brand dash cam of Lamoe, IIWEY, ORSKEY, Toguard, Apeman, Nextbase, Peztio, Supereye, Crosstour, YI, AUKEY, JEEMAK... Almost all of the dash cams can use this Hardwire kit (Not fits for Garmin device, because it has certification).
【Low Voltage Protection】Come with a sensitive voltage sensing switch, it will monitor the car battery voltage in real time. Once the voltage is lower than 11.4V, it will cut the power supply, leaving enough power to ignite the engine
【24-Hour Power On】Makes the parking monitor of your dash cam work! Keeps it powered even after engine off, protect your car all day!
【Shielding Magnetic Ring Included】Your car radio will be interfered after installed most of dash cams, this kit will help you solve this problem.
【Everything is Prepared for You】Compared to other sellers' 3.5-meter total hardwire kit, lamoe has upgraded it to a total length of 4.0 meters. It come with all needed install tools, and wire connectors at all cable connections makes installation easier and firmer. Also a detailed instructions and installation videos are provided in package.