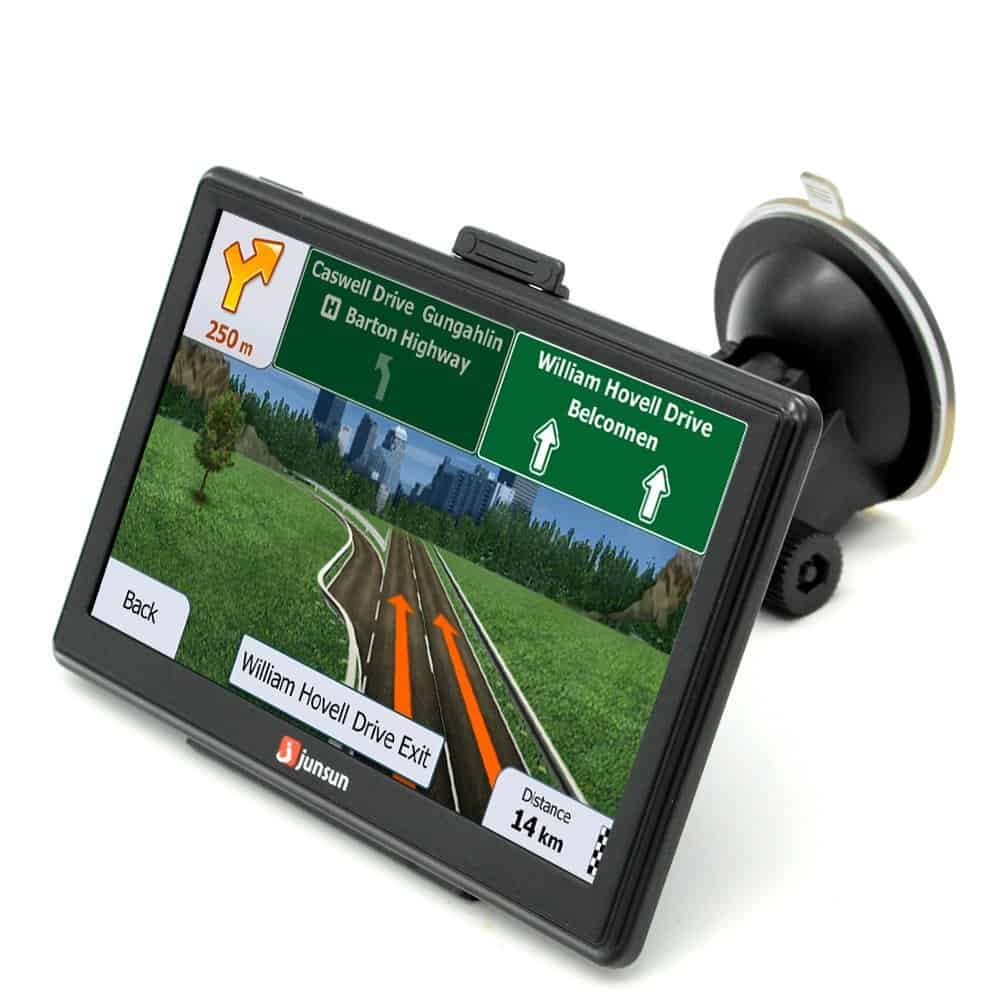 *This post may have affiliate links. For example As an Amazon Associate I earn from qualifying purchases, which means if you purchase something after clicking a link I may receive commission (don't worry, there's no extra cost to you). This helps support the work I put into the site.
Kindly given to me to review the Junsun GPS is a low cost, large screen, GPS system.
Along with the 7″ tablet GPS you get a windscreen mounting kit, in car charger and a USB cable.
The windscreen mounting kit comes in two parts, the arm that attaches to your windscreen and a back plate for the GPS. The back plate clips on to the GPS and while it does a good job of keeping it in place it can be a but tricky to remove the GPS when not in use.
The back plate also features a little kickstand allowing you to prop the GPS up, for example when using the media playback features.
Although this is a GPS it's basically a 7″ tablet with a windscreen mount. It was therefore surprising to find that rather than running Android it runs the rather dated Windows CE.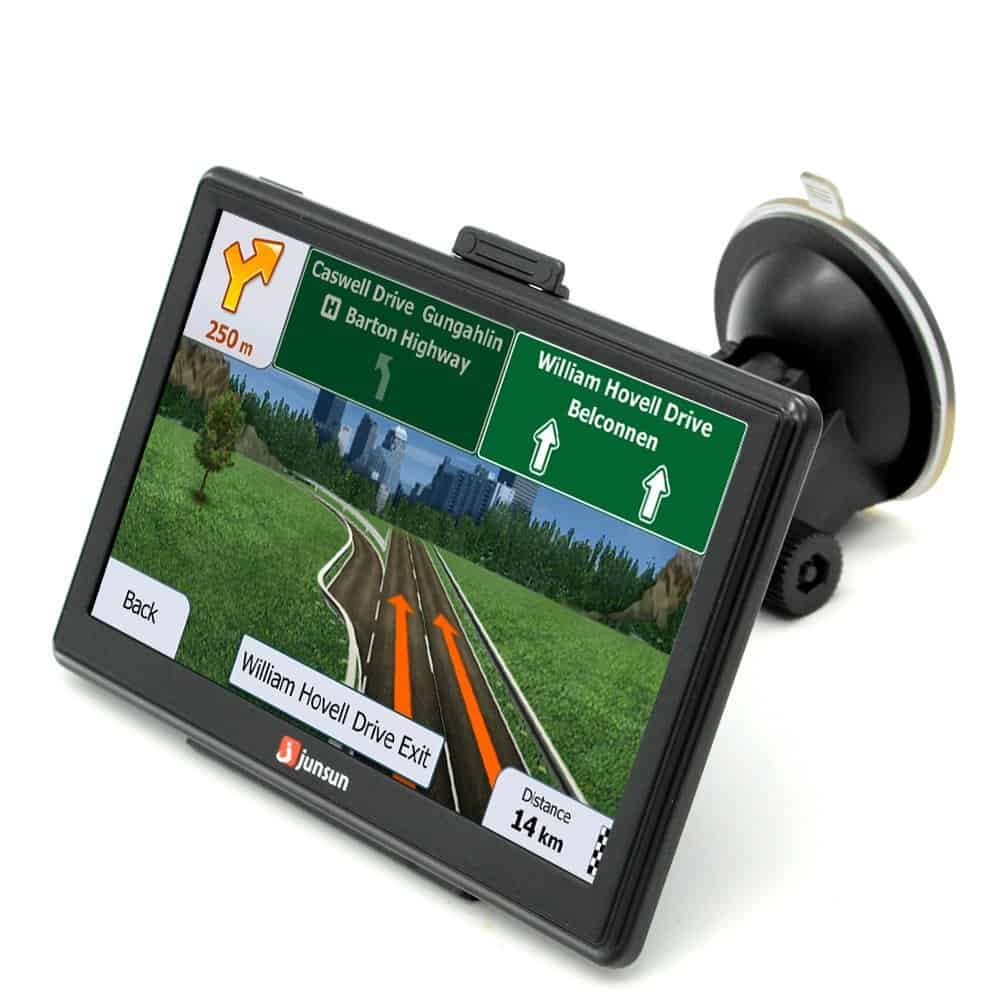 The menu interface features nice big buttons which are easy to use when this is mounted in car.
There are loads of additional options such as music, video and photo players, but the main app you'll be using is the iGo primo navigation app.
This feels really dated compared to Google Maps, Waze, TomTom etc. The address searching feature is horrible, rather than just popping in the postcode you have to fill out a load of details, starting with the country.
Despite this frustratingly slow system the actual getting from A to B was OK. The 7″ screen gives a nice clear view of the map, and despite being sunny the screen was easy to see.
Audio directions are clear and if you happen to take a wrong turning it quickly reroutes to get you back on track, although note it only gives basic audio direction commands and unfortunately doesn't read out road names, a feature I find very useful when driving round an unfamiliar area.
So if you want a GPS system to replace using your mobile but don't fancy shelling out a lot of money for the well known brands this is certainly worth considering due to the low price. Overcome the dated operating system and terrible destination picker and you actually have an OK sat nav system on a really nice sized screen.
Available from Amazon UK: http://amzn.to/2bj1Fft and Amazon USA: http://amzn.to/2b8st5r
Junsun 7 inch GPS Tablet Video Review
1 A GPS Sat Nav Case Protection Case Cover For Junsun 7 Inch
Features
100% Brand New. Designed to fit the quoted above navigation device.
Highest quality, durable and hard surface
Protect your laptop items such as keys, coins etc into a bag or glove compartment
Comfortable and safe Zipper & expandable support strap for a secure hold your sat nav device
Ideal protection for your navigation device//Inner Dimensions: 19 x 12.5 x 5 cm
Junsun 7 Inch Portable Car Vehicle Truck Navigation System Sat Nav GPS Units 8GB/256MB Capacitive Screen, Map Update Included
Features
7 inch built-in capacitive screen DDR256/800MHz/8GB, on average twice as fast GPS speed.
FM transmission function, voice navigation and music will be directly transferred to the car's speakers for a better and louder sound.
Navigation 3D, no need to worry about complex subway navigation. Smart voice travel for the entire route, no need to worry about directions.
Map upgrades for life.
Upon purchase, a Dual USB car charger is included.
SAT NAV GPS Navigation System, 7 inch 8GB 256MB Jimwey Car Truck Lorry Satellite Navigator Device with Post Code POI Search Speed Camera Alerts, Pre-loaded UK&EU Latest 2019 Maps Lifetime Free Update
1 new from £55.99
2 used from £52.31
Free shipping
Features
【Lifetime Map Updated for Free】 Pre-installed with the 2019 most up-to-date 52 countries maps in Europe, warrantied with lifetime free map updates. If you need the update European Map, pls contact us for a link to download.
【High Definition&Large Capacity】7 inch capacitive touch screen, more clearer and sensitive; the screen color feels natural and comfortable for your eyes. 8 GB ROM 256 MB RAM provides plenty of room to start and operate quickly; which also ensures high speed and perform smoothly, say goodbye to the freezing and buffering.
【Multimedia Entertainment】Support FM broadcast, MP3, MP4 player, video player, pictures, games and pocket calculator. Equipped with 3.5mm standard audio jack.
【Multi-Funtions SAT NAV】 ①Support Postcode, Address and POI Search (Please refer to User Manual for details of using postcode search); ②Providing Intelligent Current Speed Camera Alerts, Sound Warning and Route Planning, telling estimated Arrival Time; ③Provide 12 GPS channels for searching the exact position; ④Provide 2D / 3D map view mode; ⑤Provide 7 vehicle modes between Car, Pedestrian, Bicycle, Emergency, Bus, Taxi and Lorry; ⑥Provide real voice broadcast with over 40 languages.
【What You Get】 ①GPS Navigation with CE & RoHs Certificate ②Car Charger ③USB Cable ④Suction Cup Mount ⑤Back Bracket ⑥User Manual; With 1 year warranty and 30 days money back guaranteed, you are guaranteed with a great quality of after-sales service. If you have any using problem, please feel free to contact us and we will do our best to help you solve it.