*This post may have affiliate links. For example As an Amazon Associate I earn from qualifying purchases, which means if you purchase something after clicking a link I may receive commission (don't worry, there's no extra cost to you). This helps support the work I put into the site.
Bluetooth offers a very affordable way of connecting music services on your mobile to a range of devices.  Up until now you might buy some Bluetooth headphones, buy a bluetooth adapter for the car and buy a second adapter for your home stereo.  But what if you could buy one little device to cover all 3 options?  The Justop BTR008 Bluetooth receiver is a small, very lightweight, unit which is impressively versatile as it acts as a bluetooth receiver allowing you to:
Turn wired headphones into Bluetooth headphones

Add Bluetooth connectivity to your car

Add Bluetooth connectivity to your stereo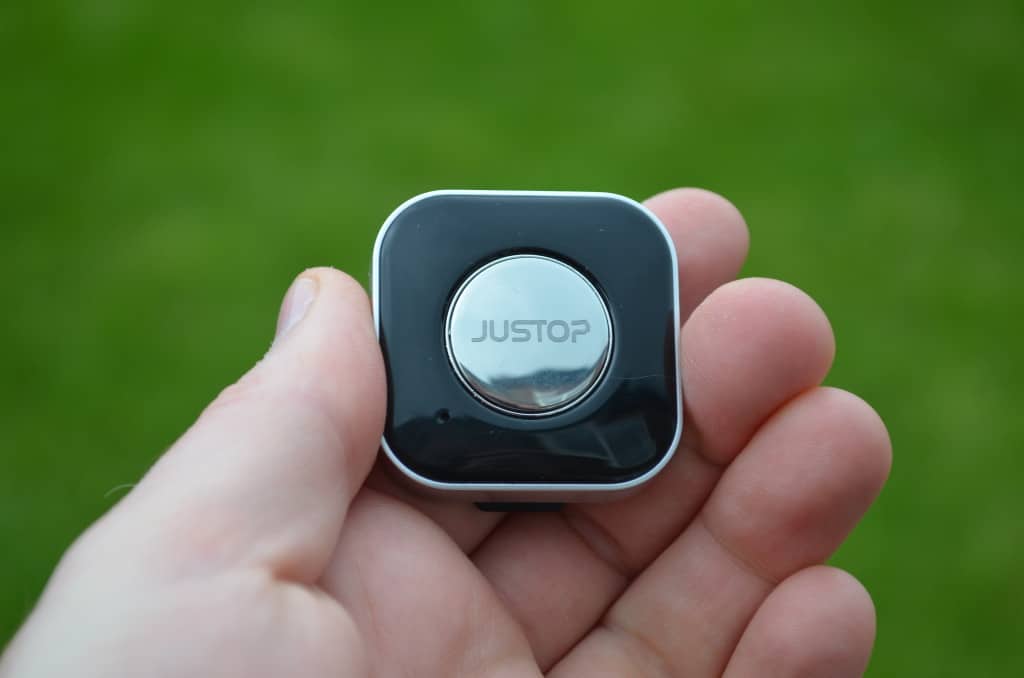 It comes with everything you need to get started in each of these modes, in the box you get the unit, a set of wired headphones, a 3.5mm to 3.5mm lead for connecting to the aux port of your car/stereo, a USB cable for charging and a 3.5mm to phono lead cable for connecting to your stereo.  Setup of the unit was very easy, you can either use Near Field Communication (NFC) to quickly and easily pair this to your phone/tablet, or if your device doesn't have NFC you just pair it via bluetooth as you would with any other Bluetooth product.
On the back is a clip which allows you to wear this unit when using it with wired headphones. It has 3 buttons on it, volume up, volume down and a multifunction button to switch it on/off and act as a play/pause button.  These buttons allow you to control the BTR008 as follows:
Long press MFB for 2 seconds: turn device ON/OFF

Long press MFB for 5 seconds: turn device into Bluetooth pairing mode

Short press MFB: answer/end call; pause/resume music

Double press MFB to call back last dialled number

Short press +/- button: turn volume up/down

Long press +/- button: skip track
Sound quality is very good, or rather it's good if you use it with the right equipment. The included headphones are, as you'd expect at this price, not fantastic, but plug a good set, such as the FSL Zincs (recently reviewed) featured in the below video, or a good set of speakers, and all sorts of different musical styles sounded really good.

In operation the BTR008 works really well in all modes, it's especially useful if you want to stream music in your car or to an old amp/stereo. If you've got a streaming service such as Spotify or Deezer, or just happen to have loads of music on your mobile, you'll really appreciate the way this liberates your collection.  Wired headphones usually have a cable long enough to reach your pocket, but if you want to keep your mobile in a bag instead (or if like my mobile the headphone socket doesn't work any more) this offers a very low cost option of adding Bluetooth functionality to your existing headphones.

A brilliant little gadget at a great price, the JUSTOP BTR008 NFC Bluetooth Stereo Audio Receiver is available on Amazon now: http://goo.gl/THkYiM

JUSTOP 4Dock Bluetooth Stereo Audio Music Receiver 30-pin Speaker Dock Wireless Adapter For iPod iPhone iPad and Other 30-pin Speaker Dock Bose, Pure, Klipsch, Sony, JBL etc
1 new from £24.95
1 used from £8.68
Buy Now
Amazon.co.uk
Features
Easy connects with your iphone/ipad dock speaker, wirelessly receive music from your A2DP Bluetooth enabled smartphone, tablet or computer from up to 30 feet away!
Utilizes Bluetooth with A2DP streaming for powerful, enhanced CD audio quality
Plugs directly into your dock speaker's 30-pin port, auto switch on and enjoy
Support digital products using Bluetooth, such as iPad, iPod touch, iPhone, Bluetooth cell phone, Bluetooth PC, PSP.
Full 12 month UK warranty. (* Note: Only Works with 5V output Dock Speakers which can charge iPhone, WON'T work with dock speakers which don't have power output from 30pin connector)