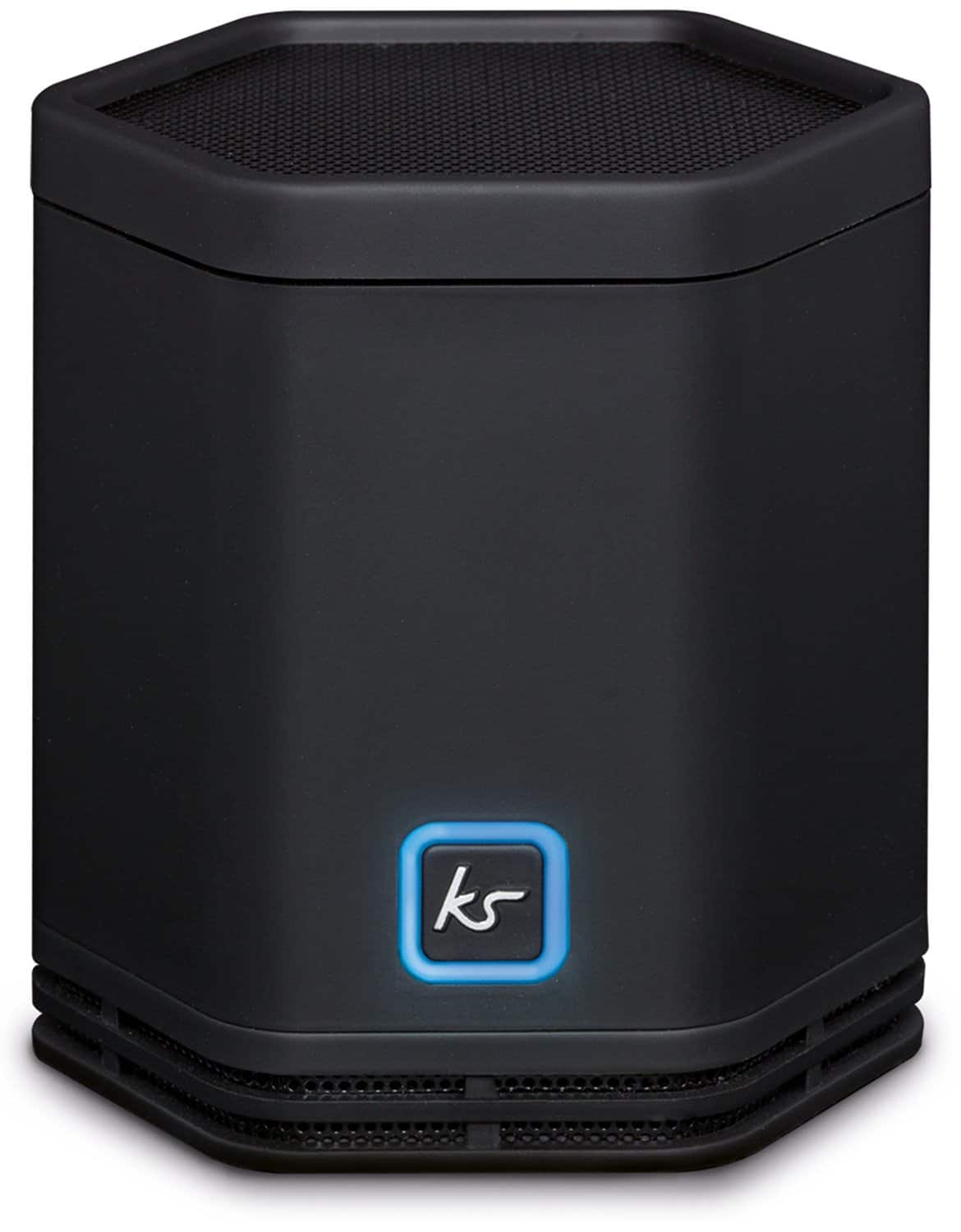 *This post may have affiliate links. For example As an Amazon Associate I earn from qualifying purchases, which means if you purchase something after clicking a link I may receive commission (don't worry, there's no extra cost to you). This helps support the work I put into the site.
The KitSound Pocket Hive is a really nice looking portable Bluetooth speaker.  It's smaller than you'd think looking at the photos, standing approximately 8cm tall, and unlike the typical cylindrical or rectangular design adopted by manufacturers the world over KitSound have opted for a hexagonal shape.
The  KitSound Pocket Hive has a really nice matt finish, one that is rather strokable and gives this pocket boom box a premium feel.
You charge via USB, and next to the charging slot are 2 x 3.5 sockets, one acts as a line in (e.g. for use with MP3 players that don't have Bluetooth) the other acts as a line out, something not especially common on portable speakers. The line out gives you the option to plug a second speaker into the first, for example a second Pocket Hive.
Pairing with a mobile is made really easy with the inclusion of NFC, just tap your phone on the NFC tag and it asks if you want to pair with the speaker. If you don't have an NFC enabled phone you pair via the traditional Bluetooth settings menu.
For something so small the sound quality is very good. It easily fills the room without distorting, there wasn't any lag when watching YouTube videos and for something so tiny it's got a decent bit of bass.
On the bottom of the Pocket Hive is a pad that vibrates the surface the Pocket Hive is placed on adding an additional kick to the bass. The speaker sounds great even without this additional kick, and while not an amazing bass it's great for something so tiny.
The small size makes this great for travelling around with and you get a travel bag included. It's nice to see a quality bag has been bundled in rather than just a cloth bag, and it has a compartment at the top if you want to store the charging cable.
KitSound have done a great job with the Pocket Hive, it's the right design with the right sound quality at the right price.
Available now from Amazon UK: http://amzn.to/1Fttqg6
KitSound Hive2o Waterproof Bluetooth Portable Wireless Speaker with Call Handling Function, Black
7 new from £14.00
Free shipping
Features
Waterproof: Ultra-waterproof IP67 rating and works for up to 30 minutes underwater
Play time: Play and listen to your favourite music all day with the Hive2o's 8 hours play time
Stereo pairing: You can join two Hive2o speakers together for an immersive listening experience
Call handling: Hands-free calls so you don't ever have to leave the music to talk to your friends
Compatibility: Most Bluetooth enabled mobile phones and tablets, including iPhone, iPad, Samsung Galaxy, Huawei, Google, Sony Xperia and many more
KitSound BoomBar Universal Portable Rechargeable Stereo Bluetooth Speaker Compatible with Smartphones, Tablets and MP3 Devices - Black
10 new from £24.99
2 used from £19.06
Free shipping
Features
Connection: Bluetooth and line-in connectivity so you can connect more devices
Sound quality: Passive radiator which extends the bass response
Features: Hands-free function for taking calls, and in-line microphone
Playtime: Play up to 20 hours of music and a charging time of just three hours
Distance: Hear your music from up to 10 metres away
KitSound Boom Cube Metallic Portable Rechargeable Wireless Bluetooth Speaker, Black
5 new from £22.40
Free shipping
Features
Metallic design: Lose yourself in impressive audio and an astounding metallic design
6 hours play time: Enjoy a massive 6 hours of music; after just 2 hours of charging
Impressive audio: Full bass notes, alongside soaring highs and balanced mids
Works with iOS and Android: Compatible with most Bluetooth enabled mobile phones and tablets
Light but Sturdy: The sturdy build and metallic plates means it's a lot tougher than you may think