*This post may have affiliate links. For example As an Amazon Associate I earn from qualifying purchases, which means if you purchase something after clicking a link I may receive commission (don't worry, there's no extra cost to you). This helps support the work I put into the site.
The LeFun mini projector, or S1 projector if you're looking at an unbranded version, is a compact device you can easily move about or take with you by popping into a bag.
Setup only takes a couple of minutes, just plug in the power and whatever it is you want to project from. In the video I was using an Android box which gave access to YouTube, Netflix and games.
It's got a nice design to it, with a good range of ports on the side. As well as being able to hook up devices via HDMI you can also plug in an SD card, USB stick and you can charge devices with a USB out. There are standard AV connectors as well as a VGA connection and headphone socket.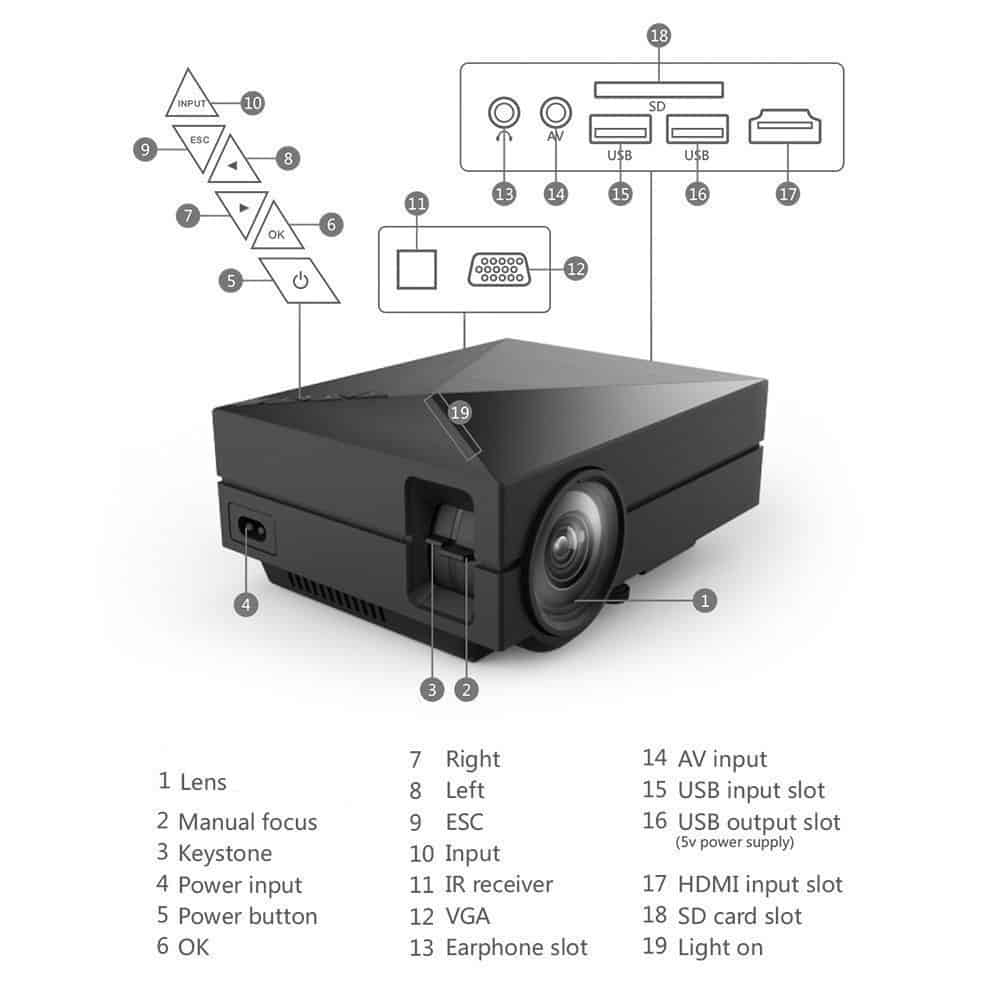 The image quality is good…providing you have a dark room. In daylight the bulb just isn't powerful enough to project a strong image and it becomes washed out.  Keep in mind this isn't capable of full HD, it only projects 800x480p.
Another thing to consider is what you'll be using this for as it has a fan which is fairly noisy. If you want to use this to watch films or play games you should be OK as the fan tends to be drowned out by lots of action. However it's very noticeable where there is mainly just talking or if you were to try and use this with a presentation.
There is an inbuilt speaker which does an OK job, sound quality is OK and, if we ever actually had a nice warm evening, I bet this would be great to setup outdoors to watch a film outside.
So while there are the drawbacks of the fan and needing a dark room as long as you're aware of these you'll benefit from a very low cost bit of kit that projects a decent image.
Available from Amazon UK: http://amzn.to/2bsYBBg and an unbranded version from Amazon USA: http://amzn.to/2bJC2aF
LeFun HD S1 Mini Projector Review
ELEPHAS Projector, GC333 Portable Projector with 4500 Lumens and Full HD 1080p, 180" Display and 50000 Hours Lamp Life LED Video Projector, Compatible with USB/HD/Sd/Av/VGA for Home Theater, White
2 new from £69.99
Free shipping
Features
✩ Sharper and Realistic Colors: ELEPHAS mini projector is much brighter than most counterparts on the market, and supports 1080P. The suitable brightness offers you an eye-protective viewing experience. Perfect for outdoor watching as well.
✩ Ideal Contrast Ratio: The LED projector presents 2000:1 contrast ratio that is ideal for a cinematic pleasure. Uniform illumination upgrades your viewing experience, since no dark parts will appear on the brink of screen. Native Resolution 800x480p. Max Screen Display 180".
✩ Screen Synchronization: You can connect your smartphone to ELEPHAS outdoor projector with an HDMI adapter to realize screen synchronization (Adapter not included in package). Also compatible with USB/HD/SD/AV/VGA inputs.
✩ Built-in HIFI Speakers: ELEPHAS portable projector is equipped with two built-in speakers, which works great in a normal size room. For a much better sound effect, you can turn to apply an external speaker that you love the most.
✩ Warranty and Support: ELEPHAS guarantees 3-year warranty and timely professional technical support. This latest 4inch projector possesses CE FCC RoHS PSE Certificates. Any questions, please write an email to service@elephas.com.hk. We're always here to help.
Moredig Star Projector Night Light, Baby Night Light Rotation LED Night Light Lamp with 8 Colorfull Lights for Baby Nursery Bedroom Decotate - Blue
1 new from £12.99
2 used from £11.96
Free shipping
Features
★ Starry Sky Night Light Projector --- The rotating projector casts the colorful stars and moon on the wall or ceiling. Transform nurseries and bedrooms into a starry sanctuary that comforts and calms boys and girls. This is great for arousing curiosity in the kids for universe and astronomical science.
★ 8 Colorful Light Modes & 360 Rotation --- Red, Blue, Green and Warm white, these 4 LED light color can project 8 different Light Modes, also you can switch 360 degree Rotation. Provides a fantastic moving starry sky, create for a calming and romantic night light effect.
★ Night Light Mode --- This projection lamp can be works as a night light. Just simply rotate the lamp cover, and take the black lamp film out, then press the night light button, it could be operated as desk lamp or night light.
★ Simple to Use --- 3 buttons to finish all operations. Button A is for night light switch; Button B is for choose different light color; Button C makes projector rotate or not. Really convenient to use for your kids.
★ Perfect Gift for Children --- The star projector lamp is designed for kids to closer the star and moon at bedtime, which is good for sleep and help them get rid of scared at night. Perfect gift for wedding, birthday, Christmas.
Projector APEMAN Portable Mini Projector 4500 Lumens Support 1080P Max 180" Display LCD Home Cinema Projector 50000 Hours LED Life HDMI/VGA/USB/SD/AV Input Chromecast Compatible(White)
1 new from £69.99
2 used from £65.09
Free shipping
Features
UPDATE TECHNOLOGY PROJECTOR : Updated brightness of 4500 lumens, 2000:1 contrast ratio, 80% brighter than other projectors. This Video projector adopts the latest 4.0 LCD technology with advanced LED light sources. Sharp clear images but won't cause eyes strain.
AMAZING MOVIE EXPERIENCE : Support 1080P full HD with 800*480P native resolution. 34"-180" projection size with an aspect ratio of 16:9/4:3. Best choice for families movie night at home or backyard in no light/low light environment. Enjoy the bigger screen, protecting your eyes from TV, laptop and smartphone. Considerate design for a healthy life.
MULTIPLE INPUT : This portable projector is easy to operate with many ports, including HDMI, VGA, USB, Micro SD, RCA AV interfaces. Support a wide range of multimedia connection with many devices such as PC, Laptop, MacBook, PS3/4, X-Box, and iOS/other Smart Phones. Compatible with TV Stick and Chromecast. Do not support Dolby version movies.
CONVENINENT OPERATION : This home projector has a unique dual built-in speakers system, offering excellent loud sound quality without connecting to an external speaker. Easy to adjust focus and make keystone correction. Come with a remote controller. You can chill on sofa changing audio, choosing sources and etc. without standing up.
TIMELY CUSTOMER SERVICE : APEMAN dedicates to providing professional projectors for 5 years with great quality and thoughtful service. Every Apeman product covers ONE MONTH refund and exchange & ONE YEAR warranty. For any product problem, please don't hesitate to email us. We are ready to offer you a satisfactory solution at any time.