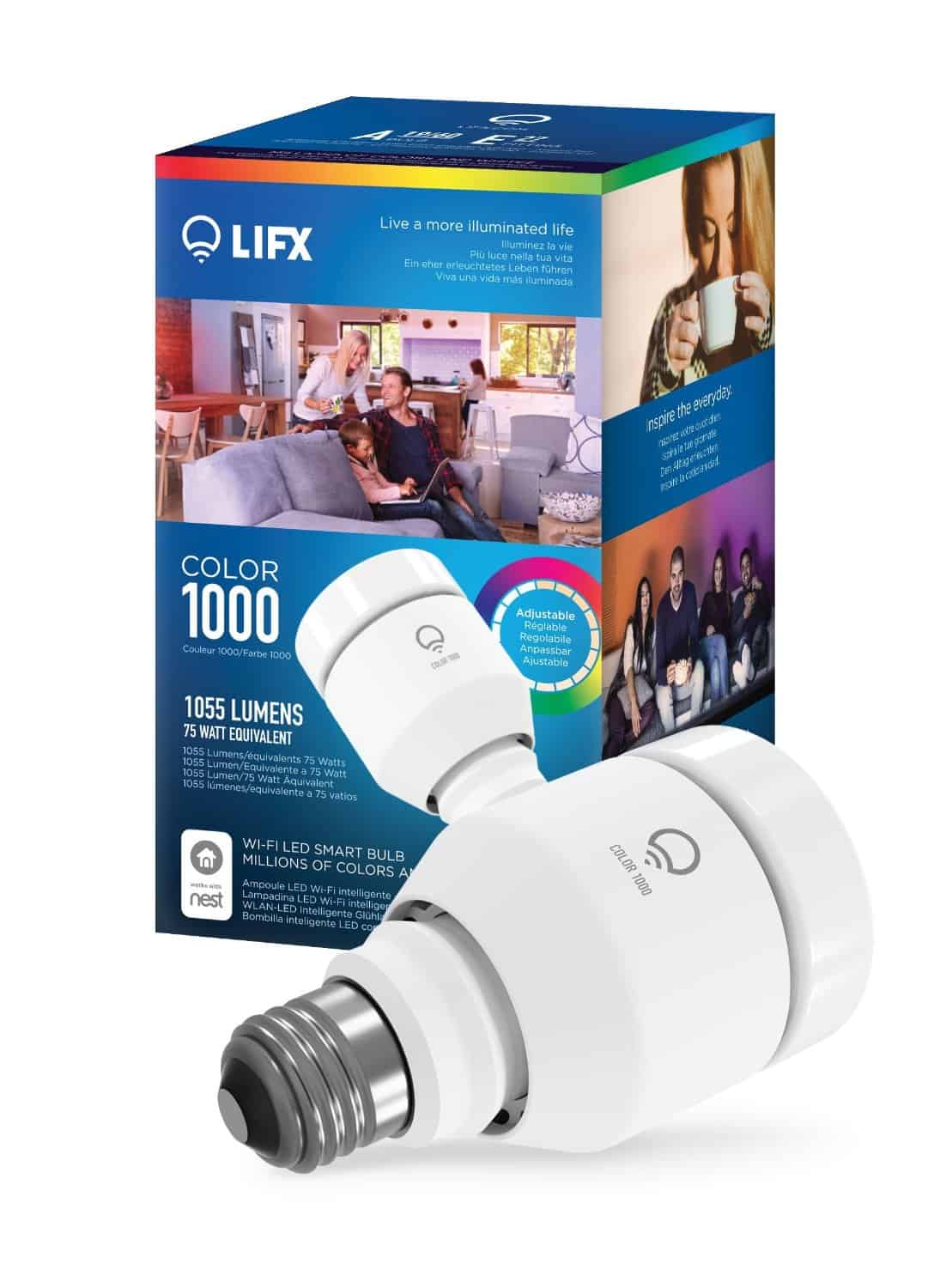 *This post may have affiliate links. For example As an Amazon Associate I earn from qualifying purchases, which means if you purchase something after clicking a link I may receive commission (don't worry, there's no extra cost to you). This helps support the work I put into the site.
Having taken the plunge with an Amazon Echo and some Amazon Dots I was keen to explore further smart home tech.
The Lifx bulb is a chunky looking bulb with WiFi built in and no need for a separate control hub (an advantage over the Philips Hue system).
It's really easy to setup, plug in, turn on and open the companion app on your mobile to complete the setup.
Once connected you can control the bulb via your mobile, turning it on/off, changing the colour, picking different lighting effect (for example a spooky light flickering for those throwing a Halloween party), set the brightness, there are absolutely loads of options.
If you have multiple bulbs you can control them individually or arrange them into groups, allowing them to all be controlled at the same time.
A very handy feature (with the bulb being in the bedroom) is the ability to set an automatic on time, so rather than waking up in the dark you can be woken as if it were a bright summers morning. This is all controlled from the app, setting both the times and the days it should work.
Being a connected bulb you can link it to other products and services. As well as the Amazon Alexa system I also have a Nest Protect, should that trigger an alert the bulb will flash.
Amazon Alexa integration is fairly good, you can turn the bulb on/off and set a brightness using your voice, but there are a number of features in the app that are not yet supported.
The only real problem I'm finding is that after years of using a light switch it's very difficult to break the habit, and of course if you turn off the light it can't be turned on again by any other method than the light switch.
This has proven to be a problem for others which means if I walk into a dark room and ask Alexa to turn on the light nothing happens. Hopefully there is a solution to this, any suggestions let me know in the comments below.
Available from Amazon UK: http://amzn.to/2gIWBDu and Amazon USA: http://amzn.to/2fTNoqj
LIFX Colour 1000 Wi -Fi Smart LED Light Bulb Video Review
LIFX Mini (E27) Wi-Fi Smart LED Light Bulb, Adjustable, Multicolour, Dimmable, No Hub Required, Works with Alexa, Apple HomeKit and The Google Assistant
3 new from £34.95
3 used from £26.80
Free shipping
Features
Simple set up, compact, worry free design: Integrated Wi-Fi and LIFX Cloud connectivity
Dimming and saturation control
Millions of colours and variable white light, 800 lumens
22.8 year lifespan based on 3 hours use per day, uses only 9 W
Intuitive app for iOS, Android, and Windows 10 and works with Amazon Alexa, Apple HomeKit, the Google Assistant, Nest, Samsung SmartThings, IFTTT, Flic, Scout and more, Wi-Fi router requirement: 802.11b,g,n standards compliant
LIFX B22 Wi-Fi Smart LED Light Bulb, Adjustable, Multicolour, Dimmable, No Hub Required, Works with Alexa, Apple HomeKit and The Google Assistant, White
Features
Easy set up - LIFX installs like any traditional light bulb: Simply download the app, connect to Wi-Fi and you're ready to go: No hub required
Take complete control of your lighting: The free LIFX app is available on Android and iOS: With a few taps on your tablet, phone or watch, colours go from bright and vibrant to pure whites in seconds
Get the most out of your LIFX by connecting with the rest of your smart home: LIFX works other Smart Products including Echo, Nest Thermostat and Protect, Logitech Pop and many more
Intuitive control: Control lights individually, select beautiful themes and scenes, create custom groupings to easily control multiple bulbs at the same time
16 million colours and warm to cool whites
LIFX GU10 (International) Wi-Fi Smart LED Light Bulb, Adjustable, Multicolour, Dimmable, No Hub Required, Works with Alexa, Apple HomeKit and The Google Assistant, Pack of 2
Features
Easy set up, integrated Wi-Fi and LIFX Cloud technology
Adjustable and dimmable: Beam angle: 60 Degree, Wi-Fi router requirement: 802.11b,g,n standards compliant
Millions of colours and variable shades of white light, 400 lumens
22.8 year lifespan based on 3 hours use per day, uses only 6 W
Intuitive app for iOS, Android, and Windows 10 and works with Amazon Alexa, Apple HomeKit, the Google Assistant, Nest, Samsung SmartThings, IFTTT, Flic, Scout and more