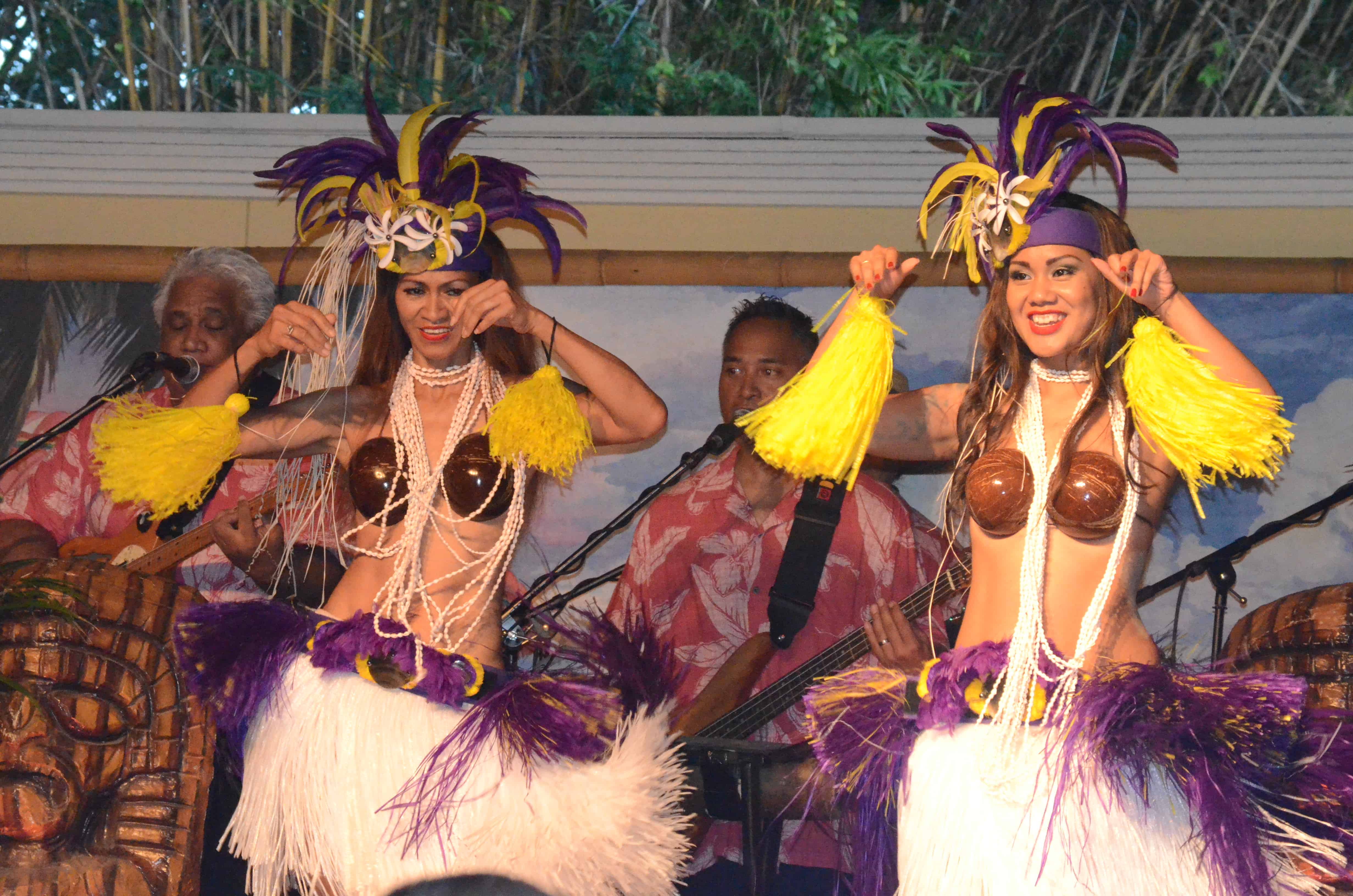 *This post may have affiliate links. For example As an Amazon Associate I earn from qualifying purchases, which means if you purchase something after clicking a link I may receive commission (don't worry, there's no extra cost to you). This helps support the work I put into the site.
This Loews Royal Pacific Hotel review is part of our Florida Reviews Special.
The Loews Royal Pacific Hotel is located on site at Universal Orlando, a short boat ride away from the main Universal theme parks.  Our stay lasted 12 nights and overall the hotel proved to be an excellent base for a holiday in Florida, offering lots of benefits above just somewhere to sleep.
Royal Pacific Hotel Features
The Royal Pacific Hotel is a big hotel, featuring 3 towers 7 stories high of hotel rooms.  The hotel is very family friendly with good sized rooms, several on site restaurants, a pool area staffed by numerous lifeguards, a kiddie pool area, a games room and a gym.
Staying in level 2 of tower 1 the room was sheltered from the sun at all times, which meant it didn't heat up so much you needed the air conditioning on over night.  The room came equipped with a TV, coffee maker (and only coffee, tea or hot chocolate wasn't an option), an iron, ironing board, hair dryer, free WiFi (slow, but could be upgraded for a price), ethernet port and a couple of chairs.  The bed was huge and very comfortable so overall this was a great base for an Orlando adventure!
The pool is a really nice size and an interesting shape, it was a lively area during the day with both adults and children enjoying a dip.  There are loads of sunbeds around the pool and just outside of the pool boundaries are more sunbeds on a little beach that overlooks the lake the water taxis use.  With it being so hot it was very common to find people still using the pool late at night, with a nice feature being the addition of a screen and speakers and the showing of a film outdoors, like a drive in movie, but with more splashing in the background.
There are a couple of choices for breakfast, you can either eat in one of the two on site restaurants which give you loads of choice as to how to start your day, ranging from cereal to cooked breakfasts via omelets and pancakes.  Alternatively you can catch the water taxi to Universal City Walk and take advantage of the many restaurants open early on.
The water taxi isn't the only transport on offer.  If you've purchased a Universal Flexi Pass, the pass that gives you entry into lots of theme parks, you'll also be able to get tickets to a free bus or coach service.  The local parks, Wet & Wild, Seaworld and Aquatica, have a bus that runs directly from the hotel.  For trips to Busch Gardens you'll first need to travel to Universal City Walk and then find the main bus hub and wait for pickup.  Again this bus service was free of charge, brilliant when you consider it's about an hours journey away.
There is a concierge desk available to help book days out or to answer any questions.  Let them know if you're going to the mall and they'll give you a signed slip that you trade in at the mall for a discounts booklet.  Visiting The Mall at Millenia we sound this was a brilliant little book that not only gave discounts off loads of different stores (e.g. 10% off at Macys, on top of any sale discounts in place) but also gave the option of collecting some free chocolate or having a free makeover with a glass of champagne.  Check out my review video below you'll see a short clip of the makeover taking place.  This took play at the Laura Mercier counter in Neiman Marcus and if you visit the counter be sure to say hello and mention you've seen her on my video!
There is no direct bus to the mall, it was just a short taxi trip.  Be aware that they'll try and get you to use the on site taxis, quoting $20 to get to the mall.  It actually, on a metered taxi cost $15 including a tip.  As well as being expensive the hotel taxis are not that reliable.  The only time we used on we were dropped off at the wrong place and had to get a second taxi to the correct location.  The hotel and the taxi firm they use were very unhelpful about this and it was the only real negative about our stay there.
Wantilan Luau
On Tuesday and Saturday night the hotel offers the chance to go to the Wantilan Luau.  Hosted on site this is charged per person and gives you an all you can eat buffet along with a performance that includes singing, dancing and (once your foods settled) audience participation!
The food was very nice and the buffet included as much beer, wine or cocktails as you could drink.  Being seated with other hotel guests was a great way to meet new people, in our case a family from Philadelphia who were interested in the correct pronunciation of Rydal (Ry-DAL, not Ry-DEL as her neighbours back home insisted!).  The performance included a lot of singing and dancing and as the night drew in we were treated to some impressing dancing with fire.  The evening was a lot of fun, but ended about 8pm, and when it ended everyone was rushed out.
Universal Theme Park Access
Being on site at Universal, the Royal Pacific Hotel offers guests early access to both Universal and the Island of Adventure theme parks, allowing you to get access to rides from 8am, an hour earlier than the general public.  And when things do get busy you can skip some of the larger lines by using the complimentary express pass which is included for guests of the hotel, a pass that others will have to pay for.
Located outside of two Universal Theme parks is Universal City Walk, an area dedicated to shopping and dinning.  There is a free water taxi to and from the hotel to City Walk and these run from early morning (around 7am) throughout the day and into the next morning (around 2am), ensuring you've a quick and safe method of transport back to the hotel.
If you'd rather walk it there is a path from the hotel that comes out near the Island of Adventure theme park and it takes 10 – 15 minutes.  Although with all the walking that takes place at theme parks the water taxi quickly becomes the preferred choice!
The water taxi docks next to other water taxis going to and from two other hotels and as you are staying on site at Universal you've access to all the hotels facilities, so if you fancy checking out the other hotels pool you can do. Where to order Propecia in USA, this page http://www.noc2healthcare.com/propecia-finasteride-online/ provides reliable generic Propecia suppliers.
The Lowes Royal Pacific Hotel was a fantastic hotel to stay at.  Although it appears more expensive than staying off site it actually offers so many included extras that you'd have to pay for elsewhere that it's worth it.
I travelled with Virgin Atlantic who did a good deal on a complete package (so flights, hotel, transport, park tickets etc) and you can book direct via this link: http://bit.ly/1loc8bN (aff) or check prices via the search box below:
6 x Blue Paper Rolls - 2 Ply Embossed Centre Feed - Hand Towel Tissue Rolls
Features
6 x Blue Paper Rolls - 2 Ply Embossed Centre Feed - Hand Towel
Blue Tissue Rolls
Ideal for dispensers
Centre feed blue rolls
Centre feed blue rolls
KING KARAN ® Blue 6 X Paper Rolls - 2 Ply Embossed Centre Feed - Hand Kitchen Towel Tissue Rolls UK Seller
Features
KING KARAN Blue 6 X Paper Rolls UK SELLER UK00003408801
Blue Tissue Rolls
Hand Towel - 130 Metre
2 Ply Embossed Centre Feed
Centre feed blue rolls
Katrin 103424 Classic System Toilet ECO paper, 100% recycled fibre (Pack of 36)
Features
For use with Katrin System Toilet Dispenser
Very large roll size (800 sheets) and dispenser holds 2 rolls
Suitable for high traffic areas
Controlled dispensing and self presenting sheets reduce consumption and improve hygiene
2 ply, white, 800 sheets per roll, 36 rolls