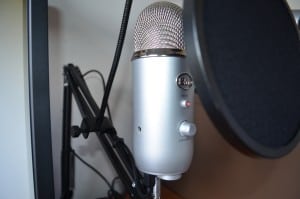 When video reviewing I often add commentary afterwards, choosing to edit the video first and then add a voiceover.  I've been using the Blue Yeti microphone for some time now and really like the improvement to audio quality.
One area that still needed improving was the pops caused by saying certain words,e.g. those beginning with P.  I also found that as much as I love the Blue Yeti stand, it was cluttering up my workspace.  I use it at least once a week so didn't want to put it away, but I also didn't want it  taking up space and generally getting in the way.
To resolve both issues was surprisingly inexpensive, with both boom and Tiger Pop Filter purchased from Amazon and both performing brilliantly:
Boom Arm – http://amzn.to/1EAQki3
Tiger Pop Filter – http://amzn.to/1AurSOD
InnoGear Heavy Duty Microphone Stand with Mic Microphone Windscreen and Dual Layered Mic Pop Filter Suspension Boom Scissor Arm Stands for Blue Yeti, Blue Spark & Other Microphone
2 new from £13.48
Free shipping
Features
All-In-One Combo: Package includes all the items you need for studio recording and live sound, a microphone stand, pop filter and 1 Pack microphone windscreen
High Quality Foam Microphone Windscreen: Pop filter can filter out the harsh "p", "t", and "b" sounds and the sound of wind and other unwanted background noise to improve the quality of your audio recording.
Heavy Duty Construction Mic Stand: Super-strong spring protects microphone from shaking, suddenly dropping and making noise. Comes with one table mounting clamp with protective layer of sponge, an adjustable positioning screw, can easily clip to any desktop up to 2" thick.
Double Layered Screen Pop Filters: The first screen blocks air blasts as any pop filter normally would; The gap in between then disperses any remaining air pressure, so by the time it passes the second screen, the blast is easily contained to produce great quality recordings.
Universal Compatibility: Equipped with clear manual instruction and high quality acoustic foam material, filter out all unwanted background noises. It works perfectly with Blue Yeti, Blue Yeti Pro, Snowball and other microphone. (Note: The Microphone cover is not suitable for blue snowball microphone)
InnoGear Microphone Pop Filter Swivel with Double Layer Sound Shield Guard Windscreen for Blue Yeti Blue Snowball and Other Recording Studio Mic
1 new from £6.99
2 used from £ 5.86
Free shipping
Features
Two-screen Pop Filters: The first screen blocks air blasts as any pop filter normally would. The gap in between then disperses any remaining air pressure, so by the time it passes the second screen, the blast is easily contained.
Adjustable Gooseneck: The metal gooseneck holder fully supports the filter's weight and keep it in place. You can adjust the angle and distance between the screen and the microphone.
Universal Compability: Adjustable screw rotating clamp with scratch-proof gripper can secure to MOST tubular mounting booms or mic stands (Maximum diameter: 1.6inches).
Application: Banish the dreaded hissing and lisping sounds that come when pronouncing the letter "S" and blocks those ugly "plosives" that follows "B" and "P". It is a great item for singers and actors alike who want help achieving the best possible performance and help protect the spitting all over your vocal mic.
Easy Mount & Demount: Swivel mount for easy installation. InnoGear Microphone, Mic Stand and Shock Mount are sold separately, NOT included.
NEUMA Professional Microphone Stand with Pop Filter Heavy Duty Microphone Suspension Scissor Arm Mic Stand and Windscreen Mask Shield for Recordings, Broadcasting, Streaming, Singing
1 new from £19.99
Free shipping
Features
[Professional accessories] set of NEUMA upgraded microphone stand and pop filter designed for professional recording and broadcasting work. Compatible with all kinds of microphones including bluet Yeti microphone
[Made with heart] adopts better material The stand itself is heavier than other cheap mic stands which improves its load bearing and makes it strong enough to support heavy mics. Pop filter helps to avoid noise during recording
[Flexible and portable] with two 14.5"/37cm adjustable arms the stand can be bent in portable size which is easy to carry or store
[Think for you] package comes with a table clamp which has dual soft mat to protect your furniture (shows In the pictures) and a microphone clip for traditional dynamic microphones (no need to use the clip if attach other microphones)
[Please attention] The mounting hole on the Yeti mic is sometimes just a tiny fraction bigger than the 5/8'' industry standard.