*This post may have affiliate links. For example As an Amazon Associate I earn from qualifying purchases, which means if you purchase something after clicking a link I may receive commission (don't worry, there's no extra cost to you). This helps support the work I put into the site.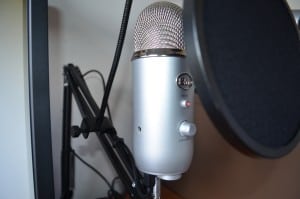 When video reviewing I often add commentary afterwards, choosing to edit the video first and then add a voiceover.  I've been using the Blue Yeti microphone for some time now and really like the improvement to audio quality.
One area that still needed improving was the pops caused by saying certain words,e.g. those beginning with P.  I also found that as much as I love the Blue Yeti stand, it was cluttering up my workspace.  I use it at least once a week so didn't want to put it away, but I also didn't want it  taking up space and generally getting in the way.
To resolve both issues was surprisingly inexpensive, with both boom and Tiger Pop Filter purchased from Amazon and both performing brilliantly:
Boom Arm – http://amzn.to/1EAQki3
Tiger Pop Filter – http://amzn.to/1AurSOD
Razer Seiren X Mic Stand with Pop Filter - Mic Boom Arm with Foam Cover Windscreen for Razer Seiren X Streaming Microphone by YOUSHARES
1 new from £23.99
Free shipping
Features
Perfect Effect - Suspension boom arm hold your Razer Seiren X Mic / Seiren Elite Emote in any position you want. No sag, just rock solid.
Professional Windscreen - Compatible with Razer Seiren X gaming microphones, Foam cover reduces Wind and background noise.
Mic stand - Dual suspension springs of each boom arm protect microphone from shaking, suddenly dropping. It's sturdy steel construction, easy to setup and Folding.
Mic clip holder - A standard microphone clip to mount most standard-sized handheld microphone.
All-in-one Combo - Package includes Razer pc mic stand, table mounting clamp, foam pop fiter,adapter. Note: use the 3/8" to 5/8" adapter to connect the razer microphone.
Microphone Stand, URMI Heavy Duty Table Microphone Arm Stand with Dual Layered Mic Pop Filter Suspension Boom Scissor Arm Stands for Recordings Broadcasting Streaming Singing for Blue Yeti Snowball
1 new from £15.99
1 used from £15.11
Free shipping
Features
ALL-IN-ONE PROFESSSIONAL MICROPHONE ACCESSORIES: 1 x Professional Microphone Scissor Arm Stand, 1 x Mic Pop Filter, 1 x Table Mounting Clamp, 1 x professional 3/8''to 5/8''Metal Screw Adapter, 1 x Microphone Windscreen, easy to assemble and adjust. All the items you need for studio recording and live sound.
UPGRADED DESK MOUNT: Compared with old versions, this URMI desk mount clamp is built with anti-scratch pad and wider mouth up to 2" to fit most desktop. PLEASE NOTE: Max. Microphone Clip Diameter is 1.26"/32mm; Max Support Weight is 4.4pound/2kg.
UNIVERSAL COMPATIBILITY Universal MICROPHONE SETS: Designed for heavy duty carry. Suitable for any stores, families, stages, studios, broadcasting and TV stations, etc. Attach your Blue Snowball and Blue Yeti with the 5/8"-27 male to 3/8"-16 female threaded screw adapters. Completely flexible, firmly attach the microphone anywhere. Super-strong spring protects microphone from shaking, suddenly dropping and making noise.
DOUBLE LAYERED SCREEN POP FILTERS: The first screen blocks air blasts as any pop filter normally would; The gap in between then disperses any remaining air pressure, so by the time it passes the second screen, the blast is easily contained to produce great quality recordings.
HIGH QUALITY FOAM MICROPHONE WINDSCREEN: the ball-type foam microphone windscreen is soft and thick, Size: 40mm x 75mm (W * H); Caliber:10mm, has good elasticity and shrinkage, convenient to set on the microphone.Good breathable material, good effect for voice. (Note: The Microphone cover is not suitable for blue snowball microphone)
Tencro Microphone Stand with Pop Filter Heavy Duty Suspension Boom Scissor Arm Stand Mic Clip Holder U-shaped Windscreen for Blue Yeti, Snowball & Other Mic in Recording, Broadcasting, Etc.
1 new from £17.98
Free shipping
Features
【Heavy Duty Carry】: Made out of high quality steel frame with super-strong springs, ABS plastic clip mic holder, very sturdy and durable, designed for supporting almost all microphones up to 4.4 pounds / 2KG (Find Mic Stand without Pop Filter by searching B06X954DXP)
【Stability and Safety】: Dual suspension springs on each boom arm, very stable for using your microphone without shake and prevent microphone from suddenly dropping
【Adjustability】: Folding type, convenient to carry around, and the steel frame with the adjustable screw allow you adjust the suitable angle & height to show your perfect voice
【Functional】: Suitable for almost all microphones, attach your Blue Snowball & Blue Yeti with the included metal screw adapter and fastening cable straps, adjustable aluminium alloy clamp for placement on uneven surfaces (Thickness within 5.3cm)
【U-shaped Pop Filter】: With new more effective U-shaped design, features an ultra-fine carbon steel mesh screen to protect your microphone from spray and to filter any harsh consonants such as B and P