*This post may have affiliate links. For example As an Amazon Associate I earn from qualifying purchases, which means if you purchase something after clicking a link I may receive commission (don't worry, there's no extra cost to you). This helps support the work I put into the site.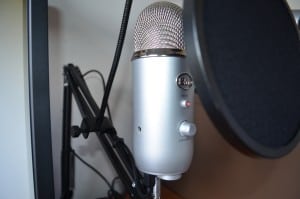 When video reviewing I often add commentary afterwards, choosing to edit the video first and then add a voiceover.  I've been using the Blue Yeti microphone for some time now and really like the improvement to audio quality.
One area that still needed improving was the pops caused by saying certain words,e.g. those beginning with P.  I also found that as much as I love the Blue Yeti stand, it was cluttering up my workspace.  I use it at least once a week so didn't want to put it away, but I also didn't want it  taking up space and generally getting in the way.
To resolve both issues was surprisingly inexpensive, with both boom and Tiger Pop Filter purchased from Amazon and both performing brilliantly:
Boom Arm – http://amzn.to/1EAQki3
Tiger Pop Filter – http://amzn.to/1AurSOD
InnoGear Microphone Pop Filter Swivel with Double Layer Sound Shield Guard Windscreen for Blue Yeti Blue Snowball and Other Recording Studio Mic
1 new from £9.99
Free shipping
Features
Two-screen Pop Filters: The first screen blocks air blasts as any pop filter normally would. The gap in between then disperses any remaining air pressure, so by the time it passes the second screen, the blast is easily contained.
Adjustable Gooseneck: The metal gooseneck holder fully supports the filter's weight and keep it in place. You can adjust the angle and distance between the screen and the microphone.
Universal Compability: Adjustable screw rotating clamp with scratch-proof gripper can secure to MOST tubular mounting booms or mic stands (Maximum diameter: 1.6inches).
Application: Banish the dreaded hissing and lisping sounds that come when pronouncing the letter "S" and blocks those ugly "plosives" that follows "B" and "P". It is a great item for singers and actors alike who want help achieving the best possible performance and help protect the spitting all over your vocal mic.
Easy Mount & Demount: Swivel mount for easy installation. InnoGear Microphone, Mic Stand and Shock Mount are sold separately, NOT included.
Microphone Arm Stand, TONOR Adjustable Suspension Boom Scissor Mic Stand with Pop Filter, 3/8" to 5/8" Adapter, Mic Clip, Upgraded Heavy Duty Clamp for Blue Yeti Nano Snowball Ice and Other Mics(T20)
1 new from £38.99
Free shipping
Features
Heavy Duty Construction: The T20 is made of durable steel for outstanding bearing capacity. Max load: 4lbs/1.8kg.
Upgraded Desk Clamp: The contact area is 4 times larger than the traditional versions, making the stand more stable. Max desk thickness: 2.4"/60mm. In addition, the headset hook is integrated into the desk clamp.
Universal Compatibility: The T20 comes with a standard 3/8" to 5/8" adapter, it is suitable for most microphones, like Blue yeti, Blue snowball ice, Rode NT1, Shure SM58, AT-2020, Q9, etc.
Flexible Adjustment: The T20 offers 700mm horizontal/vertical distance and 360° full rotation. You can easily adjust it to get the best pickup.
All In One: 1 x Boom arm, 1 x Desk clamp, 1x Mic clip, 1 x 3/8" to 5/8" Adapter, 1 x Pop filter, 1 x Foam cover, 4 x Cable tie, 1 x Manual, 1 x After-sales card.
YOTTO Microphone Stand Adjustable Studio Mic Stand Suspension Boom Scissor Arm with Pop Filter Windscreen, 3* Cable Ties, for Blue Yeti, Snowball & Other Microphones Radio Broadcasting, Recording
1 new from £31.99
Free shipping
Features
【All-in-One Combo for Your Needs】-YOTTO Mic Stand Set comes with all necessary items you need for your studio recording including: 1* Quality Mic stand; 1*Table Clamp; 1* Mic Clip; 1* Upgraded Pop Filter; 3*Cable Ties for quick organization of different microphone cables. Perfect micropnone stand set for your various needs.
【Optimized Quality & Strong Compatibility】-Simply compared with many traditional mic stands that use plastic screws, YOTTO Professional Microphone Stand only chooses all metal screws on the whole stand body aiming to bring a greater bearing capacity. For wide application, we adopt international standard size of 5/8'' screw mounting hole. Note: If it cannot be connected dirrectly, Pls add a shock mount with it (not included).
【Brand New Table Mounting Clamp】- The Mic Table Mounting Clamp is built with an integrated design perfectly avoiding any possible breaking that some traditional stands always occur. YOTTO heavy duty desk mount added with soft rubber pad can be clamped to a maximum thickness of 5cm. The rubber pad bound with superior glue won't easily fall off in use and can fully protect you table from any damage.
【Upgraded Dual Layered Pop Filter】-YOTTO Pop Filter is featured with a brand new and more fixed frame providing you a super seamless body and perfectly avoid the filter's any falling off or overflow from the edge. Dual layered mask shield efficiently blocks any air blasts, noises and wind interference. All brand new design will bring you a whole excellent using performance.
【100% Satisfaction Guaranteed】-YOTTO aims to provide each customer with the highest standard of customer service. All the products have been strictly and fully inspected and examined before being delivered in order to offer more secure products to our valued customers. If any problem occurred, simply contact us, we can find the relevant workers and solve it for you timely and efficiently.