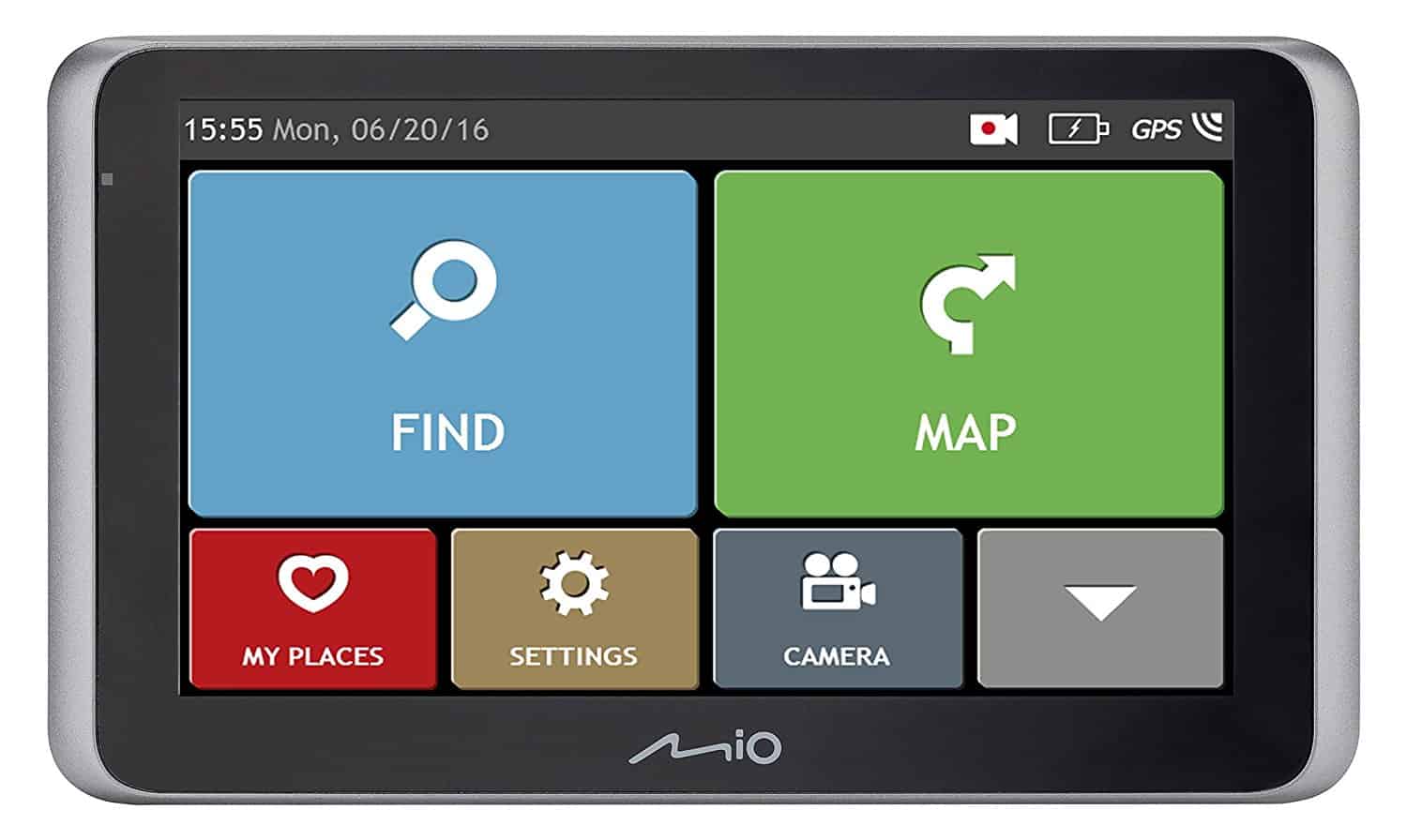 *This post may have affiliate links. For example As an Amazon Associate I earn from qualifying purchases, which means if you purchase something after clicking a link I may receive commission (don't worry, there's no extra cost to you). This helps support the work I put into the site.
Between the big boys of TomTom and Garmin and the low cost smart phone route you have to do something a little different to stand out in the sat nav market and Mio hope the innovative integration of a dash camera into a sat nav will do just that.
It's certainly a first for this reviewer, and when you think about it the combination makes a lot of sense, you get to navigate around and record the trip, with the GPS data included in case you need to pinpoint where certain video what recorded.  This is all recorded on a MicroSD card and it's great to see one included in the box so you don't need to buy anything extra.
It's a nice looking unit, you'll see the Drive 55 in the review video below, this has a 5″ screen but a 6.2″ screen is also available.
The camera itself does a great job, it captures a good field of view with great detail so you can read number plates and see across multiple lanes of traffic.
As well as the camera the Drive 55 packs in:
Lifetime maps and safety cameras
IQ Routes: feature that uses real-life information to optimise the route being calculated
Advanced Drivers Assistance System: warns drivers if they are drifting out of lane or if they're getting too close to the car in front
Bluetooth: Take calls via the unit, handy if you're car doesn't have Bluetooth
Traffic Message Channel: TMC provides travel information while on route
So far so good, unfortunately there are a number of things that really let the Drive 55 down.
The unit is mounted to your windscreen via a suction mount.  Although this has a quick release system it's not especially quick.  Also you need to plug power into the unit rather than the mount (for example TomToms magnetic mount or the VanTrue dash camera mounts), which means to take this out of your vehicle you'll have to unplug it every time.
The included power wire seemed a little short, I was powering from a socket located next to my handbrake and it just about reached it.  The plug is unusually big and stuck up so high I hit it a few times when changing gear.
The interface has nice big buttons, but overall it feels very sluggish, not something I'd expect from a premium sat nav.  When searching you first need to pick what you're searching for (e.g. town, postcode etc), this feels very dated when you've experience the single search bar of Google Maps or the recent TomTom sat navs.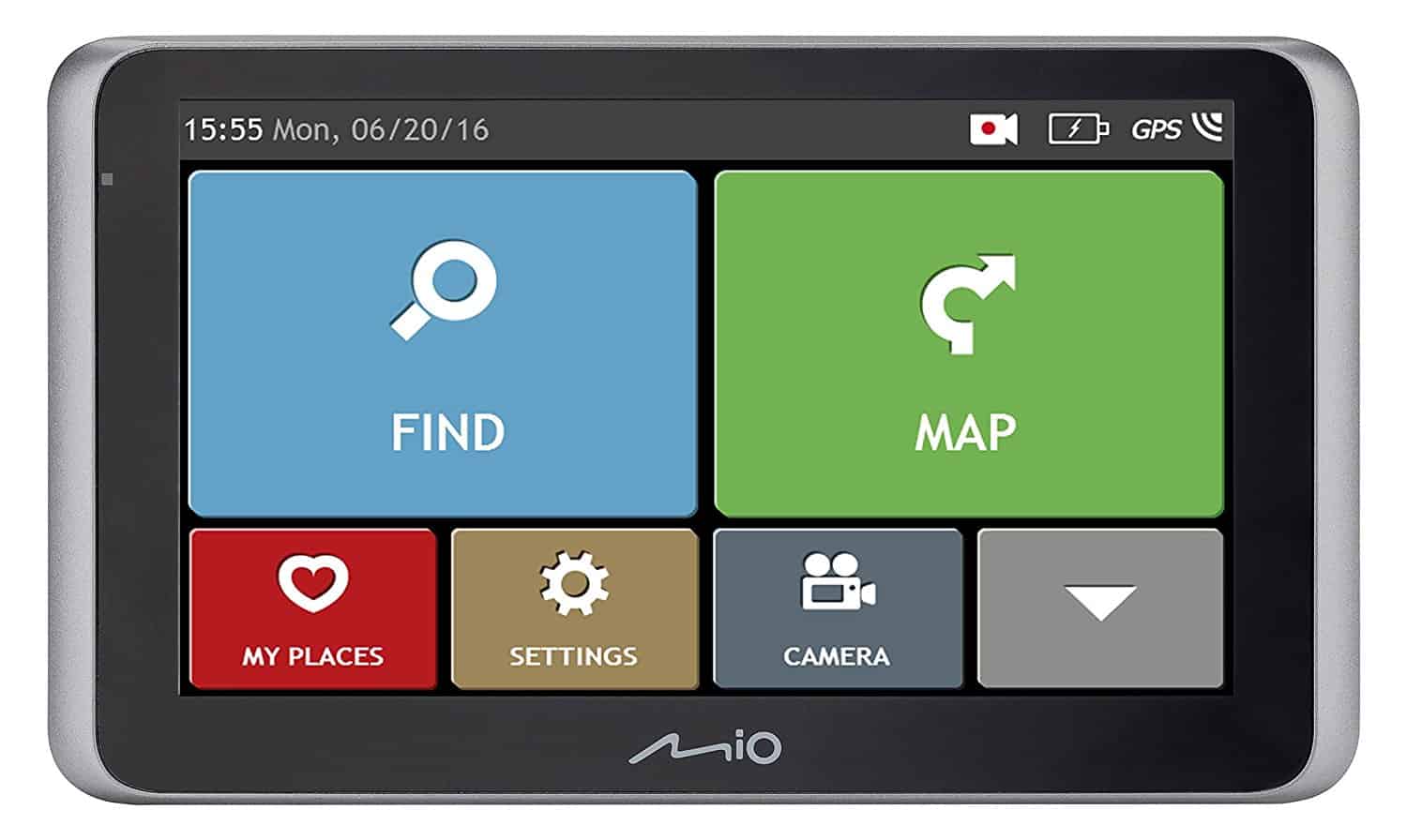 When calculating routes it'll give you a choice of 4: fastest, economical, easiest and shortest.  Although it's fairly quick at plotting the fastest route you'll have to hold on for the others as they can take a while, especially on long trips.  Before setting off you can select each route and it'll be displayed in a different colour, press go on your route of choice and the navigation mode should kick in.
While driving around you get clear instructions from a very robotic sounding voice.  This will read out road names, which is really helpful when you're looking around for where to go, and it'll also keep an eye on your speed and let you know if you're going too fast for what it thinks the speed limit is.
The video review below was going to include a demonstration of this in use, however when about to plot a course for a bank holiday day trip the Drive 55 had a really odd error pop up on screen regarding the units memory.  This is after a week of successfully getting from A to B without any problem, the Drive 55 had to be left behind in favour of the trusty TomTom.
Checking the unit out later the problem appeared to be resolved by pressing in the reset button located on the back, but this seems like a really odd problem to have in a dedicated unit.
It's a real pity the MiVue Drive 55 fails to live up to the price tag, it's got a lot going for it but never manages to be as slick as TomTom or mobile based sat navs such as Google Maps.
Available from Amazon UK: http://amzn.to/2rcNxvX and Amazon USA: http://amzn.to/2qsjTpy
MIO MiVue Drive 55 video review
MIO MiVue Drive Satellite Navigation and Dash Cam 55 LM - Full Europe
Features
Distinctive 5 all-in-one solution: High end car navigation with integrated extreme HD dash cam - 1296p at 30 fps
Superior recording - glass lens, F1.8 aperture and 140 degrees wide angle view
Lifetime map updates and lifetime safety camera updates, full Europe maps (44 countries)
ADAS features: Forward Collision Warning System (FCWS) and the Lane Departure Warning System (LDWS)
Built-in TMC (traffic information), Bluetooth, IQ routes and parking assistance; also includes 16 GB micro SD card
Mio MIVUEC330- Full HD 1080p In Car Dash Cam and DVR with GPS and Speed Camera Detection
4 new from £73.98
1 used from £73.86
Free shipping
Features
1080p Full HD recording at 30 fps and 130° wide angle view - to capture every detail at high resolutions during critical moments
Auto records when starting car - ensuring that every detail is captured from the very beginning
Safety Cameras warnings - to help you always stay under the speed limit
GPS tracking - automatically tracks your speed and location during every recording
3-Axis G-Sensor
MIO MiVue Drive 65 LM Dash Cam and Sat Nav, Full Europe
Features
A distinct combination of a GPS with an integrated full HD dash camera and extra-large 6.2 inch touch screen
Comes with lifetime map updates
Connect the MiVue drive to your PC and install the MioMore desktop for updates
Built-in 1296 pixel HD dash camera records your journey
Full Europe maps (44 countries)