*This post may have affiliate links. For example As an Amazon Associate I earn from qualifying purchases, which means if you purchase something after clicking a link I may receive commission (don't worry, there's no extra cost to you). This helps support the work I put into the site.
Nest has finally arrived in the UK and is now widely available from stores such as Amazon and John Lewis.  There are 2 parts to the Nest, the actual Nest control unit and a small white box. This box sits between the Nest and the boiler. In my setup I was lucky that everything could be wired up close together and so the boiler powers the box which powers the Nest, meaning it just sits on the wall, looking like it's floating , very sci-fi!
Arranging installation of the Nest turned out to be a tad tricky due to the original installers having to cancel the proposed installation date due to a medial issue with staff.  The next available date was a month away and so Nest were contacted to arrange a replacement installation firm.  Unfortunately this is where things got a bit tricky, they might design a cool product but they're not very good at customer service, I was on hold for close to 20 minutes only to be told I couldn't change to a different installer.  Unhappy with this answer an alternative installer was contacted and within 5 minutes they'd arranged everything for me, with installation taking place ahead of the original plan.  If you're thinking of hiring an installation company I'd highly recommend nationwide-heating.co.uk as they were very professional and did an excellent job.  You should expect installation of the Nest takes up to 2 hours depending on where it is to be located, as my setup was very straight forward it only took about an hour an a half, including the demonstration.
The Nest control unit is brilliant, you can see the designers have put a lot of work into making this a modern thermostat.  Controls are intuitive, the screen is nice and clear and it doesn't take long to get the hang of it.  The outer silver ring rotates allowing you to change the temperature or scroll through menus and you push the Nest in to select items.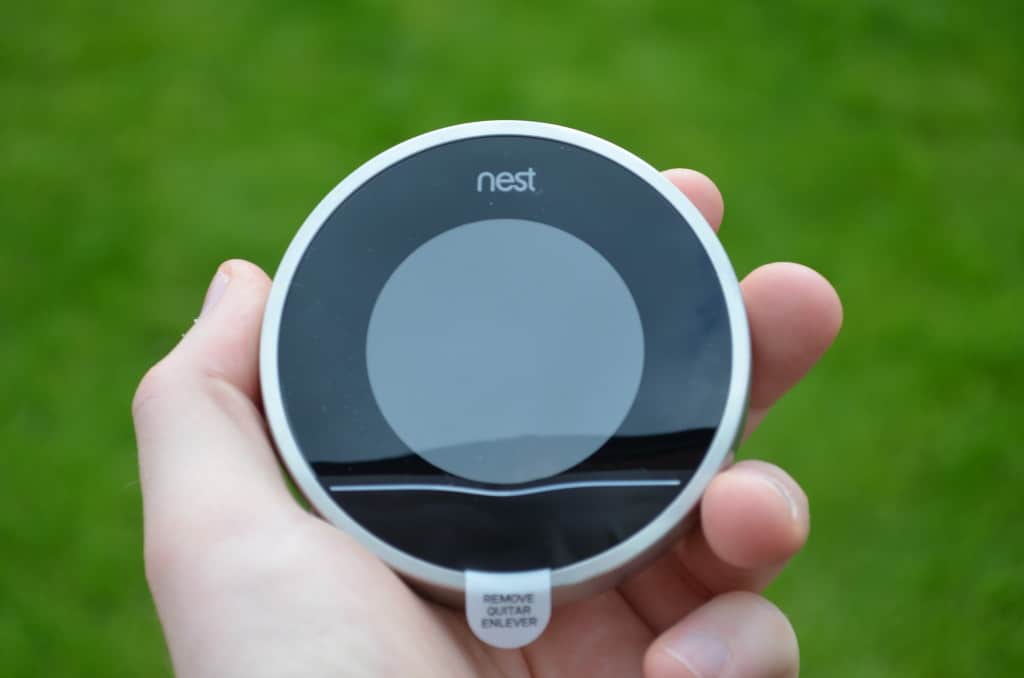 There are a couple of key features that make the Nest really stand out.  Firstly, the learning feature.  In the first few weeks you are encouraged to manually set and change the temperature to suit your needs, the Nest takes note of these changes and automatically populates a timer schedule.  The schedule can be manually adjusted, something you'll need to do if, like me, you have the unit installed at the start of a long weekend when you'll be in the house more often than usual.  The schedule can be different for each day of the week and this has giving me far greater control over the old timer function I previously had to use.
If you happen to be going away for a bit there is a dedicated away mode you can set for when you're on holiday which suspends the schedule to ensure you're not heating the house unnecessarily.  Brilliantly, because the Nest is internet enabled you can use the companion app to control your heating when out of the house, meaning you don't actually need to be at the Nest to control it and you could get you house heating up when you're on your way home from your holiday as you can turn the temperature up or down as long as your phone has an internet connection.
The companion Nest app is excellent, it replicates all functions of the Nest on your mobile/tablet, meaning you can turn your heating up or down from the comfort of any room in your house.
At the moment the Nest is going through it's learning phase, but even after only a couple of days of manually adjusting the temperature it is providing a more consistent temperature, it's proved to be far better than the old system of just have the heating on or off.  The 'True Radiant' function is especially interesting, over time Nest will learn how long it takes to warm the house up to the desired temperature and will adjust it's schedule accordingly, it knows when to turn the heating on to get it to your desired temperature at the desired time.  Being internet enabled it also knows the surrounding weather conditions and it'll be interesting to see how it uses this data, for example turning the heating off in a sudden heat wave (they do occasionally happen in the UK!) or turning it on for longer when the weather turns cooler.
Nest have truly created something remarkable, dragging the outdated thermostat into the information age and making it look a thing of beauty.
The Nest Learning Thermostat is available now from Amazon: http://goo.gl/h3lXRB
Google Nest Learning Thermostat, 3rd Generation, Stainless Steel
10 new from £182.00
3 used from £169.26
Free shipping
Features
Connected programmable thermostat that lets you control your heating more efficiently. You can control up to 20 thermostats per home
Change the temperature and more from your smartphone (iOS and Android)
Smart programming to help you save energy. The Nest thermostat smartly adjusts itself to your preferred temperatures, your home's insulation and the weather outside
Uses your phone's location and built-in activity sensors to automatically avoid heating an empty home
Compatible with almost all individual heating systems (gas boilers, oil boilers, condensing boilers, heat pumps, underfloor heating, OpenTherm systems)
Table Bracket Stand for Nest Learning Thermostat, Nest Thermostat 3rd/2nd Generation ONLY by HOLACA (Black)
1 new from £17.67
Free shipping
Features
Stand enables Nest thermostat 3rd/2nd Generation to kept close at hand for easy access control to your system.(the power cable not including ))
You can be kept Stand close by on a shelf, table, kitchen bench or desk.
Water transfer printing crafts. Designed to be an alternative to the wall mounting option-no drilling holes.
Made from high Level Plastic ABS. Sanded smooth to the touch. Optional Color ensure maximum durability and long lasting shine.
Warranty: Holaca 12 months Warranty; Get it replaced or issue you a full refund if any questions.
Power Cable for Nest Thermostat,AIEVE 3m USB Power Supply Cable Accessories for Google Nest Learning Thermostat 3rd Generation and Google Home Mini,with Power Adapter Plug(White)
1 new from £11.99
1 used from £10.77
Free shipping
Features
Stable Power Supply: This thermostat power cable is design with USB head, our power plug provides stable electricity to your device,keeping your nest thermostat continuously power supply and no need to worry the power off.
Perfectly Compatibility:AIEVE micro usb cable fits for google nest thermostat 3rd generation, it works well like the original charger.
Lightweight and Convenient:This thermostat power supply cable is compact and lightweight design, suitable for carry outside like travel,business trip and office.
Safety and Reliability: CE Certified 5v2a power adapter, built in short circuiting protection, overvoltage protection, overcurrent protection, and internal overheating protection, providing good protection for your device.
After-Sale Service-If you have any question,please contact us at any time,we would offer you satisfactory solution.