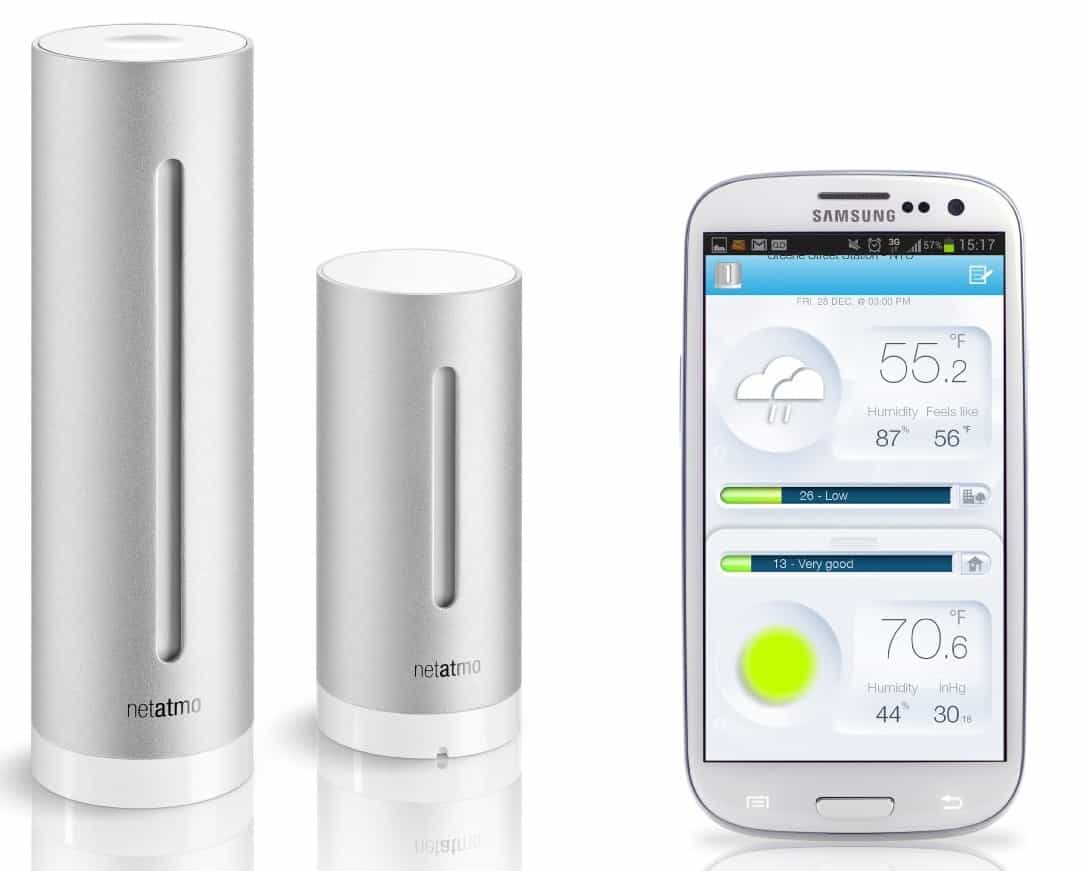 *This post may have affiliate links. For example As an Amazon Associate I earn from qualifying purchases, which means if you purchase something after clicking a link I may receive commission (don't worry, there's no extra cost to you). This helps support the work I put into the site.
The Netatmo weather station is a great looking little gadget for those interested in very local weather, and given the stereotype of Brits involves an obession with weather it should go down rather well in the UK!  Looking around at other weather stations and you can't help notice how old fashioned most of them are. Not so with the Netatmo, the designers have clearly been attending the Apple and Nest school of design as this is a really nice looking set of kit.

The station comes with two modules, an indoor module and an outdoor module. Both stations connect via Wifi and the collected data is viable via an app or on the Netatmo website.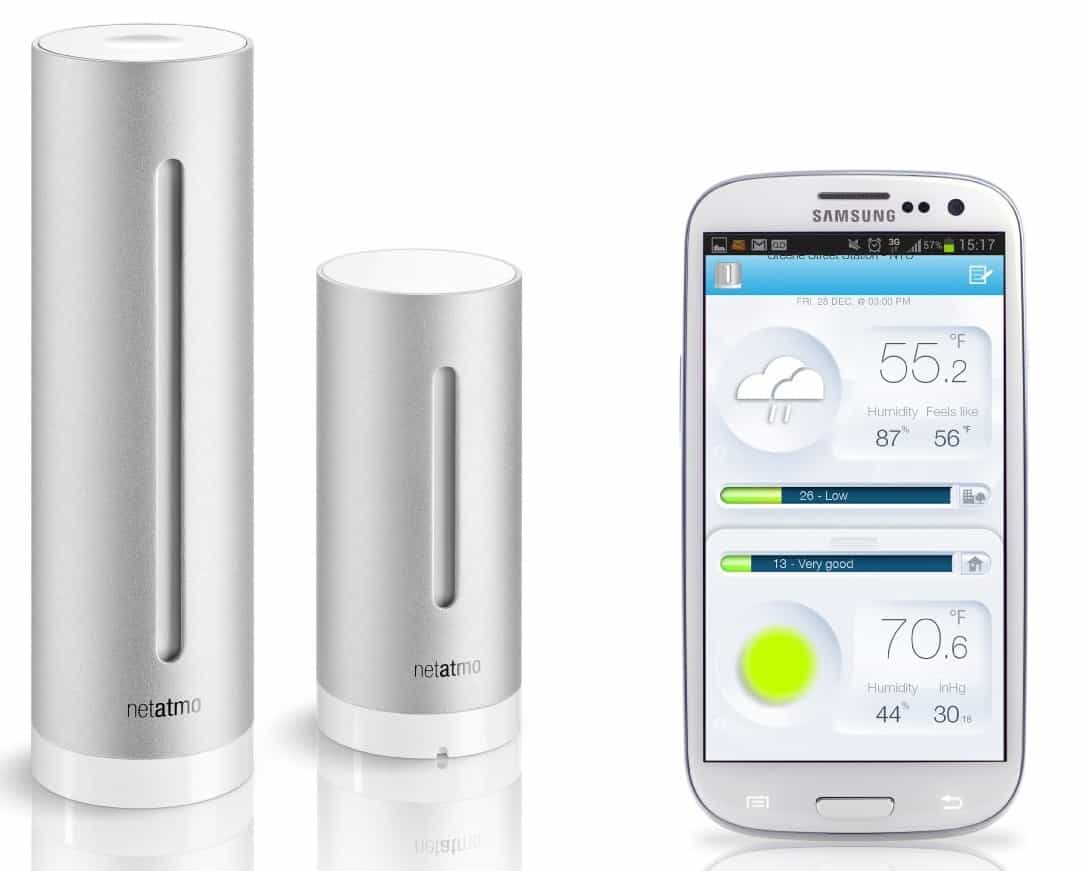 Curiously for an `outdoor' station it can't actually be placed directly outdoors where it might get wet, it needs to be sheltered, for example in a garage or shed, and this is an area that really could do with being developed for future modules for those who don't have a suitable sheltered area. The outdoor station runs off batteries and, at the time of writing, there is loads of juice left in the batteries after just over 2 months use.

Note that unlike other weather stations the outdoor station isn't designed to monitor wind speed or rainfall, although judging by the Netatmo website an additional rainfall module will be available soon.  One of the advantages of this platform is that new modules will hopefully be designed and introduced over time.

The indoor station is powered by USB, annoyingly for such an expensive product there was no UK plug included, you'll need to buy this or make use of a spare.

Setup was very easy and once completed there isn't much to do, you need to wait and allow for data collection. Both the app and the website are excellent, they're very easy to use and they present a lot of data in an easy to understand manner. As well as data collected by your stations you can also view a weather forecast for the coming days. At the time of review aside from the graphical representation there isn't much else you can do with the collected data. This isn't an issue for me but might be for you if you'd like to export the raw data for use elsewhere.

In terms of data the station collects indoor and outdoor temperature and humidity, the indoor module also collects pressure, sound and CO2 levels.

Mobiles benefit from Netatmo widgets which can be added to your screen.  These looked excellent on a Sony Xperia Z1 Compact and allowed quick and easy access to weather data without having to open the dedicated app.

The Netatmo looks very stylish and is supported a by fantastic and easy to use app and website, it's just a pity that for the price it didn't come with a UK plug and that positioning the outdoor module could be a problem for those without a sheltered area.
Available now from Amazon: http://goo.gl/XybyUa
Netatmo Weather Station Indoor Outdoor with Wireless Outdoor Sensor - Compatible with Amazon Alexa & Apple HomeKit, NWS01-EU
3 new from £124.99
1 used from £92.97
Free shipping
Features
UNDERSTAND R INDOOR AND OUTDOOR ENVIRONMENT: indoor / outdoor temperature, humidity, air quality, indoor noise levels, barometric pressure.
RECEIVE REAL-TIME NOTIFICATIONS: use r Weather Station to customise indoor and outdoor alerts and get notifications on r smartphone. Ventilation alerts will tell when it's time to air out r home.
ACCESS R DATA REMOTELY AND WITH R VOICE: easily access r weather readings at any time from r smartphone, tablet, computer or by voice via Alexa on Amazon Echo or via Siri thanks to the compatibility with Apple HomeKit.
ANALYSE PAST READINGS: review r data history to understand what happened while were away or use graphs to understand weather trends.
FORECAST THE FUTURE: check seven-day weather forecasts to make sure 're wearing the right gear for r outdoor activities.
Netatmo Weather Station Indoor Outdoor with Wireless Outdoor Sensor, Compatible with Amazon Alexa & Mount, for Netatmo Rain Gauge and Wind Gauge
Features
UNDERSTAND YOUR INDOOR AND OUTDOOR ENVIRONMENT: indoor / outdoor temperature, humidity, air quality, indoor noise levels, barometric pressure
RECEIVE REAL-TIME NOTIFICATIONS: use your Weather Station to customise indoor and outdoor alerts and get notifications on your smartphone. Ventilation alerts will tell you when it's time to air out your home
ACCESS YOUR DATA REMOTELY: easily access all your weather data from your smartphone, tablet or computer
ANALYSE PAST READINGS: review your data history to understand what happened while you were away or use graphs to understand weather trends
One mount for Netatmo Rain Gauge or Wind Gauge
Aercus Instruments Wireless Weather Station WeatherSleuth® - Professional IP Weather Station with Direct Real-time Internet Monitoring + Free Beginner's Guide (eBook)
1 new from £129.00
Free shipping
Features
Complete weather tracking with the all-in-one sensor suite
Real-time internet publishing WITHOUT THE NEED TO KEEP YOUR PC OR MAC CONNECTED
View your weather from anywhere in the world using any internet capable device
Temperature, Humidity, Barometer, Wind, Rain, Light, UV, Forecast, Date, Time
Super fast 16 second updates, easy setup and fully calibratable