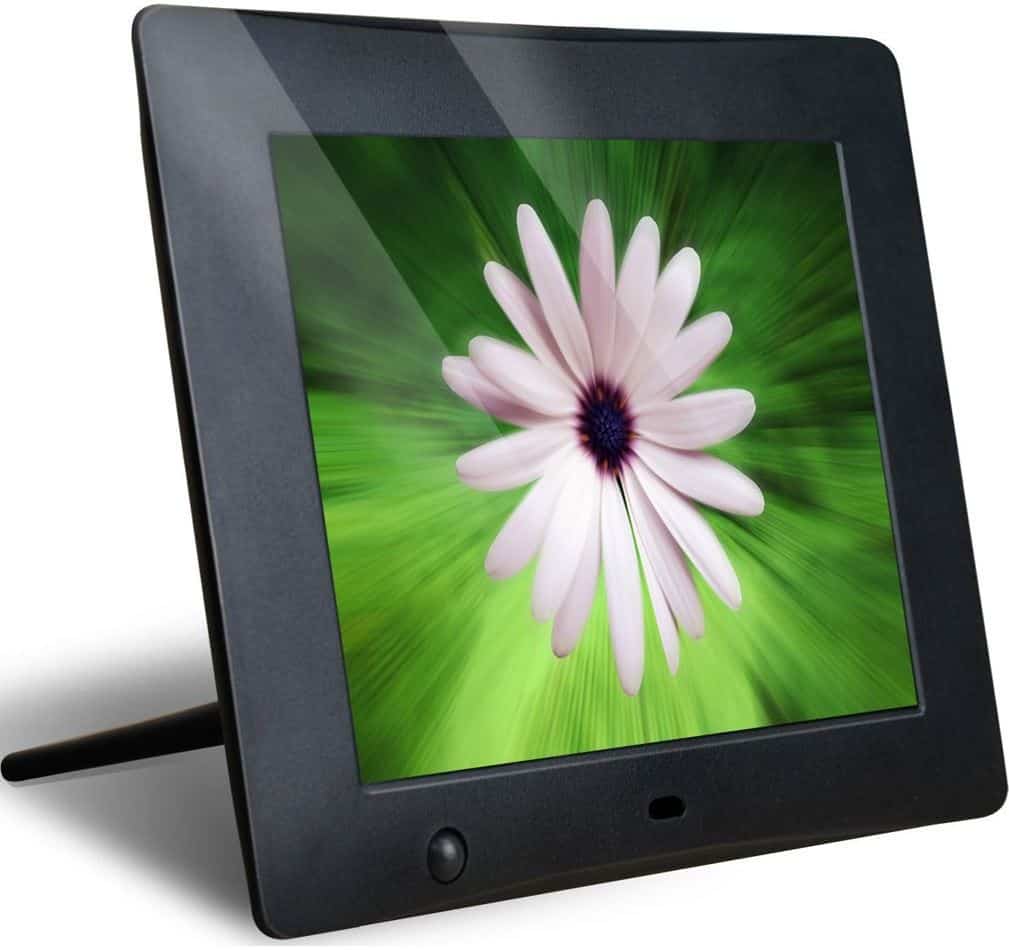 *This post may have affiliate links. For example As an Amazon Associate I earn from qualifying purchases, which means if you purchase something after clicking a link I may receive commission (don't worry, there's no extra cost to you). This helps support the work I put into the site.
Remember when you use to get photos printed and look at them on something other than a monitor or mobile?  Those times seem long past with the evolution of camera phones, digital cameras, tablets and social media.  But there is a way you can still enjoy your photos on display, and that's via a digital photo frame.
The Nix 8 inch digital frame is a well constructed and easy to use digital frame which is the perfect present for someone who doesn't have access to internet and therefore doesn't get to see many photos friends and family post online.
The Nix 8 doesn't come with any built in memory, you need to supply a USB or SD card.  Load your chosen media up with digital photos (and music/videos if you like) and pop it into the digital frame, it immediately recognizes the photos and starts to displayed them.
Pictures look great on the 800 x 600 screen, really crisp and clear. The Nix 8 menu is easy to use and gives you a number of options, the most useful one being photo display time. By default photos changed every 3 seconds, which was fine when testing it, but felt far too quick for everyday use. For general use having it change once an hour felt about right.
As you're unlikely to want photos displayed when you're not in the room the Nix 8 comes with a motion sensor.  When someone enters the room the frame shows a photo, and will continue to do so while it senses motion.  Once motion is no longer detected it will wait a set time (changeable in the menu) before turning the display off.
The Nix 8 is a great digital photo frame which makes for a brilliant present for those who want to see the photo on something other than a PC/tablet/mobile and actually display them, like we used to.
NIX 8 Inch HD Digital Photo Frame - Portrait or Landscape Stand, Auto-Rotate, Remote Control, USB/SD Card Support - Play Photos and Videos Together
1 new from £59.99
1 used from £58.10
Free shipping
Buy Now
Amazon.co.uk
Features
THE SUPERIOR USB/SD CARD DIGITAL PHOTO FRAME SINCE 2007: Enjoy crisp, vivid photos (JPEG) and videos (MPEG-4) on the NIX Digital Photo Frame's 8 inch 1280x800 HD (16:10) IPS display and built-in stereo speakers
THE ONLY FRAME THAT CAN PLAY BOTH PHOTOS AND VIDEO IN THE SAME SLIDESHOW: Enjoy all your favorite memories on the NIX Digital Photo Frame; Choose from different slideshow transitions: Play them according to their file name, or shuffle them
EASY PLUG AND PLAY FROM USB/SD MEMORY: Set up your Frame in minutes; Just insert a USB stick or a memory card (SD/SDHC) to instantly display your favorite photos and videos on the NIX Digital Photo Frame; does not connect to WiFi
CALENDAR AND CLOCK BUILT IN: Energy-saving motion sensor automatically turns the frame on and off; detachable stand lets you mount the frame on a wall; magnetic remote control included
SATISFACTION GUARANTEED, 24/7 CUSTOMER SERVICE: Our Customer Service team is here to help should you have questions; We have hundreds of thousands of happy customers, and we want to do everything we can to make you happy with your frame
T POWER Ac Adapter for (5V) NIX Nixplay 8" 10" Motion Sensing PhotoHD WiFi Cloud Wireless Digital Photo Frame Charger Power Supply
Buy Now
Amazon.co.uk
Features
T-Power Made with the highest quality W/ 60 DAYS LIMITED WARRANTY
Compatible ONLY : NIX Nixplay 8" 10" - Nixplay Original Series / NIX Nixplay Edge Series / NIX Nixplay Advance Series /
NIX 8-Inch MODELS: X08D , X08C , X08A , X080C , X08E
NIX 10-Inch MODELS: X10G Digital PhotoHD Video Motion Sensing Frame
T-Power - manufactured with the highest quality materials and include multiple smart features safeguarding against IV - incorrect voltage, SC - short circuit, IO - internal overheating. CE/FCC/RoHS certified