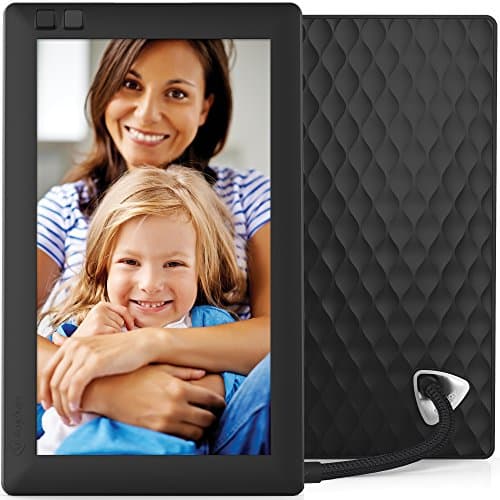 *This post may have affiliate links. For example As an Amazon Associate I earn from qualifying purchases, which means if you purchase something after clicking a link I may receive commission (don't worry, there's no extra cost to you). This helps support the work I put into the site.
The Nixplay Seed 8″ WiFi Digital Photo Frame is the logical evolution of the digital frame, freeing you from having to use memory cards and USB sticks and instead displaying photos stored online.
The Seed is a nicely designed frame that has a really unusual textured back that is rather strokable.  Smartly the power cable doubles up as the stand so the Seed has a minimal look to it, the frame leans back onto the cable and can stand landscape or portrait.
Although the power cable has a USB plug on the end this is designed to be powered by the included wall adapter rather than a PC/laptop.  Also included is a small remote control that's used to control picture playback and the frames settings.
To get the most from the Seed you'll want to spend a bit of time getting everything setup.  It's very straightforward, power on the frame, connect it to a WiFi network and it'll automatically update it's software.  If you don't have one you'll then need to register an account at nixplay.com before pairing your account with the frame (via a 16 digit code displayed on the frame once it's powered on).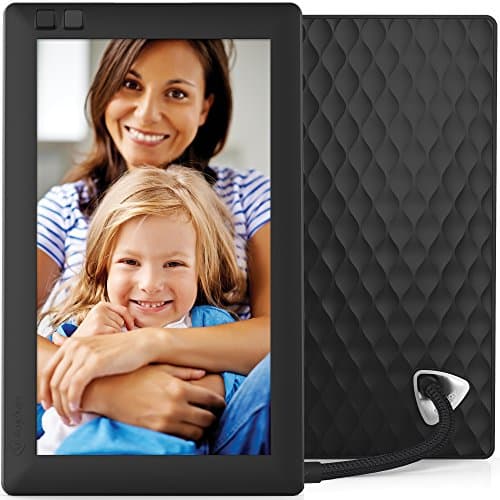 Once paired you have a number of options as to how to get photos on the frame.  Your free Nixplay account comes with 10GB free storage allowing you to upload photos and store them via Nixplay.  The free account also lets you have 5 frames on the account.  If more storage is required Nixplay are happy to charge, with 1TB for £29.99 per month the current maximum amount.
However, this being an internet frame Nixplay have wisely integrated with Facebook, Picasa (Google Photos), Instagram, Dropbox and Flickr.  Connect your account and you have access to all your existing anticonvulsants stored photos immediately.
Drag and drop photos (or full albums) onto your playlist, save it, and assign it to a frame and you're done!  Within a couple of seconds the frame updated and had access to the assigned photos.
Picture quality is excellent, photos look great on the Seed.  The only niggle is that the frame didn't seem to be a standard photo aspect ratio, meaning you either had black bars top and bottom, or if you chose full screen you had to accept photos would be moving across the screen.  Hopefully Nixplay will deliver a software update that allow for full screen to be static, or for the movement to be much slower, at the moment it's distractingly fast.
You're not restricted to the website, or even your own photos.  You can upload photos directly from the Nixplay app, assigning them to different playlists.  Again, photos appear on the frame very quickly once uploaded.
Alternatively you can email photos to the frame.  You can add 'friends' email addresses to your account to allow others to send you photos, any email received from an non-friend email address is automatically rejected.
All these options mean this is a fantastic frame for people who have WiFi but aren't users of social media.  For example you could give this to family members and it doesn't matter if they're in the same city, or even same country, you can still quickly and easily share photos with them without them having to log into social media accounts.  Hopefully the frame will continue to be improved via software updates and additional photo storage platforms (e.g. OneDrive) being added.
Brilliant frame with loads of smart ideas that brings the digital photo frame into the social digital age.
Avaiilable on Amazon UK: http://amzn.to/1PaKvOC and Amazon USA: http://amzn.to/1YlYqsT
Nixplay Seed Wave 13.3 Inch WiFi Digital Photo Frame with Bluetooth Speakers - Share Moments Instantly via App or E-Mail
1 new from £249.99
Free shipping
Features
GIFT THE TOP-SELLING FRAME AND STAY CONNECTED: Share photos and videos from your phone or by email to the Nixplay frame, wherever it is; A great gift for new parents, grandparents, newlyweds, college kids or families separated by distance
AN UPGRADED AUDIO EXPERIENCE: Pair your phone, tablet, or PC with your Nixplay Seed Wave to enjoy your music, add a soundtrack to your photo playlists, and play your videos with louder and clearer audio. Create a photo-sharing network for your family that's private, secure, and GDPR and CCPA-compliant
PRINT PHOTO SERVICE WITH FUJI: The Nixplay App for iOS and Android gives you full control over your frame; Connect to Google Photos to ensure your frame is always up to date; Dropbox, Facebook and Instagram also supported from website
THE SMART FRAME THAT IS TRULY SMART: The 16:9 aspect ratio display with Full HD 1920 x 1080 resolution auto adjusts to portrait/landscape placement and works with Amazon Alexa; Motion sensor turns the frame on/off when you enter/leave the room
SUPPORT WHEN YOU NEED IT: Our Customer Service team is here to help should you have questions about your Nixplay Smart Frame; We have hundreds of thousands of happy customers, and we want to do everything we can to make you happy with your frame
NIX 13.3 Inch USB Digital Picture Frame - Portrait or Landscape Stand, Full HD Resolution, Auto-Rotate, Remote Control - Mix Photos and Videos in The Same Slideshow
1 new from £129.99
Free shipping
Features
THE SUPERIOR USB/SD CARD DIGITAL PHOTO FRAME SINCE 2007: Enjoy crisp, vivid photos (JPEG) and videos (MPEG-4) on the NIX Digital Photo Frame's 13.3 inch 1920x1080 FHD (16:9) IPS display and built-in stereo speakers
THE ONLY FRAME THAT CAN PLAY BOTH PHOTOS AND VIDEO IN THE SAME SLIDESHOW: Enjoy all your favorite memories on the NIX Digital Photo Frame; Choose from different slideshow transitions: Play them according to their file name, or shuffle them
EASY PLUG AND PLAY FROM USB/SD MEMORY: Set up your Frame in minutes; Just insert a USB stick or a memory card (SD/SDHC) to instantly display your favorite photos and videos on the NIX Digital Photo Frame; does not connect to WiFi
CALENDAR AND CLOCK BUILT IN: Energy-saving motion sensor automatically turns the frame on and off; detachable stand lets you mount the frame on a wall; magnetic remote control included
SATISFACTION GUARANTEED, 24/7 CUSTOMER SERVICE: Our Customer Service team is here to help should you have questions; We have hundreds of thousands of happy customers, and we want to do everything we can to make you happy with your frame
Nixplay Smart Digital Picture Frame 10.1 Inch, Share Video Clips and Photos Instantly via E-Mail or App
2 new from £162.23
Free shipping
Features
GIFT THE TOP-SELLING FRAME AND STAY CONNECTED: Share photos and videos from your phone or by email to the Nixplay frame, wherever it is; A great gift for new parents, grandparents, newlyweds, college kids or families separated by distance. It comes with a UK and EU plug
SHARE PHOTOS AND VIDEO (UP TO 15 SEC.) PRIVATELY, SAFELY: Send photos and photo playlists to your loved ones' frames and invite others to share pictures to your frame; Create a photo-sharing network for your family that's private, secure, and GDPR and CCPA-compliant
MANAGE THE FRAME USING YOUR PHONE: The Nixplay App for iOS and Android, available in English, German and French, gives you full control over your frame; Connect to Google Photos to ensure your frame is always up to date; Dropbox, Facebook and Instagram also supported from website
A WALL-MOUNTABLE SMART FRAME THAT IS TRULY SMART: 1280x800 HD IPS display auto adjusts to portrait or landscape placement; Motion sensor turns the frame on/off automatically; Works with Amazon Alexa, just ask for the playlist you want
SUPPORT WHEN YOU NEED IT: Our Customer Service team is here to help should you have questions about your Nixplay Smart Frame; We have hundreds of thousands of happy customers, and we want to do everything we can to make you happy with your frame