Photoboards.org Review
Excellent quality
Good range of images available
Easy to store
*This post may have affiliate links. For example As an Amazon Associate I earn from qualifying purchases, which means if you purchase something after clicking a link I may receive commission (don't worry, there's no extra cost to you). This helps support the work I put into the site.
Photoboards.org were recently at The Photography Show, held annually at the NEC, Birmingham. If you're looking to up your Instagram photo game the products they offer are going to be for you, they're high quality, high resolution, boards with photos of lovely backdrops on them.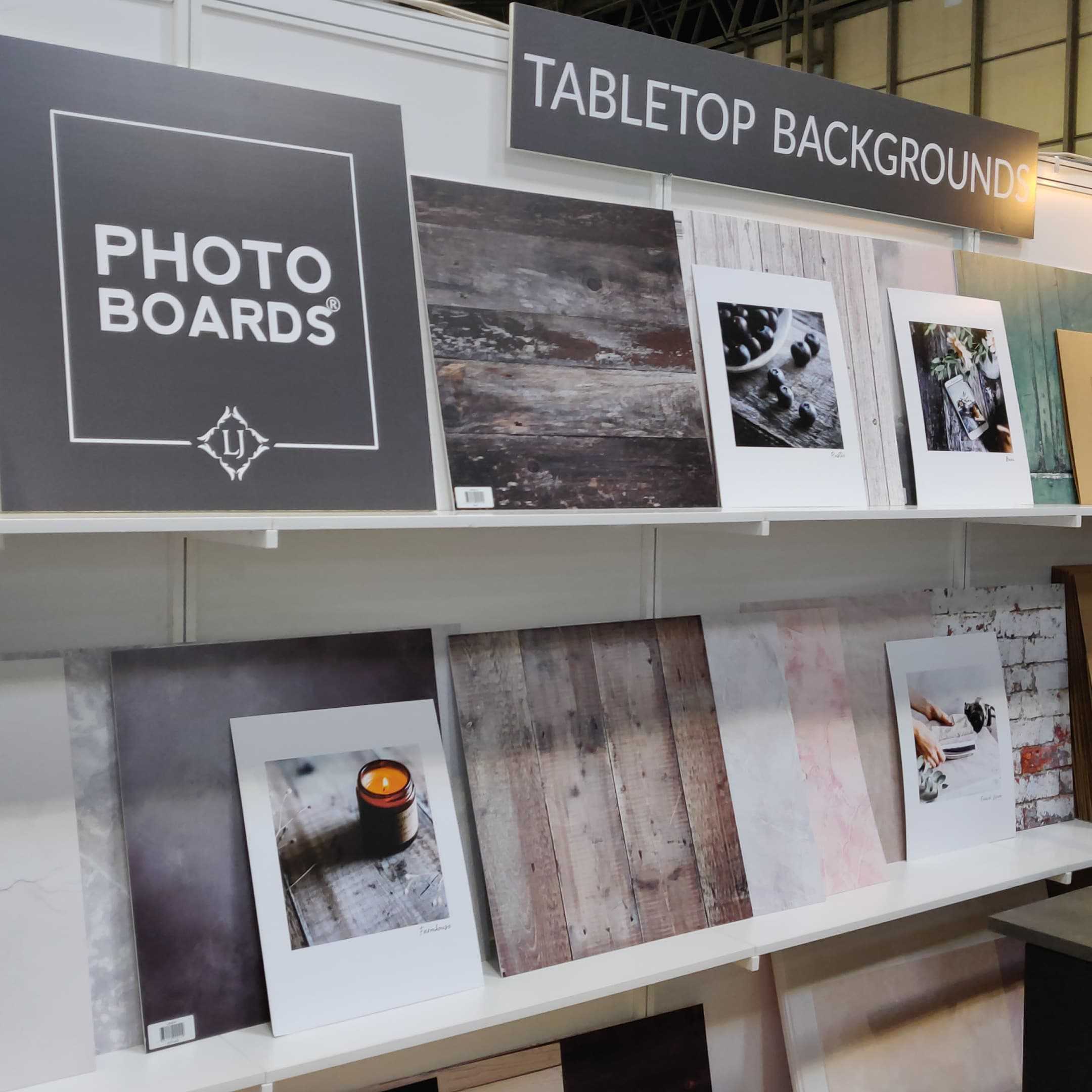 The boards feature in size, the smallest (and the ones used by this reviewer) are 40cm x 40cm. They also do 60cm x 60cm and 80cm by 90cm.
The 40cm x 40cm boards are perfect for small product photography, giving enough space to fill your shot without being awkward to store. They came in a cardboard sleeve that has a small cut out, handy if you're getting a few of these and want to see which one is in each sleeve without having to unpack them.
At the show, and on the website, are a wide range of backdrops. The range has been created by professional photography Lyndsey James who has opened up her huge collection for anyone to be able to use via a photo board.
They can be popped flat or propped up, or used with each other to give lots of different results. When photographed they look incredible, and it means you can snap a wide range of shots very quickly just be changing the boards out for different textures.
There are different designs available at different sizes, the limitation being the original backdrop size. The backdrops cover materials such as wood, marble, plaster, brick and linen. Some are subtle, others colourful, but all look to be excellent quality and ideal for a range of photographic situations.
They're available directly from Photoboards.org
If you'd like an alternative you could also check out https://magicproductbackdrops.co.uk/ who offer PVC backdrops instead of the hard boards reviewed above.
Up your photo game with these excellent backdrops
A fantastic product that looks like the real deal when photographed.
PROS
Excellent quality
Good range of images available
Easy to store
The Keeper [DVD]
11 new from £4.99
2 used from £2.72
Free shipping
Features
Polish Release, cover may contain Polish text/markings. The disk has English audio.
AuviPal 2-in-1 Micro USB to USB Adapter (OTG Cable + Power Cable) - 2 Pack
1 new from £7.94
Free shipping
Features
Specially designed for adding any USB peripherals to your host devices, Suitable for Android, Windows and other systems, no system restrictions.
Expansion Capability - Add on any USB peripherals such as keyboards, mouse, flash drives, external hard drives, USB card readers, USB ethernet adapter, game controllers or whatever to your Host devices with this 6 inch perfect length 2-in-1 USB OTG Cable.
Provide power for USB peripherals so that the battery of your android smart phone or tablet will not be drained so quickly like others ordinary OTG cable. Note:It can not power your android smart phone or tablet itself.
Plug and play - Simply connect the micro USB male port to your host devices and the micro USB female port to your usb power cable, then it is ready to go. Set it up in minutes without any extra effort or configuration.
Lifetime money back guarantee and 24/7 customer service, add to cart & get AuviPal 2-in-1 Micro USB Cable Now! NOTE: Please make sure that your devices support OTG function before you place an order!