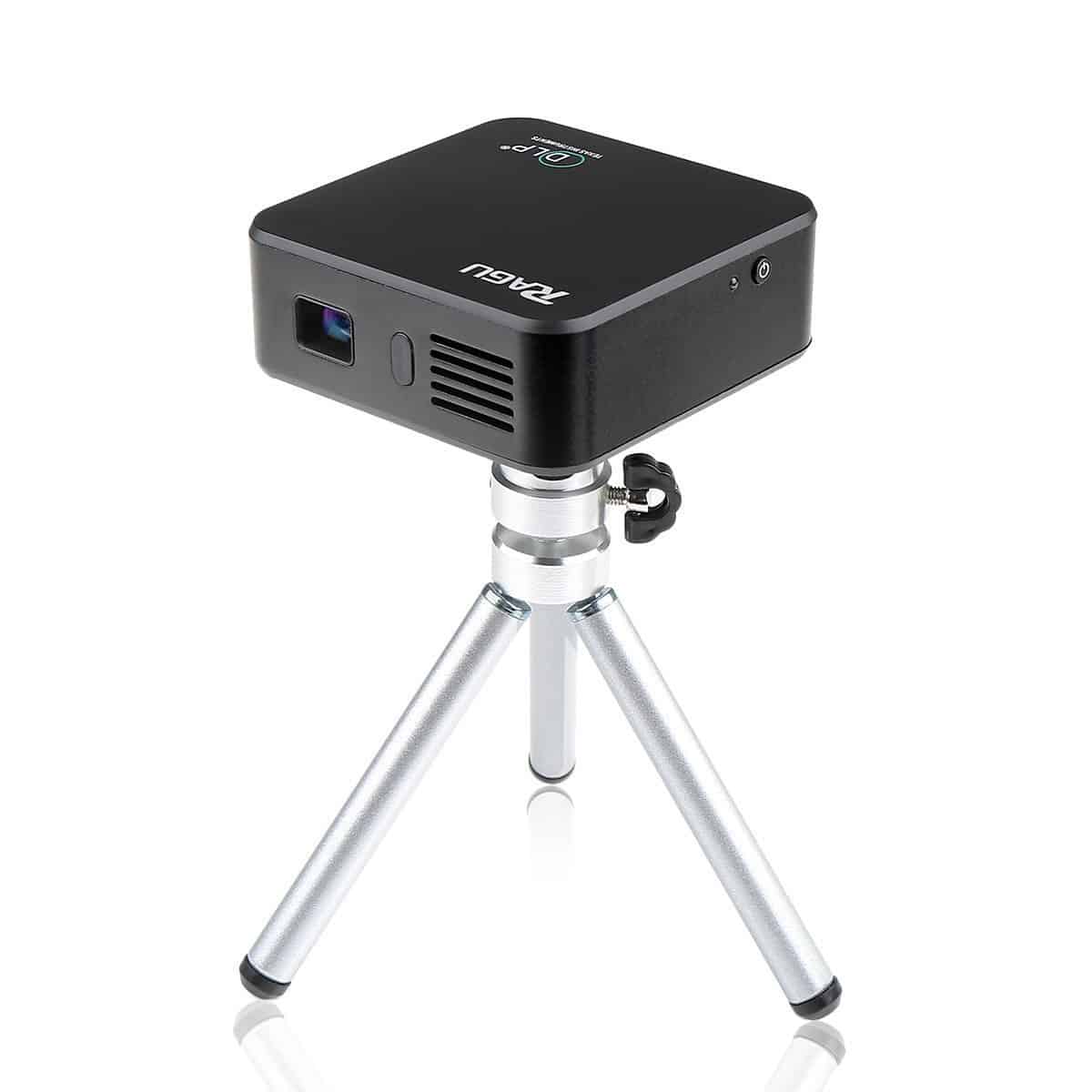 *This post may have affiliate links. For example As an Amazon Associate I earn from qualifying purchases, which means if you purchase something after clicking a link I may receive commission (don't worry, there's no extra cost to you). This helps support the work I put into the site.
The Ragu E05 is a novel take on the common Android box, rather than being a unit you plug into your TV it has an inbuilt projector, meaning no TV is required!
This functionality means this has a premium price tag, but this also means it's better presented than most Android boxes.
The E05 comes nicely presented in a travel case and within the case you get the Android box, remote control, a mini tripod, USB power lead and charger.
The mini tripod is OK, but feels a little cheap and can actually be rather annoying in use compared to proper mini tripods such as the Manfrotto Mini Tripod.
It's a similar story with the remote control, it's OK but isn't as good as other mini remotes such as the DroidBox VIP remote which is an airmouse and has a keyboard on the back, all in a similar design to the XXXs included remote.
The main Android box is a really nice compact design, impressive considering many Android TV boxes are much larger and don't include a projector. While this makes it very portable it does mean there are some trade offs, you get two USB ports, an aux out (for headphones or speakers) but no Ethernet, HDMI in or HDMI out so you can only use this with the projector and can't connect it to a TV.
It does have WiFi built in and as there isn't an external antenna the box retains its compact form.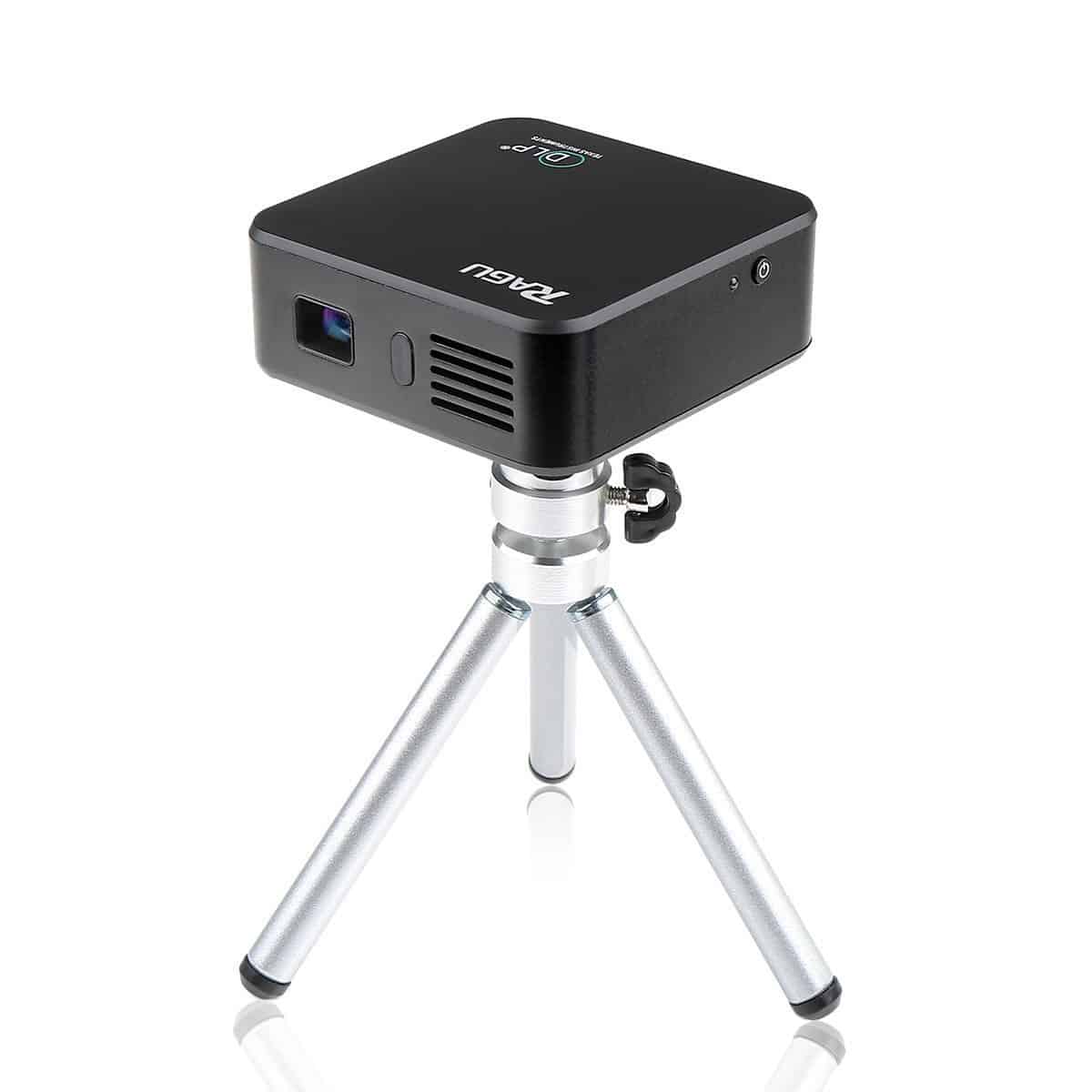 Fire up the Ragu E05 and you get a nice, big, simple to use interface projected onto your wall.  Be warned, this isn't a very strong projector, so while it's fine in the dark it's very washed out and difficult to see the image in daylight.
Assuming you're in the dark the picture quality is surprisingly good for such a small device, you could easily use this to watch a film. The projector does have inbuilt speakers but it can also be a little on the noisy side so it's best used along with a set of headphones or external speakers.
With this being an Android box you can install any number of apps, but to get you up and running are the basics plus Kodi to give you media management and playback. The included remote works OK until you need to enter text, at which point you'll miss the lack of a keyboard on the remote.
Games run fairly well, as you'll see in the video below Asphalt8 was a little jerky to start off with but smoothed out once it got going.  It's great to see the game projected and as long as you do so in a darkened room it's a lot of fun to play with the game image being so large.
This is a very specific product that isn't for everyone.  It's very expensive compared to a standard, good quality, Android box that could be plugged into a separate projector, but it's also a far more compact and elegant solution that you can easily slip into a bag or case on your travels.
The Ragu E05 mini Android projector is available from Amazon UK: http://amzn.to/2jA7BoB and Amazon USA: http://amzn.to/2iWi4bQ
RAGU E05 Mini Android Projector Video Review
Mini Wifi Projector, FANGOR Native 1080P HD Video Projector, Updated 6500 Lumens Portable Bluetooth Projector Support TV Stick, HDMI, VGA, USB, PS3/4, Laptop, iOS/ Android Phone for Home Theater
1 new from £149.99
1 used from £146.60
Free shipping
Features
【Native1080P Projector 】 With 1920*1080 native resolution, 7000:1 contrast ratio and 60000 hours lamp life. FANGOR F-506 portable projector provides sharp and detailed full HD images. Combining an innovative high-refraction 6 layers glassed lens to ensure wonderful video experience. Excellent Halloween or Christmas gift to your lover, parents, kids or friend!
【 Wireless Wifi Projector 】 The latest Wi-Fi connecting function is compatible with IOS and Android phones/pad. No need any Dongle, Adapter or Cables. Just once-time Wi-Fi connection, you can wirelessly SYNC the movies from your mobile device to the projector, enjoy it on the big screen!
【 Less Noise & HIFI Sound 】 Fitted with innovative cooling system and noise reduction technology, built-in powerful dual 5W speakers can delivers HIFI sound quality, to great auditory sense experience without noise trouble. If you want a larger sound, this mini video projector is also support to connect to your Wired or Bluetooth speakers easily.
【 Multi Compatible Devices 】 This portable projector is very versatile and has HDMI, AV, VGA, SD Card port, which allows you to use it with Laptop, PCs, TV Box, Amazon Fire TV Stick, Roku, Chromebook, Tablets, Blu-ray DVD player, SD Card, USB Flash Drive, Media players, iPad, iPhone, Android Smartphones etc.
【 Configurations & Service 】 Package including: F-506 Projector, User manual, Remote control, HDMI cable, VGA cable, AV cable, 3-in-1 AC adapter, black Carry Bag, Tripod, you even no need to buy any other extra accessories. If you have any question or problem, don't hesitate to contact us, we will help within 24 hours.
Projector, Crosstour Mini Portable Video Projector, Home Cinema Supports Full HD 55000 Hours LED Lamp Life, Compatible with TV Stick/PC/PS4/USB/SD (HDMI/AV Cables Included)
5 new from £59.99
Free shipping
Features
Excellent Images---Updated in 2021, video projector P600 supports Full HD, 2000:1 contrast ratio and can provide vivid images in a dark enviroment. With softer LED light, you can pleasantly enjoy movies without feeling eyestrain. Brightness and color value can also be personalized according to your preferences.
Two Speakers and A Large Screen---The mini projector with built-in surround sound speakers can transform your room into an excellent home theater. You can enjoy movies or sports games on a large screen ranging from 34 to 176 inches. You don't have to go to the crowded theater anymore!
Wide Compatibility---With HDMI, AV, VGA, USB, Audio and TF card ports, it can easily connect to various devices like Chromecast, Firestick, TV box, laptops, Blue Ray DVD, PS4, USB drives, speakers, earphones and so on. You can also connect it to smartphones or tablets by HDMI adapters or wireless dongle. (Not included)
Mini Size & Multiple Accessories---The portable projector is only 20.3*15.3*7.6 cm and 0.87 kg, lighter than most LCD projectors, and can be easily carried outdoors or used in your yard. (No built-in battery.) Various accessories are included in the package: an HDMI cable, an AV cable, an AC adapter power cable, a remote control and a lens cover.
Easy Installation & Long Life---P600 can be installed on a tripod or mounted on the ceiling for a better viewing experience. With a 55,000-hour lamp life, it can be used for over 15 years. It is your best gift choice for your lovers and friends.
ViewSonic M1 mini Plus Pocket LED Ultra-Portable Projector with integrated JBL Speakers, Wi-Fi, Bluetooth, WVGA, 120 Lumens, HDMI, USB, Compatible with TV Sticks & Gaming Consoles, in 3 Colours
7 new from £189.00
2 used from £175.77
Free shipping