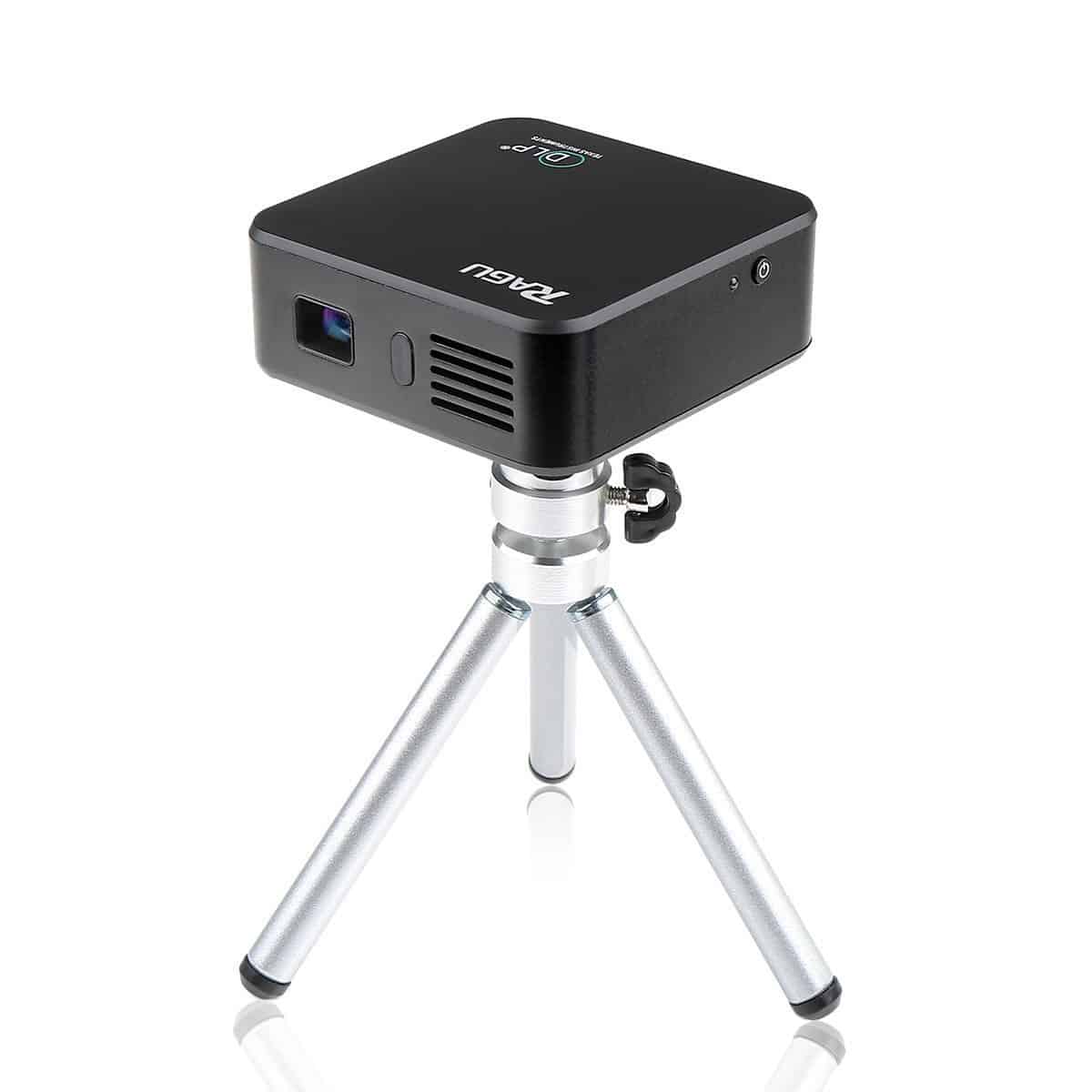 *This post may have affiliate links. For example As an Amazon Associate I earn from qualifying purchases, which means if you purchase something after clicking a link I may receive commission (don't worry, there's no extra cost to you). This helps support the work I put into the site.
The Ragu E05 is a novel take on the common Android box, rather than being a unit you plug into your TV it has an inbuilt projector, meaning no TV is required!
This functionality means this has a premium price tag, but this also means it's better presented than most Android boxes.
The E05 comes nicely presented in a travel case and within the case you get the Android box, remote control, a mini tripod, USB power lead and charger.
The mini tripod is OK, but feels a little cheap and can actually be rather annoying in use compared to proper mini tripods such as the Manfrotto Mini Tripod.
It's a similar story with the remote control, it's OK but isn't as good as other mini remotes such as the DroidBox VIP remote which is an airmouse and has a keyboard on the back, all in a similar design to the XXXs included remote.
The main Android box is a really nice compact design, impressive considering many Android TV boxes are much larger and don't include a projector. While this makes it very portable it does mean there are some trade offs, you get two USB ports, an aux out (for headphones or speakers) but no Ethernet, HDMI in or HDMI out so you can only use this with the projector and can't connect it to a TV.
It does have WiFi built in and as there isn't an external antenna the box retains its compact form.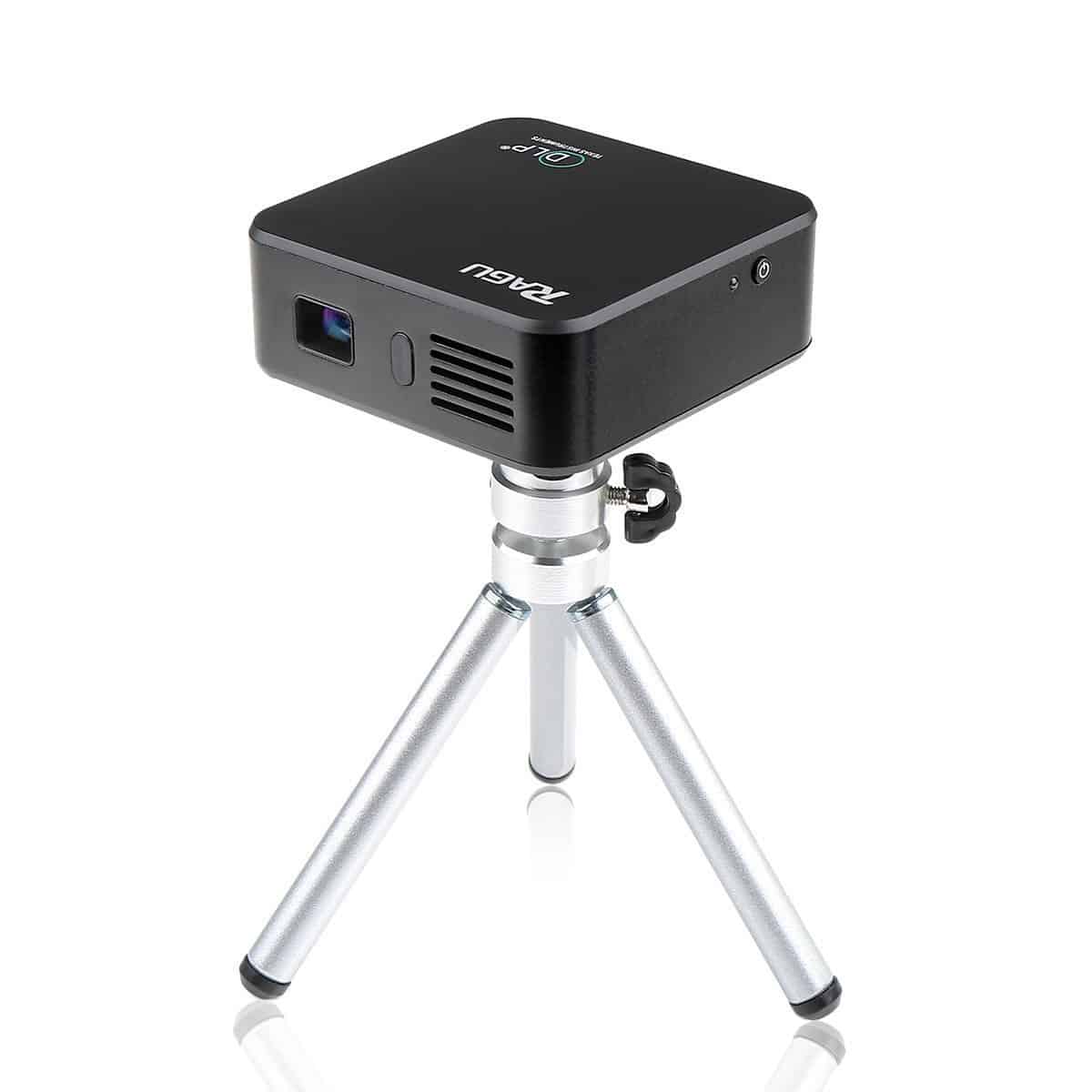 Fire up the Ragu E05 and you get a nice, big, simple to use interface projected onto your wall.  Be warned, this isn't a very strong projector, so while it's fine in the dark it's very washed out and difficult to see the image in daylight.
Assuming you're in the dark the picture quality is surprisingly good for such a small device, you could easily use this to watch a film. The projector does have inbuilt speakers but it can also be a little on the noisy side so it's best used along with a set of headphones or external speakers.
With this being an Android box you can install any number of apps, but to get you up and running are the basics plus Kodi to give you media management and playback. The included remote works OK until you need to enter text, at which point you'll miss the lack of a keyboard on the remote.
Games run fairly well, as you'll see in the video below Asphalt8 was a little jerky to start off with but smoothed out once it got going.  It's great to see the game projected and as long as you do so in a darkened room it's a lot of fun to play with the game image being so large.
This is a very specific product that isn't for everyone.  It's very expensive compared to a standard, good quality, Android box that could be plugged into a separate projector, but it's also a far more compact and elegant solution that you can easily slip into a bag or case on your travels.
The Ragu E05 mini Android projector is available from Amazon UK: http://amzn.to/2jA7BoB and Amazon USA: http://amzn.to/2iWi4bQ
RAGU E05 Mini Android Projector Video Review
ELEPHAS Projector, GC333 Portable Projector with 4500 Lumens and Full HD 1080p, 180" Display and 50000 Hours Lamp Life LED Video Projector, Compatible with USB/HD/Sd/Av/VGA for Home Theater, White
2 new from £69.99
Free shipping
Features
✩ Sharper and Realistic Colors: ELEPHAS mini projector is much brighter than most counterparts on the market, and supports 1080P. The suitable brightness offers you an eye-protective viewing experience. Perfect for outdoor watching as well.
✩ Ideal Contrast Ratio: The LED projector presents 2000:1 contrast ratio that is ideal for a cinematic pleasure. Uniform illumination upgrades your viewing experience, since no dark parts will appear on the brink of screen. Native Resolution 800x480p. Max Screen Display 180".
✩ Screen Synchronization: You can connect your smartphone to ELEPHAS outdoor projector with an HDMI adapter to realize screen synchronization (Adapter not included in package). Also compatible with USB/HD/SD/AV/VGA inputs.
✩ Built-in HIFI Speakers: ELEPHAS portable projector is equipped with two built-in speakers, which works great in a normal size room. For a much better sound effect, you can turn to apply an external speaker that you love the most.
✩ Warranty and Support: ELEPHAS guarantees 3-year warranty and timely professional technical support. This latest 4inch projector possesses CE FCC RoHS PSE Certificates. Any questions, please write an email to service@elephas.com.hk. We're always here to help.
[Upgraded]Ocean Projector Lamp Night Light+Remote Control+Timer, Bedside Child Lights Baby Gifts with 8 Color Modes+6 Music Sounds+Angle Adjustment for Party Decoration
1 new from £21.99
Free shipping
Features
【8 Color Lighting mode & brightness adjustable】: This bedside lamp has 12 lamp beads and 8 lighting modes, the last mode just sounds music with no light. Besides, there are three levels of brightness, and you can adjusted it according to your needs.
【Music Player】: Built-in 6 sleeping music songs (forest insect sound, waves seagulls sound, water and birds sound, happy music of nature and two cradlesongs). Package with an audio cable,which you can connect with your smartphone/MP3/computer/tablet, and enjoy your favorite music. Such a wonderful environment, you and your friend/family members can relax body and minds.
【Automatic timer setting】: This night light has a timer automatically turn off function, it is not necessary for you to switch off the light manually. You can set the automatic off time to 1H,2H,or 4H according to your demand. You also can cancel the time function, and it will light for all night.
【Remote control】: Since it has a remote control, you can operate it not only with the buttons on the light but also over long distances with the remote control. Simple operation with only 3 buttons (power on/off/light mode, volume and song adjustment). The remote control can operate all function included light brightness adjustment, the timer setting and the rotation. Very easy and convenient.
【45°Angle Adjustment】: This light body can be adjusted by 45°angle, the projected area is wider and clearer. The internal LED lamp can rotate 360°freely and projects a beautiful ocean on the ceiling and wall, and creates a romantic atmosphere in the room! You can stay the light on the table, and you also can hang it on the wall which a hanging hole under the light bottom. 45-day money back guarantee! 12-month after-sale warranty!
LED Light Desk Lamp Night Light Projector Ocean Wave Bluetooth Bedside Lamp Built-in 8 Color Changing Music Player Adjustable Remote Control Timer USB Cable Baby Gifts for Bedroom Living Party Decor
1 new from £26.99
Free shipping
Features
【8 Fantastic Aurora Projection Mode】Red, green and blue are combined into 8 projection modes to create a romantic and peaceful environment,making you and your family enjoy a comfortable evening.It is a great tool to help people who are afraid of the dark fall asleep peacefully. It can also assist children and adults to fall asleep.
【Music Projector Lamp】The wave projector equipped with a TF card slot and integrated mini speaker, enjoy lullaby music, relaxing. Meditation music while inserting TF card or bluetooth 5.0 mode or connect to an external audio source and 8 built-in lullaby music. Children can enjoy these scenes in a peaceful mind,help them with sweet sleep.
⏰ 【Remote Control and Timer】 The remote control makes switching and setting more convenient. You can turn the projector on or off with the remote control, set the rotation or not, switch the sounds, change the projection mode and music mode, and set the timer 2H / 4H or timer off. Easy to use and suitable for children.
[15-Level Volume Adjustable & Simple Use Projector Lamp]The projector with the volume you can adjust. There are 15 volume levels to suit your needs. Such a wonderful environment, you and your friend/family members can relax body and minds. Operation Tips:Please use the supporting USB cable to power on and then press the main switch at the bottom.(the adapter is not included)
【The Most Perfect Gift and 24 Months Warranty】This baby night light projector silently transforms children's bedroom into a ocean wave world, Colorful projector also creates a relaxing atmosphere in your kids room,perfect for kids birthday party,children's day,Christmas celebration and wedding decoration,it can also be used as a romantic night lamp and indoor decoration light. If you have any problems, please contact the SELLER directly. We will provide quality after-sales service.