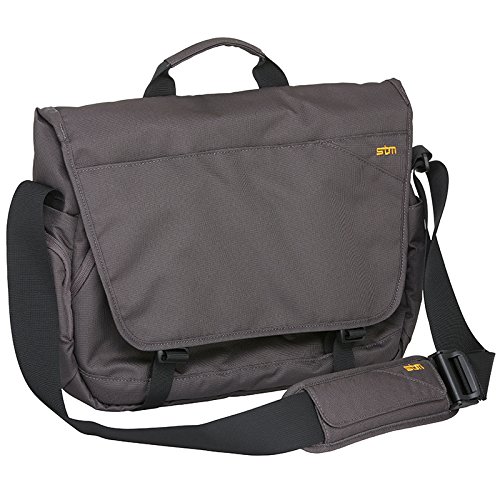 *This post may have affiliate links. For example As an Amazon Associate I earn from qualifying purchases, which means if you purchase something after clicking a link I may receive commission (don't worry, there's no extra cost to you). This helps support the work I put into the site.
If you carry your laptop around with you a good quality bag is a must, the STM Bags Radial Laptop Bag has a few tricks in it's storage compartments to set it apart from it's rivals.
It's available in 3 colours, black, Moroccan blue and steel.  You'll see the steel version in the video review below, it looks great and would be suitable for both general use and work use should you need something that looks rather smart.
If travelling the Radial has a luggage pass through for securing the bag when using an airport trolley and the shoulder strap can be quickly and easily adjusted using a simple clip system.
On initial inspection the quality you'll notice this is a really good quality laptop bag, it feels very well made and tough.  In fact the outer material is made from water resistant fabric which makes rain roll off the bag rather than be absorbed by it.
As you'll see in the review video the Radial has a LOT of storage options, providing you with a variety of pockets and pouches to store a lot of stuff in.  You've got some quick access pockets that don't require the bag to be opened so you can get to items quickly on the go.  The main compartment lid is held in place by quick release clips which keep the bag securely closed.
Laptops fit nice and snuggly in and benefit from being suspended from the bottom of the bag to avoid any impact damage when putting the bag down.
There is also a smart cable routing system to allow you to put a power bank in the side pocket and route a cable into the main section to power up your mobile or tablet on the go.  Note you'll need to check the size of power bank you'd like to use to ensure it'll fit correctly into the pocket.
You can load a lot of gear into the Radial, despite the added weight it doesn't feel like the strap is going to give and it's comfortable when you're out and about.  If you'd prefer not to use the shoulder strap there is a handle on the top.
The STM Bags Radial Laptop Bag may be the most feature packed laptop bag on the market, it's available from Amazon UK: http://amzn.to/2oSJO41 and Amazon USA: http://amzn.to/2qpLJOI
STM Bags Radial Laptop Bag Video Review
STM Bags"Velocity Radial" Shoulder Bag for 15-Inch - Black
1 new from £54.95
Free shipping
Buy Now
Amazon.co.uk
Features
Water resistant fabric for years of durable transport
Quick cam-adjust shoulder strap
Removable shoulder pad
Space for a shed layer or light jacket
Luggage pass-through for securing the bag
STM stm-112-026 M-11 Red
Buy Now
Amazon.co.uk
Features
Product description: STM linear
Maximum weight supported: 33.02 cm (13 inches)
Type: Classic
Colour: Red
Width: 25.5 cm