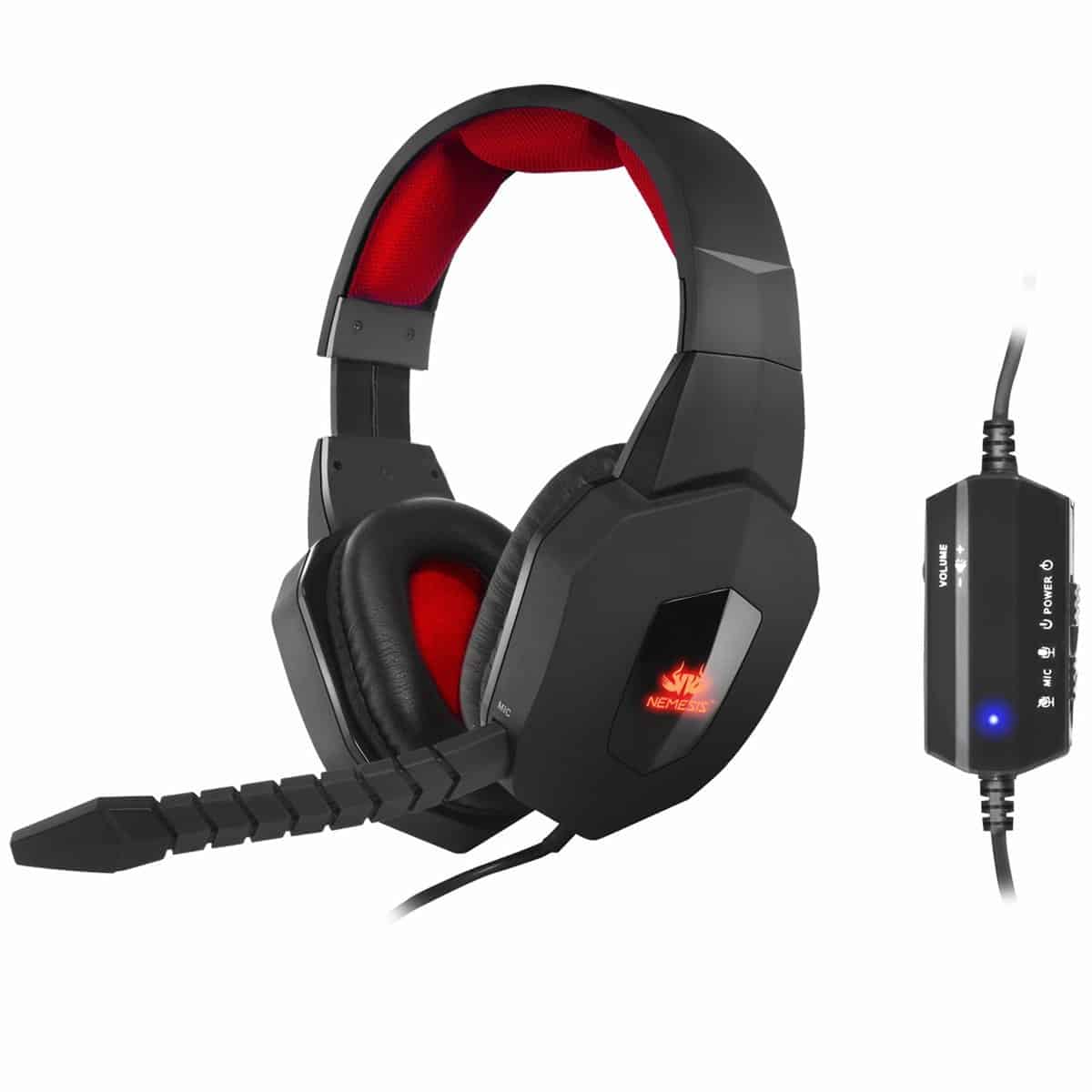 *This post may have affiliate links. For example As an Amazon Associate I earn from qualifying purchases, which means if you purchase something after clicking a link I may receive commission (don't worry, there's no extra cost to you). This helps support the work I put into the site.
The Sumvision Nemesis Akuma 7.1 surround sound gaming headset is a low cost USB gaming headset with microphone and inline controls for a very reasonable price.
A nice design feature is that the microphone can be quickly and easily detached if you want to use these as just headphones without the mic.
Setup of the Nemesis Akuma took very little time, plug the headset in and install the software and you're up and running. The included software is easy to use and allows you to adjust settings for both the headphones and the microphone.
There are a range of headphone settings to tweak, the most useful being the equaliser. It comes with a selection of predefined settings for different music (e.g. rock, classical etc) or you can save custom settings that fit your audio tastes.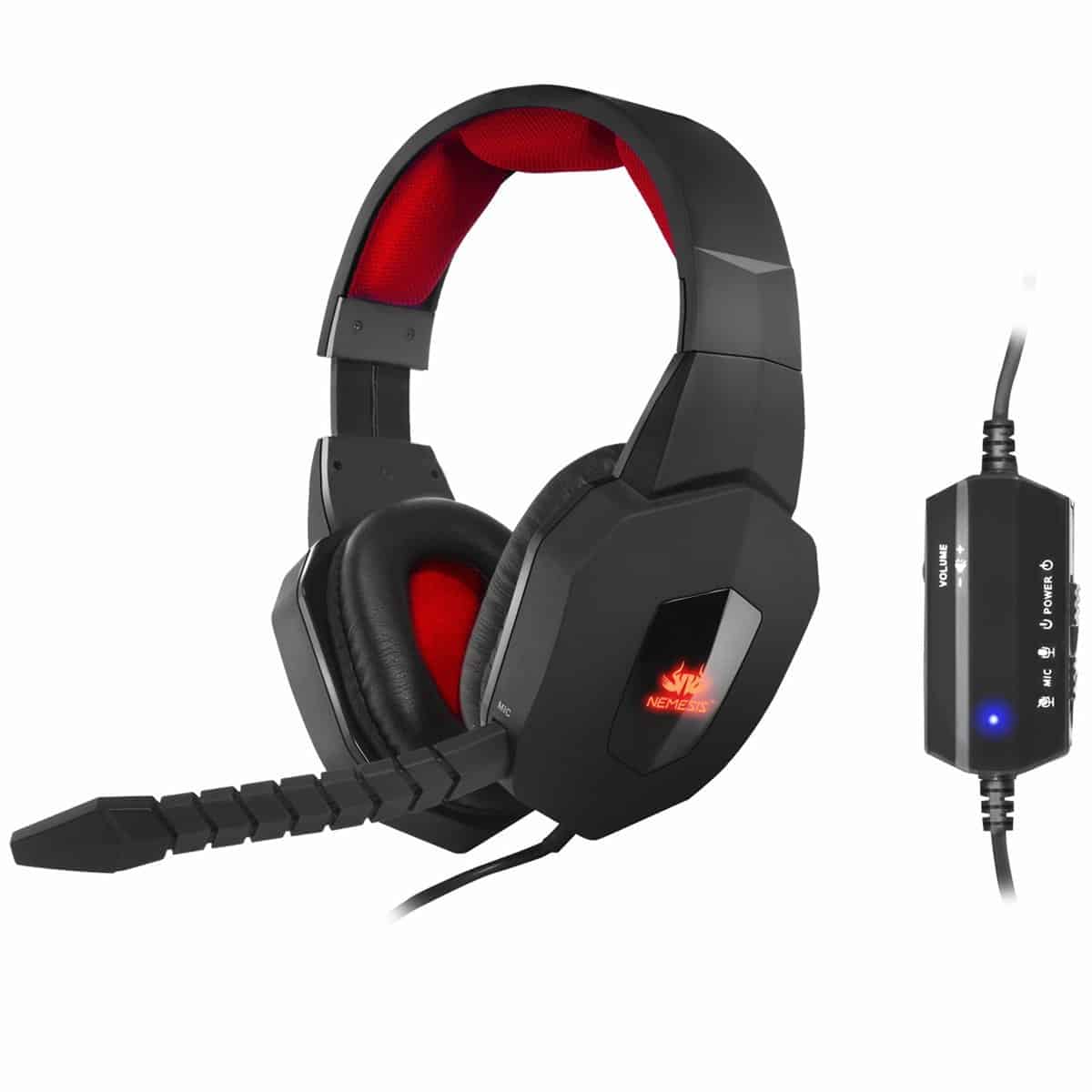 One of the settings activates virtual 7.1 surround sound. This wasn't as effective as you might hope, currently playing through PC version of Tomb Raider (which has it's fair share of bullets whizzing around) and there wasn't any feeling of being surrounded by sound.
While the 7.1 element hasn't overly impressed the actual sound quality of the Nemesis Akuma is really good, with a great bass that makes music and explosions sound brilliant, but it doesn't overwhelm vocals during cut scenes.
The microphone also has some settings, including settings that can change the sound of your voice or add an echo, which could be useful if you want to use these for voiceovers.  As you can hear in the review video the voice quality through the microphone is very good, although the lack of pop filter means you'll occasionally get some unwanted pops and distortion when you are speaking.
For the low price you're getting a decent set of headphones and a decent microphone for your PC.
Available from Amazon UK: http://amzn.to/1SkwBOM
Sumvision® Kata【Tech/PC Advisor Winner Recommended 3years running 2016/2017/2018】 Programmable Macros Wired LED Gaming Mouse 16 Million RGB Customisation
3 new from £16.99
Free shipping
Features
TECH ADVISOR BEST MOUSE 2018
GENUINE JAPANESE OMRON SWITCHES DURABLE HIGH-QUALITY COMPONENTS
FULLY CUSTOMISABLE WEIGHTS AND FULLY PROGRAMMABLE MACRO EDITOR
1000hz 4x POLLING RATE ADJUSTMENT SUPER ACCURATE
ON THE FLY" INSTANT DPI SWITCH & LED STATUS LIGHTS
Sumvision Nemesis Gaming Series Sonic Wave Hybrid Music LED Keyboard
6 new from £22.77
Free shipping
Features
EXPERT REVIEWS & PC ADVISOR BEST GAMING KEYBOARD - PC Advisor Best Gaming Keyboard 2016/2017 http://www.pcadvisor.co.uk/test-centre/pc-peripheral/best-gaming-keyboards-of-2016-2017-uk-best-keyboards-for-games-3642672/ Expert Reviews Best Gaming Keyboard 2017 - http://www.expertreviews.co.uk/keyboards/1405577/best-gaming-keyboard-the-best-pc-gaming-keyboards-of-2017
MUSIC EQUALISER LED AND 9 LED MODES - The Sumvision Sonic Wave comes with the unique feature of having LED lights that pulsate to the sound of your music or games. The audio is detected via a built in microphone which is then transferred into a rhythm that is then played out via the lights on the keyboard. Choose from one of 9 LED modes to help customize the Sonic Wave to your preference. Have the lights dance to music or echo with every key stroke.
RGB COLOURS - The use of RGB colour LED lights provides a rainbow of colours that can flow seamlessly across your keyboard. This can result in a beautiful array of colours making long sessions at the PC more entertaining
ANTI GHOSTING - With 19 Anti Ghosting Keys you can be sure all your keystrokes are registered. Don't worry about hitting 2 keys at the same time during crucial moments. With Anti Ghosting the key stroke will register every single time regardless if you strike the key next to the intended key.
INTERGRATED PALM REST - The Sonic Wave incorporates a palm rest support to help ease the pressure on the wrists during long gaming sessions. By resting the wrist on the palm rest you can relieve the pressure that builds up by keeping yours hands in the same position. This will mean you can game for longer in comfort
ROCCAT Khan AIMO 7.1 Surround Gaming Headset, Hi-Res Sound, USB, AIMO LED Illumination, Mutable Real-Voice Microphone - Black
Features
7.1 Hi-Res sound with rich highs, mids and lows
Inbuilt 7.1 24-bit 96 kHz DAC sound card
Passive noise cancellation for noisy environments
Ultra-comfortable with memory foam earpads
Rgb illumination customizable in 16.8M colors