*This post may have affiliate links. For example As an Amazon Associate I earn from qualifying purchases, which means if you purchase something after clicking a link I may receive commission (don't worry, there's no extra cost to you). This helps support the work I put into the site.
A good keyboard should last you for years and the Sumvision Nemesis Mechanical Gaming Keyboard certainly feels like it'll go the distance. It has a chunky design with loads of customisation options for a very attractive price.
The Nemesis feels like a solid keyboard, it's got chunky keys, a chunky wire, and nice back lighting.  There are side lights that make the keyboard appear to be lit underneath and while the  majority of the keys have a green light, the WASD and arrow keys are red.  The lights offer a number of different options, different brightnesses, different lit/unlit combinations etc.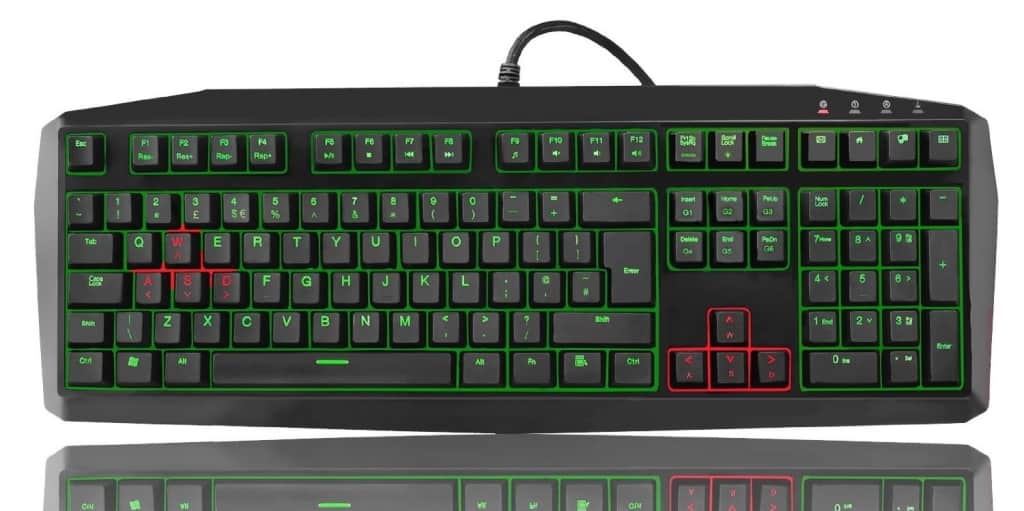 Featuring anti ghosting keys (i.e. it recognises all keys pressed simultaneously) the Nemesis feels like a solid a keyboard.  Unfortunately the review unit sent had an M key that didn't always respond on first press, it sometimes took a couple of presses for it to register, so make sure you check all the keys upon arrival.
It's likely you'll want to do some typing at some point so it's worth noting that while typing this was much louder than expected, drawing a couple of scowls while creating this review!  The flip side of this was that it really added to the experience of Elite Dangerous as the chunky keys give great tactile feedback as if you're in a spaceship.
The keyboard has a handy USB, headphone and speaker slot built in, brilliant for those who want quicker access than the back of a PC provides.
As well as multimedia keys often found on keyboards these days you also get some extras which are designed for gamers.  There is a 'Game mode' key which disables the windows key to prevent you from accidentally pressing it and exiting mid game.  The Nemesis also features programmable macro keys, programmable via the downloadable software driver, there are so many possibilities you'll need to spend a bit of time testing out different configurations to really get the most from this keyboard.
If you are currently using a basic stock keyboard then this will be a good upgrade, it offers a lot of options and customisation for not a lot of money.
Available now from Amazon UK: http://amzn.to/1sNKN76 Amazon.com: http://amzn.to/1wKa5CA
Sumvision Fully Programmable Mechanical Keyboard Ultra Mechanical LED Gaming Keyboard
Features
BLUE MECHANICAL SWITCHES
UNDERLIT KEY ILLUMINATION
GREAT FOR TYPING AND GAMING
BUILT IN MEDIA HUB
ANTI-GHOSTING
Sumvision Acies Mechanical LED Gaming Keyboard Full Tenkeyless Tkl Multicolour Illuminated 100% Anti-Ghosting for Windows PC Laptops Programmable Macro & Gaming Software Suite UK Layout PC
8 new from £29.99
Free shipping
Features
Multi colour LED modes & Fully customisable gaming lights choose exactly however many & whichever individual keys you want lit up. Fully adjustable brightness. 22X preset LED lighting effects and 10X lighting profiles.
tactile positive feedback extra long-life mechanical blue Switch accurate, responsive and extremely durable with a distinctive click and positive feedback to every keystroke. Perfect for typists & gamers alike with superior precision, speed & consistency.
tenkeyless Ergonomic UK Design with Gold plated connector braided cableergonomic comfort UK Design with Anti-Twist Tear-Resistant braided cable. Corrosion free Gold-plated connector with ferrite core to prevent
spill resistant Ultra durable metal plate, heavy Duty rubber grips & floating key caps designaircraft-grade alloy plate for durability, dust & spill resistant. Heavy Duty rubber grips for superior keyboard stabilization. Floating key cap design for easy clean & maintenance.
programmable macros gaming software Suite with 100% anti-ghosting 100% guaranteed anti-ghosting on every single key with unlimited n key Rollover. Dedicated full gaming software for easy setup and customisation of gaming macros
Sumvision Kane Pro 2 Multimedia LED Backlit Gaming Keyboard & Mouse Combo, Dust and Spill Proof, Plug & Play, UK Design and Layout with Technical Support
11 new from £22.95
1 used from £18.00
Free shipping
Features
3 colour LED pulse display keyboard with side hot keys high illumination backlight keys with adjustable speed & Brightness
On the fly DPI change LED Gaming mouse dedicated button for instant In-Game change & Precise control with Ultra-accurate high g acceleration optical sensor
Specially designed keys for enhanced durability & tactile feedback ultra-durable ABS keycaps can be removed for easy cleaning & customisation
Spill proof & dust resistant ergonomic UK design highly resistant to spilled hot or cold drinks for longevity and that extra peace of mind
Auto Set up & free UK based Tech support simple plug N Play universal Windows driver automatic setup. Register for free UK based online technical support