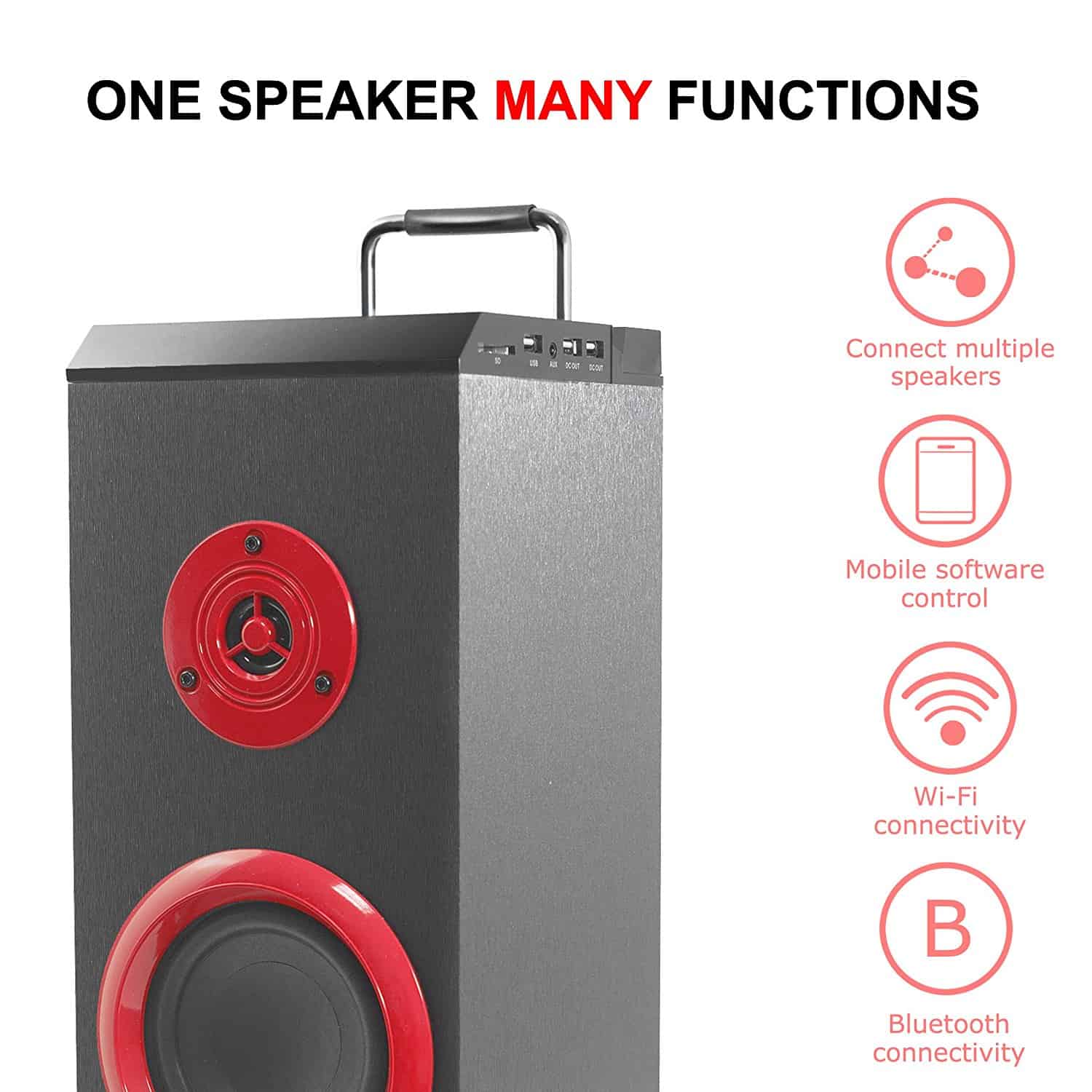 *This post may have affiliate links. For example As an Amazon Associate I earn from qualifying purchases, which means if you purchase something after clicking a link I may receive commission (don't worry, there's no extra cost to you). This helps support the work I put into the site.
When you think of multi room WiFi speaker the main brand that springs to mind is Sonos, along with the knowledge they're going to be expensive.
That's started to change, in 2016 August released their excellent multi room system and 2017 finds another contender for the affordable multi room thrown: the Sumvision Psyc Torre WX.
The Torre WX have a traditional black shell with a sporty red trim. While this might not be to everyone's taste, being a little bit boy racer, one thing everyone will agree on is that you get a great speaker for the price.
Around the back is an on/off switch, aux in, treble and bass controls. The speaker is powered via a wall plug and you get a decent length wire to give you options on location.
Along the top are controls and a mobile/tablet stand. Why might you want to leave you device on the speaker? Because round the side is a USB out allowing you to charge it up!  There is also an optional support frame for mobiles, needed if you want to pop you phone in landscape or want to poke and prod the screen without it falling over.
Setup was very easy, download the Muzo app and follow the instructions. The app will be familiar to anyone with August WiFi speakers which use a rebranded version of the same app. Interestingly this meant that existing August speakers show up and you can use a mixture of Sumvision and August WiFi speakers, a flexibility not found in other high end systems.
The app can be used to start playback of music and for controlling how the speakers work with each other. For example you can different things playing on different speakers (for example TuneIn radio on one speaker, Spotify on another), you can have the same song on multiple speakers and you can also set one speaker as the left channel and one to the right for a stereo setup that doesn't require a wire between them.
Within Spotify the speakers show up under the Spotify connect system. Where you're using synchronized speakers you'll have a single master speaker that shows up in Spotify but that plays the same song across all speakers.  Where they are separate all the speakers will be listed in Spotify.
It's an easy to use system that gives you a lot of flexibility when you have multiple speakers.
Sound quality is very good, something you'd expect after the excellent Psyc Monic set the bar so high last year. A single speaker easily fills the room with a lovely sound, plus you've the bass and treble controls to adjust the sound to your liking.
As you'll see in the review video the synchronization works really well, move from one speaker to the next and it all sounds like a single speaker as everything comes out at the same time.
Considering the low price of the Sumvision PSYC Torre WX speakers you could get 3 of these for a little more than a single entry level Sonos Play 1.  They sound really good considering the low price, work well over WiFi and play nicely with existing WiFi speakers that use the same app.
The Sumvision PSYC Torre EX Speakers are available from Amazon UK: http://amzn.to/2lRHfON
Sumvision PSYC Torre WX Wi-Fi & Bluetooth Tower Speaker Video Review
psyc Torre Premium Portable Stereo ( MP3, Bluetooth Pairing )
11 new from £35.99
1 used from £20.95
Free shipping
Buy Now
Amazon.co.uk
Features
NATURAL SOUNDING ACTIVE SPEAKER SYSTEM Precision engineered with built in Amplifier – Enhanced Bass and Superior Frequency Response
BEST OF BOTH WORLD WITH WIRELESS BLUETOOTH and WIFI Light weight and Versatile with both Bluetooth and Wifi connectivity. Support Spotify, BubbleuPnP and Many More
LARGE VARIETY OF INPUTS FOR MAXIMUM VERSATILITY Built-In Smart Phone Stand, Aux, SD card, USB port, DC Out Charging ports, Analogue Onboard Bass and Treble Control;Enjoy your music from anywhere and everywhere
MULTI ROOM STREAMING WITH ONE SOFTWARE TO CONTROL IT ALL Mobile software control for streaming music service, internet radio and local content all over the house with multiple Torre WX speakers
UK DESIGN and FREE UK BASED TECH SUPPORT Elegant UK Design;Register for Free UK based Online Technical Support
Sumvision Ncube Pro 2 LED Bluetooth 5.0 Enhanced Data Rate Designer Stereo Multimedia Wireless Speaker 2.1 with Bass Boost Subwoofer for PC Gaming Laptops Android iPhones iPads iMac
10 new from £31.40
1 used from £30.99
Free shipping
Buy Now
Amazon.co.uk
Features
Next generation n-cube-2 2.1 speaker set with elegant and powerful eye-catching design
Pure sound powerful bass subwoofer with Duo satellite speakers with high impact Illuminated blue LED light
Suitable for desktop music, PC gaming and Bluetooth connection
Easy and simple to use side control panel for bass, treble and master volume (please note pair button actually mean unpair)
Beautiful design for both home and office