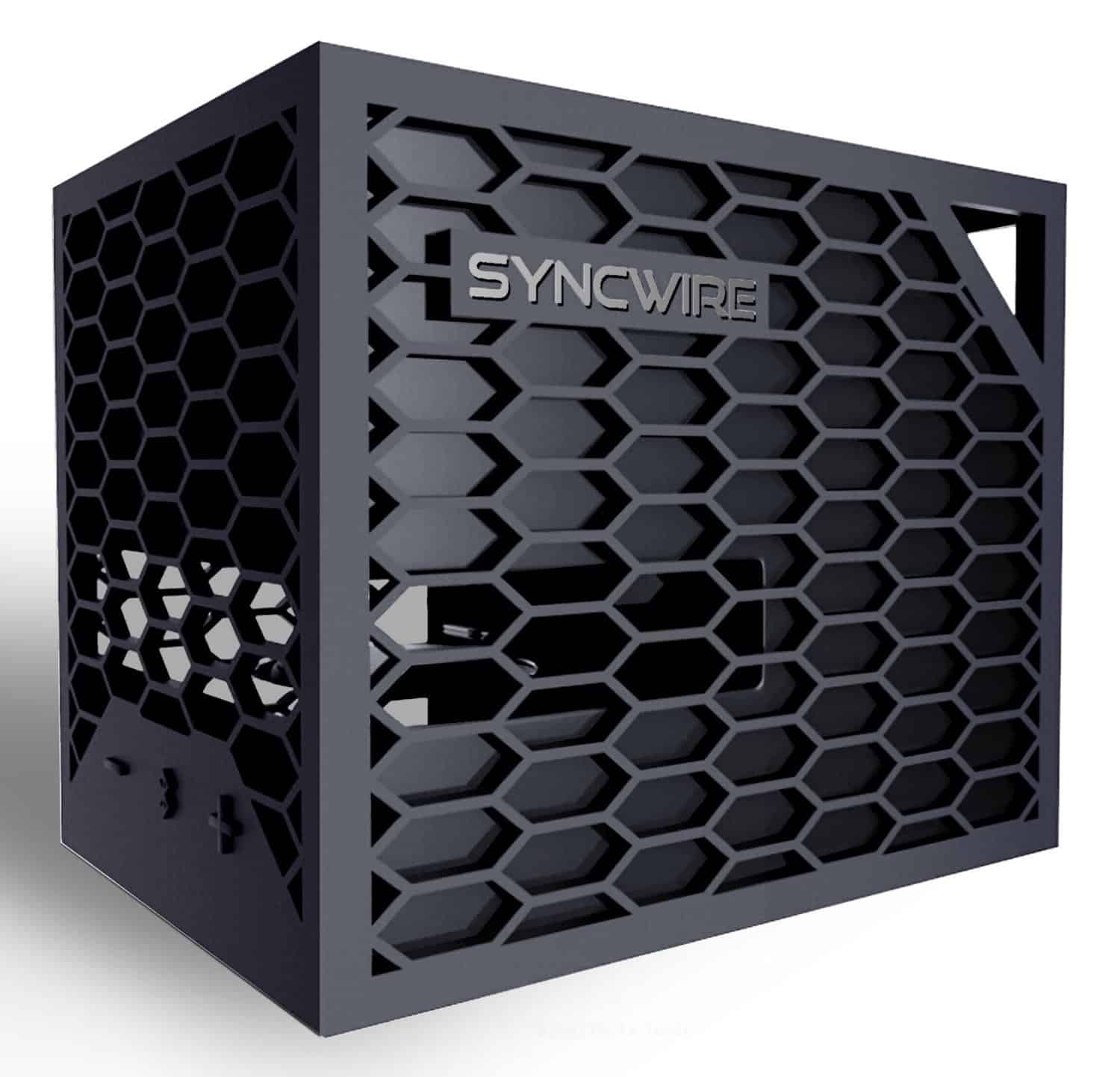 *This post may have affiliate links. For example As an Amazon Associate I earn from qualifying purchases, which means if you purchase something after clicking a link I may receive commission (don't worry, there's no extra cost to you). This helps support the work I put into the site.
The Syncwire Bluetooth Speaker is reminiscent of the Borg Cube from Star Trek! It's a lot smaller and less likely to cause the annihilation of our race, but aside from that it's very similar.
The main speaker is surrounded by a honeycomb rubber cover that makes this rather nice to hold in the hand. Controls are available along the bottom of the unit on one side, on the other is a USB port for charging, on/off switch, and an Aux in port.
You get an aux in cable, USB charging cable, and a wrist strap included.  The wrist strap clips on to the corning of the Syncwire speaker and it's light enough to carry on your wrist, or alternatively hang from something like a branch or bike handlebars.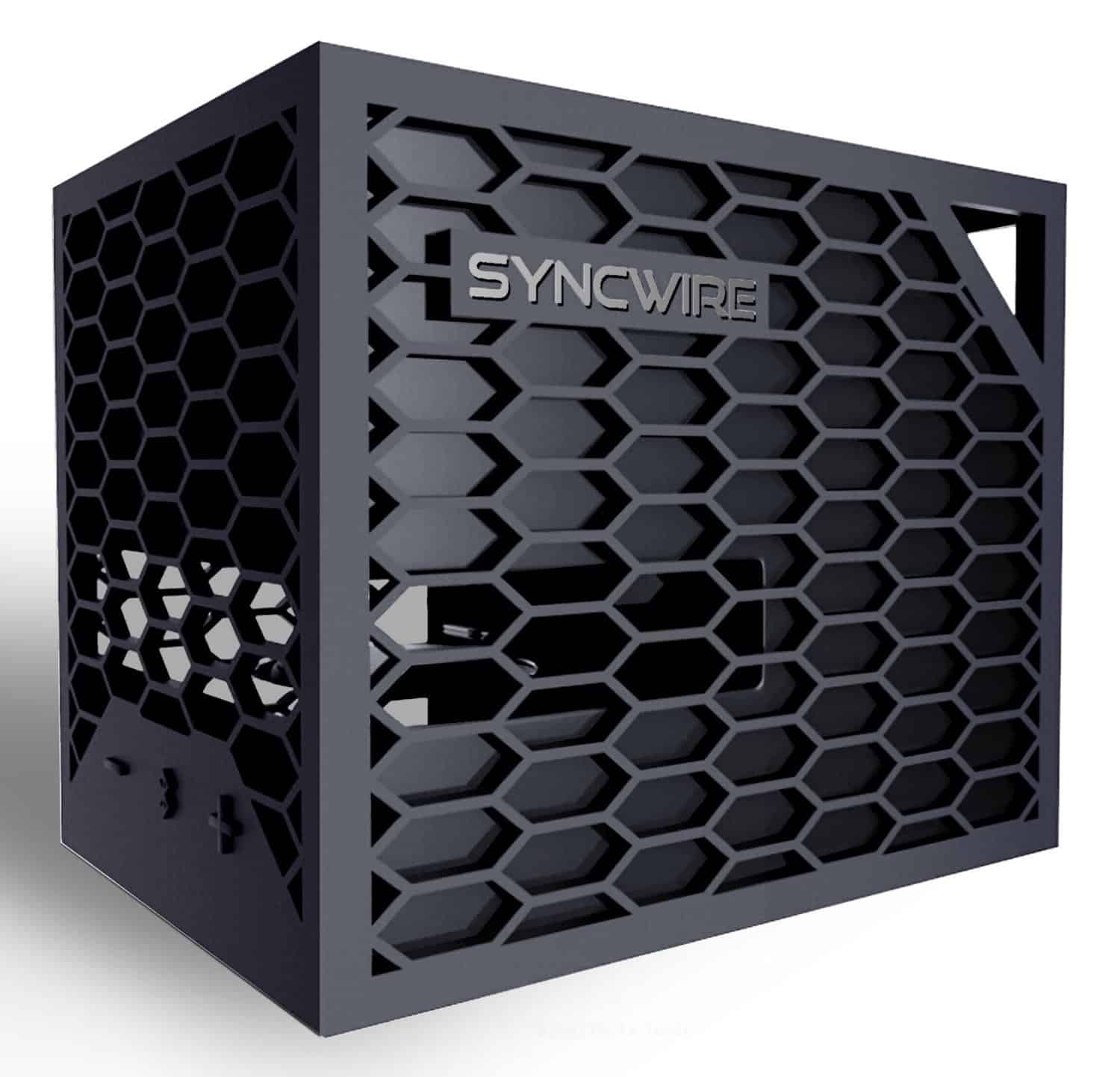 Setup was really easy as this has NFC, just tap your phone on the top.  Alternatively if you don't have an NFC device you can use the traditional bluetooth pairing screen.
Sound quality is OK for the low low price (just £14.99 at the time of review), you get a decent room filling volume but sound does lack bass as you'd expect with a tiny budget speaker.
If you're looking for an easy to use low cost speaker that sounds alright this is well work considering.
Available from Amazon UK: http://amzn.to/1KFWAMr
Syncwire 3.5mm Nylon Braided Aux Cable (3.3ft/1m,Hi-Fi Sound), Audio Auxiliary Input Adapter Male to Male AUX Cord for Headphones, Car, Home Stereos, Speaker, iPhone, iPad, iPod, Echo & More – Silver
2 new from £5.98
Free shipping
Features
Universal Compatibility: Perfectly compatible with any devices with a 3. 5mm aux port. Such as Apple iPhone, iPod, iPad, Headphones, Hi-Fi, Car Stereos, Tablet, Laptop, Smartphones, MP3 Player, Speaker and any other audio-playing devices. (ATTENTION: Incompatible with Life proof Cases And Otter Box cases)
Unparalleled Sound Quality: Polished 24K gold-plated connectors ensure reliability and eliminate signal loss and noise possible, offer clear and stereo sound to your devices.
Ultra Durable And Tangle-Free: With an 15000+ ultra-durable bend lifespan several times longer than original audio cables. You can wind it without having to worry about knots or kinks.
Easy Carrying And Storage: Double shielding significantly enhances protection against interference, and with the specially designed organizer, no messy or tangled cable any more.
What You Get - Sync wire 3.3 ft. Nylon Braided Aux Cable, 3 Years Free Card, User Guide and Customer Service
Syncwire Optical Cable (1.8M) 24K Gold-Plated Optical Digital Audio Cable Toslink Lead for [S/PDIF] LG/Samsung/Sony/Philips Sound Bar, Smart TV, Home Theater, PS4, Xbox & PlayStation - 5.9ft/Black
2 new from £8.98
Free shipping
Features
[ Perfect Compatibility ] Syncwire Optical Audio Cable is compatible with standard and high-definition devices with Toslink ports. Perfect for the sound bar to receiver/preamp, audio processor, DAC, TV and PS4, Playstation, Xbox gaming systems etc. The plug is made of metal, not plastic. Will not fall off or loose.
[ Unparalleled Sound Quality ] The Syncwire Toslink Optical Cable features corrosion-resistant, gold-plated connectors and buffer tubing for optimal signal transfer. Clear uncompressed PCM audio and compressed 5.1 to 7.1 surround sound.
[ Incredible Durability ] Syncwire digital optical cable features durable PVC outer layer for the premium quality, flexible and long usage.
[ Tight Connector and Lossless Audio ] Strictly designs according to the standard Toslink Port, 24K durable Gold-Plated material, perfect fits to the SPDIF/Toslink ports and the port would be protected strictly, it is much more durable and protected for the ports than the other easily moved connector (such as PVC connector) cables.
[ Friendly Design ] Removable rubber tips to protect the connectors when not plugged in.
Syncwire Micro USB Cable Android Charger Cable 3M/9.8ft - 2.4A High Speed Micro USB Charger Fast Charge for Android Smartphones, Samsung Galaxy S6/S7/S4/S3/J3/J5/J7, Sony, LG, PS4, Tablets - Black
2 new from £7.99
Free shipping
Features
The most flexible Android cable on the market! - Fully wrapped interior cables protect against friction and fraying, with a smooth exterior shell for minimal snagging. This makes the cable softer and more flexible than other cables.
Full-Speed Sync & Charge - Up to 2.4 A, this USB cable charges 20% faster than other common cables. Thanks to the thicker interior wire cores and lower cable resistance, Syncwire UNBREAKcable provides the fastest possible charge via any USB charger, plus data transfer.
Perfect Compatibility charger - Ideal USB cable for smartphones, tablets and other devices with micro USB connectors like Samsung Galaxy, Samsung Note, Xbox, PS4, HTC, Motorola, Nexus, Nokia, LG, Huawei, Sony, Blackberry, Kindle, Android smartphones and more.
30x more durable than other Micro usb cables - With premium materials and a sturdy design, the cable can survive being flexed at 90 degrees over 30,000 times, whilst being able to carry loads of up to 275 lbs / 125kg. This results in the cable being amongst the most durable available.
Premium Support - Fast and easy-to-reach Customer Service and 24/7 email support for your peace of mind.