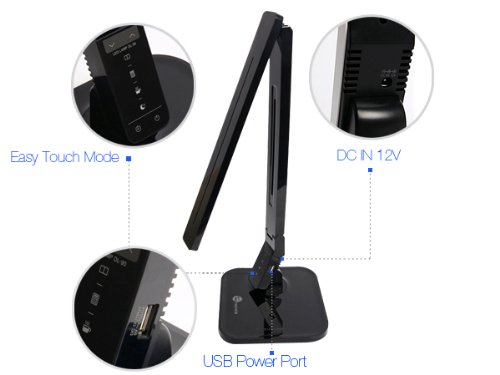 *This post may have affiliate links. For example As an Amazon Associate I earn from qualifying purchases, which means if you purchase something after clicking a link I may receive commission (don't worry, there's no extra cost to you). This helps support the work I put into the site.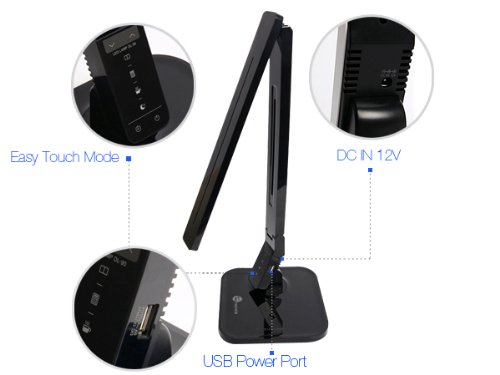 The TaoTronics TT-DL01 is an LED desk lamp that has a number of options to suit your mood.  This has been designed as a desk lamp and is surprisingly tall, however this does mean it's easy to position above documents/books and it doesn't getting in your way. You need to assemble the TaoTronics TT-DL01, which is really easy to do as it's just a matter of attaching the main arm to the base, plug it in and it's ready to go.
As the TaoTronics TT-DL01 will be taking up a plug socket the makers have added USB port at the side which allows you to plug your phone in for charging (or other USB device like an MP3 player), very handy.
The lamp is made of plastic and I expect the design will split onion. I like it, others that I've shown it to were not so keen. One thing we did agree on is that it doesn't look like a premium lamp that lives up to the £69.99 (at the time of review) asking price.
A word of warning about switching it on for the first time: whatever you do, don't look at the LEDs directly when you turn it on, this thing is BRIGHT!
The main arm folds out allow you to position the lamp as required. At the bottom of the lamp are some touch controls and they allow you to change the light type between the following modes:
[list style='regular']
[list_item]Reading Mode[/list_item]
[list_item]Study Mode[/list_item]
[list_item]Relax Mode[/list_item]
[list_item]Sleep Mode[/list_item]
[/list]
This might sound like a gimmick, but the light quality really does change depending on the mode chosen. In addition to changing the light type each mode can have the brightness adjusted, making this a very versatile lamp. Next to the on/off button is a sleep button, which, when pressed, puts the lamp into a timed shutoff mode which automatically turns off the light after 60 minutes, perfect if you fall asleep reading in bed.
This is the first plug in LED lamp I've used and it really is a good desk lamp, with the different modes changing the type of light produced for whatever mood you happen to be in. You are paying a premium for a lamp which looks very plastic, being LED you could expect the energy saving aspect should mean this pays for itself in time. However, I do love the touch controls, they're like something out of a sci-fi show, and the sleep timer function is a nice touch.
Available now on Amazon: http://goo.gl/7NoZX3

Desk Lamp, TaoTronics LED Desk Lamp with USB Charging Port, 4 Lighting Mode with 5 Brightness Levels, Timer, Memory Function, Desk Light for Study, Reading, Office and Bedroom
3 new from £30.99
2 used from £30.37
Free shipping
Features
4 Lights Match Your Purpose: Choose between 4 unique lights with 5 custom levels of brightness for work, study, reading, or relaxing
Convenient USB Charging: Recharge your devices via the built-in 5V/1A USB output; keep your smartphone or tablet within reach while charging
Multi-Angle Adjustments for Optimized Lighting: Rotate the lamp arm up to 140 Degree or swivel the base by 180 Degree for a more direct illumination
1 Hour Auto-Off Timer: Turns the light off automatically to save on your electricity bill if you fall asleep under the lamp
Touch Controls & Memory Function: Operates and responds with straight-forward touch controls; always remembers the brightness and mode last used for added convenience
TaoTronics LED Desk, Flexible Gooseneck Table Lamp 7W, 5 Color Temperatures with 7 Brightness Levels, Touch Control, Memory Function, 7 W, Black
4 new from £25.99
1 used from £27.63
Free shipping
Features
Eye-friendly LED panel: enjoy a uniform Flicker-free light beam that won't fatigue your eyes even after long hours of use, Whether it is for work, studying, or simply reading
35 Lighting choices: choose between 5 colour modes and 7 levels of brightness for a total of 35 possible combos to best suits your activities
Energy-efficient LED technology: achieve the same level of Illumination while saving up to 75 pearlescent of energy compared to the traditional Incandescent light bulbs. Allows you to adjust to any desired angle. And thanks to the built-in base stabilizer, the reading lamp base will stay sturdy when you adjusting its angle
Sleek & Elegant build: enjoy a universally beautiful construction that will easily fit in any environment, whether it is at work, in your personal study, or even on the bedside table
Touch control & memory function: operates and responds with straight-forward touch controls; always remembers the brightness and mode last used for added convenience
TaoTronics Cool Mist Humidifier, 4L Ultrasonic Humidifiers for Large Bedroom Home Baby, Quiet Operation, LED Display with Humidistat, Waterless Auto Shut-off (1.06 Gallon, AC200-240V)
2 new from £49.99
2 used from £41.64
Free shipping
Features
Quiet Operation for Bedroom Use: Ultrasonic humidifiers are incredibly silent, produces less than 38 dB of noise; perfect for your baby and a disturbance-free sleep at night
4L Tank Capacity, Works for All Night: Over a gallon of water lasts for 12-30 hour working time on a full tank; designed to humidify the air in rooms up to 10-30 m² / 107-322 ft², bedroom, nursery, office and so on
Informative LED display: Built-in Humidistat tells you the current RH; Easily choose between three mist levels; Set your desired humidity level, 40-60% is recommended
Nightlight & Sleep Mode: Choose to turn on the nightlight, or enter sleep mode to shut off LED screen for a discreet sleep at night
Safe to Use: Automatically shuts off when water runs out; Microporous cartridge filters the water from micro-organisms and bad odor, we recommend you change filters every 4-6 months